As the seasons get colder, the number of runners continues to diminish. Running shoes are swapped for downhill and cross country ski boots. Jackets are bulked up with extra insulation, and your willingness to set foot outside is tested as temperatures continue to drop. But there still remains that small faction of runners who refuse to submit to the elements.
Some people aren't made for skis and snowshoes, just like some aren't made to keep running in subzero temperatures. But for those who partake in the sport of winter running, it requires determination, dedication, and the right weatherproof apparel.  Luckily, our selection of the best running pants and tights for winter running has your back (and legs, torso, arms, etc.). We start things off with our top picks: the Salomon Agile Warm Pant for Men and the Salomon Light Shell Pants for Women.
Top Pick For Men
Brand Name
|
Product Type
It's all in the name. These winter running pants from Salomon are indeed windproof - and warm. When winter arrives, the Gore-Tex Infinium™ Windstopper® tights for men can't wait to get outside. The Gore-Tex softshell on the front protects you from the cold and wind. While the brushed stretch knit on the back keeps the air circulating and ups the warmth and comfort. Perfect for active winter activities, come rain or snow.
Price:
0.00$
Top Pick For Women
Brand Name
|
Product Type
Winter running can be unforgiving, but having On's Running pants can make it bearable. Combining overlay construction for wind protection with a light brushed knit fabric makes for breathable warmth. These pants also feature a 4-way stretch fabric for total freedom of movement. That all adds up to total winter-ready performance. Those running pants are at home on and off the track. Unique design features mean these pants can be changed to match the season or run.
Price:
0.00$
Best Running Tights Overall
There are few brands in the running game that can keep up with ASICS. From footwear to apparel, running is in their DNA, and the Windblock Tight should be on your list if you plan on running this winter. The micro storm guard protects you against winter's worst when you're out on chilly morning jogs, and the reflective bars and logo keep you visible on cool evening runs.
Price:
0.00$
Best Affordable Leggings
Made from a combination of elastane in a 4-way stretch construction, the HeatGear Armour High-Rise Leggings by Under Armour are perfect for lounging or getting out and moving. The no-slip elastic waist keeps them comfortable when you're on the go, and they're perfect for wearing on their own, or under another layer on cold days.
Price:
0.00$
Best Windproof Running Pants
Designed for windy activities and cold-weather workouts, Patagonia's Terrebonne Joggers provide critical wind protection and water resistance. They're made from recycled polyester and spandex, offering durability and stretch. Two drop in pockets, cuffed ankles and the elastic waistband with drawcord take care of the practical stuff. 
For women, Craft's ADV Essence Wind Tights are powerful wind-stopping pants, with all the necessary tech to keep you comfy. Lightweight and breathable to boot, these are pants that do not slow you down. 
Price:
0.00$
Best Odour-Resistant Tights
Ideal for winter running, Mons Royale's Cascade Merino Flex 200 Legging is made from nylon and merino wool. It's hard to top the odour-resistant, sweat-absorbent qualities of merino wool when considering natural fabrics. Combine that with 4-way stretch, and you're ready to take on winter.
The women's Oasis from icebreaker is 100% pure merino and 100% capable of taking on the coldest winter days. The updated design features a gusseted construction for unrestricted movement, and a brushed elastic waistband and flatlock seams for chafe-free comfort.

Price:
0.00$
The Most Versatile Leggings
Whether you're hitting the streets for a run or training for a big race, the versatile Impact Run Heat Tight from New Balance is built to meet all your running needs. These running tights feature plenty of stretch for freedom of movement, while NB Dry technology wicks sweat away from your body to help keep you comfortable. Reflective trims and logos keep you visible on late-night jogs.
For the men, our best option is the famous Endless Run Tights by Patagonia. Breathable, moisture-wicking running tights are quick-drying and have HeiQ® Pure odor control for longer days on the trail.
Price:
0.00$
The Best Compression Tights
Praise's Gibson Compression Leggings are perfect for winter running or outdoor training. Made from a blend of nylon and elastane, they provide the moisture-wicking, quick-drying qualities needed for running all year round. The waistband is designed to stay in place, and the adjustable elastic drawcords offer added security. The reflective calf zippers make it easier to slip these on and provide additional safety on the road. Mesh inserts on the back of the knee increase airflow. All that to say, these tights are a must for endurance sports!
Price:
0.00$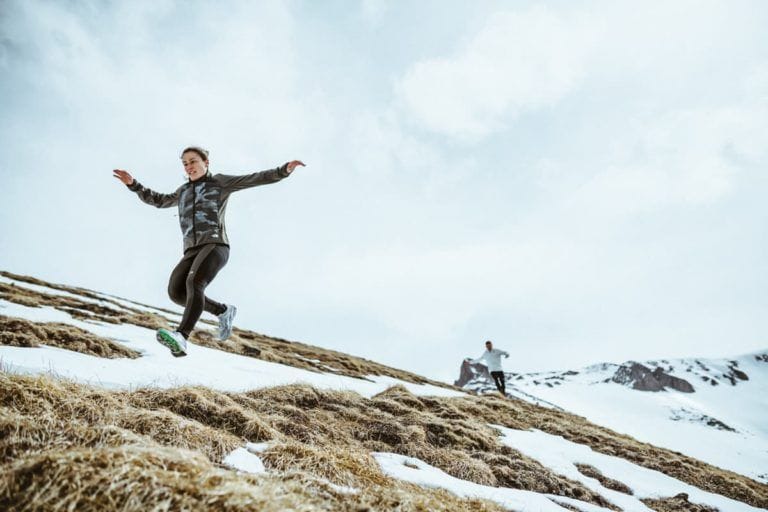 What To Look for in Running Pants & Tights 
Runners training in Canadian winters need protection from daily subzero temperatures. When you're looking for the right running pants and tights, you should look for an inner lining, weather-resistant fabric, handy pockets, and other features such as zippered ankle cuffs. 
Consider the workout you'll be doing and whether you'll feel more comfortable in tights, pants, or compression leggings. 
1. Types
The best running tights are securely fitted around the legs, helping keep the wind chill out. There will also be less material getting in the way when you're running, making you feel light and flexible. 
One thing to keep in mind is that tights are usually transparent, so you'll need to wear something like compression shorts underneath. 
Running trousers can be more loose-fitting than thermal tights, an aspect which can be more comfortable for some. The fabric should be stretchy enough to allow you to still run freely in any direction. An elastic or drawstring waistband makes sure they stay secure on your waist. 
Compression running tights help circulate the blood, keeping you warmer during those chilly mornings. Compression pants also reduce muscle soreness and recovery time from injuries. Many runners prefer them for their aesthetics, as well as their ability to wick away moisture from the body. 
2. Fabric
Winter running pants & tights should have a fleece-lined inside, which is excellent for single layering in frigid temperatures. For the outside material, you'll want to look for a Durable Water Repellant (DWR) coating to keep off sleet and snow. Materials like merino wool will make the pants windproof and water-resistant, keeping you warmer. 
3. Pockets
The two main areas on running pants are inside pockets on the waist or outside utility pockets. You may also see external pockets on the thigh, big enough to fit a phone or wallet. 
On the back, there's usually a zippered pocket to hold keys, bank or credit cards, and any other hand-held essential items. 
4. Other features
Reflectivity is an essential feature if you're running at night or in the early morning. Additionally, you want to look for either a well-made elastic waistband or a drawstring that adjusts well to your size. 
Sometimes you'll see a zipper on the ankles for a better fit. Other features include a windproof material on the thighs to block out frigid winds. 
winter running tights faq
Q: Why Wear Compression Tights?
A: Compression tights are designed to offer support to muscles, ligaments and joints during and after your workout. Wearing compression tights during physical activity will improve proprioception and body movements, all while targeting the muscles that work the hardest. They facilitate blood circulation through the body.
You can also use compression during the 24 to 48 hours of recovery following exercise. This will help decrease muscle fatigue, eliminate lactic acid build-up, and let you recover much faster.
Q: How to Wear Running Tights?
A: There are a number of ways to wear running tights, and this will depend on preference. During winter the best way to wear running tights is to wear them under your shorts. In addition, since most pants are fitted, it makes more sense to wear them with shorts. Same thing with compression tights. By the way, you don't have to layer your running tights with compression tights - one pair will do.
Q: Are running tights the same as leggings?
A: Leggings are made for everyday wear, while tights are designed for athletic uses. Winter running tights will help keep your muscles compressed more than leggings will. 
Q: Do you wear shorts with running tights? Should I be wearing underwear?
A: Since running tights can be see-through, it's best to wear another layer with them. This other layer can be underwear, shorts, or a jacket that covers the waistline. 
There you have it. You're set to run all winter long in a pair of the best winter running tights. After looking at this extensive review of the best winter running pants and tights on the market, we hope we've helped you reach a better-informed decision. The most crucial factors in running legwear are the ability to keep cold temperatures out, and be water and wind-resistant.
Our top choices are the men's Agile Warm Pant from Salomon and the women's Light Shell Pants, also from Salomon. Along with the other options on our list, these tights will keep you running comfortably as temperatures start to drop. Peruse our selection of tights and get set for your favourite training in the snow! 
SHARE