Head to Norway to live a journey in the life of Kari Traa, the brand and the founder.
Everyone dreams of flying to a far-off destination knowing adventure awaits, but not knowing the exact details of that adventure. Well, I've always dreamed of this, and my recent trip to Norway with Kari Traa was my chance to live it. The only challenge was packing for the unknown.
I arrived at Oslo and was greeted by smiling members of Kari Traa's team waving Norwegian flags. Already, I was seeing the warm Kari Traa team spirit.
The team took us directly to Kari Traa's Head Office in Oslo where we were treated to a sushi lunch. We enjoyed our meal while the head designer showed us patterns for the brand's inspiring Fall-Winter collection.
''I always mix the new seasonal colours and a touch of Kari Traa,'' said designer Johanna Elise Hills-Johnes.
Johanna has many sources of inspiration, but the company's colourful aesthetic comes from their founder, Kari Traa. Kari happens to be a former freestyle skiing champion, having won four World Championships and three Olympic medals, including capturing Gold at the 2002 Salt Lake City games. Her company is 100% women's clothing, with a unique design focus that blends trending urban wear and apparel for the active outdoor lifestyle.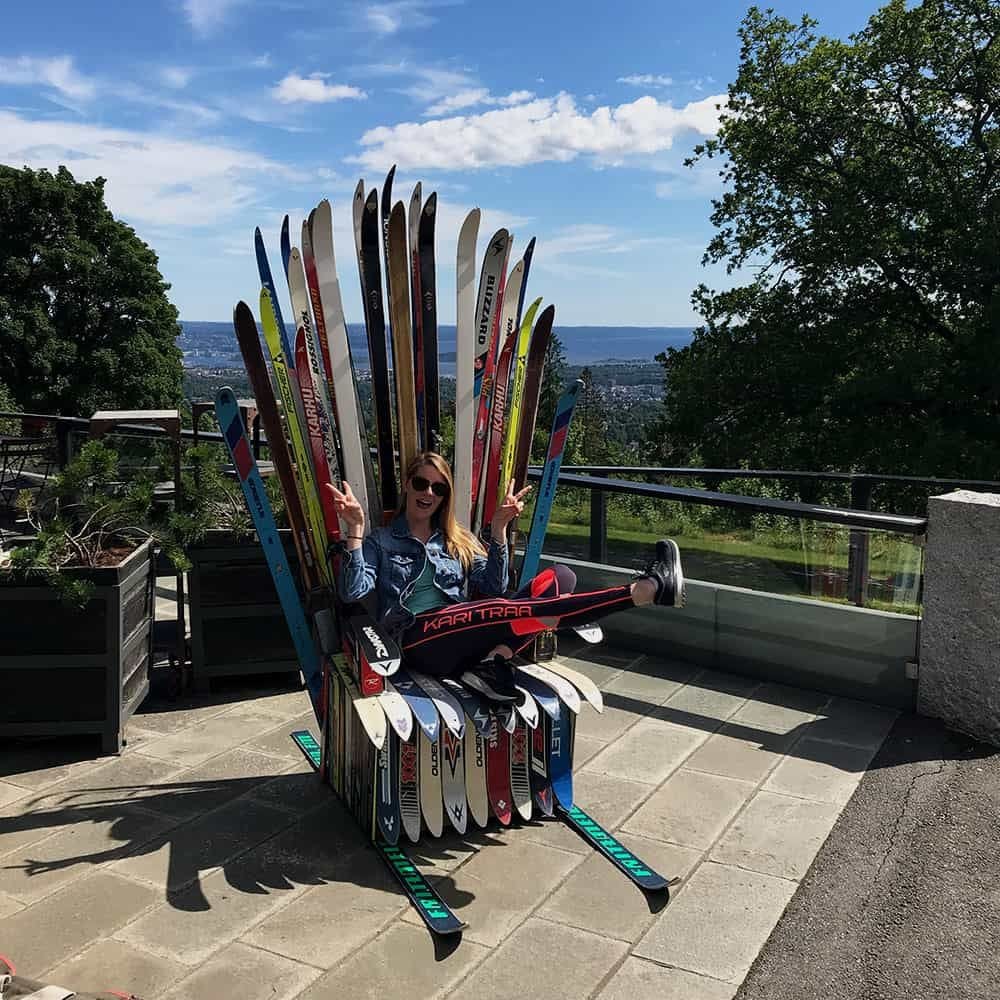 Our group spent that evening wandering Oslo, enjoying the sun that never sets. The endless summer days in Norway took some time for adjustment. But enjoying a beer on a terrasse in full daylight at 11 pm was a treat.
After a day of conversation, laughs, and saying Skol (cheers) a little too much, we headed to our hotel and readied for our trip to Voss the next day, which is where it all started for Kari Traa.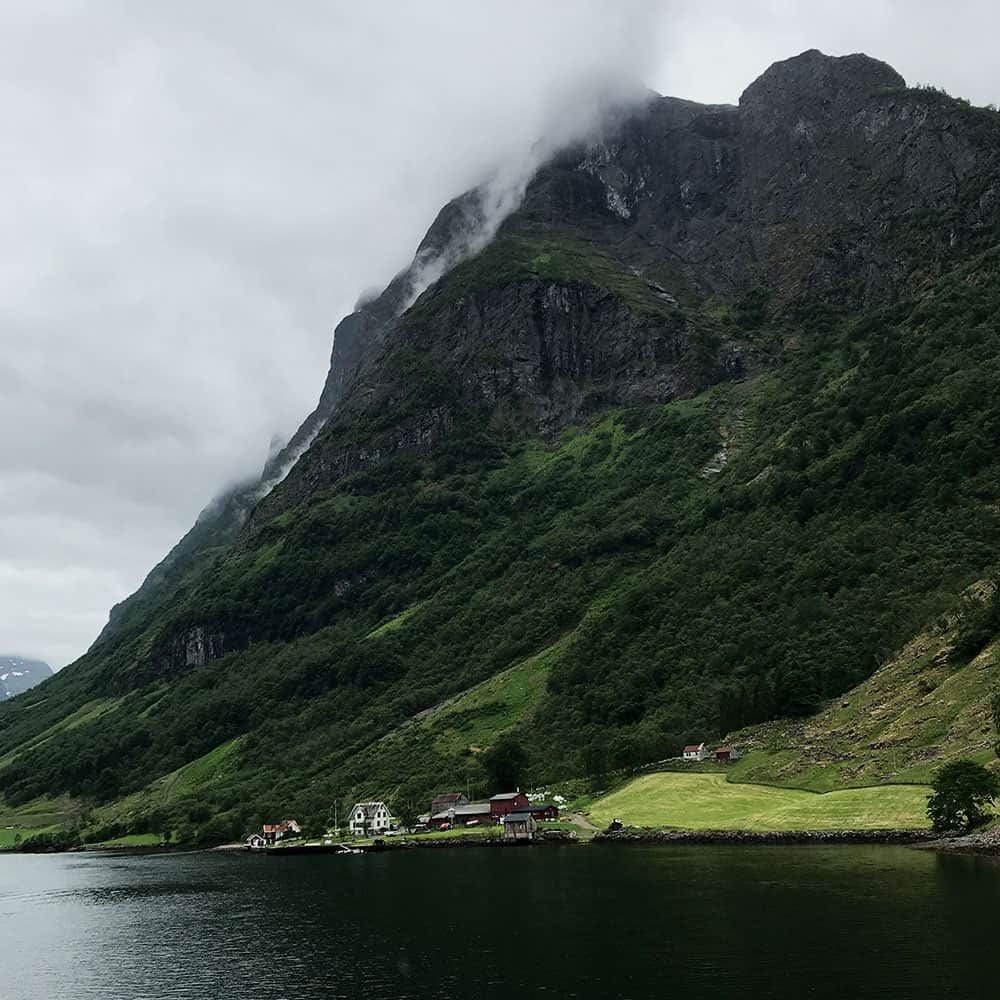 The next morning, we caught a 5 am train. Through the windows, we noticed the change of landscape and the arrival of snow, confirming we were heading north. At the halfway point, we arrived in a small village boarding a boat for an incredible cruise to Voss.
The trip through the Aurlandsfjord and Nærøyfjorden was breathtaking. There are no words to describe the beauty of those high snowy mountains, spectacular waterfalls, and near-fluorescent green grass at their feet. No wonder this area is a site.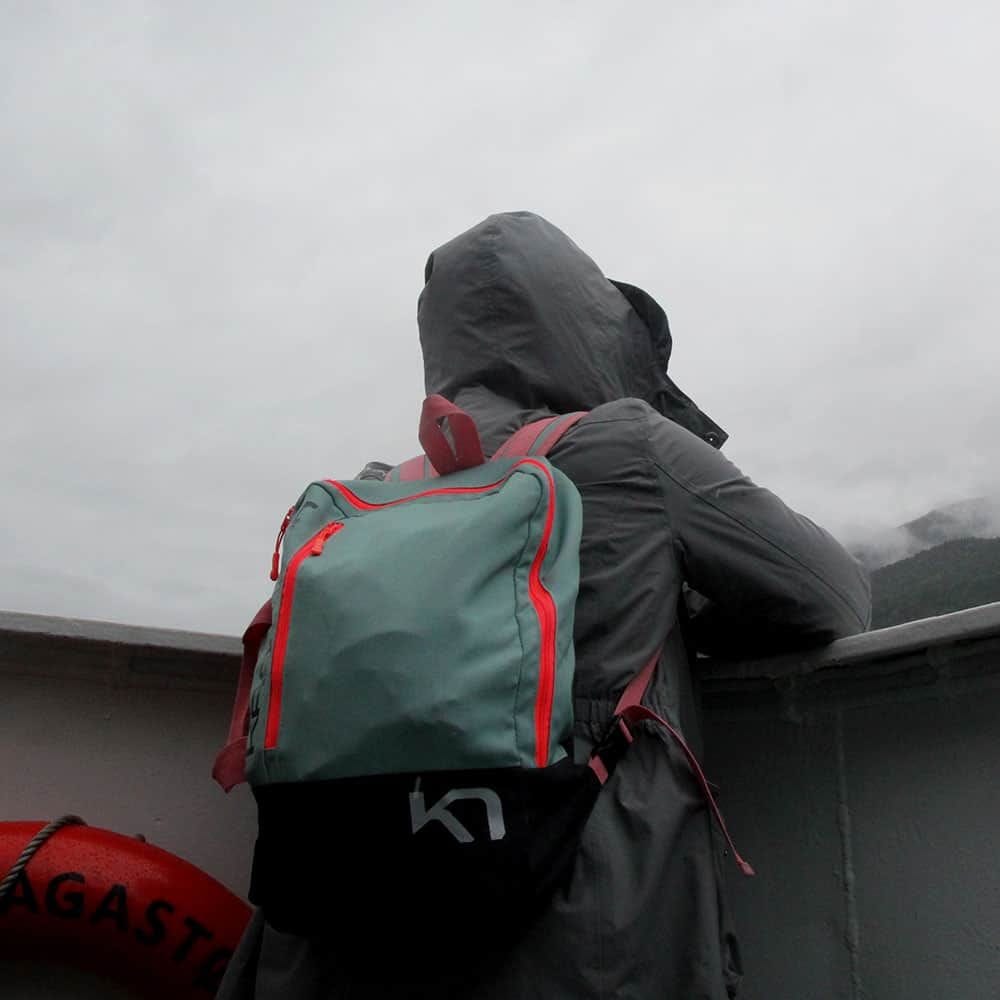 Our boat docked in the small village of Gudvangen where a bus was waiting. We drove through twisting mountain roads, and it was a good thing we had an experienced driver to navigate the way.
We finally arrived in Voss and settled into our lodgings at the Fleischer's Hotel, Established in 1864. This was probably the only historical monument we visited during our time in Voss: we were too busy trying to keep up with Kari Traa's fast pace of living.  
During the summer, the city hosts the annual Ekstremsportveko (Extreme Sports Week), the world's largest extreme sports festival. Locals gather to celebrate sports and culture and watch extreme events like base-jumping, parachuting, hang-gliding, kite surfing, rock climbing, mountain biking, and more. Luckily for us, we'd arrived on opening night.
Kari Traa herself welcomed us with wide-open arms. She stood out from the crowd, dressed in her brand's next season's gear. You couldn't help but notice her. Being a freestyle ski champion, at a sports festival, in her hometown, she was, of course, a celebrity to the crowd, and everyone was asking for a picture with her.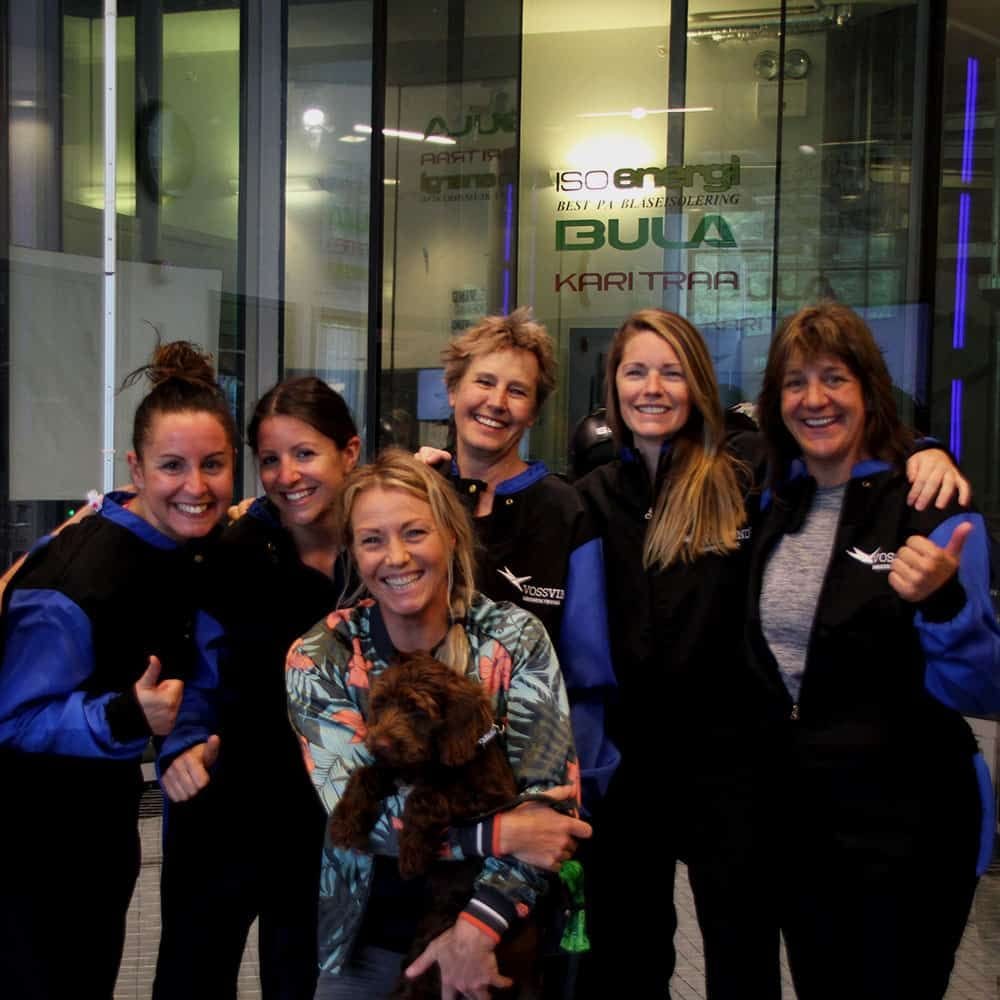 Our first day in Voss was full of surprises.We all tried indoor skydiving in the first wind tunnel ever built in Norway. It was an amazing experience, but honestly, there's more to it than you might think.  
Now that we'd had a preview of what real skydiving might be like, Kari informed us we'd be jumping out of a plane in a few minutes. Turns out skydiving is the initiation that every new member of the Kari Traa team has to do to be considered part of the family.
For a few of us, skydiving was bucket-list material, but when you're not expecting it and haven't had a chance to prep yourself mentally, it adds to the challenge ahead. Now that we were there, however, I couldn't see anyone of us backing down.
We had a 2-minute crash course of what to do while jumping, and the next thing we knew we were on the plane, up in the air, and waiting to jump. My heart was beating faster than ever, but I was reassured: I had a Kari Traa parachute. 😉
View this post on Instagram
The view while flying was stunning, and once you jump, the feeling of hurtling through the air was one of a kind. I couldn't stop smiling, which also meant a free cleaning on my teeth.
To finish the day ''calmly'', we went white-water rafting on the Stranda River. After being up in the air, feeling the water was quite a nice contrast. The water was turquoise, the sun was shining, and we were going down spectacular rapids.
I'd run through more adrenaline in one day than all of last year. We felt good, tired, and used every bit of energy we had to get through the day.  For our last night, a member of Kari's family welcomed us for a backyard BBQ. We had great food in good company. It was a perfect way to end an unforgettable trip.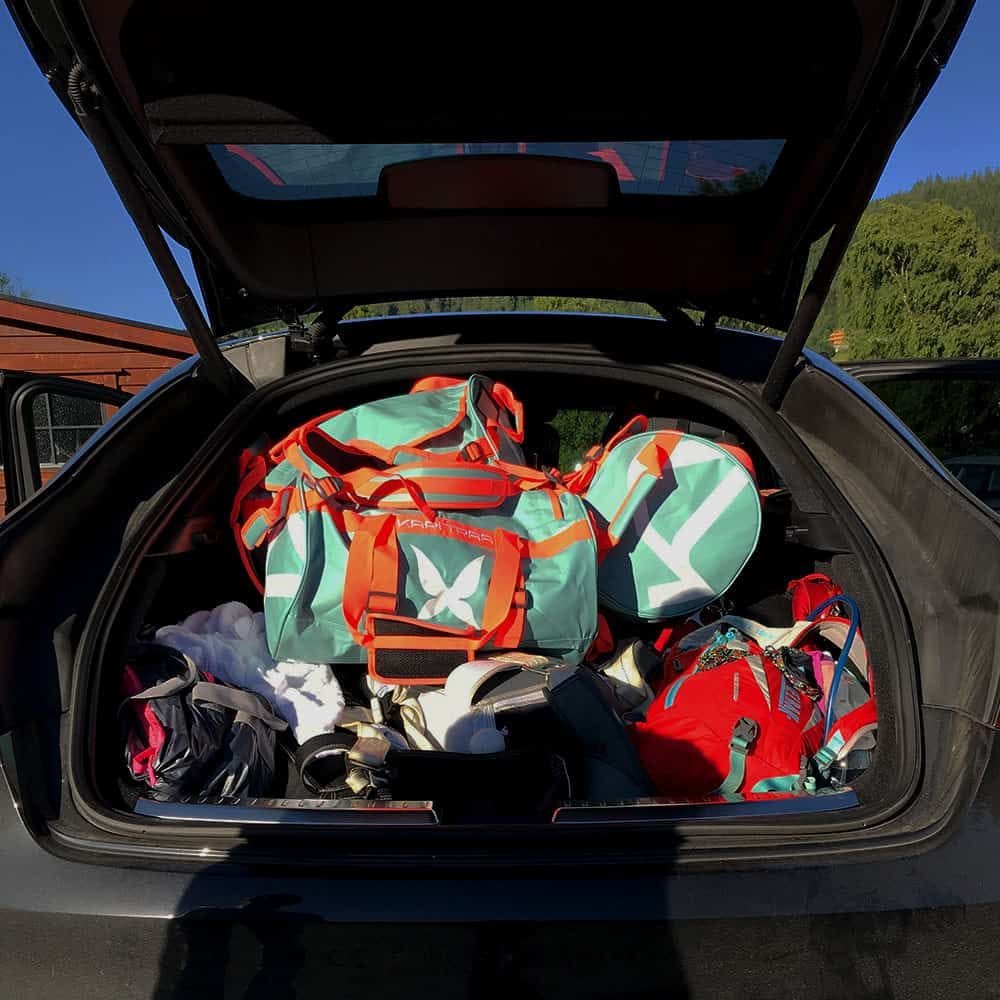 It was amazing to experience a slice of Kari's life and gain a deeper understanding of how she truly embodies her brand. Always smiling, she has an open heart and brings fun to everything she does. She's inspired by the people she surrounds herself with, Scandinavian traditions, and the outdoor Nordic lifestyle. Kari truly embodies her brand and her natural energy and authenticity radiate through the company's every design.
'Kari Traa' couldn't be called anything else.
SHARE