When it comes to waterproof shells, there's an endless selection of brands and models to choose from in 2022. It can seem overwhelming at times. For outdoor fanatics, Arc'teryx is probably at the top of the list, and if we're narrowing it down to shells, not many can compete with the design and build of the Beta AR. But that's not to say it's the only one capable of getting the job done.
Arc'teryx is known for its craftsmanship and high-quality construction, but that comes at a price. And as we know, price doesn't always indicate which is best. Considering factors like build, performance, and what it's going to cost you, we've selected jackets capable of taking on the Beta AR for waterproof shell supremacy. They are, in no particular order:
Alternative 1: Black Diamond – Liquid Point GTX Shell 

Alternative 2: Patagonia – Torrentshell 3L

Alternative 3: The North Face – Futurelight Shell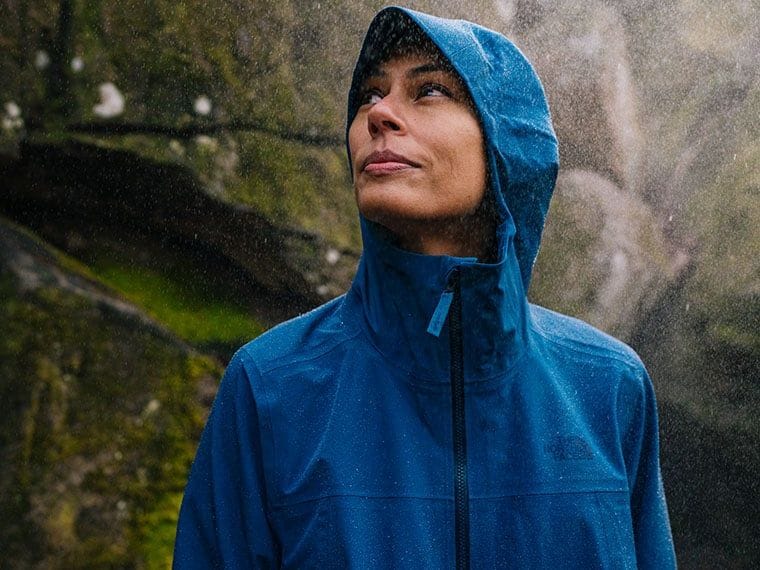 Alternative 1: Black Diamond Liquid Point GTX Shell
Black Diamond is a name that often gets thrown around when comparing industry heavyweights. It's a brand trusted by explorers across the globe, and with good reason. BD as we currently know it was founded in 1989, but its origins go back to the 1950s when an (at the time) lesser-known climber named Yvon Chouinard was selling hand-made pitons out of his car. 
Today, the mountaineering brand based out of Utah is manufacturing everything from climbing rope to ski jackets. Among their selection of waterproof jackets, we've chosen the Liquid Point GTX Shell as the first on our list of Beta AR contenders.
Build
We'll start with the jacket's defining feature: the GORE-TEX Paclite 2.5-layer shell. Arc'teryx is well-known for its use of the waterproof treatment on most of its shells because it's the industry standard in keeping wearers protected against wind and rain. This minimalist Black Diamond shell boasts a PU-coated YKK reverse coil front zipper and low-profile, custom-moulded sleeve tabs.
Other Features include
Adjustable & helmet-compatible hood

Two-way pit zip vents

Zippered hand pockets
Performance
What can't it do? Backcountry skiing, hiking, trekking, climbing, dealing with wet & snowy weather, the Liquid Point GTX Shell is as versatile as they come. It's your first line of defence against the rain, and worn over an insulated mid-layer, it has everything you need to take on cold winter days.
Did we mention how light it is? At 425g, it comes in considerably lighter than its Arc'teryx counterpart. It might not seem significant, but when you're packing for a backcountry trek or layering up for a hike, the less excess weight, the better.
Alternative 2: Patagonia Torrentshell 3
Go green or go home has unofficially been the message from outdoor giants Patagonia since it began as a simple apparel brand in 1973. Another brainchild of climber Yvon Chouinard, he's taken the brand and the industry to new summits with his innovative approach and dedication to the craft of climbing. 
Today Patagonia is much more than a climbing brand. Besides manufacturing gear and apparel for various activities, they are also leading the charge in everything organic and recycled. Go through their apparel catalogue, and you'll find it all, from basic t-shirts to fleece sweaters made using recycled materials. The Torrentshell 3L jacket is no different. But don't think that means it doesn't hold up to its competitors and their latest state-of-the-art designs.
Build
The brand uses proprietary technology to ensure the wearer stays bone dry when hiking on rainy days. The 3-layer H2No Performance Standard shell is waterproof and breathable. It features a 100% recycled nylon ripstop face, with the added reinforcement of a durable water repellent treatment. The fabric is bluesign-approved, and all the zippers feature welted exterior storm flaps.
Other Features include
Microfleece-lined neck

Two zippered hand warmer pockets

Two-way-adjustable hood
Performance
On the outside, it looks like your traditional run-of-the-mill waterproof shell. And that's exactly what it is. But that's not necessarily a bad thing. It's a simple jacket that does exactly what it needs to when called into action. It offers all the waterproof protection you need, and it has plenty of zips and loops to keep you bundled up and your essentials within reach.
One of the coolest features of this jacket is that it self-stuffs into its pocket. You might think, 'So what,' but when you're going on a weekend trek and need to pack light, or if you're looking to bring some reinforcements for your crosstown odyssey, having a jacket that you can slip into one of your pack's side pockets is a big bonus. And to top it all off, it weighs in at an impressive 394 grams.
Alternative 3: The North Face Futurelight Shell
There are few brands in the industry pushing the limits of gear and apparel like The North Face. Founded in 1968 in sunny California, the brand logo was inspired by Yosemite National Park's well-known and highly technical Half Dome rock formation. All that to say, climbing is a big part of TNF's heritage. 
Today they have teams of athletes travelling the world looking for new summits to explore. With one of these teams, they tested out their latest innovation and one that's slowly making waves in the outdoor industry. Futurelight, like the name suggests, is designed to be the future of waterproof, lightweight, breathable materials.
Build
Futurelight's 3L breathable, waterproof, seam-sealed shell makes up the stylish construction of the Retro 1986 Futurelight Mountain Jacket. This modern twist on a classic features the brand's latest waterproof technology and the added reinforcement of a non-PFC Durable Water Repellent treatment. The relaxed fit makes it perfect for throwing over a soft fleece mid-layer.
Other Features include
Mesh lining on the upper body

 Two-piece hood with a drawcord and cord locks

 Double storm flap with a snap closure
Performance
If you plan on going ice climbing, we would probably recommend something a bit more technical since this jacket is designed for the techwear or gorpcore crowd. If you're judging it based on waterproofness alone, then it holds up well against other jackets in its category. But the Retro 1986 Futurelight Mountain Jacket isn't pretending to be something it's not.
The fit, the details, and the look are better fitted to urban adventures. That's not to say that you can't wear it hiking, but there are better options if you're considering all the factors. This one adds bulk, and the cut is shorter than you'd usually find on a waterproof shell.
Wrap Up
We've made a good case for all the jackets on the list, but now it's time to see how they hold up against each other.
Waterproofness
All of the jackets on our list are what we call waterproof shells. Their primary purpose is to keep out the wind and rain while remaining breathable. Black Diamond's Liquid Point GORE-TEX shell is tough to beat, but Patagonia's Torrentshell 3L can hold its own. After years of rigorous testing, The North Face's Futurelight technology has proven that it can take on pretty severe conditions, so this one is probably too close to call.
Function
This is a better way of gauging which one you should choose. As we've already concluded, all three are more than capable of taking on the elements, but the small details make the difference. If you're looking for a technical shell to wear in the backcountry or ice climbing, your best bet is Black Diamond's Liquid Point Shell. If you want something versatile that can serve both in the city and the great outdoors, Patagonia's Torrentshell is a no-brainer. If you want a stylish city jacket that combines streetwear with old-school mountaineering swag, then go with The North Face's Retro 1986 Futurelight Mountain Jacket.
Price
Arc'teryx is on the higher end of the price scale, with an average retail price just shy of $800. Meaning there are more affordable options out there. The three we've chosen each fall into pretty distinct categories. If you want something affordable and reliable, Patagonia's Torrentshell comes in at $189. If you increase your budget, Black Diamond's Liquid Point GTX Shell retails at a reasonable $339. And the most expensive on our list is The North Face's Retro 1986 Futurelight Mountain Jacket, which reminds us that the price of looking stylish can sometimes be a bit high.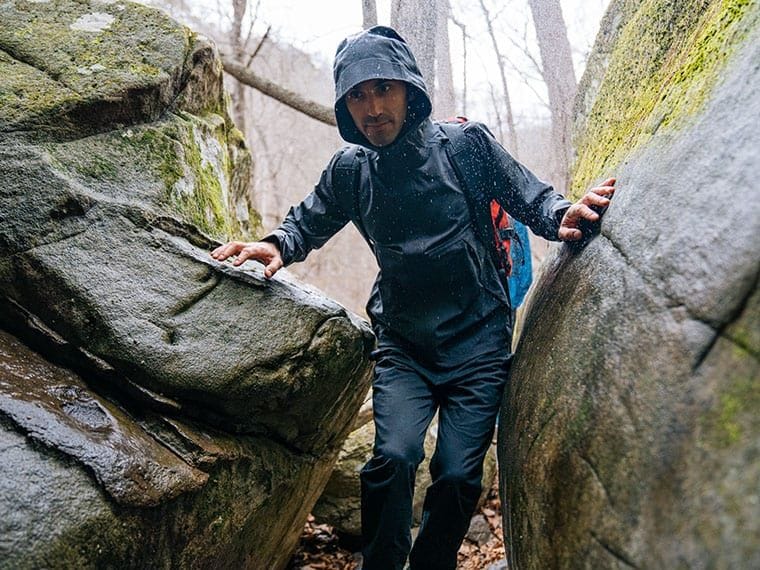 Conclusion
No matter which jacket you pick, you can feel confident in knowing that some of the greatest mountaineers in the world rely on these brands to get them up the mountain. You might not be summiting any fourteeners with these, but a trek through the backcountry or an early morning hike in the rain shouldn't be a problem. 
The Arc'teryx Beta AR is tough to beat when comparing it against other similar brands. Still, depending on what you're looking for, Black Diamond, Patagonia, or The North Face each have options that can match and sometimes even exceed the Canadian apparel giants.
SHARE