My duffel is often that item that I don't need to give much thought to when I'm preparing for my next trip. Between packing my flashy technical hardshell, my sleek climbing pants and my rugged hiking boots, I'm worrying more about the gear and apparel I need for my next trip. But that's only because I've found a reliable pack that answers all my needs.
Whether it's a weekend adventure or a month-long odyssey, I know that what I pack my gear in is just as important as what gear I'm packing. When I travelled to Nepal for a week (even though I didn't quite make it to Everest Base Camp) there was only one pack I was going to bring with me. Here I break down why the Base Camp Duffel by The North Face is one of the most reliable packs on the market.
The Legendary Expedition Duffel
Every great adventure, and every epic climb starts at base camp. It's where climbers and mountaineers plan out their ascents, and map out their routes. In the world of gear and apparel, The North Face Base Camp Duffel is where you should start as well. A compact design, combined with durable features, and weatherproof build ensures all your stuff stays protected. The Base Camp Duffel does all this and more.
In the world of backpacks and duffel bags, size does matter. If you're toughing it out in the backcountry you want something that can handle the long, arduous journey. If you're going on a weekend trip, travelling with nothing but a carry on, you want to make sure you use every inch available to pack your essentials. The North Face has given us that which we often crave but so rarely find: choice. They've created their ultra rugged Base Camp Duffel in sizes ranging from XS (31L) to XXL (150L).
The North Face Base Camp Duffel
Why You Should Consider the Base Camp Duffel
Proven Durability
The term "bombproof" doesn't get thrown around lightly, nor should it. But when The North Face says the Base Camp Duffel is bombproof, they mean it. It's the kind of pack where, when the trunk is full to the brim, I can strap it to the roof of the car and it'll still probably arrive at my destination in better condition than the stuff piled in the back. The rugged, water-resistant ballistic nylon is durable and reinforced with double stitching to ensure no matter how much I fill it, nothing will break the seams.
Ease of Carry
Whether I'm carrying it through customs, throwing it over my shoulder, or wearing it as a backpack, I'm always comfortable carrying it. A duffel bag is meant to be carried by hand at your side, but when I'm going from the airport to the campsite, I want to adjust the carry method to the terrain. The ergonomic alpine-cut shoulder straps are detachable and adjustable for comfort when worn as a backpack. The padded side haul/carry handles don't put too much strain on my hands when I carry it.
Accessibility and Compartments
Ease of access is important when I'm in a rush to find my ticket, or trying to shove souvenirs in as I sprint from the gift shop to the train platform. Throwing my  wind breaker on and off can also be a hassle if I'm constantly trying to find it in my bag. The Base Camp Duffel makes travelling easy and secure. 
The D-zip flap opening makes it easy to access essentials, and the inner mesh pocket makes it easy to find travel documents and itineraries. The zippered side pocket also makes it easy for me to grab my passport or my money without having to empty the whole pack. What's clever about the Base Camp Duffel is the fact that when it's worn on your back, the pocket is facing inside, so I never have to worry about pickpockets or bears reaching into my pack without me knowing.
Packability
What I mean here is how much space will it take up when I'm trying to get everything packed into a roof rack or a trunk. Whether it's keeping it compact in overhead compartments or squeezing it in between a suitcase and a pile of ski boots, the Base Camp Duffel is made for tight spaces. Its compact design is further accentuated thanks to the four compression straps that help you squeeze out every last bit of air in the pack, ensuring you can fit everything and the kitchen sink into the trunk of my beat up road warrior.
Versatility
From all angles, the Base Camp Duffel is ready for adventure. Whether it's a question of durability, size, carrying options, storage options, or colour, this duffel from The North Face checks off most boxes. It's as comfortable on rugged wilderness retreats as it is in the temperature regulated overhead compartment of business class. A quick weekend trip doesn't require more than a change of clothes and a shell for inclement weather, so the XS does the job. If I want something visible on backcountry adventures, I can go for some of the brighter colours. It's sleek enough that I can carry it on my daily commutes, yet durable enough that I can go from the metro to the trails.
Style
Like I said, it's not necessarily the item that's going to stand out the most, but that doesn't mean the Base Camp Duffel doesn't have style. The North Face offers a range of colours for its legendary duffel–from vibrant colours like TNF Yellow and TNF Red to the more subtle Black and Blue, you'll find every colour of the rainbow.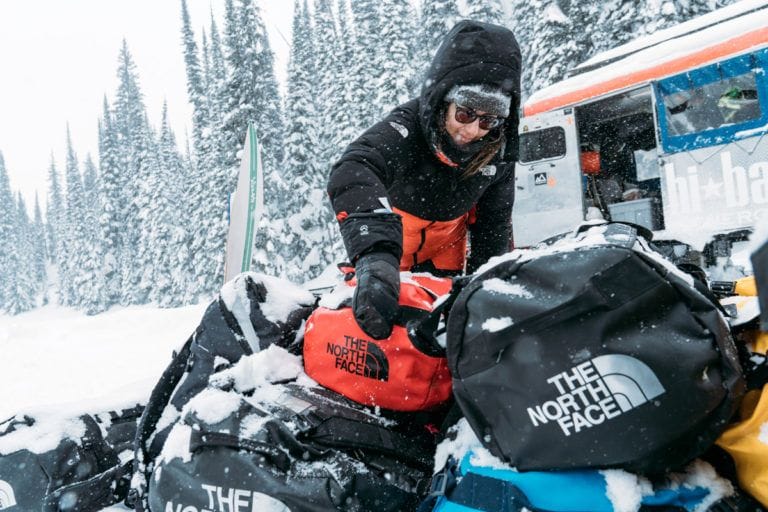 A Word from your Fellow Adventurers
From the variety offered in size and colour, to the durability and the versatility, the reviews have been overwhelmingly positive. Customers have loved this rugged pack for how easy it is to use, and how it makes their trips a lot easier to manage when they're not worrying about how much room they have for their stuff. Here are a few of many reviews on the duffel's legendary performance:
"Great size for one-bag travel, love the ease of use and versatility of a duffel" – Ryan H.

"Best duffle in the market! Also comes with store away bag. Works for rain and dry conditions" – Alejandro M

"This is a big and durable bag that will be used for summer and winter trips. I needed something that I could put in the back of a truck and at events, and not worry about the contents if it rains or snows. The top zipper is hidden under the top flap, making it more water resistant. Easy to find things with the big opening" – Emily S.
FAQ
Is North Face Base Camp Duffel waterproof?
No doubt about it, the Base Camp Duffel is one of the most rugged packs on the market. It's made to withstand everything the elements can throw at you. But is it waterproof? That depends. The easy answer is it's water-resistant. That means in a torrential downpour, your gear is most likely to stay protected. However if you're planning on deep-diving with it, chances are water will find a way in. All that to say, it will hold up in most storms, but very rarely have we come across those it couldn't handle.
Can the Base Camp Duffel be used as a Carry-On?
Wasn't it Shakespeare who wrote, "To carry on, or not to carry on?" In this case, I'll refer you to the Base Camp Duffel's wide range of sizes. Most airlines are pretty strict about carry-on sizes, but you can probably sneak the XS (31L) and S (50L) Base Camp into the overhead compartment without too much hassle.
Is the Base Camp better than the Patagonia Black Hole?
This is a tough one, and I couldn't say one is better than the other. The range of sizes for the Black Hole is similar to the Base Camp, although Patagonia's model stops at 100L vs. The North Face's 150L. In terms of design, both duffels offer similar features, and both are made of ultra-durable fabric. The price point is fairly similar for both, and each model is offered in a number of different colours. Both are water-resistant, and both feature various carry methods. At this point, it's too close to call, and I'll leave it at your discretion to make the choice. Just know that whichever you choose, you're getting a very rugged, highly versatile duffel from some of the top brands in the outdoor industry.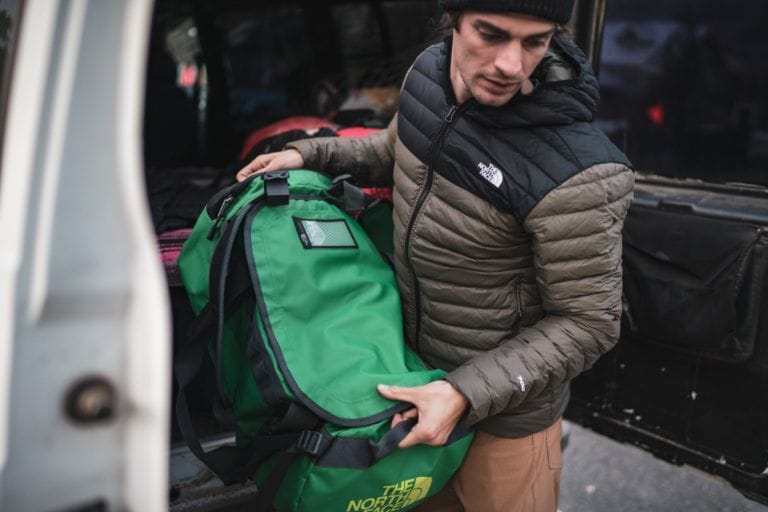 Conclusion
I like to change things up when I travel. Sometimes I'll tough it out in the woods for a few days, but other times I like a bit of luxury. I'm talking about a weekend trip to a big city. I'm not going to let the weather dictate my itinerary so I have no choice but to be prepared for anything. Of course the duration of my trip will dictate how light or heavy I want to travel, but with a couple of the Base Camp Duffels in my arsenal, I know that wherever I end up, I'll be ready for whatever gets thrown my way.
SHARE