For the uninitiated, the idea of camping can feel like space travel—a frightening and treacherous undertaking that requires heaps of specialised training. This couldn't be further from the truth. Camping is a fun, simple, and affordable activity for people of all ages, from all walks of life.
But there's a few things you should know before getting started. To stay safe and comfortable in the woods, you'll need the right gear. In this blog, we discuss the top 20 camping checklist must-haves. For newbies, this article offers a solid foundation. For seasoned veterans, it serves as a good refresher.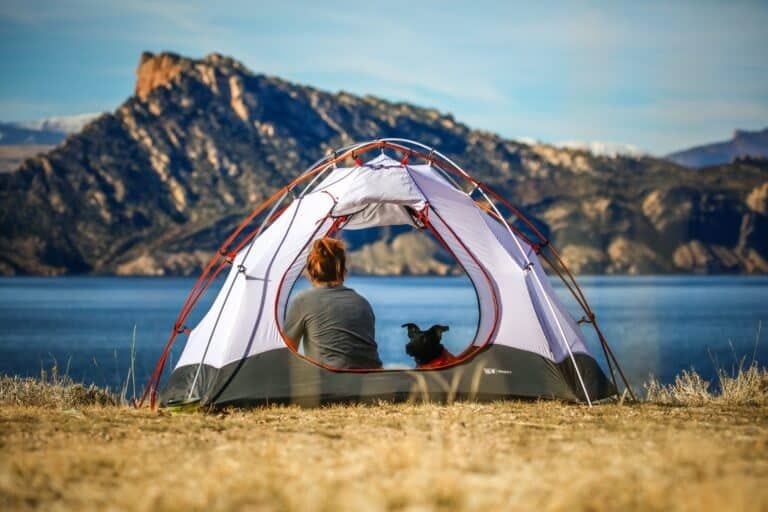 Shelter and Shut-Eye
Your shelter and sleep system comprise two of the Big Three when it comes to camping essentials. A shelter is any structure that puts a barrier between you and the elements. A sleep system helps regulate your core temperature and stay comfortable while asleep. This includes a sleeping bag, sleeping bag, and pillow.
Tents offer protection against wind, rain, snow and—most critically—bugs! They come in a variety of shapes and sizes and can either be freestanding or not. Some tents use trekking poles in place of tent poles to reduce packed weight.
When choosing a tent, consider things like floor space, durability, ease of set-up, and breathability. Instead of a tent, you might also consider a hammock or bivy.
A sleeping bag is a compact and insulated blanket used for camping. The durable face fabric is typically treated with a water-resistant coating. The inside contains a thermal insulator, usually a lofty synthetic or natural goose down. Common features include a hood, zipper, and drawstrings.
When choosing a sleeping bag, consider its temperature rating. Depending on your use case, you can choose between an ultralight summer quilt and a heavily insulated winter bag. In need of extra warmth? Combine your bag with a silk liner.
Despite the myriad sleeping pads on the market, there are fundamentally two types: foam and inflatable. Inflatables are more compact and comfortable than foam. That said, they're also heavier and more expensive. Some are self-inflating.
Foam pads are notoriously lightweight. If you've got an ultralight bent, this is the way to go. You can even create what's known as a "shorty pad" by cutting it down to torso length. Foam pads do take up a lot of space however, so you'll either have to strap it to your pack or use it as a backpack frame.
Pillows come in two varieties: inflatable or compressible. The former are easy to pack and usually lighter. On the other hand, compressibles boast the familiar comfort of a regular pillow.
When shopping for camping pillows, prioritise durability and comfort. Ensure the product has a decent level of tear-resistance. As for comfort, opt for something with a soft, brushed finish.
A tarp is one of the most multi-purpose items in your kit. It serves as a rain shelter over a picnic table or tent; it acts as a groundsheet; it can even double as a poncho in stormy weather. In general, silpoly and silnylon tarps are lightweight and durable.
Though more expensive, you can also go ultralight with a Dyneema Composite Fabric (DCF) tarp. If you're on a budget, pick up an industrial tarp from your local hardware store.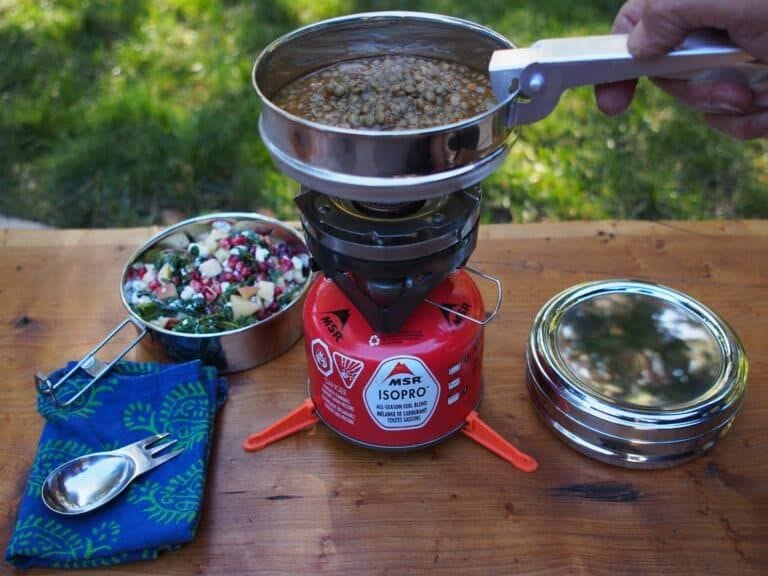 Camp Kitchen
They say that food is the glue that holds communities together. This is nowhere more true than while camping, where distractions are few and rumbling stomachs are aplenty. Here's what you'll need.
Camp stoves are portable devices that let you boil water and heat food. They're usually powered with either canister fuel or liquid fuel. You can also use fuel tablets or good old-fashioned wood.
Some camp stoves are small enough to fit in the palm of your hand while others are as big as a microwave. The right choice ultimately comes down to group size.
Unless you're a culinary virtuoso or camping with a big group, a single pot and pan will cover most of your bases. This combination is highly versatile, allowing you to boil, saute, and even fry.
Aluminium, stainless steel, and titanium are the most common materials. Titanium is the most lightweight while stainless steel is the most durable. Aluminium offers an affordable compromise between the two.
Avoid raiding the kitchen by opting for a plastic or titanium spork. An extended handle is also a nice touch, as it makes scraping the bottom of freeze-dried meal bags a cinch.
For plates, you can either go for a hard, lightweight plastic or pick up a collapsible silicone set.
Cups usually come in hard plastic or silicone. Mugs, on the other hand, are intended for hot beverages like coffee, tea, or hot chocolate. Therefore, they're commonly made of heat-resistant metals like stainless steel, aluminium, or titanium.
Some mugs and cups include a carabiner. This lets you stow it on the outside of your pack, making for fast drying and easy access.
Gone are the days when water filtration was a simple matter of boiling or bleaching. Today, filters come in a variety of forms, from gravity and pump filters to ultraviolet (UV) and chemical filters. There's even something called a LifeStraw.
Whichever you choose, make sure to verify which types of debris and/or contaminants are filtered by that particular method. Some methods are more effective than others, especially when it comes to pesky parasites like Giardia.
In the absence of electricity, coolers are the best way to store and refrigerate your perishables. They come in both hard and soft varieties.
Though not essential, handles for portability and a drain for melted ice (also known as "water") are nice features. Because not all coolers are built equal, make sure to check the insulation rating.
A cache is simply a place to store food and other odour-producing items in the woods. This protects it against curious critters and hangry bears. Some parks boast bear-proof metal boxes. Others will recommend—or even require—that you bring your own bear canister.
At the very least, you should know how to hang a bear bag. All it takes is a dry sack, some paracord, a rock, and a high enough tree branch. Food and other stinky items like soap, deodorant, and toothpaste should be stored in the dry sack.
From cowboy coffee to French press to pour over—the options for backcountry coffee makers are endless. Bring along some instant coffee or a ziplock full of freshly ground beans.
If you're a true caffeine devotee, pack a hand grinder for the freshest possible coffee. Check out our wilderness brewing guide for more tips.
Equipped for escape
Off-the-grid goods for family camping trips, van-life adventures, and backpackers who count their gear in ounces.
Other Outdoor Must-Haves
Even with your food and sleep systems down pat, there are a few more must-have camping items. Let's take a look at six.
As a volunteer SAR Tech, I'm always surprised by the number of people who skimp on their safety. It only takes a split second to end up with a sprained ankle, broken wrist, or gaping wound.
Packing a first-aid kit and knowing how to use it can mean the difference between a painful inconvenience and a life-threatening injury. Though you'll hopefully never need it, you'll certainly be grateful to have it if you do.
Headlamps are a hands-free lighting solution worn around your head. A waterproof housing encloses the bulb(s). Most headlamps have multiple brightness settings.
Headlamp brightness is rated in lumens: the higher the lumens, the more powerful the beam. Some units also feature one or more coloured light settings. Red light is particularly useful when you don't want to spoil your night vision or disturb your sleeping partner.
Known for their lightweight versatility, multi-tools can get you out of many binds. For camping purposes, your multi-tool should include a knife, scissors, saw, bottle opener, and can opener.
And while other tools like screwdrivers and pliers aren't critical to wilderness survival, they certainly don't hurt to have.
Camp chairs are a comfortable alternative to logs and dirt. They function just like normal chairs but are collapsible for easy and compact storage. Some camp chairs even boast built-in cup/bottle holders.
In camping areas with bear populations, it's advisable to carry an emergency can of bear repellent, also known as "bear mace". In some parks, bear mace is not only recommended but required.
Another common bear deterrent is what's called a "bear bell". These small, noisy trinkets are designed to continually announce your presence, thus driving bears away. The truth is that bear bells are just as likely to attract bears—especially young, curious males. So this is a hard pass for me.
Chess is hands down the best board game to take along. It's compact, easy to teach, and, according to the Shannon Number, effectively infinite.
Of course, if alcohol is part of your camping kit then consider a simple, fast-paced card game instead. Board games like Monopoly or Risk are not recommended; in the event of a strong gust or sudden downpour, you'll be left scrambling to pack up.
FAQ
Q: What should you not bring camping?
A: Unlike hiking, camping gives you the freedom to take along anything you want—as long as it fits in the trunk of your car. Still, I recommend that you don't bring too many electronics. Enjoy the woods; take the time to reconnect with nature.
Q: How do you make a camp cosy?
A: Find a good spot to pitch your tent; an open clearing with soft, flat ground is ideal. A good view doesn't hurt, either. Next, make sure to bring gear that you've already field-tested. This ensures you're comfortable with everything in your kit. Lastly, be prepared to battle bugs, rain, and cold.
Q: How do I dress for camping?
A: Temperature is the most important consideration when deciding what to wear. Not dressing appropriately can have devastating consequences, both in high and low temps.
Even in summer, it's wise to pack some lightweight pants and a breathable, long-sleeve shirt. If the bugs are out for blood, you'll be thankful to have those extra layers. Many long-sleeve garments also offer UPF sun protection.

PRO TIP: Never leave home without a mosquito head net. This cheap and extremely unobtrusive piece of gear is simply a life-saver.
Conclusion
Getting out into the woods isn't hard but it does require some preparation. With the right gear, you can ensure you're safe and comfortable every time. Remember, this checklist is not an exhaustive packing list. Don't hesitate to bring whatever items you deem essential. This will vary from person-to-person based climate, context, and personal preference.
If you're new to camping, this might seem like an expensive and overwhelming checklist. Just take it one step at a time. Whenever possible, repurpose items lying around your home. Also, shop with value in mind; ask yourself what gets you the most bang for the least buck—you can always upgrade later.
Happy trails!
SHARE