Whether you're a minimalist backpacker or regular glamper, the best camping coffee mug can make the outdoor experience much more pleasurable. You can use a mug for your breakfast oats, evening nightcap, afternoon tea, and of course, morning coffee. Whether you're a coffee drinker or tea lover, you'll want a mug that keeps drinks hot (or cold) for hours, has an easy-to-use lid, and won't leak coffee all over your gear. 
With these factors in mind, we've rounded up the best camping coffee mugs for 2021. Overall, our top coffee mug is the YETI Rambler Mug with a Magslider Lid, which keeps drinks hot or cold for a long time and conveniently stacks onto other Rambler mugs. Keep reading for our other favourite coffee mugs and a buying guide for choosing the best camping mug.
Best Camping Coffee Mugs Reviewed
BEST OVERALL​
YETI is a household name in outdoor gear, with coolers and mugs that are known to keep drinks hot or cold for hours. The Rambler Mug with a Magslider Lid is another winner in the YETI family, with top-to-bottom insulation to keep your coffee hot all morning long. In addition, this cup is stackable with built-in grooves on the bottom, which improves packability and saves space. It's also dishwasher safe and comes with a smooth sliding magnet lid.
Price:
0.00$
Pros
High quality

Stackable mug

Magnetic lid
Runner Up
With double-walled vacuum insulation and a splash-resistant lid, the Hydro Flask 12 oz Coffee Mug is a true gem. The soft-touch outer shell feels good in your hand and doesn't make loud noises if dropped. Plus, the stainless steel interior keeps drinks piping hot and icy cold for hours. You can also buy confidently knowing this mug is BPA- and Phthalate-Free. The one downside is that the opening in the lid doesn't close, so it's not ideal for the car.
Price:
0.00$
Pros
Soft-touch finish

Double-walled insulation

Splash resistant
Cons
Opening in lid doesn't close
Best Budget Option
For an inexpensive mug that's the perfect size for coffee in the morning, we love the Stanley The Legendary Camp Mug 12 oz. This affordable mug has double-wall vacuum insulation that retains drinks' temperatures for over an hour. It also features a secure press-fit Titan lid that has a good size cutout for sipping. The downside to this mug is there's no rubber bottom, which means it might wobble on the ground, and the ceramic handle is a little uncomfortable to hold.
Price:
0.00$
Pros
Inexpensive

BPA free

Easy to use lid
Best Lightweight Camp Mug
The triple-insulated Corkcicle Coffee Mug keeps your beverage hot for up to 3 hours. Some of the standout features of this attractive mug include an ergonomic handle that fits nicely in your hand and a spill-resistant clear sliding lid. There's also a rubberized non-slip bottom so you can securely place it anywhere in the base camp. We also love the wide selection of colour options and patterns available for this lightweight camping mug. The one drawback? It isn't dishwasher safe.
Price:
0.00$
Pros
Non-slip bottom

Triple insulated

Many colour options
Other Favourites
If you're looking for a rugged camping mug that fits in a car holder, you can't go wrong with the Stanley Classic Trigger Action Travel Mug. It keeps coffee hot for an impressive 9 hours, and the design is leakproof and easy to pack in a lunch kit or backpack. The trigger action top ensures no drips or messes while you enjoy your morning brew.
Price:
0.00$
Earthwell is an eco-conscious brand that makes high-quality products, and the Early Riser 16oz Cap is no exception. The EarthGrip powder coat finish grips the hand securely, so you don't have to worry about dropping your cup on those sleepy mornings. This vacuum-insulated tumbler also has a silicone lid with an opening that can accommodate stainless steel straws, which is great for different types of drinks. If you want to stick to coffee, the TempLock keeps it hot for up to 20 hours!
Price:
0.00$
Don't let the simple looks deceive you...the Outdoors Commuter Javapress is actually a portable french press coffee mug! Simply load in your coffee grains, add hot water, and use the built-in press to brew. The spill-resistant flip-top lid easy to drink out of, and the insulating sleeve keeps your drinks hot.
Price:
0.00$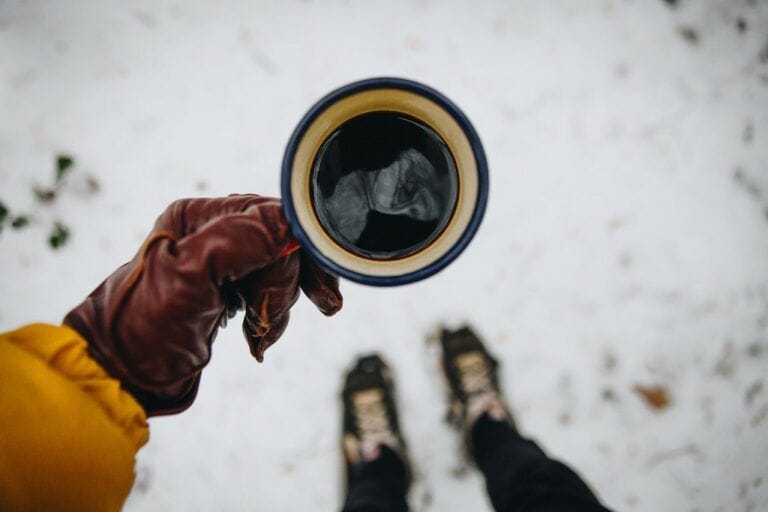 What to Look for in Camping Coffee Mug
When you're looking for a camping coffee mug, you'll want to focus on heat-retention capabilities, weight and design. Here are our best pointers to help you find the perfect camping mug. 
Insulation
Insulation is one of the first things to look at when choosing a camp coffee mug. If it doesn't keep your drink hot, what sets it apart from regular coffee cups? To evaluate the insulation of camp mugs, check out the number of hours it'll keep the drink hot or cold. 
You can also judge the temperature retaining capabilities by looking at the type of insulation. For example, a double wall vacuum-insulated coffee cup will keep your morning coffee hot for hours on end. FYI: double-walled means there are two walls of stainless steel with a vacuum between them to keep the temperature stable. 
Weight and Packability
When you're going on lengthy camping trips, you want a camping mug that's small and packable. A stainless steel camping mug is a good option as it's lightweight and durable. If the mug has a solid handle, you can also use a carabiner to attach it to the outside of your bag. Overall, we recommend looking for a camping mug that just weighs a few ounces. 
Lid Type
For obvious reasons, you'll want to have a spill-resistant lid on your camp mugs. This assures you that your morning coffee won't be spilled all over your gear if the cup gets knocked over. So, especially if you have kids in the picture, make sure you find a camping mug with some spill protection on the lid. There are many different types of lids: magnetic sliders, flip tops, and more. Make sure you pick one that suits your fancy!
Leak Proof?
Many camping mugs claim to be leak proof, but finding one that really doesn't leak is a challenge. The secret is in the lid – make sure the lid can snap shut so that coffee doesn't stand a chance of leaking out. If the mug is vacuum sealed, you can also bet that it's leak proof.
FAQ
Do I really need a camping coffee mug?
Are you the type of person that likes to nurse their morning coffee? Then, odds are, having a camping coffee mug will make waking up a lot more enjoyable. There's no easy way to reheat your coffee at the campsite, so an insulated mug can really come in handy.
Are expensive camping coffee mugs worth it?
As with most things, you get what you pay for with expensive camping coffee mugs. Usually, cheaper ones won't keep your coffee hot for as long but will keep it warmer than a regular cup would. On the higher end, coffee mugs can keep your drink hot for up to 20 hours.
Why are camping coffee mugs popular?
Camping coffee mugs are popular for the same reason that insulated water bottles are - it's convenient to have your drink stay warm or cold for hours! A cup of joe that stays warm can help you wake up faster or enjoy a slow morning.
Final Word
Rolling out of your tent is so much more pleasant with the best camping coffee mug. While finding the best camp mug comes down to your needs and preferences, we hope we've helped you find the perfect one. If you need a solid go-to mug, try our best-overall pick, the Rambler Mug with a Magslider Lid that'll keep your coffee nice and piping hot all morning long.
SHARE