Some kids' winter jackets are insulated with goose or duck down. Some use synthetic insulation. Almost all of them are waterproof and have lots of features for winter activities like skiing, snowboarding, and fun in the snow. But which features are essential and which are optional?
Here are 10 of the very best kids' winter jackets for boys and girls. Our metric is the same I use for my own kids: Warm, comfortable, and durable over multiple winters. Some of the top brands featured—like Canada Goose, The North Face and Patagonia—are trusted companies with many years of cold-weather research behind them. Let's look at some of the best kid's winter jackets on the market:
You can also hop right in to our tips on what to look for when buying kids' winter jackets.
Top unisex winter jackets for kids
Kids love shiny new toys. How about a shiny new winter jacket that'll be warm and comfortable all winter long, with city style to boot? You get all that with The North Face 1996 Retro Nuptse Down Jacket.
It boasts 700-fill power goose down insulation and can be stuffed down into the hand pocket for easy storage. The North Face first made the glossy, puffy Nuptse in 1996 – it was cool back then and it's cool again today. This edition is for both boys and girls. The North Face makes legendary winter apparel, and the Retro Nuptse Down Jacket for kids is no exception.
For bigger kids, check out the larger version.
Price:
0.00$
If only shopping for the best kid's winter jackets was so easy as Canada Goose makes it. The brand is a rare bird, at the top of the winter fashion world with functional winter jackets that are the standard for supremely warm winter wear.
That's why the Canada Goose Rundle Bomber for youth is a no-brainer when it comes to quality. This bomber comes with white duck down insulation, an Arctic Tech shell and the big signature Canada Goose hood. You can remove the fur ruff and just chuck the jacket into the washing machine when it's time. Plus, bombers are definitely in (just ask your children).
Price:
0.00$
For something a little more technical, the Helly Hansen Alpha Jacket is a stellar choice. This fresh take on the brand's signature, premium, resort ski jacket is now sized for kids. Whether navigating the slopes or waiting for the school bus in a storm, the Alpha offers elite winter protection.
As you'd expect from a brand like Helly Hansen, this jacket features lightweight and warm PrimaLoft insulation, hi-vis elements, powder skirt, and adjustable cuffs/hem/hood. Plus, this model features a RECCO Advanced Rescue system transponder in the event your little one goes off-trail. Meanwhile, a Life pocket keeps phones alive longer in cold environments thanks to heating technology.
Price:
0.00$
Top winter jackets for Girls
Your girl will love the warm, stylish, and comfy O'Neill Adelite AOP Jacket. It's made with durable water-repellent fabric that's easy to clean and maintain. She can ski or snowboard with the fixed powder skirt, hand gaiters, and internal goggle pocket.
O'Neill has always made great cold-weather gear, and the Adelite AOP jacket continues a legacy of warm, functional, comfortable snow wear. Catch you on the ski slopes!
Price:
0.00$
Let's stay on the slopes with the gold standard of mountain fun wear—Burton. That's right, the Burton Elodie Jacket will have your girls begging for one last run well after you're ready to turn in. They'll want to wear it to school too, with a Dryride 2-Layer shell that shuts out water and wind.
On the inside, Thermacore is a synthetic insulation that stays warm even if it gets damp from all those slopes or snowballs. Burton makes their winter gear with care for winter activities, and their room-to-grow feature extends the season use of the Elodie Jacket as your girl grows. Warm, dry, comfy on the slopes and in the playground—they won't ask for more.
Also check out the Burton Elodie Snowboard Jacket, which comes with a few extra features in eye-catching colours.
Price:
0.00$
The cool thing about the Columbia Nordic Strider Jacket is that your daughter will find it to be both waterproof and warm. 150g of Microtemp insulation, an ​​Omni-Heat Reflective Mictrotex Light liner, and a waterproof, breathable shell gives kids a great start to the day with the best winter coat.
The microfleece lined storm hood is soft and toasty, while the Outgrown system ensures you get the most bang for your buck over multiple seasons.
Price:
0.00$
Here is one instance where Brittania does rule – the Canada Goose Girls Brittania Parka, with powerful warmth, weather protection, and a look that will be as stylish in years to come as it is now.
Canada Goose once again sets the bar high with white duck down insulated winter jacket for kids. That iconic oversized hood is there, with a removable fur ruff. This girl's edition extends to the thigh for extra coverage, and the tuck at the waist makes a stylish profile.
Canada Goose parkas are so warm and comfy they are used in the Arctic, and your girl will be happy with the Brittania's protection this winter—even without the trip to the North Pole.
Price:
0.00$
You'll be hard-pressed to do better than the Patagonia 4-in-1 Winter Jacket for girls. Asides from being warm and comfy, waterproof and breathable, it's also extremely versatile. This is thanks to the ingenious, built-in layering system and reversible pieces.
In a nutshell, the 4-in-1 includes two jackets that can be combined or worn separately, one of which can be flipped inside out for different use cases. This means that the 4-in-1 will easily be your daughter's go-to jacket from October through March—now that's versatile.
Price:
0.00$
Top winter jackets for Boys
The Helly Hansen Cyclone Jacket for big boys is absolutely built for Canadian winters. With 133g of Primaloft Black Eco, High Loft panels, and a DWR finish, the Cyclone stands up to anything winter has to throw at your little man.
With its oversized panels and cool colourways, the Cyclone Jacket is perfect for wearing around town. But it also features adventure technology, including a RECCO Advanced Rescue system transponder if your son gets lost and a Life pocket to extend his phone's battery life in the cold.
Price:
0.00$
Is your little man addicted to the slopes? The Burton Covert 2.0 Jacket is a dependable choice if you're looking for a warm, waterproof, and breathable winter coat for your young rider. 
The two-layer Dryride fabric with PFC-free DWR and taped seams means this jacket truly is waterproof, breathable, and fast-drying. It features a variety of pockets, including microfleece-lined hand pockets, sleeve pass pocket, and insulated phone pocket.
Plus, the Covert 2.0 is equipped with Burton's own Room-to-Grow system, meaning sleeve length can extend up to 1.5" to accommodate expensive growth spurts.
Price:
0.00$
The Patagonia 4-in-1 Everyday Jacket is as versatile as your son. Its clever design includes two separate jackets that can be combined or worn apart. The brilliant advantage of the 4-in-1 is that it covers all your cold weather situations, from October through March.
The primary shell is made with H2No Performance Standard polyester to block out rain and snow, while the inner shell is 100% recycled taffeta. That inner shell can also be reversed to create a fleece pile sweater with insulated sleeves. Pretty neat, eh?
Price:
0.00$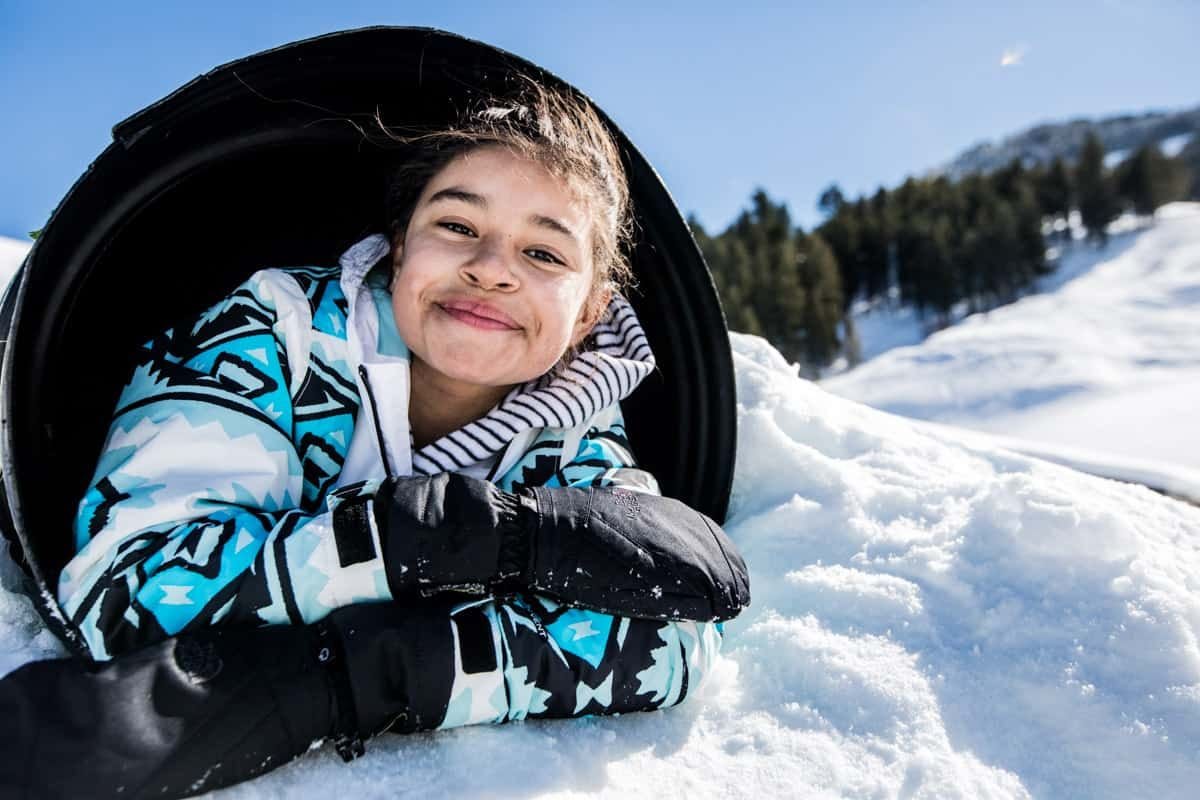 A Comprehensive Guide to Finding a Kids Winter Jacket
What To Look for in a Kids Winter Jacket
When looking for a kids' winter jacket for your little one, there are a host of factors to keep in mind. Primarily, you want to choose the right jacket type for your child. Depending on the weather conditions, a rain jacket, parka, or snow jacket may be appropriate. 
Secondly, consider how much insulation your child will need for where you live. If you experience wetter winters, you'll also want to look for an outer shell with weather protection. Some other features to watch out for are the hood, pockets, zippers, and cuffs. 
1. Jacket Types
Midweight Insulated Jackets
A midweight insulated jacket is lightweight with plenty of insulation. Midweight insulated jackets are perfect for exploring snowy towns but not as appropriate for the mountains. It can be used in place of a hard shell when the weather isn't as harsh. 
Snow Jackets
If your little one is hitting the slopes this winter, you'll want to look for a snow jacket. These heavy-duty jackets keep snow out with a waterproof outer shell, and usually have elastic cuffs, waist and sometimes even hood trim for more help sealing out the elements. They're also generally made of breathable material to allow excess moisture to escape the jacket. Other features include sealed seams, high durability, and a snow skirt. 
Puffers
Puffers, or down jackets, are known for thick baffles filled with down insulation. They are versatile enough for both urban and activewear. The down or synthetic insulation helps with heat retention, which keeps your child warm in frigid temperatures. Not for rainy winters though, unless tucked behind a waterproof shell fabric.
Parkas
Parkas are winter coats with hoods for the extreme cold. While jackets usually come down to your waist, a parka will typically be nearly knee-length. The hood is also lined with faux or real fur to fight frostbite. They're also incredibly well insulated with either natural or synthetic down. Perfect for deep cold.
Rain Jackets
Rain jackets can serve as hard shells over warmer jackets, especially if you live in a cold, wet climate. Wearing a raincoat as an outermost layer can help protect the down material in your inner layers. They often feature Durable Water Repellent (DWR) coating to keep off rain, snow, or sleet. For kids, this means versatility: if it gets too warm, they can slip their rain jacket shell off.
2. Insulation
Down
Down insulation is made of goose or duck plumage. The clusters of feathers help increase the heat retention of the jacket. Recently, there has been a move towards down that is ethically sourced, indicated by the Responsible Down Standard (RDS) certification. 
Synthetic
Besides ethical reasons, some people prefer synthetic down because it doesn't lose its' heat-retention capacity when wet. If you're on a budget, synthetic down jackets will also tend to be less expensive than real down. And if you've got kids running around all afternoon in the snow…
3. Shell Material
Water Resistance
It's common to see outer shells made out of weather-resistant materials. Some waterproof materials include a Durable Water Repellant (DWR) coating, taped seams, and waterproof and breathable fabric. Instead of adding a rain jacket, these waterproof shells can serve as a 2-in-1 winter coat. 
4. Features
Hood
Some people might prefer winter jackets without hoods because they are more lightweight. Many hoods are removable or come with fur insulation for added warmth. If you're anticipating an icy winter, it's best to find a winter coat with an insulated hood for your kids. 
Pockets
More pockets can mean more convenience, but it can also increase the jacket's weight and price. Many of the best kids' winter coats have magnetic, zip, or snap closures, making opening and closing pockets easier. Essential pockets are a zip security pocket and handwarmer pockets (lined with fleece or some such material) for your little one's hands. 
Cuffs
Most winter jackets for kids have adjustable cuffs with velcro tabs or knit ribbing. Velcro tabs ensure that the wrist fit can be adjusted to keep in body heat. Elasticized or rib-knit trim can be more comfortable, but might not trap in heat as well. 
Snow Skirt
Snow skirts or waist gaiters are commonly seen in ski and snow jackets to keep out the powder. They're made for when your child takes a fall skiing or snowboarding. Some snow skirts are removable, have loops to attach to pants, or snaps to secure it when not in use. 
5. Fit
When finding a winter jacket for your child, you want to ensure it fits snugly enough to keep the little one insulated. However, it should also provide some ease of movement for building a snowman or playing on a winter sled. The sleeves should be slightly longer than the arms, and the hem should be slightly longer than an everyday shirt.
FAQs for Kids Winter Jackets
Q: At what temperature should a child wear a winter coat?
A: When temperatures start to drop to below 0°C, it's usually time to wear a heavy winter jacket. 
Q: Which fabric is warmest for winter?
A: In below freezing temperatures, it's best to use jackets insulated with real or synthetic down. The outer material should be waterproof to keep your child dry and warm. 
Q: Do kids get hotter than adults?
A: Children don't feel cold the same way that adults do, but they're still susceptible to heat loss and hypothermia. In general, kids may not perceive the cold but still need a warm coat for protection. 
These best kid's winter jackets provide you with a range of options, including warmth, price, size, and styles for boys and girls. The time to shop is now so you'll have no headaches when the snow falls – and maybe some peace at home as they stay outside longer to play in their new, warm, cosy jacket. Ease your stress this fall and have fun this winter – the kids will!
SHARE