Whether you're a camper, a hiker, a climber, a hunter, or a field worker, you need a multitool. While multitools are great for common situations like cracking open a cold one or trimming some rope, they can also save your life when the unexpected arises. Whether it's sawing wood to build a shelter, starting a fire in cold weather, or simply whistling for help, multitools are a lightweight piece of your kit that will serve you in more ways than you can imagine.
Our top pick for best hiking multitool goes to the Leatherman Signal Multi-Utility Tool – Peg. It offers users a variety of features while remaining both compact and durable. Read on as we uncover this year's best multitools for backpacking and beyond!
Best Multitool for Backpacking Reviewed
Want to be prepared for the unexpected without hauling a ton of gear? With 19 different tools packed into just 4.5 inches, the Leatherman Signal Multi-Utility Tool - Peg is our pick for best overall multitool. 
This high-quality device features all the basics - including knife, bottle opener, and can opener - in addition to two types of pliers (needlenose and regular), fire-starting ferro rod, saw, hammer, diamond-coated blade sharpener, and many more. A carabiner keeps it securely attached and easily accessible. Also features a removable pocket clip.
Price:
0.00$
Best Value
A favourite among ultralight hikers, the Victorinox Classic SD Pocket Knife is practical minimalism incarnate. Weighing a mere 0.74 oz and measuring just 2.25 inches, the Classic SD still manages to pack in seven useful functions.
A small, versatile blade is the key feature of this pocket knife. You also get a pair of scissors, a nail file with a flat head screwdriver for a tip, a toothpick, tweezers, and a key ring for convenient storage. Each tool is built with durable stainless steel, while the knife itself is made in Switzerland.
Price:
0.00$
Pros
Price

Minimalist

Ultralight
Best Toolset
The Leatherman Surge Multi-Tools - Peg boasts the largest pliers and longest multi-tool blades of any multitool in the Leatherman pantheon. Not only that, it features 21 distinct functions - from your run-of-the-mill bottle opener to a multi-gauge wire stripper. 
As an added bonus, all tools can be locked into place, allowing you to apply tension without the risk of slippage or closure. If you're often on-the-go and don't shy away from tough jobs, this is the multitool for you.
Price:
0.00$
Pros
Comprehensive toolkit

Versatile

Locking mechanism
Most Discreet
The award-winning Victorinox Swiss Card Classic Pocket Knife is as discreet as multitools come. Shaped like a credit card and weighing less than an ounce, this device has Bond, James Bond written all over it.

With a mix of ingenuity and thoughtful design, the Swiss Card manages to pack in 10 functions, from an emergency blade and scissors, to a 3" ruler and pressurized ballpoint pen.
Price:
0.00$
Pros
Slim profile

Inconspicuous

Practical
Cons
Easily mistaken for your credit card
Best Heavy Duty
Originally built for US Military Communications Personnel, the Gerber Cable Dawg Multi-Tool is a highly specialized, heavy-duty machine. The tool contains wire strippers for any wire between 10 and 24 gauge, an RJ45 crimper, cable jacket cutter, terminal screw cutter, and much more. This is the perfect multitool for folks working on fiber optic, IT, and cable systems.
One of the arms disconnects to create an entirely separate multitool that includes a screwdriver and hook-edge knife. Meanwhile, the other arm contains a variety of screwdriver heads. Of course, having an indestructible multitool comes at the extra expense of dollars and ounces—this behemoth weighs a whopping 13.8 oz and costs a pretty penny.
Price:
0.00$
Pros
Highly specialized

Indestructible

Ergonomic
Best for Climbers
At 2 oz, the Leatherman Squirt PS4 is easy to pack and easy to use, making it perfect for climbers. While a small blade will generally do the job while climbing, longer alpine routes demand just-in-case features.
Featuring nine versatile tools, the Squirt PS4 will come in handy for a variety of common and unforeseen situations. Whether you're mending rope, cutting webbing, administering first-aid, or just slicing an apple for lunch, this is the perfect companion for on-the-wall adventurers.
Price:
0.00$
Pros
Perfect for climbing

Lightweight

Easy to use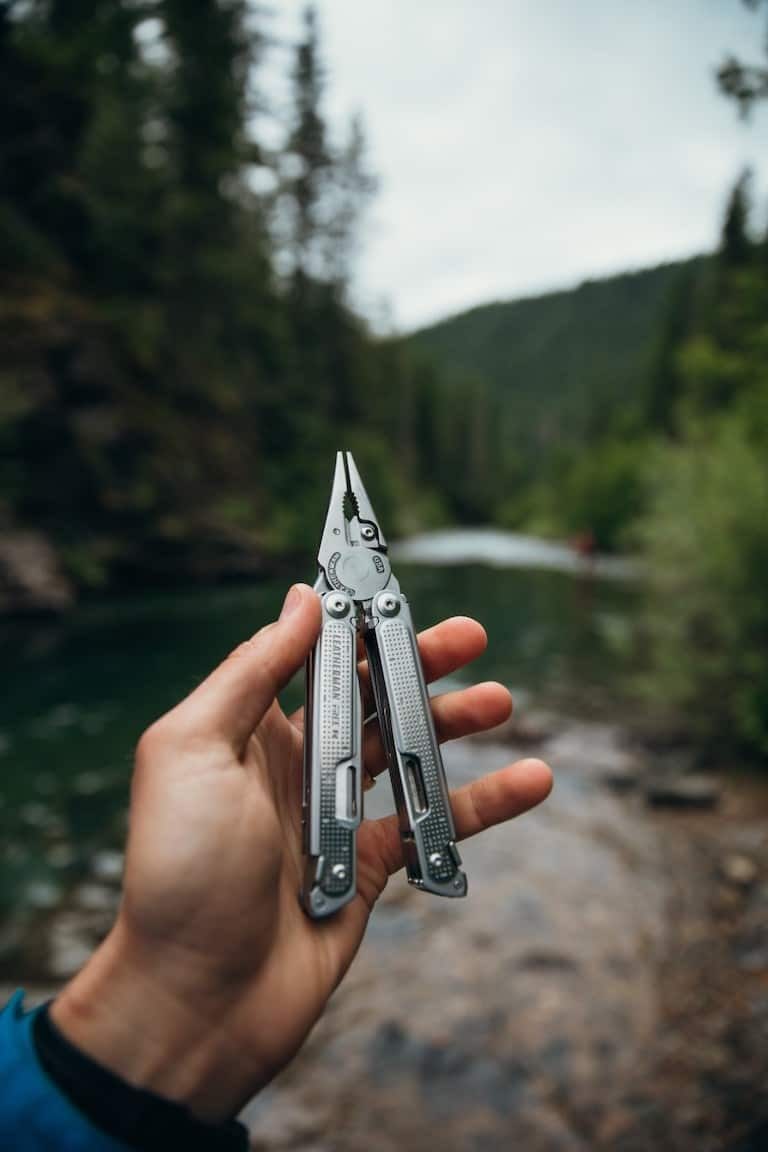 What to Look for in a Backpacking Multi-Tool
Take a look at some of these common features to help get you started. 
Tool Selection
In choosing the right multitool, consider its functionality. Ask yourself whether you need it for work, for play, or for something in between. Obviously, ultralight hikers can tolerate a simple 2" blade, while field workers and hunters require a more robust device. Think carefully about which items you frequently use, and which items you often wish you had.
The Tools
Knife
A knife is the hallmark feature of a multitool. It's usually a straight-edge, best used for piercing rather than slicing. Some multitools also come with a serrated-edge or hook-edge for other purposes.

Pliers
Another classic multitool feature, pliers can be used in a variety of conventional and unconventional ways. Whether you need to turn a screw or pull something apart, you'll find yourself getting creative.

Scissors
As mentioned, blades are good for puncturing. But, when it comes to slicing, nothing beats scissors—especially when you want a clean cut.

Screwdriver
At a minimum, multitools typically feature a Phillips and/or flat head screwdriver. More robust models include replaceable bits that run the size and shape gambit, including a variety of square and hex bits.

Bottle Opener
A bottle opener is just common sense – you never know when you might need to crack open a cold one in the woods. Always be ready.
Material & Construction
Stainless steel is a favourite among high-quality multitools. For one, it's corrosion-resistant and will therefore keep its edge and its shine for longer. What's more, it's easy to clean and is therefore the hygienic choice for backcountry use. Finally, it's got an incredible strength-to-weight ratio, allowing durable and complex tools to still weigh under a pound!  
Weight
The ideal multitool weight depends on your use-case. On the ultralight end, we've got the Victorinox Classic SD that weighs less than an ounce. On the field worker end, we've got the Gerber Cable Dawg Multi-Tool that comes in at just under a pound.
Ease of Use
It's good to get a feel for a multitool in person. Depending on the size of your hand, some multitools may be easier to manipulate than others. Pro tip: Choose a multitool where the most commonly used features are also the most easily accessible.
Other Features
Best Clip
A clip is a thin piece of steel attached to one side of the multitool, allowing you to secure the device to the inside or outside of your pocket. Many multitools come with a clip that is either fixed or detachable. If you're in the backcountry, a clip is a useful feature.

Take note of where the clip is positioned on the multitool. If it's placed towards the centre, it'll be more accessible when you need it; however, it'll also be more visible to other people. 
Sheath
Minimalist multitools typically come with a keyring attachment but no sheath. On the higher end of functionality and price, however, a sheath comes standard. They're usually made of a rough and durable fabric like cordura and feature either a Velcro or snap closure.
Saw Blade
Whether you're making a fire or putting the finishing touches on a bushcraft shelter, a saw is an excellent tool in the backcountry.

Fire Starter
A fire starter is an exceptionally useful tool. It can be used in emergencies, like when you lose your primary fire source. Or, it can simply be a fun way to go primitive during your backcountry adventures.

Whistle
This is a feature you occasionally see crop up on multitools. It's a tool you may never use but will be happy to have if you get lost in the woods and need to signal for help! 
FAQs for Backpacking Multitools
Do you need a multi tool for backpacking?
At a minimum, you should carry a small blade as part of your regular backpacking kit. While this won't stop a charging bear, it'll be more than enough for little everyday chores like cutting thread, poking a new notch in your belt, or turning a plastic water bottle into a cup.
Which is better, Gerber or Leatherman?
Gerber is a legacy brand, founded in 1939. Leatherman came along several decades later in 1983. Leatherman multitools are made in the USA and feature a 25 year warranty. On the other hand, Gerber multitools are made overseas but come with a lifetime warranty. 
At the end of the day, both brands offer thoughtful design and high-quality construction. If you're still unsure, compare similar models in each brand and decide which one you like more.
Final Word
As we've seen, multitools can contain anywhere from three to three dozen functions! No wonder the choice can be overwhelming. But, after reading this article, you're now ready to decide which multitool is best for your own backcountry needs. If you want something versatile and durable, the Leatherman Signal Multi-Utility Tool – Peg is an excellent choice.
On the subject or practical devices, check out 2021's best headlamps and upgrade your kit!
SHARE