There's nothing worse than having cold hands. Whether you're working outdoors, enjoying winter sports, or simply going for a stroll in the city, gloves are a must. With so many styles and features to choose from, it can be time-consuming and overwhelming finding the right pair.
So we've made it simple. Using our guide to the best winter gloves and mitts in 2022, you'll discover this year's best, while learning all you need to know about choosing a pair. For their incredible versatility, durability, warmth, and style, we've named Outdoor Research Stormtracker Windstopper Glove as the best gloves in 2022.
WHAT TO LOOK FOR WHEN BUYING WINTER GLOVES AND MITTS
1. Gloves VS Mittens
Gloves follow the outline of your fingers, allowing for excellent dexterity, especially while working in cold weather. Because of their fitted shape, they're also a better option for formal occasions.
Though less dexterous, mittens are warmer than gloves. That's because there's less surface area, meaning less heat loss. Additionally, the empty space surrounding the fingers creates a warm air pocket.
2. What are they for?
For this, most models will do. Avoid paying extra for unnecessary features and opt for something that's warm—but not too warm—and looks great. Bonus for touchscreen-compatibility.
For outdoor activities like skiing and snowboarding, choose a glove with robust features: a long cuff, removable liner, and reinforced stitching among others. A power-heater is a very welcome addition.
In polar conditions, a mitten with a glove-like insert is best, as mittens maximize warmth by reducing surface area and increasing internal volume. A power-heater is essential. The Outdoor Research Lucent Heated Sensor Mitts are a good example.
3. Insulation
While there are many types of insulation available on the market, down and synthetic are the broad-stroke categories you'll find. See the FAQ for more info.
4. Materials
While dress gloves are constructed entirely of leather for its timeless aesthetic, most sports/work gloves also incorporate leather. In those cases, it's usually placed in high-friction areas to increase durability, like the palm.
While you likely won't see synthetic gloves at a formal gathering, they're actually superior in terms of warmth, waterproofing, and durability.
5. Ventilation
Many gloves feature adjustable vents. Ventilation keeps your hands cool on warmer days and expels perspiration before it becomes cold condensation.
6. Features
The cuff begins at the wrist. Running gloves tends not to have cuffs, while work/ski gloves have cuffs that extend several inches for added protection. Dress gloves have cuff lengths somewhere in between.
Glove liners optimize functionality by increasing wicking, insulation, and protection. Many are removable, making them easy to wash and fast to dry.
Touchscreen Compatibility
To mimic the natural conductance of a naked finger, touchscreen-compatible gloves incorporate a conductive material into the fingertips. This allows the glove to interact with the electrical signals produced by the capacitive screen.
Heated gloves are equipped with a rechargeable battery attached to a wire frame. Heat is generated through the wiring when you turn the battery on.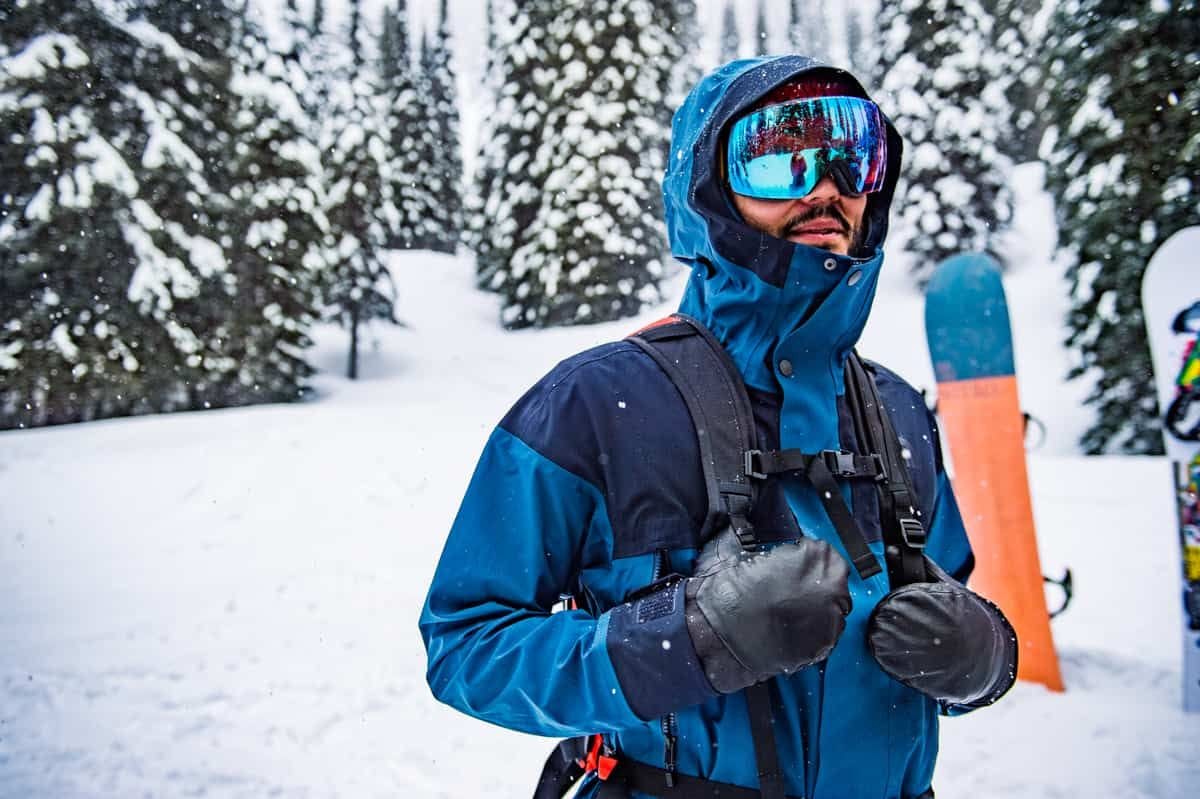 FAQs for winter gloves/mitts
Q: How should a winter glove fit?
A: Too big and you'll lose dexterity; too small and you'll minimize warm air pockets. Aim for a quarter inch of space at the fingertips when your gloves are extended. With your hand in a fist, they shouldn't feel constricting.
Q: What is the best insulation for winter gloves?
A: Down is a natural insulating fiber that's known for its excellent warmth-to-weight ratio. They also retain their loft longer. On the other hand, synthetics retain heat better when wet, dry faster, and are more affordable. For wetter climates, synthetics are better; for dry climates, use down.
Q: Is fleece warmer than thermal?
A: Fleece is a synthetic-wool blend with an excellent track record (seriously—ask the astronauts who've worn it). Additionally, fleece is soft and breathable. But breathability comes at a cost. For wet and sweaty conditions, thermal performs better. Thermal is a blend of cotton, nylon, and wool. It wicks moisture and reduces chafing.
With so many styles and features available, there's undoubtedly something that meets your needs. Our choice for the best winter gloves in 2022 goes to Smartwool's Ridgeway Glove, a versatile glove that offers an excellent balance between insulation, waterproofing, style, and price!
SHARE