A herd of merino sheep crowded one side of the road – a confused mass punctuated by random bleating. With calm confidence, two young flannel-clad shepherds on horseback guided the animals away from the dusty track. If a sheep strayed, a shepherd whistled, and sheepdogs pounced, bringing the wanderer back in line.
The scene is out of a Western, but instead of a desert, we were hemmed in by the mountains surrounding Mt Nicholas Station in a secluded region of Queenstown, New Zealand.
I jumped out of the boxy Land Rover to watch, pulling on my Tech Trainer jacket to block the wind.
"You're lucky," said Kate Cocks, parlaying directions to her shepherds. "Visitors rarely get to see the sheep up close. These strays are lost." Her small but strong figure stood at the edge of the road and her deeply tanned arms pointed instructions. The sheep were thick with wrinkly merino wool.
"It's not quite shearing season," she laughed, referring to their abundant coats.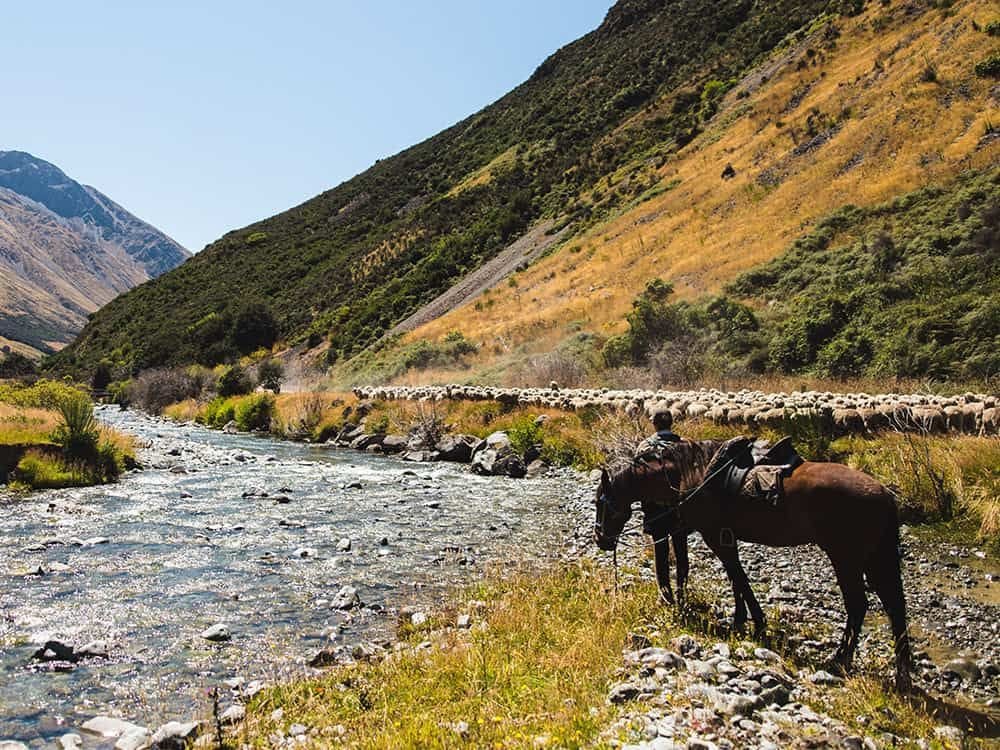 30,000 merino sheep graze Kate's 100,000-acre family farm, reigning over the flanks of the surrounding peaks, often out of sight for months. Unless brought in for shearing, sheep are left free to roam – except near the road.
We resumed driving along the twisting valley, watching as the herd distanced themselves. February wind rustled roadside brush and we passed grazing cattle. Summer was dwindling at the tip of the Southern Hemisphere, but the sunny weather was a welcome contrast to Montreal's winter.  
The tour of the golden valley had provided plenty of breathtaking sights, showcasing vast pastures broken only by mountains, the station's main buildings and its small hydro-electric power plant.
The road turned tightly and we arrived at a small shepherds' cabin.
View this post on Instagram
It took three flights, one boat, and an excessive amount of coffee to arrive at Mt Nicholas Station. I was invited to Kate's farm by Icebreaker to learn about life at one of their supplier's merino sheep stations. My trip was partly motivated by the New Zealand-based company's groundbreaking Transparency Report.
One-hundred fifteen meticulously detailed pages outlined each step of Icebreaker's merino wool manufacturing process. Nothing was excluded: financial numbers, independent audits, the good, bad, and ugly. Even future goals were divulged.
The Report caused a mini-upheaval in the outdoor clothing industry, partly because almost nothing like it had existed before.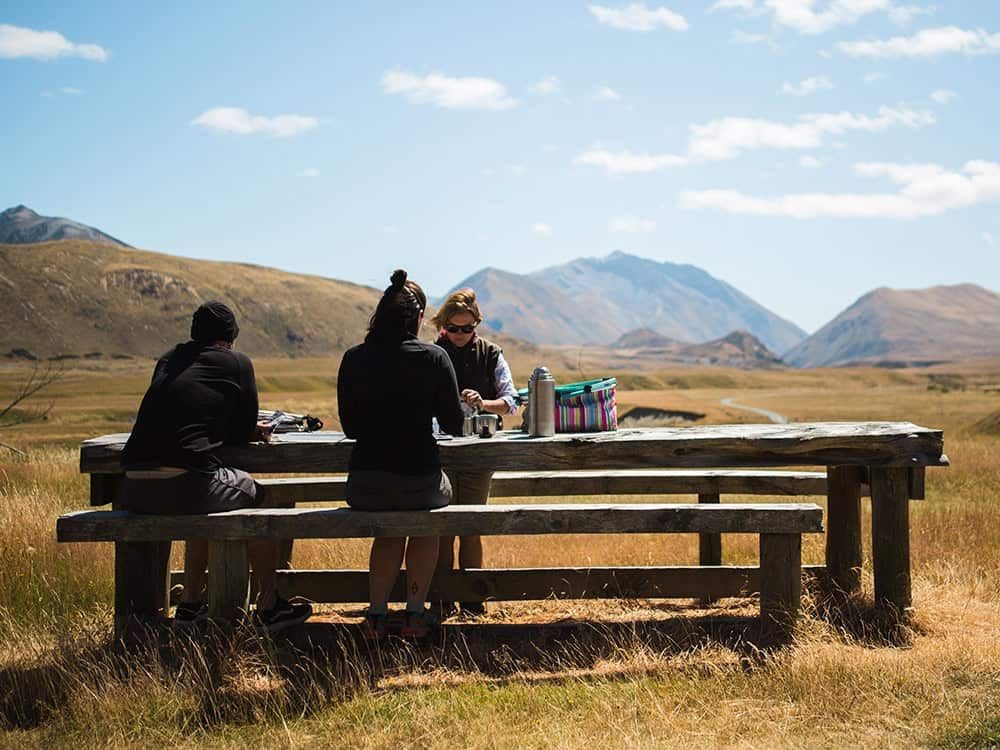 The shepherd's cabin was rustic but comfortable, with bunk beds, a wood stove, and a pristine view of the mountain valley where cloud shadows created a mosaic on the tall golden grass.
We sat for lunch, healthy appetites from being up at the farm since the crack of dawn.
While eating, I learned Kate once worked for a prestigious global banking institution and had lived in Montreal's Old Port for a period. Years ago, after a call from her brother, she returned and took up her third-generation family farm. Kate and her agricultural consultant husband settled, began a family, and have never regretted their choice to raise sheep.
As we sipped post-lunch coffee, Kate made it clear that even though she loves farming, life at the remote station isn't easy. Between upkeep, homeschooling her children, and managing the sheep, there's always something to do. And the busiest time of year is shearing season.
"Once a year we saddle up the horses and leave with the dogs, provisions…and a bit of rum. It takes us a week to cross the lands and bring all the sheep back to the shearing building. It's an adventure every time!"
It takes another week for specialists to shear all the sheep by hand, clean and sort the wool before sending it to Icebreaker – who use almost the entire crop.
View this post on Instagram
When I mentioned the Transparency Report, Kate brought up the benefits provided by the company's unprecedented long-term (up to 10 years) contracts with herders.
Farmers like Kate receive financial security, allowing them to foresee necessary upgrades, invest in new equipment, and improve animal care. Icebreaker receives the guarantee of high-quality fibers that corresponds to their ethics and clothing standards.
"This (contract) fits perfectly for us," explained Kate, "not only for its ethics but also because merino sheep are very sensitive. Just by feeling their wool I can tell if that sheep gave birth that spring or it was hurt or sick that year. The slightest illness or injury affects the quality of the wool. To adhere to Icebreaker's quality standards we have to treat our sheep like divas…and we like it like that!"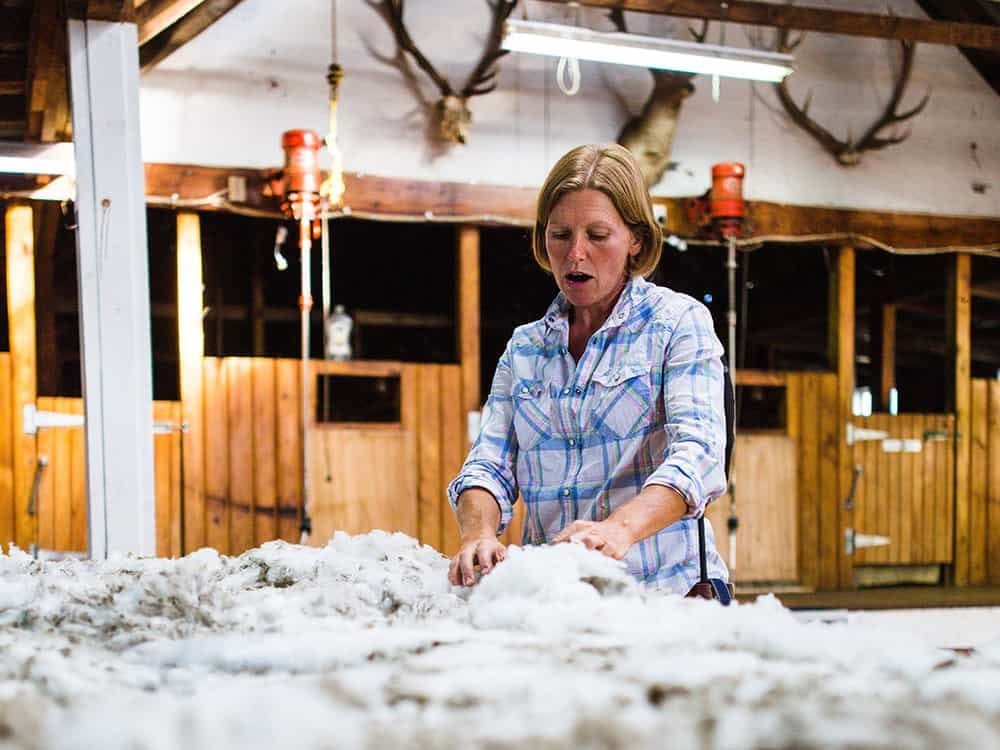 After lunch, Kate drove us to the very end of her property to see breathtaking views of the protected Mavora Lake area. She pointed to where scenes from the Lord Of The Rings were filmed.
On the way back, the farm's cows had blocked the road. A mother had been separated from her calf for tagging, and in panic jumped a fence, causing the herd to follow.
Alone, Kate and her sheepdogs brought the cows back to pasture, clearing the road.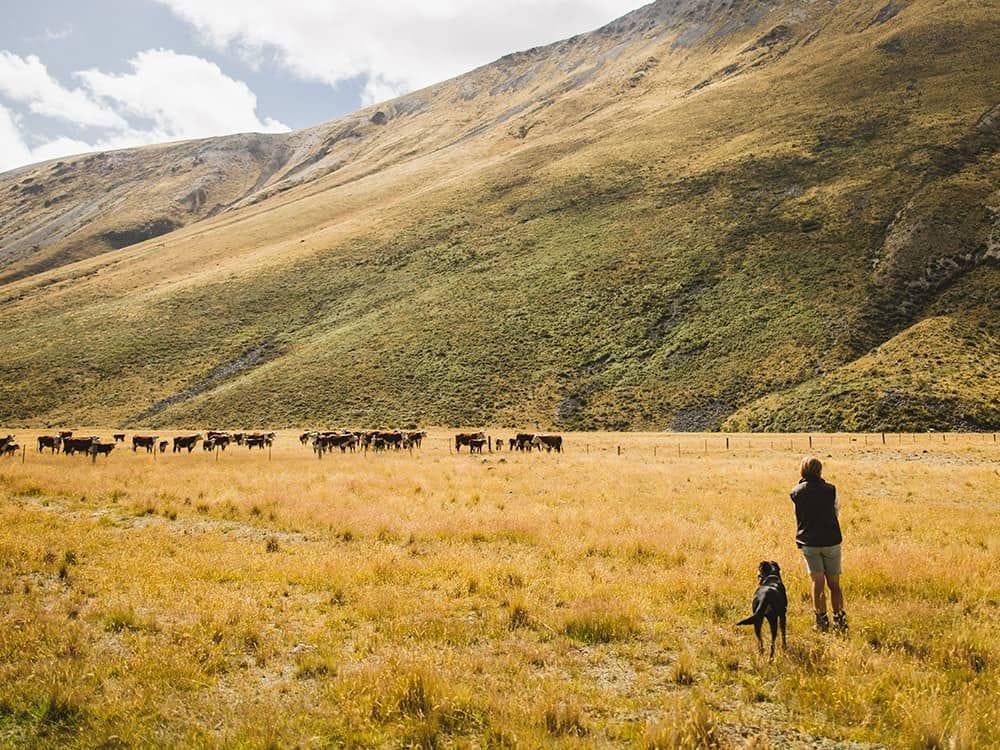 It happened to be Kate's daughter's ninth birthday, and that evening I was invited for a celebratory BBQ near the riverbank.
Dinner was all laughter about the comings and goings of the farm and sheep. For dessert, we ate pavlova, a New Zealand dish overflowing with whipped cream and freshly-picked fruits.
After tea, we headed to the farm's lakefront cabin usually reserved for shepherds. The view of the mountain lake from the massive windows was calming, and sleep came easily.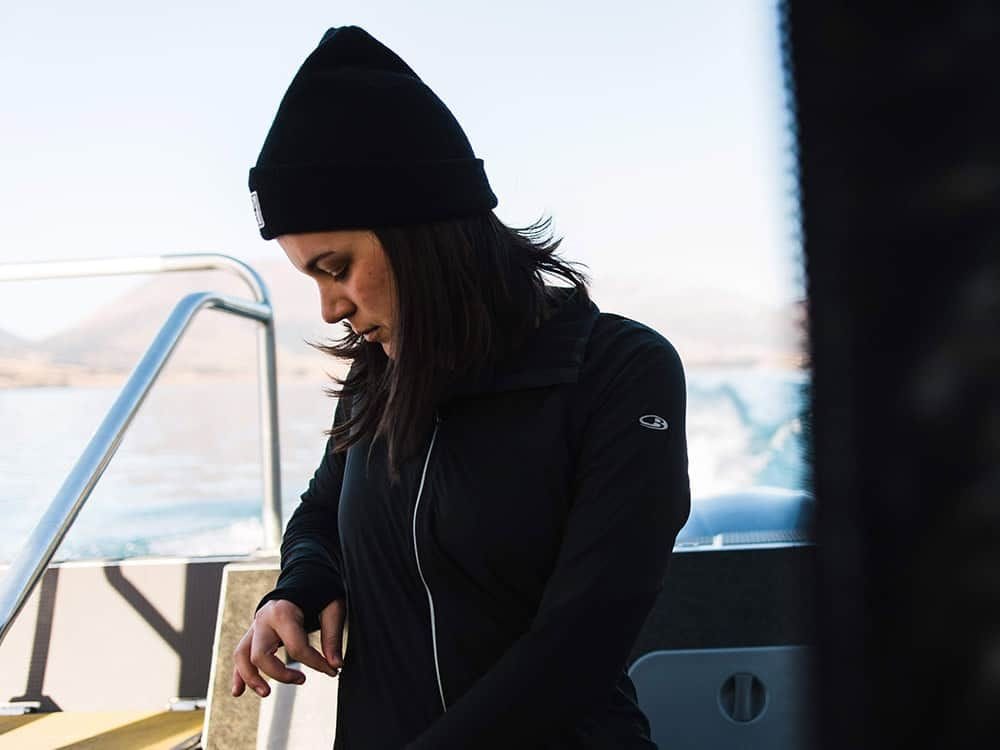 We awoke to rippling waves along the lake's turquoise surface, the sun already high above thanks to Mt Nicholas' deep southern latitude. After goodbyes and thank-yous to Kate, we boarded the water taxi.
Our journey across the lake showcased the picturesque alpine valley. Approaching Queenstown, we saw paragliders on the lake catching the high winds.
The water taxi docked in time for us to grab a flat white before catching our Auckland flight.
After landing, we spent the afternoon sightseeing the beautiful coastal cityscape. That night we ate at Orphan Kitchen, a spot focused on local produce, seasonal dishes, and fantastic wine – a must-eat-destination for any foodie.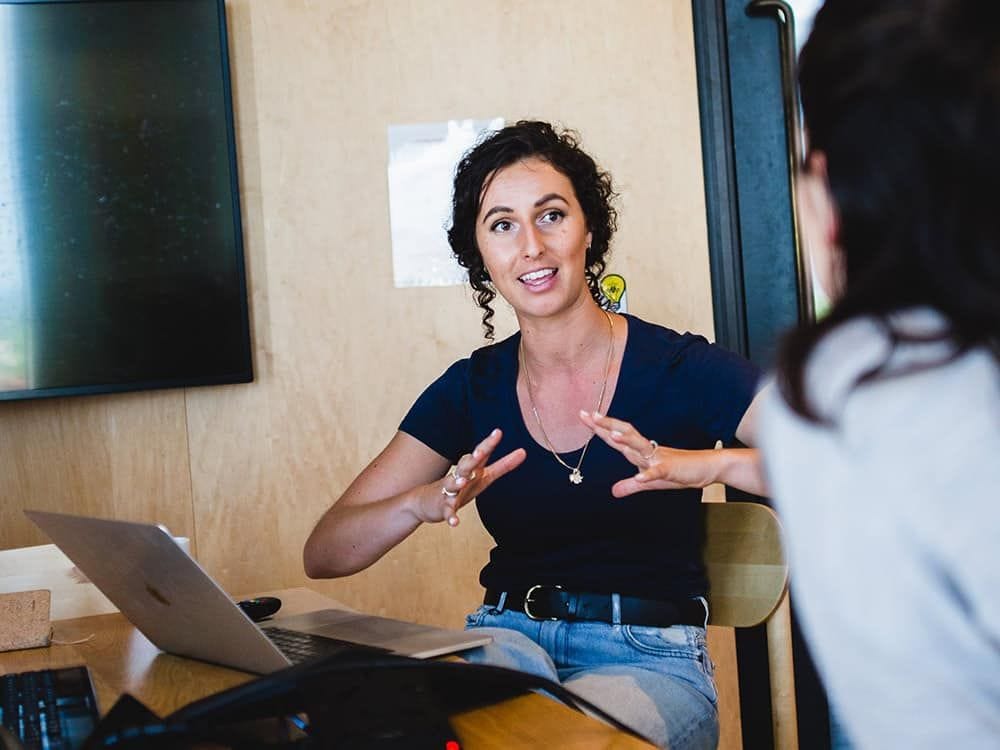 My final morning in Auckland I went to the fashionable retail district of Ponsonby and home of Icebreaker HQ, to meet Kristin Borley, their Global Brand & Channel Marketing Manager. During my visit, the company coincidentally released their second Transparency Report.
Entering the office, I was introduced to Kristin, young, sharp, and passionate. She explained the new Report included the elimination of plastic bagging wraps by next season and halting all use of synthetic fiber in clothing by 2023.
She described how long-term merino sheep farming contracts like Kate's allow Icebreaker to work with suppliers that meet their environmental and ethical standards, but conceded supplier oversight was easier in New Zealand than overseas.
Icebreaker has been at the forefront of ethical merino wool farming practices, banning mulesing (skinfold cuts to prevent larvae contamination) even before the practice was illegal in New Zealand.
The constant environmental and ethical efforts made by the brand, mentioned in detail in the transparency report, have also earned Icebreaker the rare and coveted A+ rating in the 2019 Tearfund Ethical Fashion Guide.
As demand for merino wool apparel grows, Kristin said the challenge was to stick to their principles to ensure success.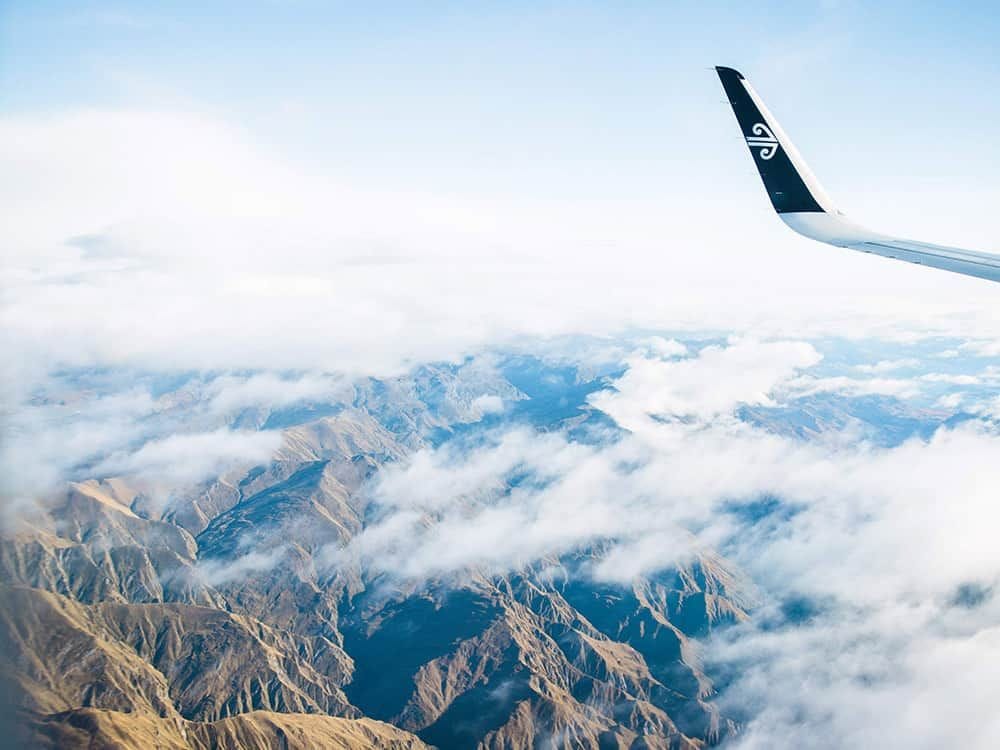 Boarding my flight home, I wondered if wool fibers from Mt Nicholas Station were in the jacket and socks I was wearing.
After touring the station, I understood why Kate gave up her career in banking for life in an endless mountain valley surrounded by her sheep.
View this post on Instagram
I also understood why Icebreaker trumpeted its Transparency Report. It's normal to want to share when you are working with passionate people, striving to be ethical, and producing high-quality materials.
We know so little about where our clothes come from. After my New Zealand tour, I felt better than ever wearing Icebreaker clothing.
SHARE