Whether you're a complete beginner or have been cross-country skiing for years, Calgary is an excellent place to explore on skis. With beautiful aspen-lined trails and sweeping views of the Rocky Mountains, cross-country skiing in Calgary is nothing short of exciting. Beginners can check our The Cross Country Skiing Beginner's Guide to get started, then pop on over to our What To Wear Cross-country Skiing blog before you go.
This guide to the city's best cross-country ski spots includes parks and courses in town, as well as areas that make for a fun day trip not far outside of town. Beginner, intermediate, and advanced skiers alike will enjoy this round-up of the best cross-country skiing near Calgary. Calgarians might be familiar with some of these already – here's hoping we can intro some new ways to enjoy old favourites!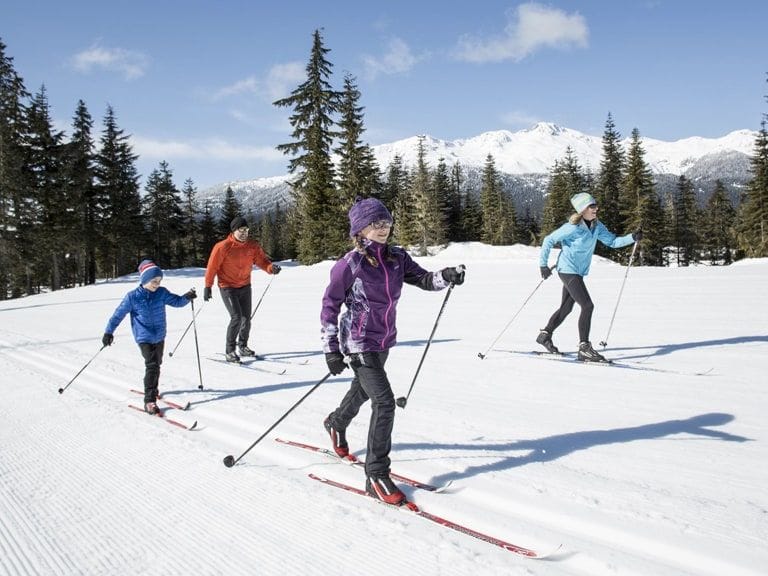 1. Skogan Pass
Drink in fantastic views of Alberta's Rocky Mountains as you cross-country ski on the Skogan Pass trail. It's the best option for an aerobic workout—it starts with an intense uphill climb and ends with a speedy, adrenaline-packed descent. The extensive pass has 21 kilometres of trails with 625 meters of elevation gain. It's a bit more of an outdoorsy option, as it takes three hours to climb the pass. 
Those that venture to the top will be rewarded, though. Skogan Pass is a real gem with its views of the Nakiska Ski Resort and the Rockies. Skiers can start from the Ribbon Creek Day Use area trailhead for access. 
2. West Bragg Creek 
Located outside of Calgary, West Bragg Creek is a 45-minute drive from the west side of town. It's perfect for people who want to take a short day trip outside of the city to enjoy some fresh air and still make it back in time for dinner. Skiers can enjoy the heated trailer in the parking lot for warming up or resting between runs. There's also excellent grooming for classic and skate skiing. 
West Bragg Creek has a diverse trail system with options for skiers of all abilities. So whether you're going with family or friends, there's sure to be something for everyone. 
3. Bowness Park 
After a proper snowfall, head to Bowness Park for a tranquil pass along manicured trails. 
Enjoy sights of the Bow River and the shallow lagoon that goes along the park's southern edge.  
The park is family-oriented, and the flat and easy trail is perfect for beginners. You can rent skis as needed. There are both a restaurant and a cafe as well, making for a comfortable visit. 
The one drawback is that there are only 2.5 kilometres of trails, but it's a nice flat loop you can repeat many times. For some diversity, you can ice skate on the lagoon.
4.  Shaganappi Golf Course
With a variety of loops to explore and adventure in, the Shaganappi Golf Course is a family favourite. The trails are maintained by Shaganappi Nordic Operations Club, which ensures a smooth ride. Be sure to wait for a big dump of snow to go out, in order to properly enjoy the 7 kilometres of tranquil trails. 
You can reach the Shaganappi Golf Course by public transit, and it offers sweeping views of downtown Calgary as you ski. 
5. Canmore Nordic Centre 
This list wouldn't be complete without including the Canmore Nordic Centre, one of the world's best cross-country skiing places. Though it's one of the few that does charge trail fees, there's consistent and high-quality grooming. It's great for the early season when there isn't much snow elsewhere. 
Some of the convenient features include a heated day lodge with bathroom facilities, a cafeteria, and a loop that's lit for night skiing. For the kids, there's a free-to-use sledding hill, with sled rentals available too.  
Conclusion 
We hope this list of the best cross-country skiing places near Calgary has been helpful. Though some people may underestimate cross-country skiing, it's an excellent option for those who want to get outside. The sport is growing in popularity for its accessibility, affordability, and the chance it gives people to explore.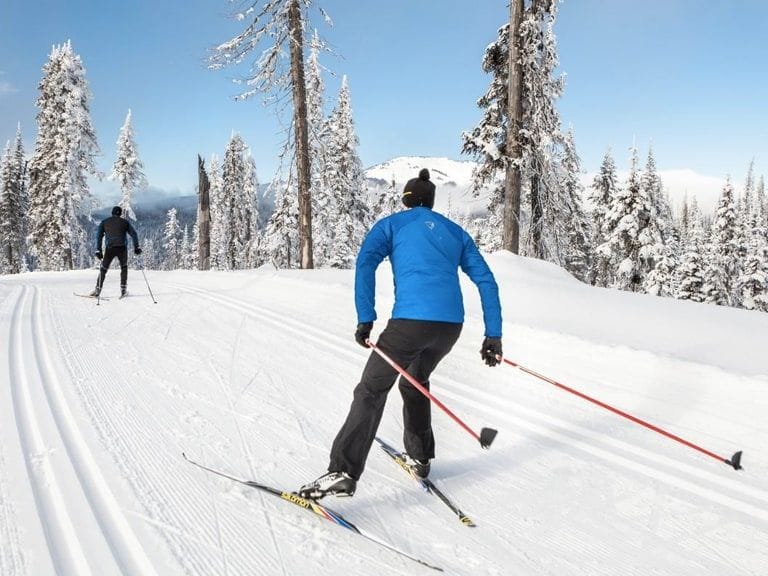 SHARE