Cross-country skiing may look slow-motion to those used to the speed of downhill, but in fact it's a tranquil way to get outside and exercise – and far more demanding physically than you might think. What's more, it's widely accessible, with low-cost gear and trails that anyone can reach by public transportation. In The Cross Country Skiing Beginner's Guide, our own Stéphanie Major shares her best tips and opens up about how cross country skiing helps her with seasonal depression. 
With many favourite activities cancelled or postponed due to COVID, and people getting more sedentary in winter anyways, there's never been a better time to get into cross-country skiing. Let's kick things off with the low-down on the best cross-country skiing spots near Edmonton. To cover all your bases, we've included areas close to the city, on groomed golf courses, in the wilderness, and more!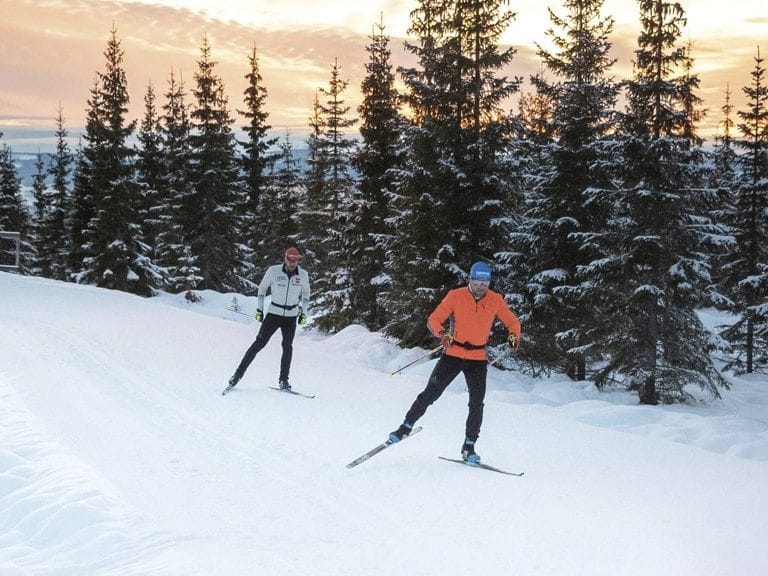 1. Gold Bar Park 
If you need a quick exercise pick-me-up, head to Gold Bar Park, located just 10 minutes from downtown Edmonton. The park's trails are groomed by the Edmonton Nordic Ski Club and are well-lit for night skiing. There are beginner-friendly trails that traverse through the lakeshore. For those with a bit more daring and seeking a bit more adventure, skiers can find routes on steep and rolling terrain through the forest. 
Your best plan of action is to leave your car in the central Gold Bar parking lot, east of 50th Street, on the river valley's south bank (if you're driving, that is). You can also find nearby Capilano and Tiger Goldstick parks for some other fun cross country skiing trails. 
2. Strathcona Wilderness Centre
Put the Strathcona Wilderness Centre on your bucket list for a real cross-country skiing treat. Accessible by public transport, drivers can take the 30-minute drive east from Edmonton to find carefully groomed trails that roll through hundreds of kilometres of natural central-Alberta beauty. 
The Strathcona Wilderness Centre, or SWC as it's known locally, won the Cross Country Alberta's Outstanding Ski Area award. It's also home to an outstanding variety of wildlife – don't be surprised if a moose or porcupine shows a little curiosity when you glide by on your skis. For creature comforts in the middle of nature, there's also a convenient modern chalet with WiFi and healthy snack machines. 
3. Argyll Park / Mill Creek
Home to Mill Creek Ravine, Argyll Park is a perfect place to cross-country ski near Edmonton. It's best for beginners, as the classic trail runs through a flat field along the sportsfield. Though it has fewer amenities than other places on the list, it's great for cross-country skiers of any level. 
You can also enjoy views of the North Saskatchewan River as you ski peacefully. 
4. Edmonton's Golf Courses 
Many of Edmonton's beautiful golf courses turn into cross-country ski trails in the winter. You have a wide variety of options: try Victoria, Riverside, the Royal Mayfair Golf Club, or the Links at Spruce Cove. At these golf courses, you'll find tree-lined groomed trails that are easy to glide through. 
Though the trails are relatively flat, they're excellent for both getting a workout in and practicing to build confidence for novices. They're also close to public transit, so you could even hit the trails on your lunch break for a sneaky afternoon ski. Of course, you'll have all the necessary amenities like a warm-up shelter to sip hot chocolate after your run. 
5. Clifford E. Lee Natural Area
The Clifford E. Lee Natural Area is an excellent option for families looking to go off the beaten path. The hiking-suitable marshland in fall turns into a cross-country ski haven in the winter. It's perfect for a quick day trip as it's located just 20 minutes southwest of Edmonton's city center. 
The 28 acres of habitat includes the aforementioned marshland, meadows, aspen parkland, and pine forests. It also doubles as a nature sanctuary, so you can expect to see snowshoe hares or deer. Enjoy the wildlife as you ski through the peaceful, tranquil trails with your little ones. 
Conclusion 
More and more Canadians are turning to cross-country skiing to stay healthy and active this winter. If you're in or near E-town, an intrigued cross-country ski newbie, and wondering what gear you need, check out our What To Wear Cross-country Skiing guide; then head out to one of these five best cross-country skiing spots near Edmonton for a fun adventure in your backyard!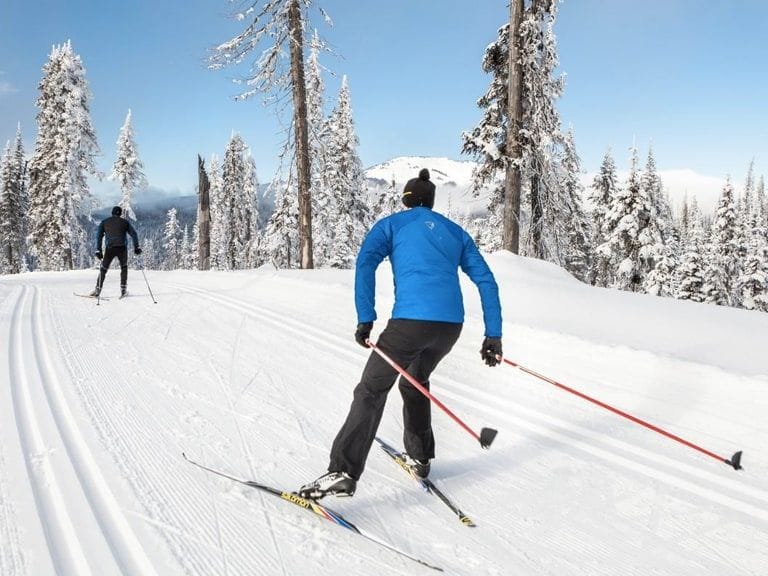 SHARE