Although there's nothing better than heading out onto the trails with your dogs, finding reliable dog camping gear can be a challenge for many pet owners. We pet owners happily take on this challenge—from your dog's excited tail wagging as you're putting on his harness to the cries of joy when he can finally get out of the car, bringing pets along for camping and hiking trips makes the experience that much better. 
Though continuing the adventure when the sun goes down requires more planning, it's totally possible with the right gear. At a minimum, it's good to have travel beds to help insulate your dog's bed from the ground and coats that will keep your pup from shivering at night. 
Other things to keep in mind are anchors to keep your dogs in one place while cooking or cleaning up camp, storage harnesses, and camping bowls. 
When buying dog camping gear, you want to make sure that it's very sturdy and will hold up to the abuse your dogs put it through. You'll also want to make sure any wearable gear you buy is non-restrictive so your pups can run and play freely. Brands like Klymit, Barbour, and Snow Peak create awesome dog-friendly gear that's durable and practical for dogs. 
Whatever adventure you want to bring your dog on next, below are some must-have dog camping gear items to keep your pets safe and comfortable.
Dog Beds
If your dog sleeps in the tent with you, they'll need some insulation and padding from the ground. If you're not hiking far, the inflatable Klymit Moon Dog Bed works great for both medium and small dogs. There's also a large size for bigger dogs.
The Moon dog bed rolls up small like a sleeping bag, has a water-resistant and durable fabric, and has just enough padding for insulating. 
Weighing a nimble 16 ounces (454 grams), it won't be too heavy for owners, and the polyester fleece cover isn't too warm for pups. The puncture-resistant bottom stands up to late-night chewing, and the raised side rail makes it even more comfortable.
Price:
0.00$
We've all experienced the frustrating mess when our dogs push around their bowls, or worse—knock their bowls over. The Kuma Stainless Steel Dog Bowl doesn't slide around, thanks to the rubber ring on the bottom. The double-wall stainless steel is nearly indestructible and stands up well to drops and tumbles. Its medium size makes it easy to pack, too.
Price:
0.00$
If you're going on a quick day hike and don't want to haul your dog's full-sized bowl, consider the S'well Travel Water Bowl. The gadget attaches to any S'well water bottle and turns it into a pup-friendly water bowl. 
Simply open the bottle, flip up the bowl, and tilt it to pour water. The compact size is perfect for keeping it handy in your car or your bag.
Price:
0.00$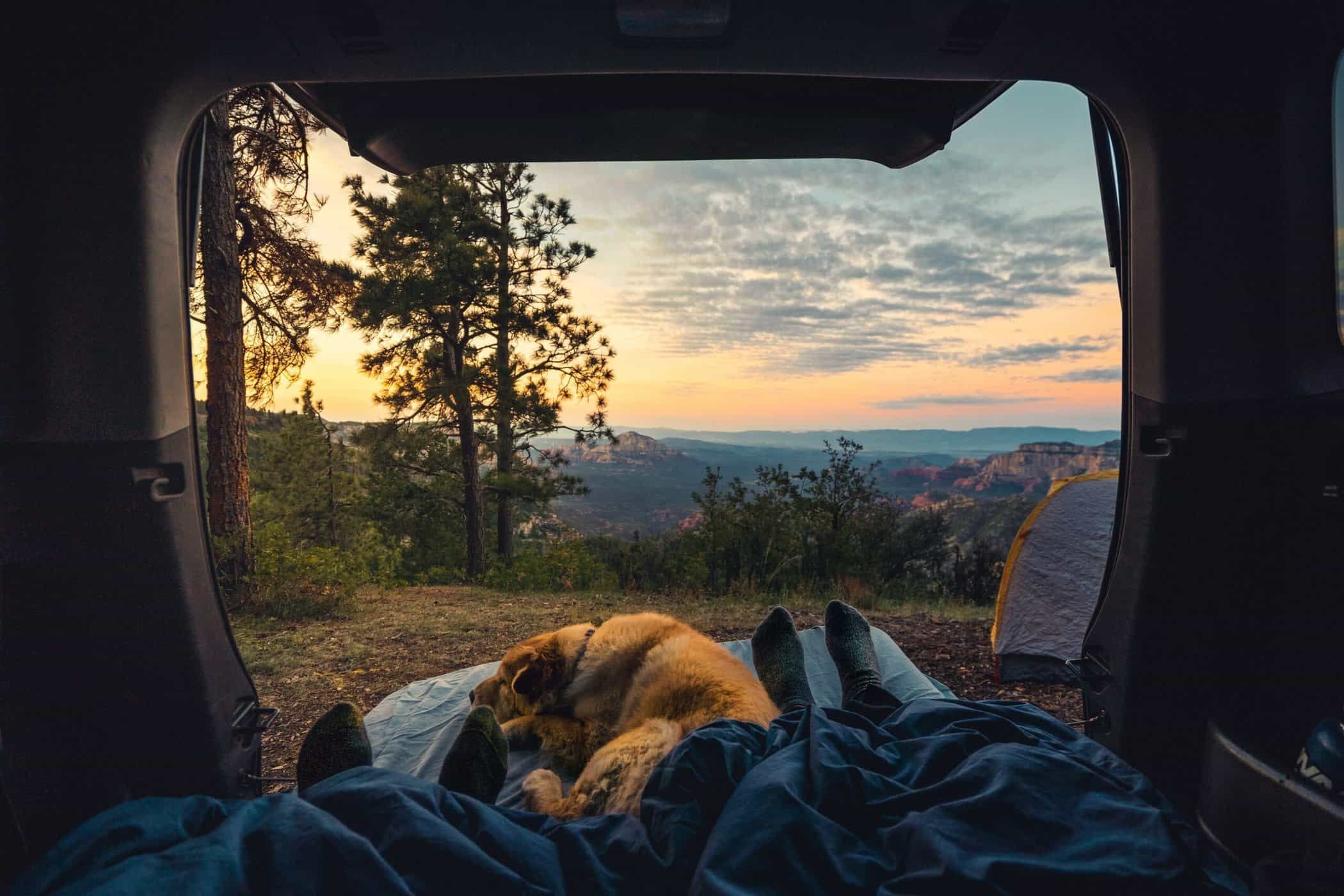 As long as dogs are moving, they'll probably stay pretty warm during the day. At night though, if the temperature drops below 40°F (4°C), they'll need a coat, or they'll shiver. The vest-style Barbour Tartan Dog Coat is non-restrictive, with easy velcro fastening under the body. Plus, the waxed cotton outer material is water-resistant and easy to clean.
Price:
0.00$
Am I the only one who panics when the dogs I'm walking take off down a ravine, even inside the safe confines of the dog park? If you want to keep your dogs close by on camping trips while still giving them room to explore, the Snow Peak Dog Anchor 50 is perfect.
It's lightweight, comes in at just 1.5 pounds (0.7 kilograms), comes with a handy storage bag, and is easy to use. Just hammer it into the ground and set up camp worry-free as the heavy stainless steel holds your dog's leash in place.
Price:
0.00$
Though the Snow Peak Dog Anchor works well with any leash, pet owners can pair it with the Snow Peak Adjustable Lead Set for more security. The set includes individual leash lengths of 5, 10, and 15 meters, and each leash can be combined to create more distance. These leashes are best for dogs under 33 pounds.
Price:
0.00$
With groovy colors and soft-touch webbing, the Kuma Backtrack Dog Leash is the perfect upgrade to your dog's walking gear. It comes with a durable metal hook clip that swivels 360 degrees for more flexibility and easy walking.
In addition, since this leash is about 5 feet long, it's perfect for keeping your dog in close range at National or State parks.
Price:
0.00$
Mountainsmith K-9 Pack Dog Harness
Let's face it, carrying around poop bags is one of the unavoidable downsides of taking dogs on hikes and camping trips. Until now—with the Mountainsmith K-9 Pack Dog Harness, your dog can carry everything on their own. The two zippered pannier compartments can fit water bladders, treats, and other accessories. 

The bright orange straps add safety if you are near hunting areas, and there's added padding and mesh panels on the sternum to keep your pup comfortable. This durable harness also comes in medium and large sizes for bigger dogs.
Price:
0.00$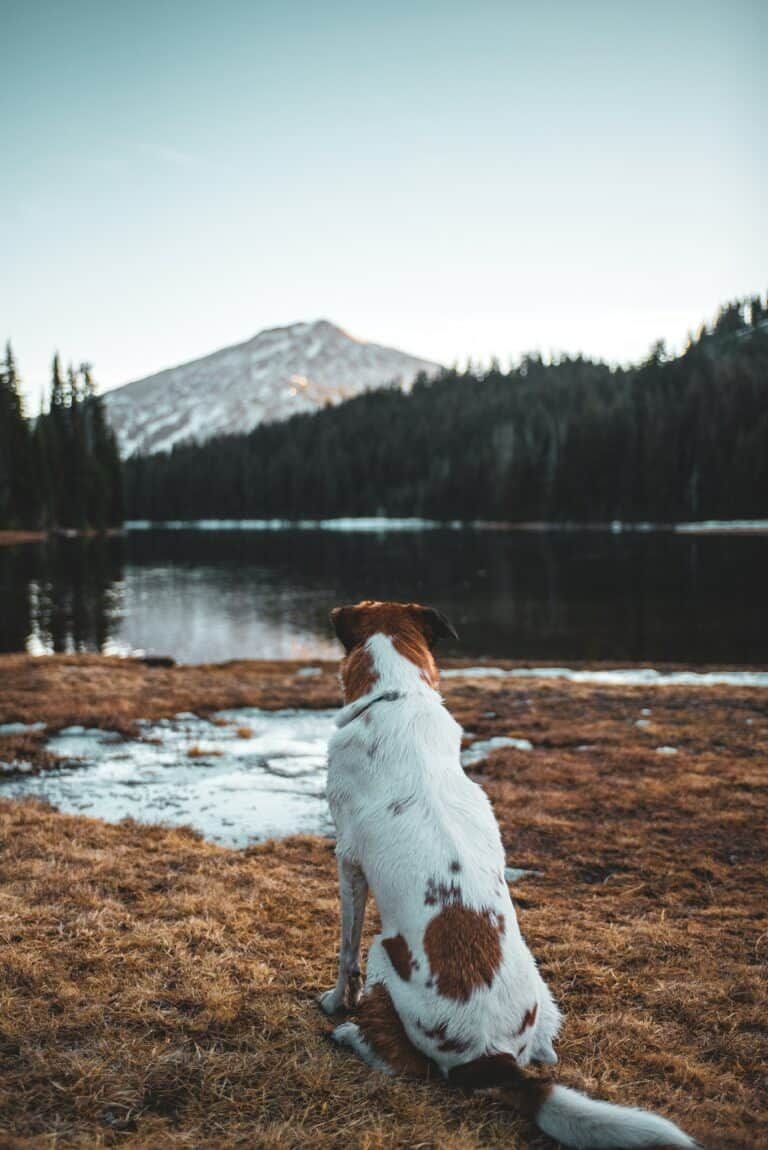 Things to keep in mind
Dog-Friendly camping sites or trails
Whether you're bringing your dogs along for the ride in Canada or the United States, there are many pet-friendly parks. That said, nearly all parks require dogs to be kept on a leash under three meters or six feet long and ask that you pick up poop and dispose of it properly. 
It's important to look up the regulations and guidelines for the specific trail or campsite you're heading to. For example, in the United States, National parks only allow dogs on paved trails and campsites, while National Forests allow leashed pets on trails and campsites. 
In Canada, each park will have its own rules—some parks allow dogs on trails but not on the beach. Parks Canada has an updated list of pet-friendly places you can stay overnight.
Proper lighting
When you're camping in a place without much light pollution, the stars are beautiful, but it gets really dark. Keep your dogs safe by upgrading to harnesses and leashes with a reflective coating to make it easier for you and others to see your dog in the dark. 
Keeping a camping headlamp with you at all times also helps ensure your path stays illuminated, too.
Food and Treats
In addition to your dog's camping bed and bowl, make sure you don't forget their food and treats. Treats can be a great method of positive reinforcement when teaching good behavior to your pup. 
If you're camping in bear country, put your dog's food in a bear-proof container or high in a tree away from the tent. Don't leave treats in the tent on in your pocket, either.
Safety First
Don't forget the life vest

. Unless your dog is a proven swimmer, it's a good idea to have a doggie life vest when you're boating or swimming. The

Skippy Dog Floatation jacket

has padding under the belly and chest for buoyancy and comfort, and there's a reflective lining to increase your dog's visibility.




Protect those paws

. Since most dogs don't like boots, you can bring some self-adhering bandages to wrap their paws if there are sharp rocks or ice. Also, keeping your dog leashed will help prevent them from walking into dangerous wildlife like porcupines or snakes.



Updated ID tag on the collar. Pet identification is super important if your dog takes off tracking a squirrel or skunk. In addition, it's a good idea to write your cell phone number on the tag so you can be contacted easily.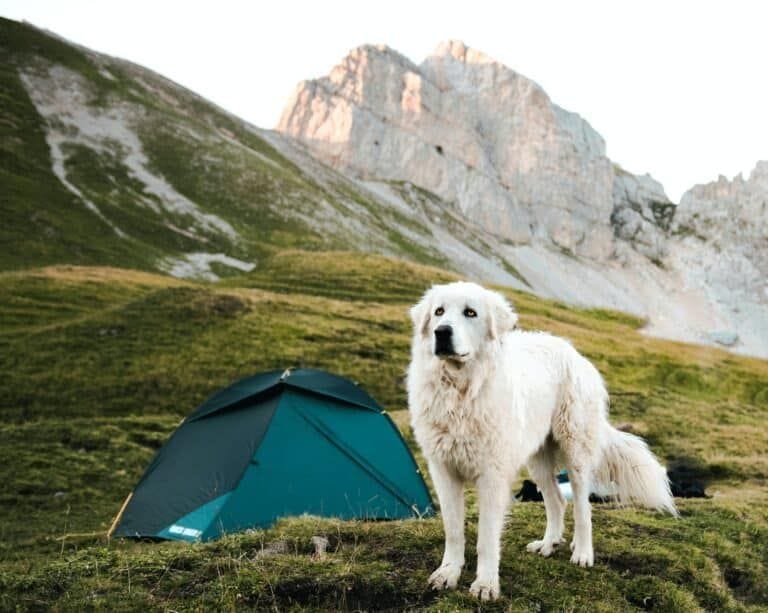 Conclusion
Taking your pup on an overnight camping trip is a great way to strengthen your bond and give your pet some socializing time. To make the trip as smooth as possible, make sure you're prepared with the essential dog camping gear. 
We recommend having, at a minimum, a dog bed for insulation, a sturdy leash and anchor, a dog coat for chilly nights, food and water bowls, and a storage harness for easy carrying. With these dog outdoor products, your pup will be a happy camper indeed.
SHARE