Exercising is the best way to deal with stress – and perhaps now you can skip the virtual calls and invite your friends home for a session. Here are some easy at-home workouts and tips for staying in shape whether locked-down or set-up from the friendly confines of your living room.
A FEW EASY AT-HOME WORKOUTS
It's time to turn some music on, get your training mat out, and move a little! On top of keeping you in shape, exercising is one of the best ways to deal with the stress and anxiety.
Keep in mind you'll find hundreds, if not thousands of YouTube videos with various workouts, yoga sessions, and ideas to help get you back in shape. Why not start there? If not, here are a few exercises you can try out.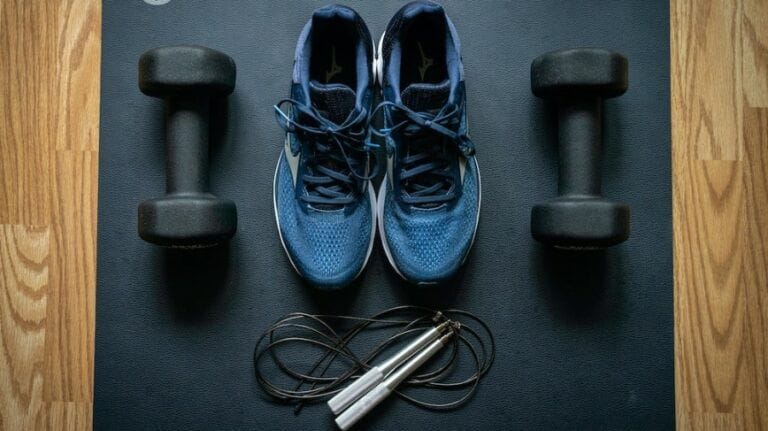 1. Cardio Training
This very simple routine will strengthen your cardio and allow you to burn calories. Try doing the series five times in a row, with a brief two-minute break between each one.
Skipping rope (60 sec)
Burpees (10 reps)
Jumping squats (20 reps)
Jumping jacks (20 reps)
2. Interval Training on a Stationary Bike
Interval training is popular with runners, but we like using it with cycling. If you have a stationary bike for your home training, read on! Otherwise, you can skip to the next exercises.
Interval training is an excellent way to stay in shape without having to dedicate a ton of time to it. Varying the intensity of your workout makes all the difference. We particularly like the following series.
Warm-up (2 min)
Intense sprint (20 sec)
Regular rhythm (2 min)
Intense sprint (20 sec)
Regular rhythm (2 min)
One last intense sprint (20 sec)
Winding down by pedaling slowly (3 min)
With just about 10 minutes of cycling, you have the same benefits as if you had pedaled at regular intensity for 45 minutes. Wearing a fitness watch like the Garmin Forerunner 245 Music or the Timex Ironman Transit+ 33mm Watch can help you count the calories burnt.
3. Abdominal Exercises
Using a yoga or training mat is recommended for this workout. Combined with other workouts, working the abs will allow to strengthen and firm the lowers abdominal muscles. You can do this series five times in a row, with a pause between each one.
Sit-ups (30 reps)
Leg raises (30 reps)
Mountain climbers (30 secs)
Regular sit-ups allow strengthening the abs. Leg raises (lie on your back with legs straight out and hands along your body. Then slowly raise and lower your legs) work your lower abs, while the mountain climbers work the abs, arms and legs.
4. Endurance exercises
These exercises will help improve your endurance. Try to hold them as long as possible. Once again, we recommend using a mat and training shoes, in order to stay in place and avoid sliding.
Plank (60 sec, but try to hold it longer!)
Chair (60 sec)
Plank + touching your shoulders (60 sec)
Do this series three times (or more, as you wish) with a two-minute pause between each.
5. Strengthening Exercises
Finally, you can choose to strengthen your muscles. Beyond aesthetics, taking care of your muscles and working on muscular strength helps reduce the risk of age-related injuries, avoid back pain, improve cardiovascular strength and simply strengthen your metabolism, to name a few.
Push-ups (10-15 reps)
Lifting weights—dumbbell curl-to-press (10 reps)
Chair dips (15 reps)
Chair dips help strengthen the triceps, push-ups work the arms, chest and shoulders, while lifting weights works many arm and back muscles.
WHAT DO I NEED FOR AT-HOME WORKOUTS?
You have old jogging pants, a paint-stained t-shirt and a pair of running shoes? Voilà, you're all set. No need to buy anything new. Oh, and don't mind the smell…or the raggedy fit…
Alright, if you are lacking clothing and accessories, we've prepared a shortlist of our favourite training apparel and gear. Most people need some form of equipment to train at home, but obviously, it won't be cutting-edge, like what you would have at the gym.
Remember, these are just suggestions of models that we appreciate. Your boyfriend's old t-shirt can very well do the trick. Just like those soccer shorts from summer 2002. And their way-too-snug fit…
1. Tops, T-Shirts & Tank Tops
Perfect for intense training or for a relaxing yoga session, the Active Tank by On moves with you. It features an open-back design and deep shoulder cut that accelerates airflow.
Simple as can be, the Go To 2.0 Tee by adidas is one of our faves for a session of running on the treadmill.
For more intense training, you can also go for a simple sports top like the Paloma bra by Girlfriend Collective. Great support, great style. If you're not a fan of this model at the gym, so much the better! Wear it at home.
2. Shorts & Pants
Running, treadmill, elliptical, weight-lifting…you can do it all with the Abaddon short by Praise. Stylish and ultralight, these breathable ripstop shorts are perfect for all your physical activities which their integrated quick dry knit inner tights.
We also love the compressive high-rise legging from Girlfriend Collective. Supple and comfortable, these yoga leggings can also be used for all kinds of at-home workouts. Psst! It's also the perfect match with the Paloma bra.
You prefer jogging pants? Perfect to move when you're training or to lounge around in front of the latest episode of your favourite series (no judgment here, we all do it), the following pants are beyond comfortable.
3. Last but not Least: Training Shoes for At-Home Workouts
A common mistake when it comes to home workouts is forgoing the shoes or wearing the wrong ones. Wearing shoes, even in your living room, will allow you to move more safely and reduce the risk of injuries. We suggest opting for real training shoes (often more affordable than running shoes!). This type of shoe usually has a sole that's closer to the ground, with a minimal drop, fits your foot's shape and moves with it.
If you don't want to invest in new footwear, make sure you have a model with a sufficiently grippy sole to avoid slipping.
Get Moving!
It's always the best time to take care of your physical and mental health. Simple at-home workouts can only be beneficial. You can even go up and down the stairs repeatedly, which is a good way to get your cardio going. Personally, I've done it a few times and I really feel it working! Once again, remember to wear shoes if you don't want to inadvertently slip and end up seeing the walls of your home up close.
SHARE