The perfect shoe for adventure racing is akin to the holy grail: is it out there, or is it just a myth? No matter how much someone raves about a shoe, the reality is that there's always compromise. Shoes are activity-specific, and each have their place in the quiver. In an adventure race, for example, athletes often change shoes at transition areas in an attempt to have the perfect tool for the next stage.  
When we're choosing a shoe, fit takes priority. Our selection then comes down to balancing choices within the long list of features. For example, a shoe that drains and dries well will also fill with sand and mud faster; a snug fitting shoe for technical terrain will stress your foot on longer runs; a natural fitting shoe will not sidehill or track well on soft terrain; the way a shoe grips comes at the cost of durability and flexibility…the list goes on.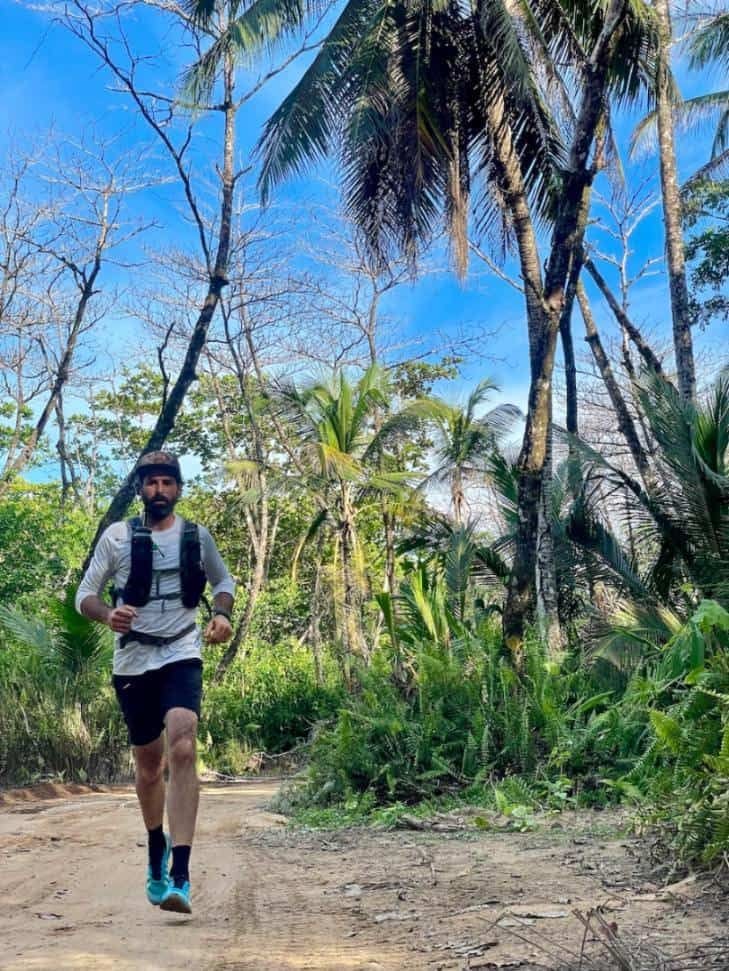 We've reviewed a few shoes here that we use regularly. Each has their pros and cons. We've highlighted the key attributes that make each shoe one of our quiver selections, and added a few items that live in our personal foot care and travel pharmacies.
Team Eco-Ar:
Kevin Hodder (KH)
Brian Finestone (BF)
Philippe Gautier (PG)
Altra Superior 4.5 (KH)
If your toes are screaming out for more room on long runs, then these babies from Altra may be for you. With their roomy toe box and balanced cushioning, the Superiors are designed to encourage better alignment and a more efficient running form. They may take a little getting used to if your regular shoe is high-drop, but the incredible feel for the terrain under your feet can become a bit addictive after a while. 
I found it important to use the removable StoneGuard rock plates whenever venturing onto more rugged terrain. Like the name implies, the guards disperse the force of pointy rocks under your feet and protect your precious soles!
Price:
0.00$
New Balance 1500v6 (KH)
Sure, we'd rather be cruising through the forest on loamy trails, but sometimes we find ourselves trapped in a concrete jungle instead. Personally, I prefer an ultralight racer with a thin sole, even for long runs on hard surfaces. For this reason, the 1500v6 is my go-to road shoe. It hugs your foot like a sock and provides a responsive platform to propel you across the pavement. The outsoles are highly durable and hold up well against abrasive city streets, making these runners a solid choice. As with most New Balance models, this shoe is offered in two widths to accommodate more foot types. 
Price:
0.00$
Altra Lone Peak 5 (BF)
As a diehard advocate of tight shoes, the first time I laced up the legendary Lone Peak 5, I instinctively kept pulling on the laces trying to get them tighter until they looked ridiculous. I always equated tightness with support, so it took a leap of faith to loosen the laces and go with the Altra flow.
These shoes offer a tactile experience I've never felt when trail running, and I expected my feet to feel like someone had been beating my soles with a hammer. They do take some getting used to, but the tradeoff is greater sensitivity and traction in a variety of conditions. I really like this shoe and will no doubt have a pair in my quiver from now on. The comfort scale gets 5 stars and performance a respectable 4.5 out of 5.
Price:
0.00$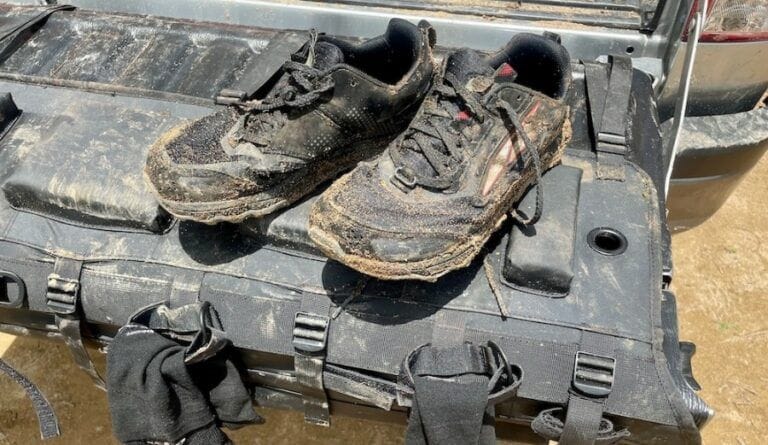 Salomon Speedcross 3 (BF)
As the days get shorter and the mercury begins to drop, the Speedcross 3 becomes the star of the show. The shoe's material is more robust than the Speedcross 5, so it offers a warmer ride and pairs well with a thicker sock to keep feet warm and dry, even when running in rainy or snowy conditions. The easily removable insole allows for quick drying if things get deeper than anticipated, and the classic tread pattern keeps you striding confidently over wet roots and leaves with its predictable bite. 
Out of the box, the Speedcross shoes feel like old friends, and the Quicklace system lets you detune the fit for that trip to the bank or the coffee shop after your run.
Price:
0.00$
Inov-8 Terraultra G 270 (PG)
Light, tight fitting, and great grip, this shoe takes me into the most technical terrain. I have two criteria that I cannot compromise on for a trail running shoe: fit and grip. If the shoe doesn't fit right, it is a non-starter. I'm sold on the natural-foot fit with the wide toe box and low ramp angle. The G 270 provides a snugger fit than the Altras, and could be a good transition shoe towards the natural foot style. I love the Graphine-Grip with the articulated sole: it sticks to the terrain on moderate to long alpine runs.
Price:
0.00$
Altra Olympus 4 (PG)
This is my go-to shoe of the season. It boasts a natural foot shape, max cushion, great grip and is snugger fitting than the Timp 2.0. Is this the perfect shoe? 
Altra has a great line-up of natural fitting shoes for a variety of different uses. The Olympus is designed for long distance running in complex terrain. The footprint is huge, and with the Vibram Megagrip it provides confidence on wet rock. The padding is enough to keep me going all day. The opportunity cost is stability and feel - if you're looking for an approach shoe fit then best look elsewhere. Your feet will move inside the shoe, and you'll have to work hard searching for stability on sidehills off-trail and in loose terrain. The gator trap works well.
Price:
0.00$
FOOT CARE AND PERSONAL MANAGEMENT PHARMACY
Antibiotic ointment:

Goes on all cuts, punctures or abrasion all the time…no question.

Spray-on / paint-on bandages:

Covers all broken skin while out in the elements.

Nail clippers: Keep them short and clean!
Probiotics and Imodium (Loperamide

): Best to prevent "turista" with probiotics but sometimes you just need to put a cork in it. Talk to your doctor about your travel destination and make a bowl management plan!

Cortisone cream:

Treats rashes and irritation if you brush up against something nasty! Talk to your doctor.

Leukoplast tape:

Sticks, breathes, and save your foot in time of need.

Body powder:

If you're in a wet environment and have the luxury to rest at times, powder up.

Analgesic gel:

Soothing for those aches and pains.

Sunscreen: Put it on or down you go.
SHARE