Glamping—the outdoors made better with the cozy comforts of home at your campsite. Alright, that might not be the exact glamping meaning, but it works for my family, and it's how we do camping.
As attractive as the outdoors are, the city in us love urban comforts. Without my cortado, my New Yorker and my nightcap, I'd be hopelessly lost. Enter glamping, of regal heritage (queens and kings under ornate canopies over 500 years ago), and today's answer for getting in touch with Nature without, you know, touching Nature too much.
My wife and I watched the kids recoil in horror at the suggestion of spending a weekend in a forest. We reassured them there would be Wifi, electricity, hot meals and comfy beds. Once offered the alternative of a winter's camp instead, they agreed, and we quickly whipped up a camping checklist to try and figure out how exactly to deliver on our promises.
The question was how to make camping more comfortable? The right glamping gear was essential for our trip, even more than our destination, be it glamping Ontario, glamping BC or glamping here in Quebec. We're talking tents, coolers, tumblers, camping chairs, kettles and pillows—all the essentials for a home-away-from-home experience. We got shopping online, packed up, made reservations at a glamping campsite (BYO tent, the luxury yurt experience would have to wait) and hit the road.
Set up the Tent
Our rented campground spot looked charmingly country in the late afternoon sun.  As a team-building exercise, we set up our Limestone 8 Person Tent by Marmot. We zipped away the shell and it became a bug-free sunny haven. The kids jumped onto the sleeping mats and pulled out their smartphones. None of that, I proclaimed, and we set out on a family scout of the area. But the more we scoped around, the more we wanted to get back to our campsite and try out our new glamping gear.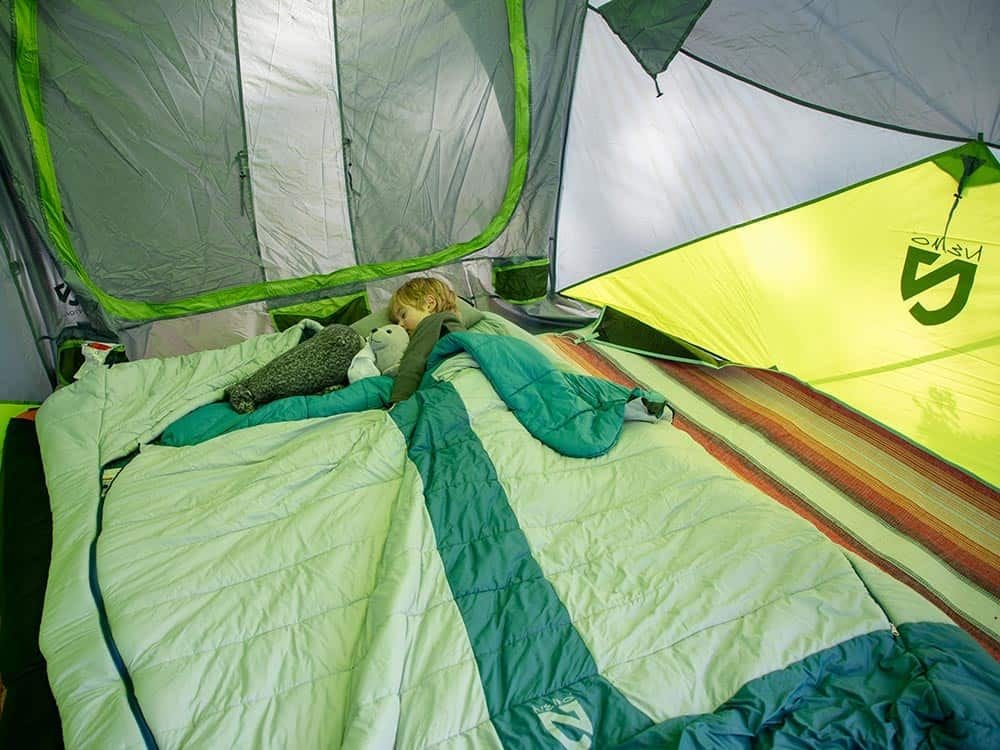 Sleeping Bags & Pillows
Much to our surprise, our daughters turned in early (though I suspect texting in bed was their idea of a night under the stars). They both loved their new Jazz Duo sleeping bag by Nemo Equipment and Therm A Rest Compressible Pillows. Built for warmer weather, the bags are soft, roomy and cool—perfect for summer camping or glamping. The pillow cushion is heavenly and packs absurdly small—about the size of a lime.
Campfire Cocktails
Speaking of lime, the late-night Caipirovska cocktails my wife and I enjoyed in our Rambler wine tumblers by Yeti were divine. The strong, smooth tumblers almost made us forget our crystal ones back home. 
Amazingly the vodka was still chilly even though we'd iced it hours earlier, thanks to another Yeti product, the Tundra 35 Cooler. It's grizzly-proof, although the glamping website assured us the closest we'd get to such savagery was perhaps a chipmunk.
Blankets and Pads
Bedtime for the adults meant a plush landing on our double sleeping pad. Camp sleeping conjures up images of a bivouac on broken ground scattered with a few fern leaves. Forget that—I'm all about a comfy night's rest, precisely what the Klymit Double V Sleeping Pad delivers. The Double V has full-sized separate air chambers split and joined in the middle, so when you roll over you aren't sending your partner on a roller coaster ride. Intimate and at the same time all your own.
We draped our Pendleton Eco-wise bed blanket over us. My wife and I couldn't resist the idea of a lumberjack cover for our trip. Pendleton uses a non-toxic manufacturing process, supports indigenous causes and makes blankets that feel heavenly. We fell asleep quickly and soundly that cool summer night.

Stovetop Coffee and Solar Power!
Dawn in the outdoors evokes images of wild-haired men and women planning rugged adventures into the nether regions of the unknown. But who needs all that when, after a deep sleep when, you can lounge about late into the morning at your glamp-site? We made coffee in our Snow Peak percolator—stainless steel and six cups at a time. The BioLitle BaseCamp stove with neatly-cut firewood provided by the campsite took care of the promised hot breakfast.
The BaseCamp stove is exactly the thing a novice like myself needs. It tells you when the fire is hot enough and sends the extra energy into a USB charging station. I plugged in my phone and went over all the emails I'd been ignoring. My teen used the BioLite SolarPanel 10+ we'd brought along for her connectivity. She angled the panel to the sun and voila, Instagram access and what I'm sure was a glowing recap of our glamping adventure so far.
Glamping Hike Essentials: Bag, Snacks and Drinks
A hike is what getting away from it all is about, so off we went—but not without necessities. For those spots on the well-groomed trails that were more challenging, I brought along a Leki Micro Trail Pro walking pole, ultra light and carbon. It offered plenty of balance and stability for this city slicker all too used to smooth pavement and carpeted offices. 
Provisions were tucked away perfectly in a Fjallraven Kanken mini 7-litre backpack, stylish and comfy and my younger daughter's schoolbag of choice. The kids refreshed themselves with water from their new HydroFlask 12 ounce bottles, in the colours of their dreams. 
The adults preferred a little invigoration more in tune with our tastes—cold mint julep in our Classic Easy-Fill wide mouth flask by Stanley. I loved the look and feel of it, sturdy, classic, iconic, all that and more. My wife liked the julep. 
Everyone devoured the delicious the Naak apple pie and blueberry cheesecake energy bars, packed with enough protein to punch your way to whatever finish line you're gunning for. I haven't told them yet that these are cricket powered—and I don't think I will. Besides, it's the most appropriate snack for the forest. When in Rome… or outdoors, I guess.
The Ultimate Glamping Chair
We headed back to the site. My reading break with my favourite magazines turned into a nap in the Beach Chair by Helinox. It sets up in a flash and has a deep seat perfect for drifting off. The heat didn't bother me as the chair has plenty of mesh panels to keep you fresh.
Another evening by the fire pit and then a little late-night internet browsing, made possible thanks to the separate room our Limestone tent provides, complete with a room divider and its own entranceway. As everyone else dozed in the comfort of the sleeping space, I opened my Spotify account, popped my Bang & Olufsen Beoplay H9i over-ear headphones on and found myself watching the stars, sipping an Old Fashioned with John Coltrane humming away, the perfect blend of Nature and civilization.
Thinking Camping? Think Glamping.
I could get used to this glamping thing. You will too. Get the right glamping gear, set up your campsite and experience nature as you want it. See you at the yurt!
SHARE