Today we've got the battle of modern versus heritage. Helly Hansen, the seasoned outdoor industry veteran, had its start back in 1877. Arc'teryx, despite its prehistoric name, dates back to the late 1980s. In other words, Helly Hansen walked so Arc'teryx could run. Both are heavy hitters in the outdoor apparel industry, and today they're facing off.
We'll be looking at the history of these two brands before highlighting a few of their standout pieces. Then we'll be taking a deep dive into metrics like durability, performance, price, and style.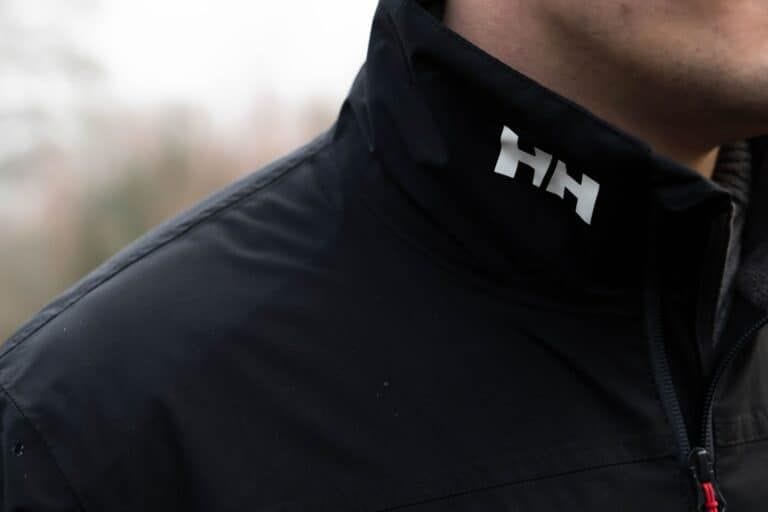 Helly Hansen Overview
A Brief History
There aren't many brands that can match Helly Hansen for longevity. The man who gave his name to the brand, Helly Juell Hansen, was a Norwegian captain who began making specialized jackets in 1877 to protect his sailors on the high seas. By applying oil to cotton canvas, he and his wife Margarethe discovered that the fabric became waterproof, and in 1878 they presented their designs to the world at the Paris Expo.
Fast forward to 1949, and under the stewardship of the founder's son Leiv, Helly Hansen began developing Helox, a proprietary waterproof technology made from PVC plastic sewn into coats. A few years later, in 1961, the brand would introduce the first fleece sweater, and not long after that, in 1970, Lifa would hit the shelves, and we had our first taste of technical base layers.
Sailing has remained an integral part of the Helly Hansen DNA, but in its 145-year history, that brand has expanded into the world of alpine skiing and trekking. The material has become lighter and the colours more vibrant, but there is still a dedication to outdoor exploration, craftsmanship, and innovation. 
Social Responsibility & Sustainability
Since the early days, Helly Hansen's commitment to the environment has been twofold. They've committed to designing apparel and equipment that can take on the harshest conditions, all while doing it in a way that protects the natural environments we continue to explore. 
Their production methods take into consideration water usage, animal welfare, and the use of plastics and chemicals. On the supply chain level, they ensure that their warehouses and all partners provide a safe and inclusive environment for all those involved in manufacturing and distributing their products. 
What Helly Hansen does above all is create apparel that lasts. In the world of fast fashion and trends, the Norwegians stay true to the mission to make gear that's durable and capable of taking on the harshest environments for years to come.
Featured Product
The Loke jacket is built for adventure. Whether camping, hiking, trekking, or commuting across town, this lightweight jacket is ready to take on the elements. Helly Tech Performance means total waterproof and windproof protection while maintaining enough breathability to keep you comfortable on challenging hikes. And for added protection, they threw in a Durable Water Repellent (DWR) treatment.
It also comes fully loaded with features that you'll be happy you have when it's time to put it to the test. The fully adjustable hood and cuffs and bottom hem elastic with adjustable cord offer a little extra protection on windy days. Pit vents keep the airflow regulated, and zipped hand pockets give you plenty of storage without worrying about dropping your essentials. The women's model comes loaded with the same features so that everyone in your hiking party can benefit from the same protection.
Price:
0.00$
Arcteryx Overview
A Brief History
Helly Hansen was already a decade removed from their centennial anniversary when Arc'teryx came onto the scene. In the world of outdoor apparel, the Canadian brand is a relative newcomer, but what they've done in the 30 years since their foundation in 1989 is quite impressive. 
The first thing that stands out about them is their name, derived from the Archaeopteryx, one of the first birds to appear in the evolutionary transition from dinosaurs. That said, there's nothing prehistoric about the gear they make. Based out of the coast mountains where they test their equipment daily in the backcountry, Arc'teryx is at the forefront of apparel innovation.
Like many of their close competitors, they started out making climbing equipment (under the name Rock Solid). After changing names in 1991, they expanded their offerings into apparel and soon incorporated world-renowned GORE-TEX technology into everything from hardshell jackets to trail running shoes. Today, Arc'teryx is among the elite brands providing gear for climbers, backcountry skiers, hikers, and urban commuters.
Social Responsibility & Sustainability
Arc'teryx proves that you don't have to compromise on quality and durability if you want to be sustainable. With the growing problem of climate change, companies are turning towards more environmentally friendly ways of sourcing and manufacturing their apparel. Arc'teryx is no different, and in their own words, they've undertaken the challenge of rethinking the way they do business:
WE COMMIT to a Science-Based Carbon Target on Climate Action.

WE COMMIT to working towards a circular economy.

WE COMMIT to growing Outer Peace for people in our communities to whom it's been denied.

WE COMMIT to Fair Trade certification & improving working conditions everywhere we build products.
Since the beginning, making gear that lasts has been their commitment, with services like Used Gear, which sells used Arc'teryx gear and apparel, and ReBird, which promotes upcycling, resale, and care and repair of your used gear. These programs are designed to find a new home for your used gear if you decide you no longer need your waterproof shell. And with the care and attention to detail that goes into making the apparel, even the most challenging conditions aren't enough to knock them out of commission.
Featured Product
You could argue that the Atom LT is the perfect base layer. It's lightweight, insulated with Coreloft compact insulation, and features stretch fleece side panels for ventilation. What might give it the edge over other base layers in its class is how it holds up as a standalone layer. The outer fabric features a Durable Water Repellent (DWR) treatment that you don't often find on mid-layers.  
What stands out about this jacket is its versatility. Its technical details include an adjustable, insulated StormHood, a laminated hem with a slight drop, and two hand pockets with an internal chest pocket. But it has a simple look that can easily be worn in town without anyone accusing you of going full gorp core.
Price:
0.00$
Comparing Helly Hansen to Arcteryx
Now that we've had the chance to look at each brand and some of their standout pieces, we can start to compare them based on a few important factors.
Durability
There's no question that both brands rely on innovation and expertise to design apparel that can withstand the most demanding conditions. Helly Hansen has been developing a proprietary waterproof technology, while Arc'teryx has turned to GORE TEX to provide protection. Both membranes are comparable in terms of their ability to face torrential downpours, and they each remain breathable while doing so. 
What differentiates them is their value to the customer over the long run. Helly Hansen has a one-year warranty, so if something happened to your apparel past that point, you'd have to hope it's repairable. Arc'teryx, on the other hand, has its ReBird program that will fix any defects to your apparel for the normal span of the garment's life.
Performance
This is an important metric, but there are many ways to score it. You can judge the performance of a jacket based on how well it's able to fulfil its function. Arc'teryx specializes in mountaineering and skiing apparel, and you'll be hard-pressed to find a brand that can top them in those categories. Precision, craftsmanship, and quality are some of the words you'd associate with them. The clothing they make goes through rigorous testing, and the materials they use are top of the line.
Helly Hansen started out making clothing meant to keep sailors dry. The technology and fabrics have changed since, but we'd say they know a thing or two about waterproof materials. If you're looking for sailing apparel, look no further. You're not likely to find a brand with as much experience and know-how. They also design hiking and skiing apparel, but we might have to give the edge to Arc'teryx for those categories. But whichever brand you go with, you're sure to get the best of the best in terms of quality and performance.
Price
It always depends on how much you're willing to pay. If you want to find a quality rain jacket for under $100, you might want to look elsewhere. If you're looking for a wider price range, Helly Hansen is your best bet. They have more options for those on a budget. Arc'teryx tends to be more expensive, and if you're looking for a full ski suit, you'll probably find yourself paying well over $1000 for a jacket, pants, and a base layer. What you want to shell out for a waterproof shell is entirely up to you.
Style
This one is subjective and depends entirely on what you think looks "cool." Arc'teryx, and its urban line Veilance, tends to go for a minimalist approach. Streamlined designs and subtle detailing are a key part of their design philosophy. Helly Hansen goes for a more colourful approach, and their apparel tends to be more technical. If you want to combine functionality and style, you're better off going with Arc'teryx. But once again, to each their own. Helly Hansen has a more vibrant range if you like a colourful palette.
Wrap up
After a hard-fought battle, it's tough to choose an overall winner. Helly Hansen has 140 years of experience, so many methods outdoor brands use today are thanks to them. Arc'teryx has been pushing the limits of what our clothes can do since their inception. Both are dedicated to their craft, and it's reflected in the clothes they make. 
If you're a backcountry skier, we'd probably nudge you in the direction of Arc'teryx. Sailors won't find better than Helly Hansen for their maritime needs. Professional ice climbers swear by Arc'teryx, and so should you. In other words, both brands serve different markets, and you have to figure out exactly what you're looking for in your outdoor apparel.
SHARE