Camping entails a return to basics: everything you need to survive is either inside your backpack or the trunk of your car. And even though you can live off a diet of Cliff bars and trail mix, that doesn't mean you should. Here, we walk you through the best camping stoves of 2023, so you can enjoy the luxury of a warm meal even in the midst of a rugged adventure.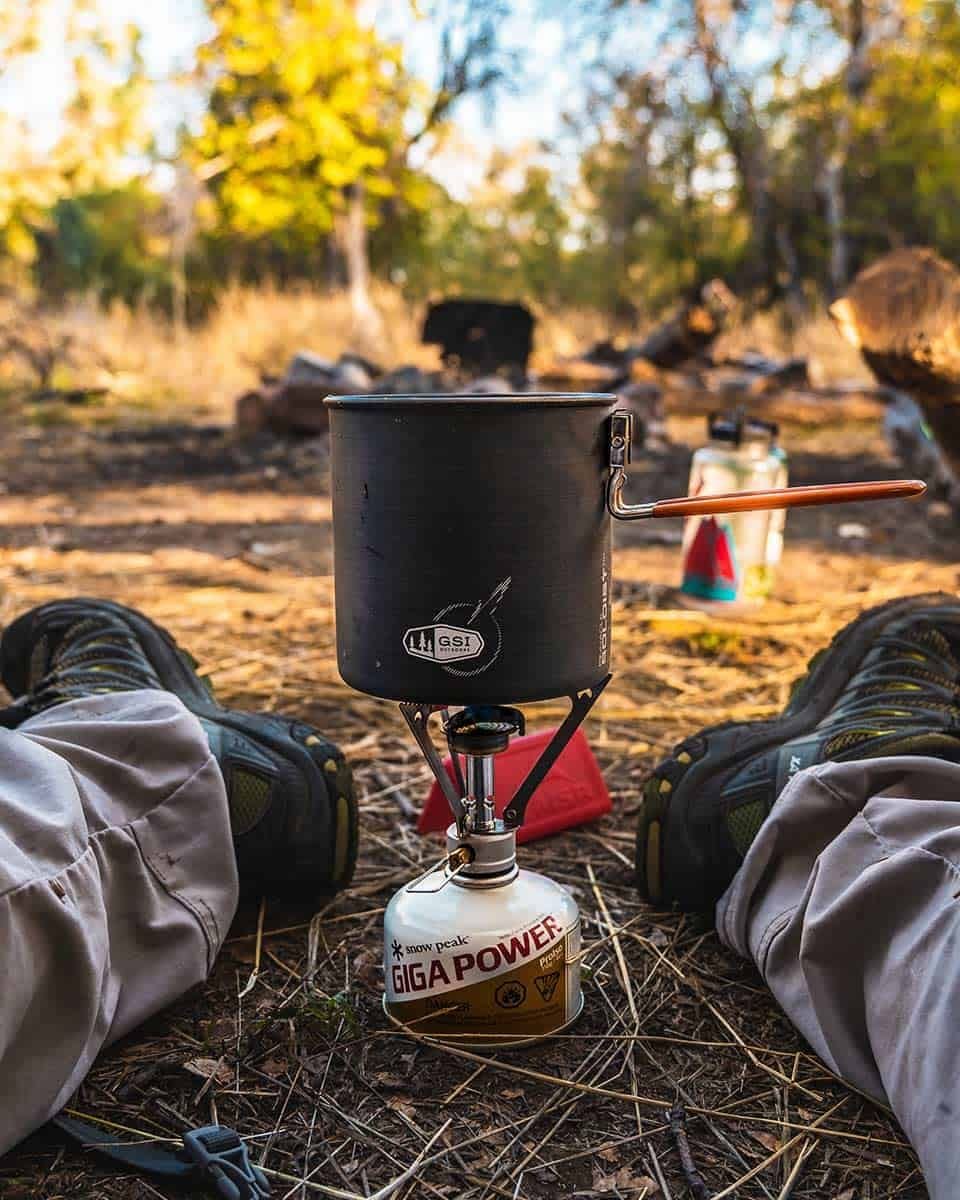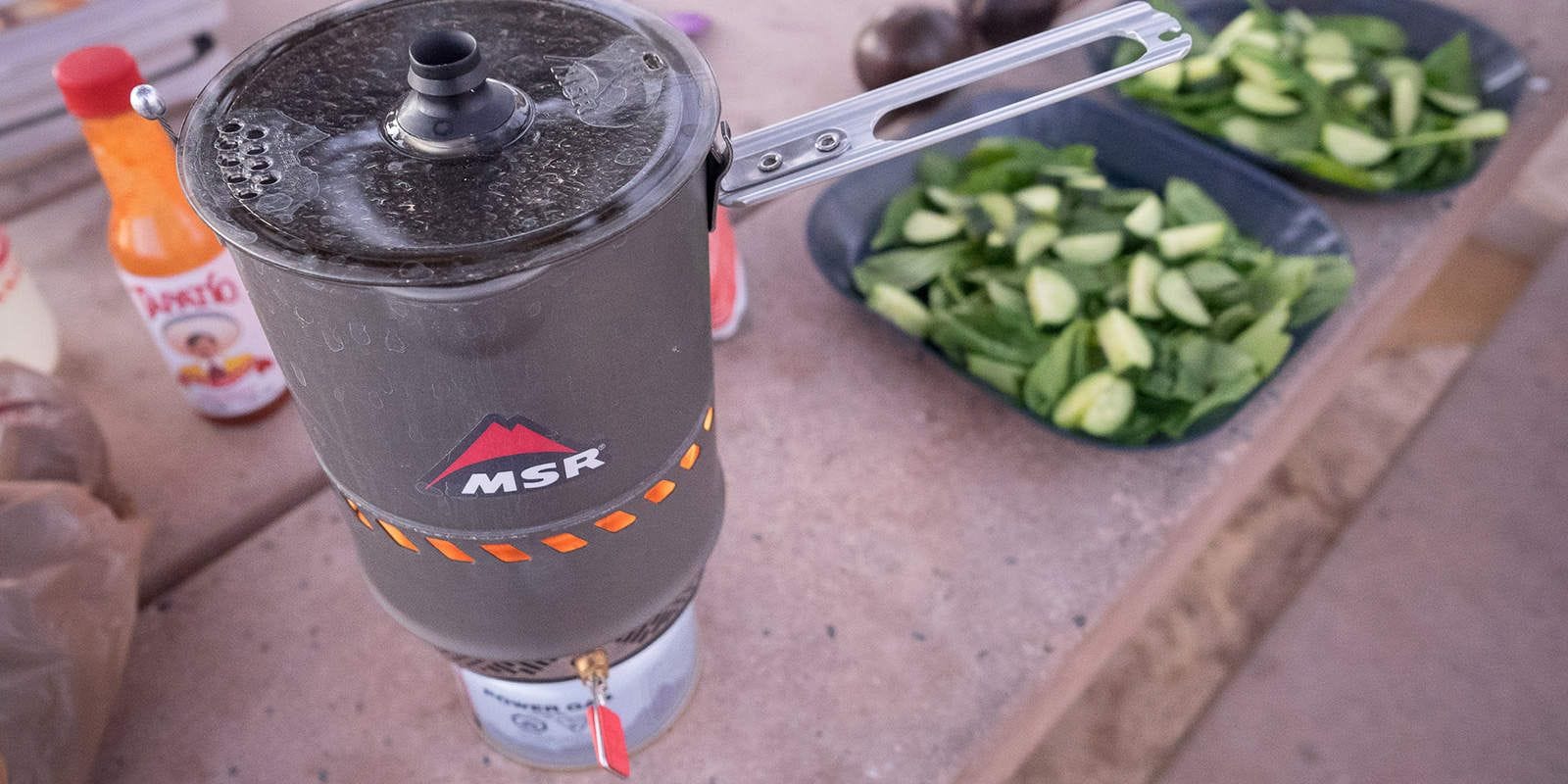 What to Look for When Buying a Camping Stove
As we've seen, the best camping stoves come in all shapes and sizes. But if you know what to look for, the process becomes exceptionally simple. Let's see what to consider when shopping for the best camping stove.
Stove Types
Let's review the three most common types of camping stoves.
Campground Stoves
Big, bulky, and plenty of room to cook up a storm. A campground stove is your run-of-the-mill portable grill. It's spacious and powerful and usually transported in the trunk of your car. These are usually the best camping stoves for big groups going front-country/car camping/glamping. The two burner stove is a common variety of the campground stove.
Canister Stoves
Examples of canister stoves include the MSR PocketRocket 2 and the GSI Outdoors Pinnacle 4 Season. Thanks to their compact design, they're considered the best camping stoves for backpacking—especially when flying solo or in pairs. They're affordable and usually nest within a larger system of cookware. Fuel comes in disposable canisters.
Liquid Gas Stoves
Liquid fuel stoves are arguably a better option for winter camping trips and long-distance hikes when compared to canister stoves. Also, liquid gas is more widely available than canister gas, so check the accessibility of your preferred fuel type before setting off. Since bottles are reusable, it also makes for an eco-friendly alternative.
Fuel Types
Liquefied Petroleum Gas (LPG)
A general moniker for the gas mixes found in pressurised canisters (think MSR's IsoPro or Optimus' Energy). LPGs are usually a combination of two or three gases such as propane, butane, and isobutane.
White Gas
Affordable and clean-burning, white gas is derived from natural gas. White gas is often used in conjunction with a liquid gas stove.
Alcohol
Denatured alcohols, like ethanol, are cheaper alternatives to traditional camp fuels. An alcohol burner can be purchased relatively cheaply and used with most camping cookware. Alcohol burns clean but tends to heat more slowly when compared with LPGs. 
Kerosene
Also known as paraffin, kerosene is still sometimes used when lighting lamps, but rarely when it comes to modern camp stoves. Harks back to the outdoor cooking practices of the previous century.
Solid Fuel
Affordable, safe, and ultralight, solid fuel tablets are an excellent alternative to more complicated camp stove systems. Though not as efficient as LPGs or alcohol, it's easy to keep track of how many meals you can cook. While transportation is safe, cooking with solid fuel can leave residue on your burner and cookware, in addition to producing pretty gnarly stenches.
Nature Herself
Out of fuel? Don't fret! All you need is a lighter (or matches), a few twigs, and some dry leaves. This truly is the O.G. of fuel sources. Throw in some cotton balls doused in Vaseline and you've got yourself a respectable blaze.
Canister Compatibility
Most manufacturers produce and recommend their own canisters for their stoves. That said, you'll often find off-brand canisters that are equally compatible. This means you won't be stuck without fuel in the midst of a trip if a local retailer doesn't stock your preferred brand. 
Conversely, be careful which alternatives you buy; these are pressurised canisters loaded with flammable solvents. Best advice is to verify which alternatives fit your system and stick to trusted brands.
Size & Weight
Among the best camping stoves, you'll find everything from hefty grills to compact camping stoves. The variety is seemingly endless. When it comes to size and weight, there are a few things to note. 
First, the lighter a stove, the less stable it will be. Second, the smaller a stove, the less surface area you'll have to cook on, limiting the size of your cookware. This is especially true of backpacking stoves.
On the other hand, when it comes to car camping systems, weight isn't an issue. Just make sure it fits in your trunk and you're good to go!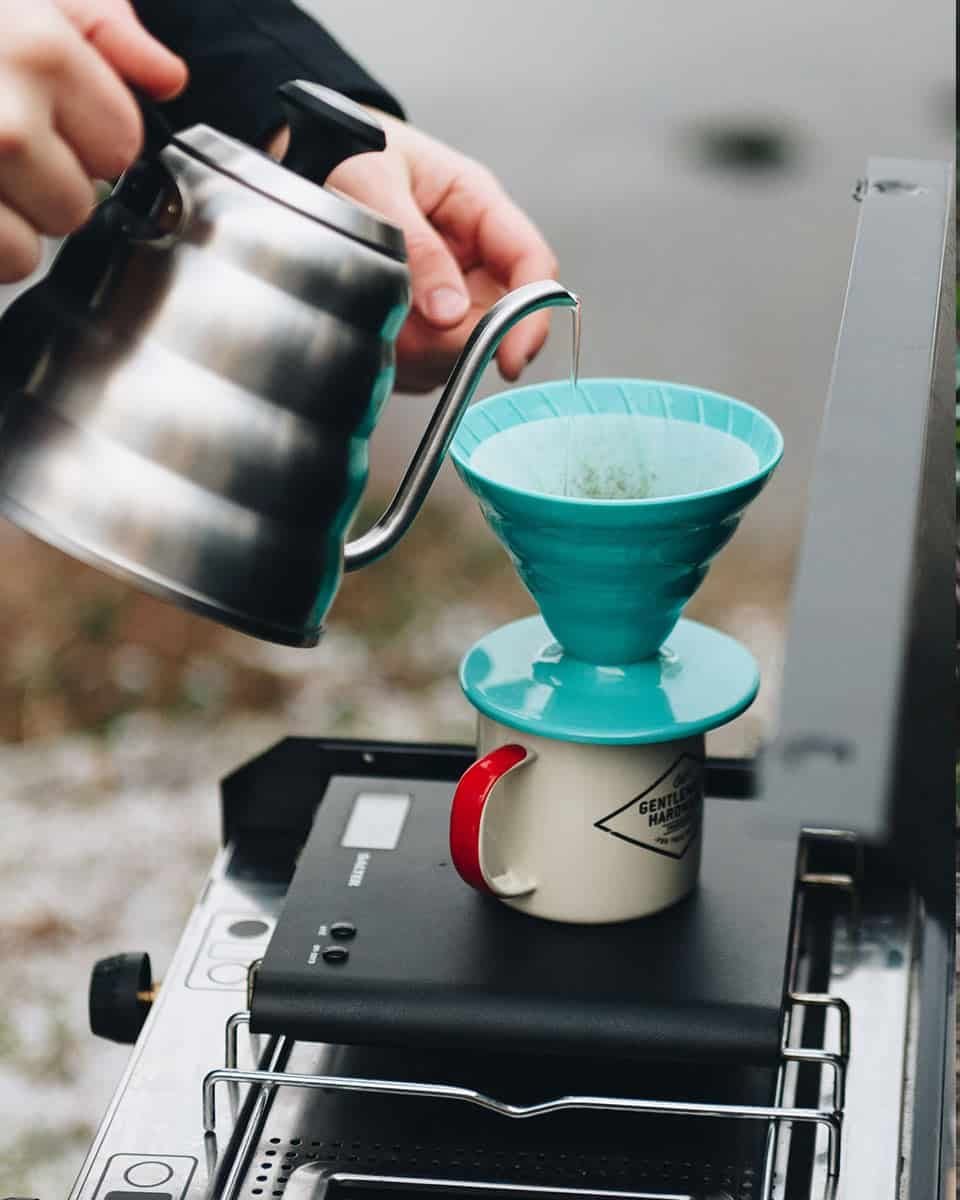 FAQ for Camping Stoves
How long does camp stove fuel last?
The lifespan of a fuel canister can be measured in hours, days, or meals. Now, depending on the size of the canister, wind conditions, camping altitude, and how hot you run the flame, that number can range pretty dramatically. 
Take Jetboil's IsoPro canisters for example. These canisters come in 100g, 230g, and 450g. The 100g canister is good for roughly 10-14 meals or 3-5 days. The 230g is said to offer three hours of fuel under perfect conditions or about 7-10 days. Finally, the 450g will provide you with between two weeks and a month of use.
You can ask yourself a few questions to determine how far this will take you:
Will you be using the stove to both cook and boil water?

Will you be camping solo or with company?

How many times per day will you cook

and boil water

?
Remember, cook times vary depending on what you're cooking; however, it takes approximately three minutes to bring 1L of water to a boil. 
With a bit of experience and some rudimentary arithmetic, you can figure how long any given canister will last. As we all know, whatever could go wrong will go wrong—especially in the woods. So it's always best to err on the side of caution and overestimate your fuel needs.
Which gas is best for camping stoves?
Not all gases are created equal: some gases burn hotter, while some burn cleaner. In general, the two most common fuel types for camp cooking are propane and butane. If you're winter-camping, propane is hands-down the way to go, as butane doesn't vaporise in cold temperatures. 
That said, a butane stove does burn more efficiently than propane stoves, making it the superior choice in warmer weather. Unlike propane, butane fuel needn't be stored in high-pressure canisters to be used as fuel.
The bottom-line is that both a propane stove and a butane stove will burn clean and generate minimal fumes.
Can you bring a camping stove on a plane?
Yes, you can bring camp stoves on a plane. That said, you cannot bring fuel canisters on a plane. Because they're pressurised and flammable, you'll have to purchase them from a local outfitter upon arriving at your destination or opt to travel by land instead.
Can you use a camping stove in a tent?
Is it possible? Perhaps. Should you? Definitely not. While some may be tempted to risk it when outdoor conditions are subpar, the possibility of setting fire to your tent (usually quite flammable), or inhaling toxic fumes (think carbon monoxide) is fairly high. Because tents have limited ventilation, you're putting yourself at risk every time you use camp stoves inside.
If you expect windy conditions, make sure your stove has built-in wind protection or you've purchased an after-market one to protect the flame. Otherwise, consider snacking until conditions improve.
How should you store camp stove fuel?
Always ensure your fuel canisters are tightly sealed when not in use. This way you avoid wasteful and potentially dangerous spills. At home, it's best to store them in a cool, dark place standing upright. 
It's also crucial to keep them upright during transportation and never leave them in a hot or closed vehicle. Always check for leaks and cracks on the container. If you find any, dispose of the canister immediately. You can usually drop them off at your local eco-centre or hardware store.
THE RIGHT STOVE FOR
ALL
YOUR ADVENTURES
It's time to bring this article to a boil (sorry—couldn't resist!). We hope our roundup of this year's best camp stoves will help you rock those outdoor meals like a veritable chef. There are many camp stoves on the market but, before choosing one, ask yourself these questions: 
What kind of camping will I be doing?

How often? 

Alone or with others?  

In which climates?

Is weight/size important to me?

Am I on a budget?
Answering these simple questions will narrow your search and help you pinpoint the perfect camp stove for your needs. Happy trails and bon appétit!
Next, check out our top camping tents of 2023.
SHARE