Bindings transmit energy between the boots and the snowboard: each movement passes systematically through this essential piece of equipment. Bindings that are adapted to your riding style will provide you with more control, precision, and comfort.
Here are the main elements to consider when choosing snowboard bindings:
1. Choosing bindings that are compatible with your snowboard
The first thing to consider is your bindings' compatibility with your snowboard's installation system, as well as the snowboard bindings size compared to the size of the board.
Installation system compatibility
First, figure out what kind of installation system you're dealing with on your board. Do you need bindings that are compatible with 2X4, 44Z, 3D, or a channel system? There are only four types of mounting systems, also called inserts, currently available on the market.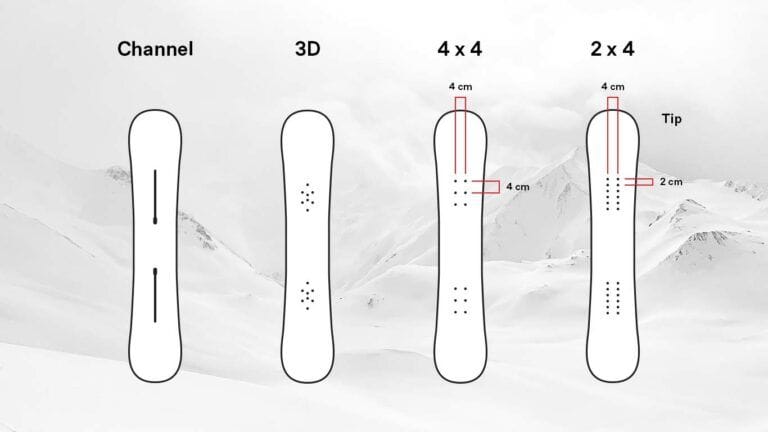 For 4X4, 2X4, and 3D systems, you should choose snowboard bindings that allow for inserting screws. These models will come with corresponding discs for correct positioning on the snowboard. Check out this article for how to install snowboard bindings for more detailed information.
When you're looking at a binding product's technical features, make sure that the discs provided with the bindings are the right ones you need. Usually, snowboard bindings on the market come with the necessary hardware for installation on all types of boards. Bindings for the Burton Re: Flex come with the discs that are compatible with the 3D, 4X4, and channel systems. But, the bindings for the Burton EST, for example, are only compatible with Burton's channel system, and not with any other brands.
Snowboard and boot size compatibility 
For each model, companies will often indicate what snowboard binding size is compatible with the size of the board you've chosen.
You'll also need to know the size of your boots when choosing your bindings and your snowboard. This is important to figure out so you can be sure that your boots and bindings don't over-exceed the size of your board.
PRO TIP!
It's normal for your bindings and boots to exceed your snowboard size a little bit.
But if they exceed too far, the board is probably too narrow for your feet, and you'll definitely end up snagging your feet at every turn.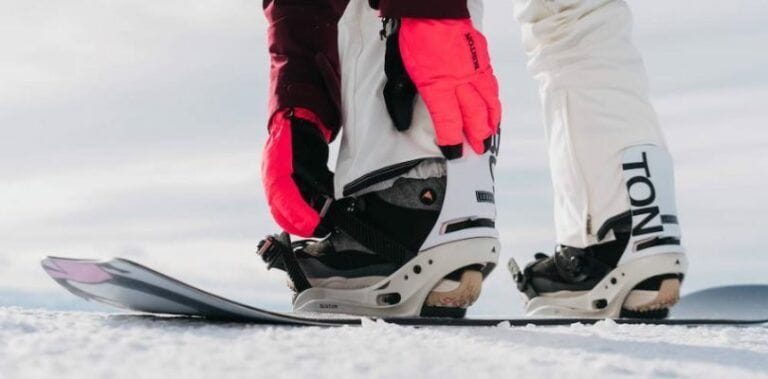 2. Choosing bindings according to flex and riding style
Just as for snowboards and boots, companies also categorize bindings according to riding style. It's super important to choose your equipment based on your riding style, personal preferences, and your skill level.
Aligning your bindings type with your snowboard type
Choose snowboard bindings that go well with the type of board you've chosen (freestyle, freeride, all-terrain/all mountain). This way, you'll really unlock your board's full potential. For example, if you've chosen a jib snowboard, your most logical binding choice would be something that's meant for freestyle snowboarding. If you install bindings that are too stiff on a more flexible board, you risk compromising the quality of your ride. The same goes for the other way around: if you install bindings that are too malleable on a stiff board, you risk creating a shift in the bindings' responsiveness and the board's reactivity, which will create a more forceful and stiff ride.
Feeling the difference
When it comes to getting the right feeling with your snowboard, nothing is set in stone and there are always exceptions to the rule. Some snowboarders prefer softer bindings no matter the terrain, while others prefer to ride with rigid bindings at all times. Getting to know your binding preferences takes time and trying out different equipment.
Bindings are versatile enough regardless of their original function. If you choose more rigid bindings, you'll still have plenty of fun at the park. You might, however, want to reduce the tilt of your highbacks for a day spent purely at the park. The same goes for more flexible bindings: a freestyle setup still lets you enjoy everything the mountain has to offer.
PRO TIP!
For beginners, it's a good idea to choose a binding that is categorized for the same riding style as your board.
For example: a soft flex binding on a soft flex board. Companies will often suggest the most compatible equipment together, making it easier for you to choose wisely.
3. Choosing your bindings system
With all the options available on the market, it can be difficult to know which snowboard bindings to buy. Every model has their own unique advantages and disadvantages.
Strap in
As the name suggests, these bindings are attached and adjusted with the help of fastening straps – one at the ankle and one over the toes. The boot is inserted from the front by pressing the heel against the heel support (highback) and then the two straps are attached. This classic system is not the quickest, but is comfortable, reliable, and high-performing. Many companies offer this model.
Burton Step-On and K2 Clicker X HB
New on the market as of a few years ago, Burton's Step-On bindings allow you to quickly attach the boot to the bindings, without having to bend over to fasten them. This system is great as it doesn't create any pressure points on your boots. Its technology is simple to use, comfortable, and performing. However, the cost of these bindings is a bit more expensive than other systems.
Similar to the Step-On but from K2, the K2 Clicker X HB offers an experience comparable to the Step-On with its own rapid binding system. The Clicker HB bindings points are centred under the boots, while Burton's Step-On option connects on the sides.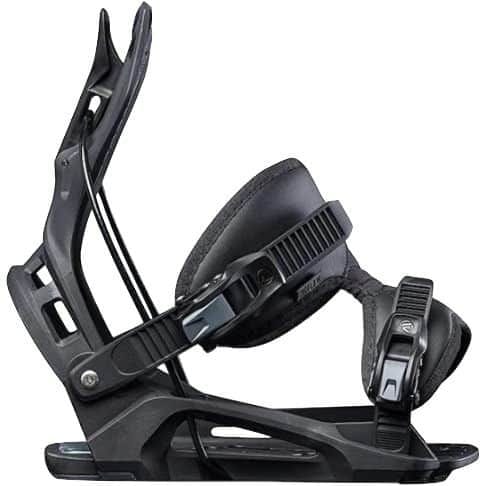 Other back-entry models
Another system consists of slipping the boot through the back of the binding, followed by pulling the highback up in order to close and lock the system. Their main advantage lies in the quickness of the system since it isn't necessary to attach any straps. But, this sacrifices a bit of performance as these bindings are often less reactive, and can also be more heavy. Still, this is just my personal opinion and the impression I received from discussing it with other snowboarders who use this system. It's also usually possible to put these bindings on from the front, as with strap bindings.The best known products are probably from Flow, but other companies like K2 or GNU also offer these options.
4. Choosing your bindings based on technical features
Possible adjustments
It's important to know what's adjustable and what isn't on your bindings. Most bindings are adjustable and will allow you to make use of different settings. For more information, check out this article on how to install snowboarding bindings.
Variety of models
There are several different strap models out there, some more ergonomic than others, some more cushioned, and other more rigid or more flexible. Get informed by reading the technical characteristics of different products to make your choice confidently, backed by all the research you've done.
Materials, price, and durability
The materials that make up the different parts of bindings, such as buckles for securing straps, the heel-cup, and the footbed, may also influence your choice in selecting a model. Some entry-level models are often made from more plastic-based materials and therefore can be less durable (but also way less expensive). Other high-end models will be made of much more resistant materials like aluminium or carbon, and will provide better support or comfort – but this comes with a higher price tag.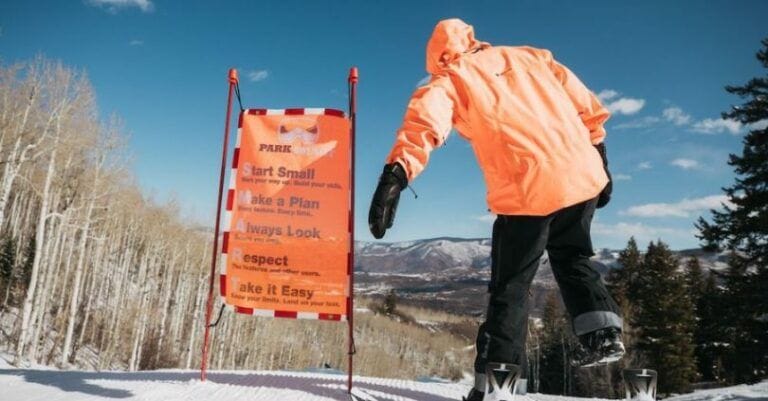 Take the time to research the different models you're interested in and get informed on their specifications. The right snowboard bindings should allow you to transmit power to the board while maintaining a certain level of support and maneuverability, depending on your needs.
FAQ: SNOWBOARD BINDINGS
Q: Which snowboard bindings system should I choose?
A: This is a matter of personal preference. If you don't want to waste any time putting on your bindings, choose a model that fastens quickly. If you're looking for precise bindings that let you make multiple adjustments, choose a more traditional, high-end strap model. Consult the Choosing your binding system section for more information.
Q: How can I be sure my bindings are compatible with my snowboard?
A: First, check whether the installation system is the right one for your snowboard and make sure your snowboard bindings size is correct. For more details, read on here.
Q: Why are some bindings so expensive?
A: The price of different bindings is determined by the materials used for different components, the range of possible adjustments, and the level of sophisticated technologies. For more information, refer to the section on Choosing bindings according to technical features.
SHARE