There are many elements to consider when choosing a snowboard. It's important to ask yourself the right questions before you buy. Hopefully, this article will help you to better understand the choices you have to make.
It helps to have a funnel-like mindset so you can close in on the important parameters and select THE board: the one that will enable you to progress as a boarder while having a blast on the hills. Each of the following sections should help you narrow down your choice.
FAQ
1. Choosing your snowboard according to your technical skill level
It's essential to choose a snowboard according to your skill level. The first step is to determine where you are on the technical skills scale.
You're a beginner if…
You have never snowboarded before

You can control your speed on green or blue runs

You can't sequence your turns from heel to toe

You're able to sequence your turns from time to time, depending on the terrain

You find it more difficult to maintain your speed on flat ground

You are still a little intimidated by the steeper sections of hills

You are looking for equipment that will help you improve your technique
Pro Tip
Look for a more "forgiving" snowboard that is softer and shorter. The shape and profile of your board should be fairly versatile.
A common mistake is using a board that is too big and too stiff to start with: it'll make it harder to move forward and to execute turns. Ideally, choose a more "forgiving" snowboard that is softer and shorter. The shape and profile of your board should be versatile enough. Look for the following features: twin tip or flex twin to be more comfortable in both directions, or look for more permissive profiles, like flat, rocker, hybrid or cambered with flat areas near the tip and tail. See the Snowboard Design section below to learn more about the different technical features and types of snowboards.
You're at an intermediate level if…
You can ride green and blue runs with relative ease

You're in

control of your speed

at all times 

You're starting to make carving turns along the edges

You are starting to explore ungroomed terrain, such as relatively open glades or bumpier hills that are not too steep

You are looking for equipment that will allow you to continue to progress in the style of riding you enjoy most
Pro Tip
You like goin' for rips anywhere on the mountain?
Choose an all-mountain freeride snowboard that will be versatile and fun in all types of terrain.
Do you prefer freestyle?
An all-mountain freestyle snowboard will be great for riding in the park and freestyling anywhere on the mountain. Choose a softer, shorter and more maneuverable snowboard for jibbing, rails and boxes OR a stiffer, slightly longer and stronger snowboard if you prefer to do more jumps (especially for bigger jumps). 
You're at an advanced or expert level if… 
You're a proven enthusiast. 

You can descend anywhere on the mountain with ease, on any type of terrain

You're looking for more technical performance in your equipment

You are shopping for a snowboard according to its specific technical features

You would like to try a new type of snowboard or complete your arsenal
Pro Tip
Why not step out of your comfort zone and try a snowboard that is completely different from what you are already using?
For example, try a snowboard designed primarily for powder, or try a volume shift type board that is wider and shorter; a great combination of maneuverability, float and power (depending on the board). All snowboard brands now offer a variety of options, depending on your style. It is therefore important to take the time to learn about the technical features and understand the subtleties of each model.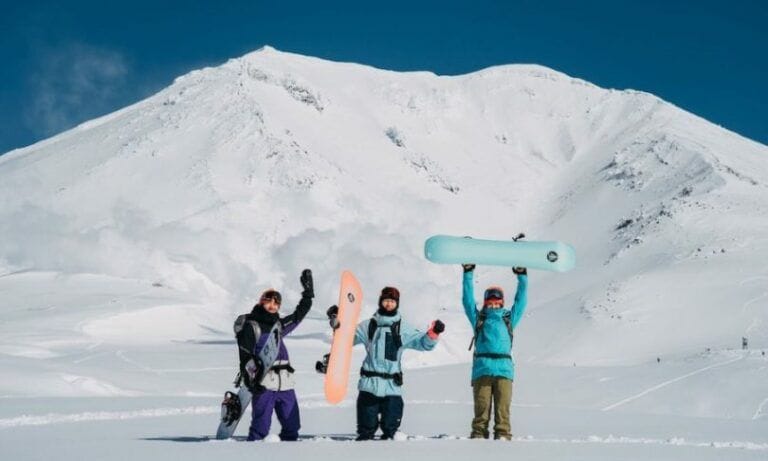 2. Preferred terrain and riding style
Let's move on to the question of terrain preference. Here we want to define your riding style: groomed, undergrowth, moguls, snow park, rails, boxes, jumps, or powder?
Freestyle or Freeride at heart?
So ask yourself: which terrain or slopes you like the most? Are you more freestyle or freeride at heart? Are snow parks the reason you recently started snowboarding? Then go for a freestyle snowboard. But…if you dream of finding the secret powder spots hidden in the woods, choose a directional snowboard with a tapered profile and a tip that is wider than the heel near the board's points of contact with the snow. If your goal is to lay low to the ground and balance on the edge of your snowboard, look for a board that is designed to be easy to ride, and designed to carve with a more aggressive and pronounced sidecut.
Pro tip !
A specialized snowboard won't be versatile and vice versa.
Keep in mind that, as with any choice, there will be compromises. The snowboard you end up choosing will likely be either versatile or specialized; that is to say, good at everything or excellent in a specific area.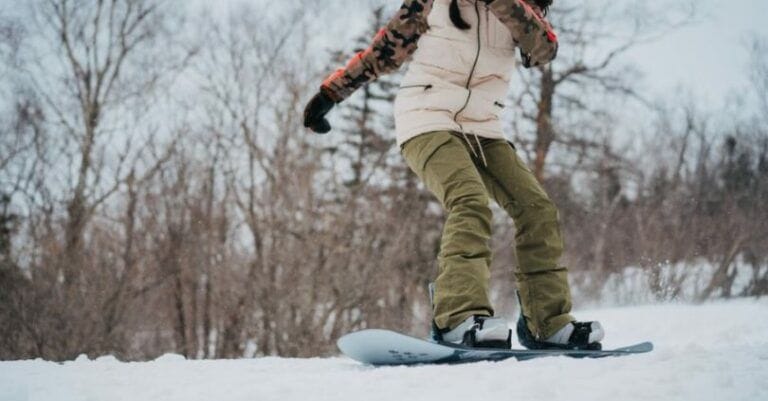 3. What size snowboard you should choose
You've probably heard that your board should either come up to your chin or between your chin and your nose. That's not entirely true nor false, but it's certainly not the first criteria to consider when choosing a board. Other factors such as boot size, board width, rider weight, as well as – as seen above – skill level, terrain preferences, and riding style – should determine your choice of board model and size.
Choosing the right board width
The size of the board's width is the first technical feature to check. Often, brands will specify which binding sizes will fit which model depending on its size ranking. For example, a 149 cm long board could be used with small or medium size bindings. It's up to you to confirm what size of binding you will need based on your boot size.
Keep in mind here that your board should be wide enough that your boots don't stick out too far on either side when the bindings are centered in relation to the width of the board. You can always go wider if you don't ever want to get stuck in snow. On the other hand, a board size that is too wide produces a slower and less straightforward edge transition.
Choose a snowboard suited for your weight
Some brands provide a weight chart that corresponds to the size of the board. These charts indicate a suggested minimum and maximum weight for a board. For example, from 120 lbs to 180 lbs. 
Aim for the middle of the weight chart. A beginner or intermediate rider looking for more ease of riding should aim for a board that is in the upper end of the weight chart for more flexibility and maneuverability. On the other hand, an intermediate or advanced rider looking for more power or stability should look for a board that is at the lower end of the weight chart.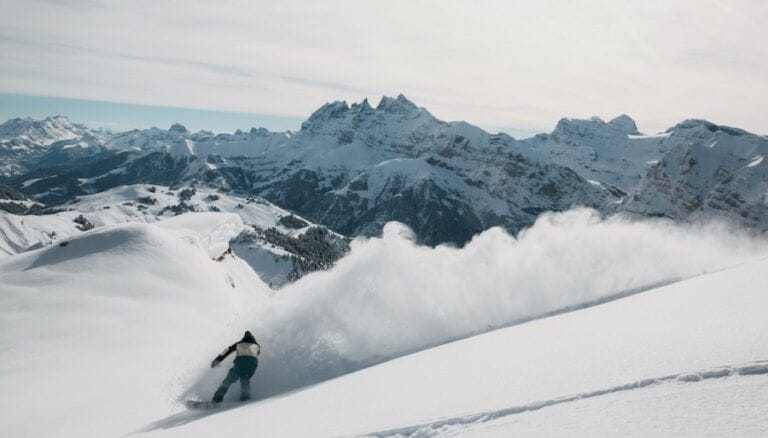 4. Snowboard design
To better choose your snowboard, you should understand the rationale behind its design. Hence the importance of knowing a thing or two on the variety of shapes, types of camber and construction of snowboards.
The main shapes of snowboards
Some snowboards are designed to be used in a particular direction. Those are called directional snowboards. Directional snowboards are often tapered, meaning the tip of the board is wider than the tail. There are different degrees of tapering. A board designed for deep powder will have a very tapered profile, while an all-terrain type board will be slightly tapered.
Then there is the twin snowboard, which means that its tip and tail are identical and symmetrical.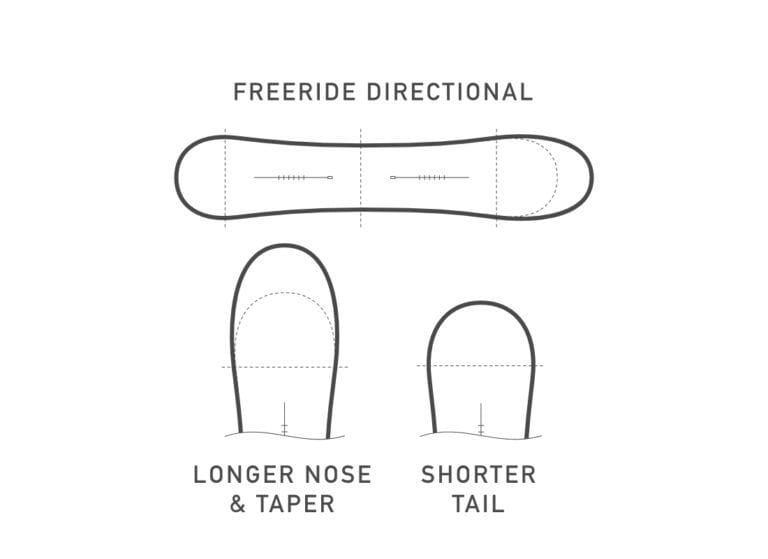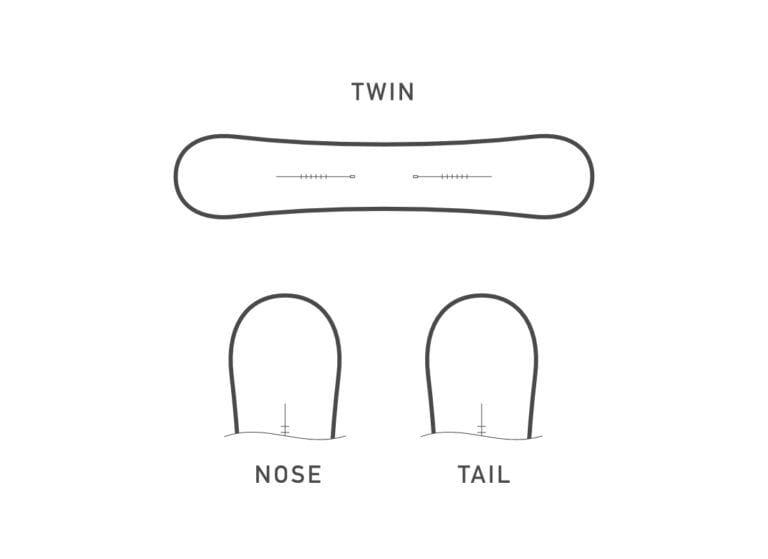 Pro Tip
A directional snowboard is designed for freeride, especially for backcountry riding in powder, carving, moguls, or glades.
On the other hand, a twin snowboard is designed for freestyle and will be ideal for snow parks and for acrobatic maneuvers.
All-mountain freeride or all-mountain freestyle snowboards, as their names indicate, are good compromises for all types of terrain. However, certain technical features of their respective constructions will orient the snowboard towards one style or the other.
The main types of camber
There are several options when it comes to choosing the camber of a snowboard. Traditionally, snowboards were designed with a regular camber. Over the years, snowboard manufacturers have developed different technologies, so nowadays, there are a variety of camber types to choose from. Each one has, again, its advantages and disadvantages, depending on your preferred riding style.
Small glossary of the main types of camber 
Regular camber:

The profile is raised in the middle of the snowboard and the points of contact with the snow are balanced at the tip and tail of the board. Allows for an even weight distribution throughout the edge so that the edge is in full contact with the snow, producing a powerful, aggressive and responsive ride.

Rocker:

The name says it all, the profile of the board is a regular reverse camber. A more forgiving or permissive snowboard, minimizing edge errors and helping the rider with float.

Flat top (no camber):

A flat top is basically a flat board with a little bit of inverted camber on the tips. These are good half-way models between a regular camber and a full rocker board. Fairly stable, easy to edge, and versatile in all kinds of conditions.

Hybrid camber:

A mix of regular and reverse camber. Allowing for a more responsive riding style and minimizing edge faults. The cambered areas are located under the front and rear bindings. The camber is reversed between the bindings and at the tip and tail of the board. 

Directional camber:

Another type of hybrid camber, with a combination of regular and inverted camber. The snowboard is cambered from the heel to the front of the front binding, then the camber is reversed all the way down the tip (rocker). This allows for better float in deeper snow in the backcountry with all the power of a traditional regular camber.

Camber with flat sections (Burton's Pure Pop camber): This is a regular camber, but less aggressive with added sections without camber (flat) towards the tip and tail of the board. This type of camber is more progressive and permissive than a regular camber.
All types of camber have their advantages and disadvantages depending on your riding style or preferred terrain. You should finalize your choice by asking yourself what technical qualities are most important to you. 
Are handling and permissiveness a priority for you? A rocker, flat, hybrid or cambered snowboard with flat sections would probably be a good choice. Looking for more precision, response and power? Go for a snowboard with regular or directional camber. Feel like going on a cat-ski or helisnow trip? Choose a board with a directional camber. That is, a board with a big rocker in the tip, and that floats in big powder and is stable at higher speeds. Do you prefer riding in parks and have a preference for jumps? Regular or regular camber with flat sections would definitely be your best options.
The different edge profiles (sidecut)
It is important to look at the sidecut or side profile of the snowboard to understand the reasons behind the variety of board designs. The sidecut influences the radius of the turns you make with a snowboard. It is determined by the length of the active edge – the edge that is in contact with the snow during a turn – and also by the depth of the snowboard's sidecut.
Typically, the metal edges of the snowboard represent a continuous, straight line on both sides along the board. This allows for continuous contact with the snow throughout the turns. However, there are also different technologies that offer various edge designs, such as magnet traction, grip tech and traction tech. The basic idea behind these technical features is to improve the grip on the snow when edging by adding more aggressive contact points along the active edge. The models offered by different companies feature an edge profile that may resemble a series of waves, strategically placed along the snowboard, to promote better traction on the snow during turns. For example, the sidecut of the board will be slightly wider at the two bindings and will therefore have a convex bump at these points. 
The choice of edge type is really a matter of feel and individual preference. You'll have to try and compare. All the technologies offered are worth a try.
Other essential technical features
The materials used to build the board, the sidecut and the aesthetics are also important in the choice of a board. I won't go into technical details here, but depending on the shop, you should be able to find precise explanations of the various technical specifications on their product pages.
Take the time to read about technical features. These components, combined together, will define the personality of the snowboard. For example, it will be lighter or heavier (materials chosen), either rigid or slightly more flexible (core composition), designed to make tight turns or long, flowing curves (sidecut and sidecut depth), or its sole will be more or less solid and will require more or less maintenance (extruded and sintered soles).
Pro tip
Take the time to read about technical features
These components, combined together, will define the personality of the snowboard. For example, it will be lighter or heavier (materials chosen), either rigid or slightly more flexible (core composition), designed to make tight turns or long, flowing curves (sidecut and sidecut depth), or its sole will be more or less solid and will require more or less maintenance (extruded and sintered soles).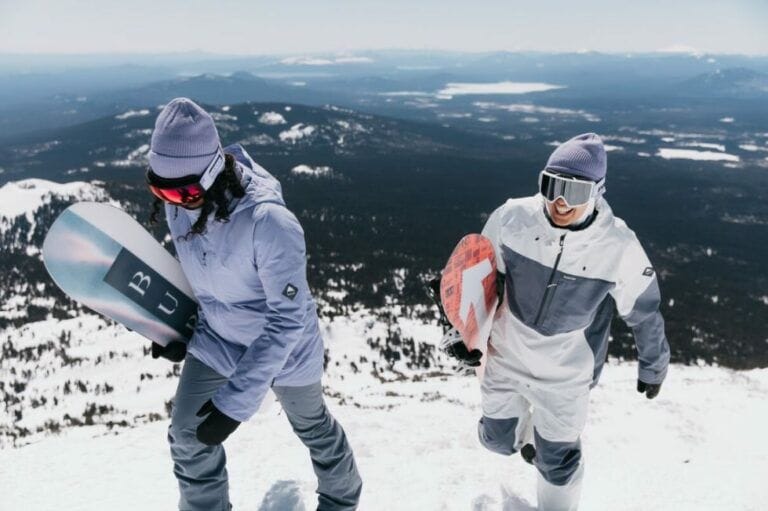 FAQ
Q: How do I choose my first snowboard?
A: First, determine your technical skill level, then define your riding style based on the terrain you prefer. Then, make sure you choose the right snowboard size according to your boot size and weight. Finally, make sure you choose the right board for your technical specifications. This article covers all these points and will help you make your choice.
Q: What size snowboard is recommended?
Q: What are the different types of snowboards?
Q : Are wider snowboards better?
A: No, that's just another fun option that's out there. There are two types of wider snowboards: boards designed for larger foot sizes, or volume shift boards. The latter are shorter and wider than average and are designed to be used on all types of terrain. This freeride trend is very popular because they are generally very fun to ride and quite versatile. 
Q: How do I choose my snowboard bindings?
A: First, you have to choose your boots, then choose your board according to their size. Lastly, you need to choose bindings that are compatible with your boots, and make sure that both also match your riding style, skill level and comfort, as well as your desired performance.
Q : How to choose your snowboard boots?
Q :How can you be sure you are buying a quality product that will last?
A : Most well-known brands offer a warranty on their products. As for durability, certain technical features, such as the materials, will be a determining factor. However, how you use your snowboard will certainly be the most important factor in determining its durability. Take care of your equipment, store your board properly on a dedicated stand or rack, and above all, keep it dry. Maintain it well, wax it, and sharpen the edges. Need help with maintenance? Local specialty stores will be able to help you with the maintenance of your snowboard. 
There are a host of other technologies available on the market; it is difficult to cover all of the finer points in a detailed and comprehensive way. The goal of this article is to guide you in choosing a model by exploring various important technical aspects that you should focus on when choosing a snowboard. Ultimately, the big part of the decision comes down to choosing a snowboard that will be the perfect compromise between an all-rounder and a snowboard that will shine in a more specialized area of the mountain. Either way, have fun riding!
SHARE