Do you plan on taking full advantage of winter this year and taking up downhill skiing? Maybe you're already a skier but it's time to replace or upgrade your equipment. Are you looking to learn what skis are best for different conditions? There's one thing to always keep in mind: what skis are the right size for you?
Skill level and ski style
Various ski lengths differ in terms of performance and control. As you will see later, ski size is largely determined by weight and height, however, this information is not enough to perfectly determine, to the centimetre, the right length. So what type of skier are you?
Ski length for beginner and intermediate skiers
You're just starting out or looking to take it easy on the slopes. You're not looking for maximum speed, your turns have a shorter radius and you're on the mountain for the exercise, fresh air, sun, and hot chocolate. If that describes you as a skier, then you're going to prefer shorter skis. 
Ski length for advanced skiers
This is not your first rodeo and you like to speed down the hill. You've had the time to take in the scenery on the chair lift but when it comes time to actually ski, you're ready to go. You like the speed, you don't shy away from super stylish goggles, and you've probably already finished a few runs by the time your friends are even finished getting their boots on in the parking lot. If that's you, then go for longer, twin tip skis. 
Ski length for off-piste, all-terrain, or all-mountain skiing
Groomed trails are the equivalent of the proverbial beaten path: not for you. You are original, authentic, and addicted to several weather apps that you constantly check so you know the exact moment that the powder will be absolutely perfect. If that happens to be at four in the morning and you're still game to head to the mountain then you should opt for longer and rockered skis.
Height and weight
There's a common formula used to determine ski length, and while it's a good starting point, it's not really sufficient: the right ski length should hit somewhere between the chin and the top of the forehead. That leaves a lot of room for interpretation. Before consulting the chart below, you'll want to take note of the following points in order to fully understand how to choose the right ski length. 
Experienced skiers or those that are heavier for their height should choose longer skis while those that are light for their height should opt for shorter skis. 

Beginner skiers should choose shorter skis as they are more manageable and make turning easier. Maneuverability is acquired at the expense of stability at high speeds, which shouldn't be too much of a problem for novice skiers. 

Those that are more experienced and are fans of speed and off-piste skiing should opt for longer skis. 

Some types of skis require a shorter or longer length. Narrow carving skis, with a small radius and a pronounced camber, should be shorter. All-terrain or powder skis with a rocker profile should be longer.
Women's skis: what's the difference?
Skis made specifically for women are lighter, more flexible, and shorter. The reason behind these differences is the assumption that the person who will be using them has a lower centre of gravity and less body mass at an equivalent height so they will therefore exert less pressure on their skis. Additionally, the holes used to install the bindings may also be a little further forward on women's skis. Apart from these minor specifications, there is no real reason for women to avoid wearing men's skis and vice versa. 
Ski lengths for kids
In general, children's skis are proportionally shorter than adult skis and should hit somewhere between the sternum and the nose. 
You can use the chart below to determine the right ski length for a child but bear in mind that if they are just learning how to ski or if they are light for their height then the skis would need to be shorter. Conversely, a longer ski is needed for a child who is already comfortable on skis and enjoys venturing off-piste or if they are heavier for their height.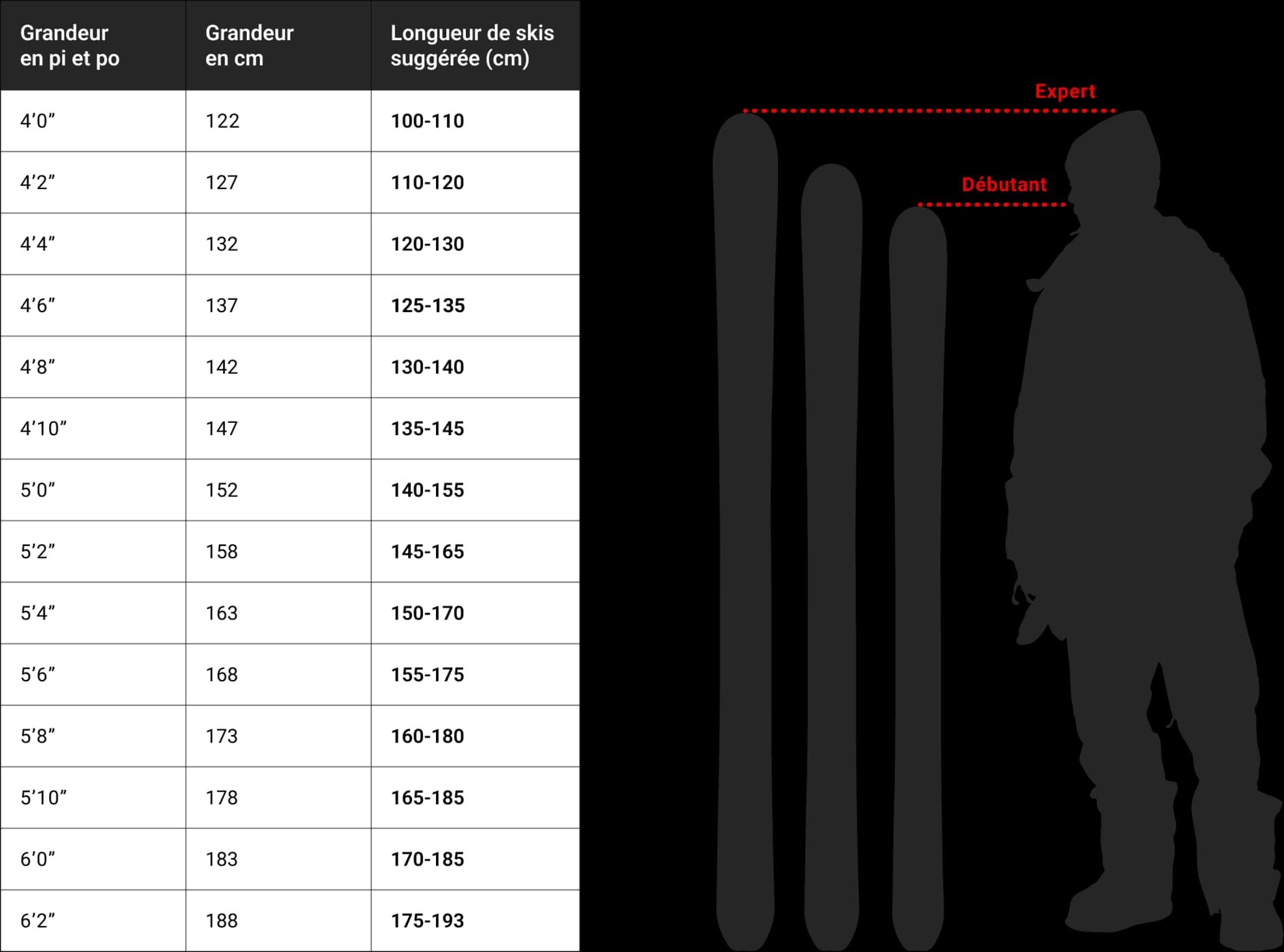 FAQ
Q: What length of all-terrain or all-mountain skis should you choose?
A: These skis are popular due to their great versatility: heavy snow, light powder, groomed slopes, icy slopes, off-piste… it's good to be ready for any condition. The ideal length for you will depend on your height and weight (see the chart above), skill level, and the width and profile of the ski that is best suited to the terrain you are skiing on. In general, a shorter ski is more maneuverable while a longer ski is more stable. A narrow ski will benefit from being shorter, while a wider one should be a little longer.
Q: Which skis are better, longer or shorter?
A: The main point of this article is that the best ski length is the one that best suits your needs. No length is inherently better, especially if it doesn't make you more comfortable on the mountain.
Q: How do I calculate the right ski length for me?
A: Refer to the chart above and be sure to read the specifics of the benefits of both longer and shorter skis. The most important information is:
Your height and weight

Your experience and skill level

Your style and terrain preferences 

Where you ski and the snow conditions
Conclusion
Winter is long, especially if you don't take advantage of the snow. If you're here because you're a seasoned skier then you already know that. If you're a beginner and here to learn, then you'll soon be finding out about the true joys of snow. In any case, the right equipment can be the perfect company until spring returns and in the meantime, you'll be happy that you took the time to consider which skis are right for you. Have fun on the slopes!
SKIS AND SNOWBOARDS
Your equipment for a winter spent in the mountains.
SHARE