Dressing appropriately and layering clothes for the weather and your outdoor activities can be problematic thanks to misleading weather reports and cheeky weather systems: do you dress for the 15-20mm of rain that is being forecasted or do you let your optimism take over and bring out the shorts and sun hat?
As I'm sure almost everyone's ma and pa always told them: "It's better to be too hot than too cold…take your coat!" And they couldn't be more right! These wise words are the idea behind how to layer clothes properly—dress for the worst and adapt as you go.
Layering guide 101 shortcuts:
Why Do We Dress in Layers?
Regulating your body temperature back to a comfortable temperature is often easier done from hot to cold (weather and environmentally dependent obviously). When you're too warm while out wandering through mountain meadows or shredding some wicked singletrack on your bike, you can easily adjust your body temperature by removing a layer.
Proper layering is achieved by regularly removing and adding layers during activities outside in order to keep your body temperature balanced. A balanced body temperature will keep you comfortable and ensure you can focus on what really matters – like the next pitch in front of you.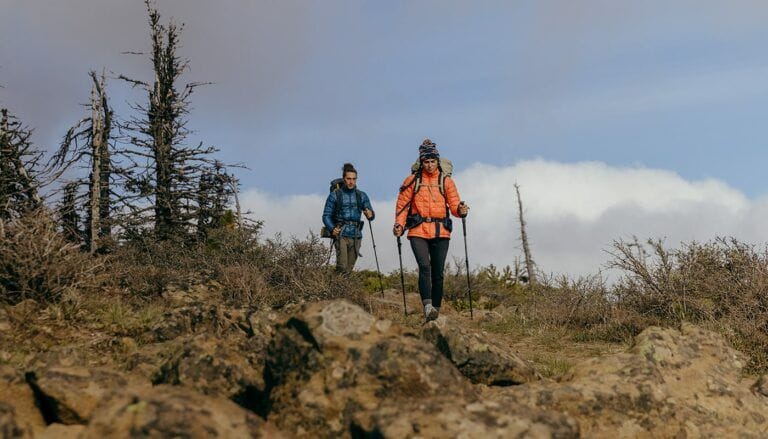 This layering system consists of three main layers – a base layer, mid-layer and outer/shell layer. Each layer has its own function and will contribute to a comfortable, balanced body temperature for the duration of your activity.
1. Base Layers
The first layer is known as the base layer which is the layer that is next to your skin. The main function of a base layer is to wick perspiration away from your skin and then dry quickly so you do not catch a chill.
When layering for winter, you want to ensure your base layer is tight to your skin so it is able to perform its moisture wicking duties, otherwise, the moisture will remain on your skin until it evaporates leaving you vulnerable to catch a chill.
Ideally, you want a base layer that is made of an absorbent fabric such as wool or synthetic fabrics like polyester. These fabrics will remove the sweat from your body and absorb it leaving your skin dry.
Merino Wool Base Layers
Merino wool is ideal when layering for outdoor activities due to its odour managing and heat regulating properties. It keeps you cool when it's hot, and warm when it's cold.
If you are heading out on a multi-day expedition and plan to wear the same base layer for multiple days back-to-back, you will want to opt for a base layer made from some sort of wool blend. Wool products will keep your adventure morale high and the adventure stink low.
Synthetic Base Layers
If you are someone with sensitive skin and no matter how hard you try, wool just doesn't work for you, do not fret! Synthetic materials such as polyester (like Polartec Power Dry) will do just as good a job wicking moisture from your body. The only down side to synthetics is that they may hold odour and therefore may not be ideal for multi-day trips.
For those outdoor explorers that can't wear wool, there are some polyester products that are designed with odour control that are worth checking out.
A base layer can consist of anything from sports bras and underwear to a tank top and muscle shirts for warmer weather, to long underwear tops and bottoms to tights and t-shirts for colder temperatures.
Keep in mind, there are different weight options for winter base layers so that you can tailor your base layer to your specific activity and the temperature you will be exploring in.
2. Mid Layers
The second layer, known as the mid layer, is your insulation layer. The main role of the mid layer is to trap your body heat, keeping you warm and helping you to maintain a comfortable body temperature.
Generally, when layering clothes, you want your mid layer to be snug but not so snug that you cannot comfortably fit a base layer underneath. A snug fit leaves less open space for cold air and allows the warm air trapped in your clothing to circulate enough to provide your body with warmth.
Mid layers can range anywhere from a lightweight fleece for warmer temperatures to a puffy, insulated jacket for more frigid temperatures.
Whichever mid layer you choose may vary depending on the current weather conditions that you are adventuring in.
Same as with base layers, there are a variety of options when it comes to mid-layer materials. There are mid layers made from natural fibres as well as synthetics. Natural fibres include down and wool and synthetics include mainly fleeces or polyester blends, including Polartec and Thinsulate.
Wool Mid Layers
Wool and Merino wool mid layers will have the same odour-managing and heat regulating properties as the base layers. This makes them, again, ideal for multi-day trips and adventures where the weather may not be optimal. Although wool does not dry too quickly, it will continue insulating even if it has gotten wet.
Down Mid Layers
For the warmth-to-weight ratio and compress-ability, down mid layers are great although they often do not hold up very well in the wet. Because of this, down mid layers are ideal for trips in dry, cold climates so they can insulate at their full potential. Plus, when you don't need to be layering your clothes, they make great standalone jackets.
Synthetic Mid Layers
Synthetic materials like polyester or fleece have evolved into a variety of blends such as Polartec, Thinsulate, CoreLoft or PrimaLoft. These materials are lightweight, breathable and even hold up well in the wet although they will not be as compressible as down. If you're not too fussed about the compress-ability of your mid layer, synthetics will be ideal for your adventures in wetter climates and they will dry faster than wool.
There are three different weights of fleece you can choose from to ensure you have the right weight for your particular activity:
Lightweight fleece is ideal for aerobic activities or mild climates and is also optimal for high-intensity activities to prevent over heating.
Midweight is ideal for moderate-intensity activities in moderate climates, like going for a hike on the West Coast in the early fall.
Expedition-weight is ideal for low-intensity activities like walking the dog or colder climates.
When it comes to synthetic mid layers, there are plenty to choose from and a variety of brands that carry them.
3. Shell and Outer Layers
The third layer is your protection layer, keeping you warm and dry and the elements out. A shell/outer layer can be anything from a thin, wispy wind breaker to a durable, technical GORE-TEX shell depending on your activity and the climate you are adventuring in.
Most outer layers will be waterproof or water resistant and are quite possibly your most important layer when the weather turns when you are out in the woods.
You want to ensure that your outer layer not only has reliable waterproofing abilities but also adequate ventilation. If there is no ventilation in your outer shell, your layering system will be a bust. When you sweat, the perspiration is wicked from your skin by your base layer, then evaporated from your mid layer thanks to the ventilation in your outer layer.
Like mid layers, there are a variety of outer shells to choose from depending on the features needed for specific activities. Whichever type you choose, you want to ensure the fit is roomy enough to fit over your layers without feeling restrictive. It's best to try on your outer shell with a few layers on so you can get a better idea of the fit and ensure it will accommodate your layers.
Outer Layers for Cool Conditions
If you are layering for cool conditions and activities up in the mountains such as hiking or skiing, you will want to check out a waterproof and breathable shell.
Waterproof and breathable jackets are generally a more expensive choice, but offer phenomenal performance. They are most often made with high-end materials such as laminated membranes like GORE-TEX and eVent and are designed for wetter and colder conditions – which is why they are commonly used in the winter for skiing and snowboarding or alpine excursions.
Outer Layers for High-Intensity Activities
If you're looking for an outer shell for high-intensity activities where you may experience light precipitation, you may be interested in a water-resistant and breathable shell. These shells are generally more reasonably priced and will hold up well when you are layering clothes for moderate weather.
Water-resistant jackets will perform in more mellow conditions where there is only a light rain or little breeze present.
Typically water-resistant products feature durable water repellent coatings and will sometimes also include seam taping. These generally aren't as completely efficient against the elements as a fully waterproof garment although they will still do the trick.
Soft Shells
Soft shells are available for cold weather and mild weather options. These shells focus on breathability and will keep you warm when there are light winds or a light rain. They aren't as durable as waterproof and breathable shells but they are capable of replacing both the mid layer and outer shell layers with just one garment if the conditions are moderate.
If you aren't planning to venture out into any harsh conditions and are looking for a more versatile garment to eliminate layers and weight, why not browse our collection of softshells for men and women.
Soft shells are generally ideal for aerobic activities like cross-country skiing or hiking because they are often more stretchy and accommodating for such movements compared to durable, waterproof shells.
Insulated Shells
Insulated shells are designed for extreme weather conditions where every extra bit of warmth is necessary. They are generally slightly heavier and aren't as versatile as separate garments, so they are more suitable for activities where you will not be having to add and remove layers continuously. Having said that, there are some newer models that are changing the way people think about insulated shells.
Insulated shells like the Arc'teryx Fission SL Jacket and the Norrøna Roldal Gore-Tex PrimaLoft Jacket are examples of more lightweight, insulated jackets that are made to protect you from the elements while out exploring the mountains in the coldest conditions.
Insulated shells are generally ideal for activities such as downhill skiing, or when you're riding the lift all day, hanging-out at camp, or even simply keeping warm while finishing your Christmas shopping around town.
layering guide by temperature
Cold-Weather Layering
Go for all three of the base, mid and outer layer when layering clothes in winter. This of course applies mostly to outdoor activities—just going on a grocery run doesn't necessarily mean three layers of high-performance clothing. 
Why wear more layers of clothes during winter?
As much as we'd love a one-garment-does-all solution, the best we have right now is multiple layers in winter, especially for outdoor activities. You'll want your layering game to be versatile—shedding layers when you get warmer, layering them on when you're less active. 
Cool Rain & Wind Layering
A breathable base layer, a softshell for the cold(preferably a windproof one), and a waterproof outer layer (not water-resistant) will do the trick. 
Warm to Hot Weather Layering
You'll want to be able to move through the layers, taking stuff off or adding as needed if you'll be out into the evening. A good Merino wool t-shirt is your friend here. Take a button-up short sleeve workshirt and a light rain shell to complete your options.
Layering clothes FAQ
Q: How many layers of clothing are needed for snow?
A: You should go for all three when winter layering for snow, and adjust according to the temperature. If the weather is mild, look for more breathable base layers and a softshell outer shell to keep you dry, with a medium mid layer for warmth and breathability. Bitter cold means getting heavy with a thick, powerful insulator and a rock solid hardhsell outer layer.
Q: Why is cotton not good for layering?
A: Simple—cotton absorbs moisture, takes a long time to dry out, gets heavier when wet, stops retaining heat when damp, and smells worse the further you go. Merino is the exact opposite. Go for Merino. Thank us later.
Q: Can I wear two base layers?
A: Technically, sure, but you'll be restricting movement and excess moisture (sweat) will require double the work to evaporate. Instead of packing on two base layers, up the insulator to a higher down fill power or colder temperature rating. 
Having a great day in the mountains begins with your comfort. If you start the day off cold and struggle to stay warm throughout your adventure, you're not going to last too long.
Throw on a few extra layers in the morning and maybe even stash another in your pack just in case. The weather can be unpredictable and things can go from awesome to terrible in a minute so make sure you're ahead of the layering game.
An appropriate layering technique will keep your body heat balanced throughout the duration of your activities and allow you to focus on making awesome memories and making the most of your time spent outdoors.
SHARE