Can you imagine wearing the same jersey on a summer hike as you would on a ski trip to the world's highest mountains? If that sounds far-fetched, Merino wool promises exactly that type of versatility. Softness, warmth, odour and moisture resistance and more, the wonder fibre is making a big splash in the outdoor world. It is one of the best performing fibres on the market.
A quick look at the science checks out. Merino wool is made up of proteins like amino acids and other natural compounds. The very biology of the wool gives it water-repellent, warm and odour-reducing properties—proteins inside the fibre, for example, allow absorption of up to 35% of its weight in water. The result is a warm, thin fabric that repels perspiration and keeps you dry.
Merino sheep, originally from Spain and now found all over the world, provide the wool of the same name. From early on Merino sheep have been adaptability champions: they thrive in the arid regions of southern Spain as well as the mountains of the Nordic countries. This ability to adapt to difficult temperatures helps us out as well.
What really sets it apart from regular wool for anyone without a Phd in science or history is the incomparable softness of the fibres. Regular wool is not for everyone; it is thick, often quite warm, and it can itch or irritate. The size of the Merino fibre is the same as a third of a human hair. Thin, delicate and soft to the touch, Merino works for everyone.
Can a natural fibre perform as well as materials designed in the laboratory by textile engineers? Yes, answer companies such as Smartwool or icebreaker. Merino works in just about any conditions, in summer and in winter, for physical activity and for lounging at home watching TV. It does come at a higher price point, so is Merino wool worth it?
1. Excellent heat control
The reason why the wool is so effective is because it offers the right amount of warmth. A thick coat for cross-country skiing or hiking risks being too warm, and sweating during cold-weather activity is worse than being cold. Unlike down and synthetic fibres, Merino fibre is porous and allows perspiration vapour to escape very quickly—you won't end up soaking wet. 
2. Thermo-regulating properties
It's all about adaptation. When it's cold, Merino keeps you warm. When it's hot, it keeps you cool. How? The fibres trap body heat, acting like insulation and protecting you from the cold outside air. On the other hand, these same fibres wick sweat away, keeping you cool and dry even in summer.
3. Antimicrobial properties and odour resistance
Just do the test. Put on a Merino base layer, go for a run and see (or rather feel!) the result. It still looks so clean that you might want to consider not washing it with the rest of your clothes. And there's no miracle: the wool absorbs odours caused by bacteria. For a long trek, where you often have to wear the same shirt or trousers again and again, Merino wool is the perfect choice. 
4. Natural and biodegradable
In the midst of our current environmental mess, Merino wool is an ecological pioneer and doesn't need additions to make it work—no plastic, no lab-produced fibres, no harmful products. It's biodegradable. It's natural. It's wool, after all. One year after discarding it, your Merino garment decomposes naturally in the soil, and gives carbon nutrients back to the earth.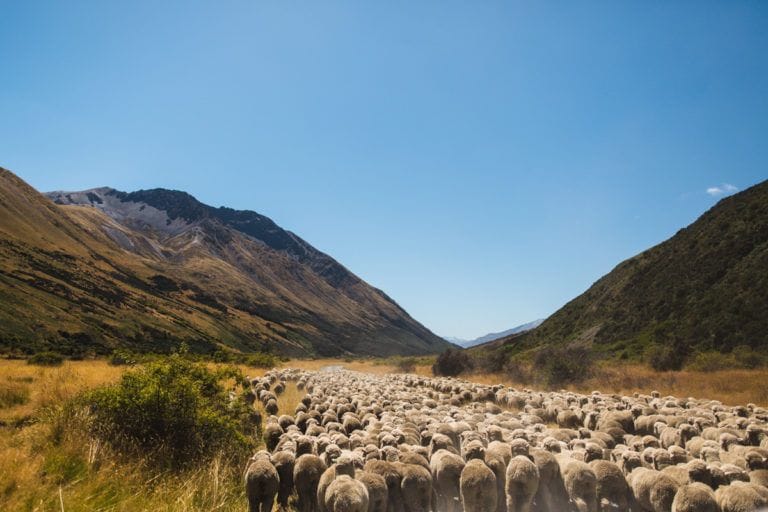 what to look for in Merino apparel
There are several things to consider depending on the Merino garment you're looking for. Pay particular attention to the grades of wool, and the type of clothing needed for each activity.
The grade/weight of the wool
This is a number you'll see next to products by Smartwool or icebreaker, and it corresponds to the density and weight of the wool. The higher the number, the more dense the weave and the warmer the article. 
Clothes made of Merino wool with a weight of 100 grams are designed for warmer days.
Slightly warmer 150 garments, such as the Merino 150 t-shirt from Smartwool, can be worn as a base layer in cool weather or simply as a hiking t-shirt in the summer.
Ideal for everyday use as well as skiing or adventures in colder weather, a 200g garment, like icebreaker's 200 Oasis series models, has a medium weight.
The warmest products, perfect as base layers for downhill skiing, trekking, hiking, snowshoeing, or just getting out for a good long winter's walk. As the wool is very fine, these jumpers are not particularly thick, despite their warmth. The Merino 250 top from Smartwool is an excellent option for winter sports.
The Merino Baselayer
By far the most popular of Merino garments, the base layer is the layer worn against your skin. This is what keeps your body warm and keeps your sweat from drenching you. High-intensity physical activities, such as running, should pivot to a thin base layer (100 or 150 range). Don't be surprised by the lightness of the fabric! You'll still be warm enough.
Merino Socks
Another must-have in the outdoor world, Merino socks are particularly popular with hikers, runners and skiers. Thin and cushioned, they offer good warmth and, as we've seen, good moisture control. For running, opt for a thin sock that breathes. For skiing, a thicker wool blend sock will keep your toes warm. 
You can also opt for the multi-layer system in your socks! A thin Merino wool sock under a thick wool sock can do wonders on a walk in the woods.
Shirts, Sweaters and Pullovers
Thinner than a regular top, a Merino wool sweater offers softness and comfort and won't take up much space under your coat, as opposed to a wool sweater. For maximum strength and durability, opt for a wool/polyester blend sweater. On the other hand, models such as the classic Haven turtleneck by Vallier are entirely Merino and quite durable. 
Outer Layers and Jackets
In a Merino wool coat, you'll find the same characteristics that make socks or base layers so popular. It breathes well, retains body heat and keeps you from getting too hot. For a little more resistance to the elements, consider a jacket lined in Merino wool that offers windproof protection, since Merino wool alone does not protect against gusts.
MERINO WOOL FAQ
Q: Is Merino wool itchy?
A: No, Merino wool doesn't itch or irritate. It's finer than human hair, and therefore very soft and perfectly adapted to the skin. This is why it's used for base layers or anything worn close to the body. 
Q: Why is Merino wool more expensive?
A: There are several reasons for this, such as the thinness of the fibre, the strict ethical practices of Merino farms, and the speed at which the wool grows—slowly. It takes a while before you have enough wool to knit a sweater! In addition, the thinness of the fibre means it takes a lot more Merino than ordinary wool. And finally, on almost all farms, Merino wool is ethically harvested from free-range sheep.
Q: Why wear Merino wool?
A: With its thermo-regulating, moisture-controlling properties and infinite softness against the skin, Merino wool is one of the best performing fibres on the market. Thin and naturally stretchy, its ability to combat odours makes it a particularly useful fibre for travel and long treks. It's very warm, making it an almost perfect base layer for winter running, skiing, snowshoeing or even summer activities. 
While Smartwool and icebreaker are industry leaders, many urban and outdoor brands are following in their footsteps in the use of Merino wool. Examples include Kombi and Helly Hansen, which offer base layers made from a Merino blend. From an environmental point of view, Merino wool can be seen as the way of the future. Entirely natural, most often sourced from ethical farms—like the icebreaker supplier Altitude Sports visited in New Zealand—and biodegradable, this high-performance fibre offers an almost perfect alternative to the (too many) clothes made from plastic. 
SHARE