" Fantastic Weather Protection with a Smart Design "
When you're facing harsh winter elements, you want the appropriate armour to protect you. Norrøna, a Norwegian brand known for its high-performance hard shells, is worn by pro athletes and casual skiers alike. Their Lofoten collection is named after the Lofoten islands in Norway, a frigid coastal region with frequent rain and snow. 
Today, we're reviewing the Norrøna Lofoten Gore-Tex Jacket, a 2-layer shell with Primaloft insulation and vents for temperature control. We put this jacket to the test and were impressed with its durability, weatherproofing, and ski-ready features. Below is our full, detailed review of the Norrøna Lofoten Jacket.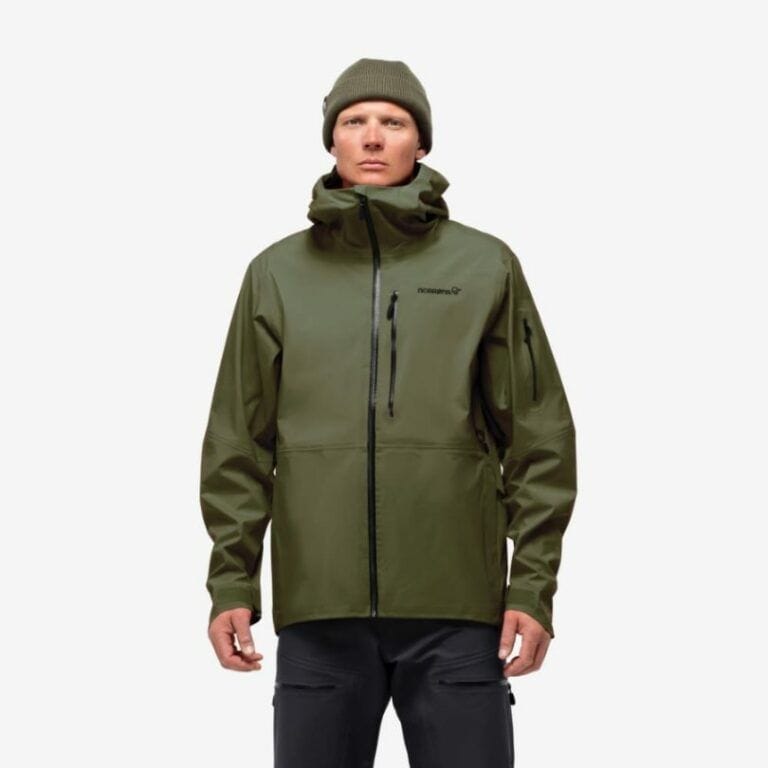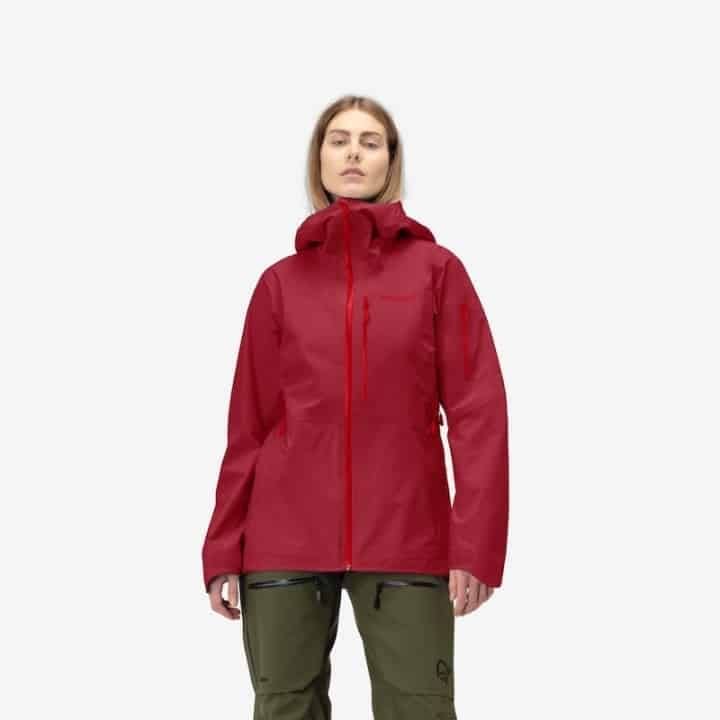 Things to Consider Before Buying a Shell
A shell is a non-insulated ski jacket that's lightweight and designed to protect you from the elements. A waterproof shell is usually worn with a mid and base layer for temperature control. Hard shells are windproof and waterproof but usually have no insulation, so you'll have to wear layers with them. 
 The Lofoten jacket is a hard shell with excellent weather protection and waterproofing, but thanks to its advanced Gore-Tex technology, its also very breathable. Its breathability is also owed to its both heavy and light PrimaLoft lining and vents. We have to admit that it's truly innovative when it comes to ski jackets. 
SNEAK PEEK AT THE LOFOTEN JACKETS
WHY YOU SHOULD CONSIDER NORRØNA'S LOFOTEN GORE-TEX JACKET
1. Warmth
Whether it's snowing hard or it's bright and sunny, you'll be comfortable in the Norrøna Lofoten jacket. Since it's not a traditional hard shell with zero insulation, you can wear it without other layers on warmer winter days. 
On frosty days, you should couple the jacket with a mid and base layer. We love the combination of heavy PrimaLoft padding on the torso and shoulders and thinner PrimaLoft lining on the sleeves and back. The temperature rating is an impressive range of  5 °C to  -10 °C. 
"Love this jacket. Insulated and warm. Norrona sleeves are always nice and long." - Karen W.
2. Weather Resistance
The 2-layer Gore-Tex shell is both waterproof and windproof. Buyers have used it without problems in heavy rain, wet snow, flurries, and strong wind gusts. The Gore-Tex layer is a porous membrane with holes small enough to keep precipitation out but large enough to let sweat pass through. As a result, this technology keeps you comfortable even during ascents and strenuous physical activity. 
3. Weight & Packability
With the insulated padding on the inside of the jacket, it's not exactly a featherweight. But it's still pretty light at 750 grams for the women's jacket and 850 grams for the men's. In addition, the flexible material packs down small, and you can easily stuff it in your gear bag.
4. Durability
The Norrøna Lofoten Jacket is a 2-layer jacket, meaning it's casual but still highly durable. 2-layer means that it binds the breathable waterproof Gore-tex layer to the underside of the fabric. This creates a seamless, lightweight jacket that won't weigh you down on your runs. 
5. Breathability
Hardshells are known for having limited breathability and are usually worn while transitioning and skiing downhill. But with temperatures dropping to -10 °C, you'll want your Lofoten Gore-Tex Jacket for ascending and skiing. The underarm zip vents are generously sized, making it easier to regulate temperature. You won't have to worry about overheating, thanks to the pit zips and breathable construction. 
6. Fit & Comfort
Since Norrøna is a European brand, the sizes might be slightly smaller than you're used to. So it's a good idea to size up in the Lofoten to make sure you get the right fit. With a little extra space, you'll also be able to fit in a few layers underneath when the weather gets nasty. 
In the area of comfort, the Lofoten jacket excels. The flexible material moves with you as you're transitioning or getting your gear ready. There's also a longer thigh-length hem in the back which helps you stay warmer and covered, especially on those chilly chair lifts. 
"It was extremely comfortable and well thought out, with the perfect number of pockets in the right places. Excellent powder skirt, and I love being able to connect the pants via poppers." - Gavin P.
7. Key Features
Storm Hood 
One key feature of the Lofoten is the adjustable, helmet-compatible storm hood. You can wear any freeride helmet without mobility or visibility issues. There's also a drawcord that allows you to cinch the hood tight, leaving only your goggles and nose exposed. This helps on bitterly cold days when you want to protect your face from the wind. 
There's also a wired brim around the hood, which helps it keep its shape and prevents it from obscuring your vision. Finally, the hood has a soft brushed layer on the chin to prevent chafing and irritation. 
Snowskirt 
Since the Norrøna Lofoten is ski-focused, it includes a snap-away snow skirt to keep snow out of your waist. If you fall or crash on deep powder days, you'll stay dry and warm. The set of snaps on each side of the skirt can attach to Norrøna pants as well. Overall, buyers have stated that it's a lightweight, effective design that helps make this jacket a winner. 
Hand Gaiters 
With skiers in mind, Norrøna included asymmetric sleeve cuffs on this jacket for better mobility. There are also hand gaiters to fit over ski gloves, which isn't a feature you usually see in ski jackets. The hand gaiters add an extra layer of protection and help your gloves stay on in case of a crash or fall. 
Pockets 
There's no shortage of storage in the Norrøna Gore-Tex Jacket, which is great news for people who spend all day on the slopes. There's a hand-warming pocket, several chest pockets on the exterior, and an internal chest pocket to hold your valuables. Since the exterior is waterproof, you can hold items like your phone inside without damaging them.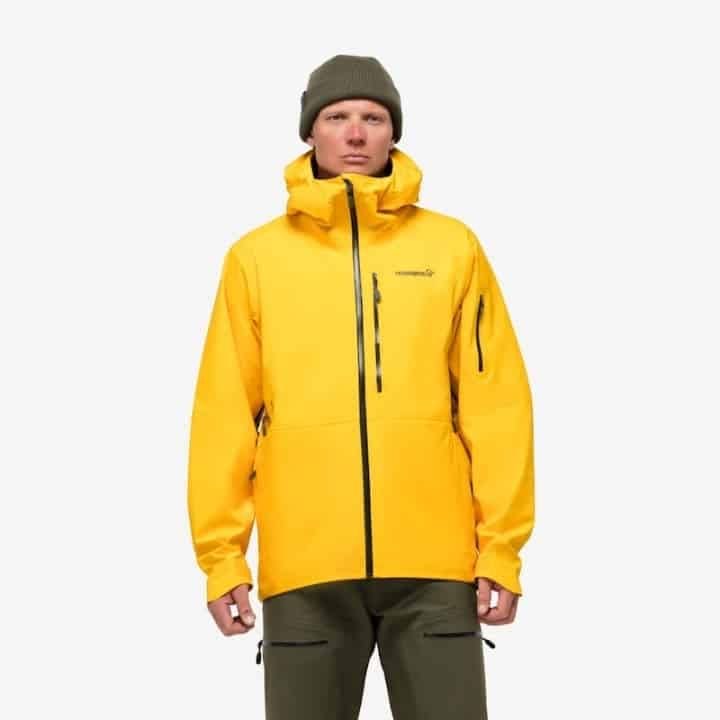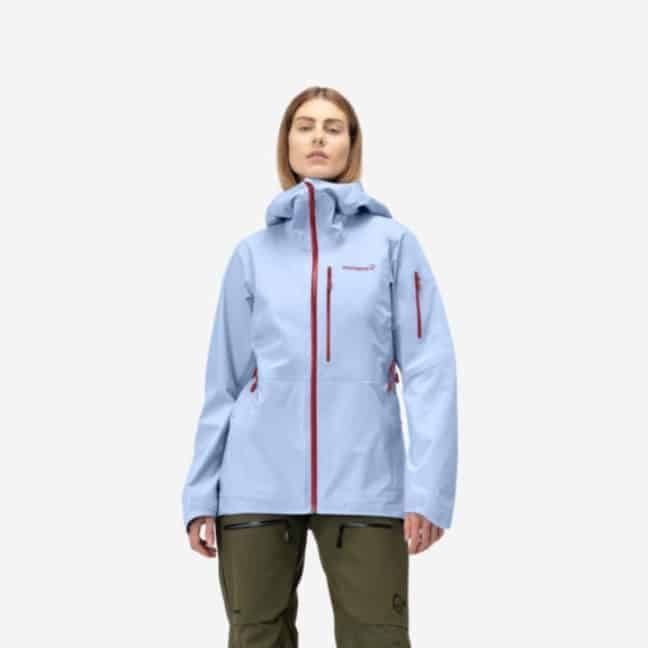 FAQ
Q: How warm is the Lofoten Gore-Tex Jacket?
A: The Lofoten can be worn in temperatures ranging from 5 °C to -10 °C. This makes it ideal for all types of winter days, from the sunny but cold ones to the bitterly cold, windy, and wet ones. It's best for mountain resorts, skiing and snowboarding, and light outdoor winter sports.
Q: Is the Lofoten jacket better suited for resort skiing or backcountry skiing?
A: The Lofoten jacket is better for mountain resort skiing since it's a 2-layer jacket. Although the material is durable, it's not as rugged as it should be for backcountry skiing. You can also wear it for trekking and general outdoor activities.
Q: What is the main difference between the Norrøna Lofoten Gore-Tex and the Lofoten Gore-Tex Pro jacket?
A: The Pro is better suited for rough outdoor terrain since it has a 3L Gore-Tex shell and more ventilation. The main difference is that the Lofoten Gore-Tex is a 2L Gore-Tex jacket which is more casual than the Pro. The Pro also has no hand pockets but has an extra vent zipper on the front of the jacket.
Conclusion
When you're shopping for a ski jacket shell, it can be hard to find one with all the features you need. Norrøna comes to the rescue with the Lofoten Gore-Tex Jacket, a piece of gear that stands out from the rest. In terms of warmth, breathability, and comfort, it's top of the line.
The 2L Gore-Tex shell keeps water and winds out while allowing you to exert yourself and stay cool. Norrøna's products offer any winter explorer the perfect combination of style, functionality, and comfort at a reasonable price. 
SHARE