As stylish as they are high-performance, Pit Viper sunglasses are perfect for outdoor activities. Hiking to the highest mountain peaks, relaxing on the beach, biking – a pair of Pit Viper sunglasses will be your best partner.
Whether you love Pit Viper's classic style or prefer a more edgy look, the brand has styles that are sure to please hardcore sportsmen and women, as well as fashionistas looking to make a statement on the trail and at festivals. One thing for sure, Pit Viper's quality is there! Say goodbye to broken frames and scratched lenses. But Pit Viper is not just about fashion. Let's take a look at our favorites for a colourful summer.
The Original Pit Viper Polarized
The Pit Viper 1993 polarized sunglasses offer complete UV protection with lenses in basic gray or blue. For a perfect fit and comfort, you can adjust the angle and length of the frame. Available in two sizes, the original Pit Viper is suitable for both youth and adults. 
What makes the 1993 Polarized glasses unique?
The fluorescent colours of the lenses and the Pit Viper lettering across the top make the original Pit Viper really unique. The brightly coloured frame arms with blue and red dots also stand out. But it's certainly the brand's outrageous retro style that sets them apart from other sports eyewear. Pit Viper's style is said to turn heads and "demand respect and authority".
Price:
0.00$
Pros
Reasonable price
100% UV protection
Polarized lens
Visibility is excellent
Fashionable look
Pair of reach-around earpieces
Turbo-adjustment to the arms
Cons
Some customers unhappy with the size
Some are made of plastic while others are made of polycarbonate
Brand Name
|
Product Type
Other Styles of the Original Polarized
The Grand Prix
Suitable for winter and windy conditions, the Pit Viper sunglasses from the Grand Prix collection are the closest thing to snow goggles. The frame's temples have removable side pieces in many different colours. The styling of each Grand Prix goggles is as fashionable for an afternoon of wakeboarding as it is for a day of alpine hiking, where the powder is as dazzling as your style.
Like the Pit Viper Originals, the Grand Prix collection offers full UV protection. The polycarbonate lenses are tough enough to take you on your biggest adventures. The great thing about the Grand Prix? They come with an extendable cord that attaches to the stems to hang around your neck. A handy feature for those times when you need to take them off, but still have them handy.
 The Elliptical
The Elliptical collection is a replica of the original Pit Viper collection. Suitable for small faces, the Elliptical glasses are offered in size XS and have a rounded shape that doesn't compromise on style. We love them for their look that is a little different and a lot less common than the original Pit Viper model. Don't let the small size fool you, these Pit Vipers also go big with tough polycarbonate lenses and full UV protection.
Lens base color: Brown
Light transmission: 13%.
Lens thickness: 2.2 mm
Shop
Lens base color: Brown
Light transmission: 13%.
Lens thickness: 2.2 mm
Shop
The intimidators
This new addition to the Pit Viper collection has a square shape and a style that has never been done before. The oversized lens of the Intimidator is sure to intimidate your toughest opponents, the toughest trails or the most insane climbs. The Pit Viper Z87+ polycarbonate lenses you know and love are here, featuring 2.2mm thick, super-strong lenses with 100% UV protection. Like the Grand Prix Collection, the Intimidators have side pieces that protect your eyes from the wind and sun on all sides. Nothing is left to chance here, especially not the style.
The lenses of some models in The Intimidator collection are not polarized.
Lens base color: Gray/Blue
Light transmission: 14%.
Lens thickness: 2.2 mm
Shop
Lens base color: Gray/blue
Light transmission: 15%.
Lens thickness: 2.2 mm
Shop
Lens base color: Blue
Light transmission: 14%.
Lens thickness: 2.2 mm
Shop
Lens base color: Gray/Blue
Light transmission: 14%.
Lens thickness: 2.2 mm
Shop
Lens base color: Gray/blue
Light transmission: 15%.
Lens thickness: 2.2 mm
Shop
Lens base color: Blue
Light transmission: 14%.
Lens thickness: 2.2 mm
Shop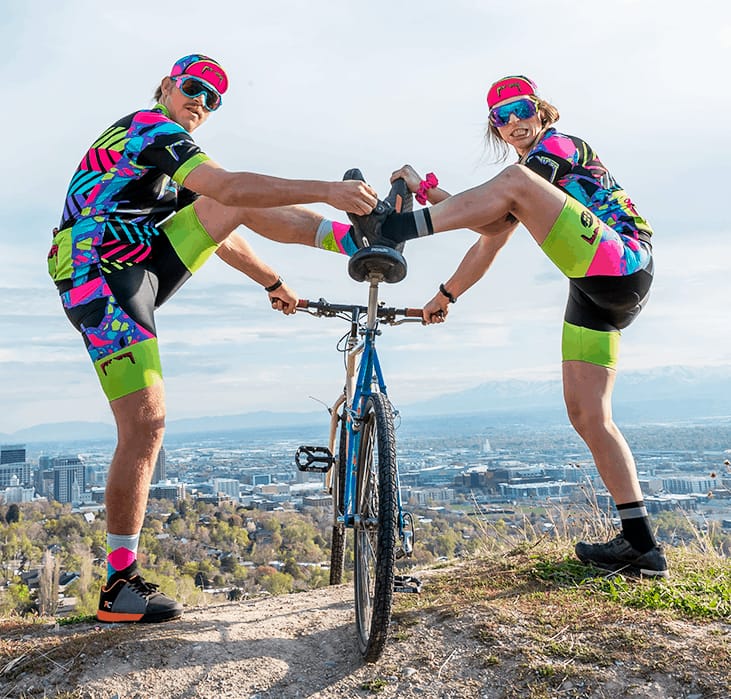 What are Pit Viper Sunglasses for?
Pit Viper sunglasses are ideal for any outdoor sport that requires protection from UV rays, wind or debris. They can be seen on hiking trails, mountain bike trails, running and biking routes, cross country and downhill ski trails, and on boats driven by wake boarders, kayakers and fishermen. While they offer the optimal combination of style and performance, Pit Viper goggles stand out first and foremost for their look that never goes unnoticed. For this reason, Pit Viper eyewear crosses the boundaries of sport and performance, and has been embraced by trend-setting fans at festivals and outdoor parties.  They are truly designed for a wild and outgoing lifestyle.
Quality
Pit Viper lenses are made of 1.2 mm thick plastic or 2.2 mm thick polycarbonate. Both lens designs have a high impact rating. Pay attention to the lens material when choosing your Pit Viper sunglasses, because some models do not have polarized lenses. Pit Vipers are perfect for light conditions that involve a lot of water and snow. All Pit Vipers offer 100% UV protection. Pit Viper lenses have a Z87+ rating against impact, chemicals and dust. 
Features
Pit Vipers sunglasses offer a wide variety of features. Most frames have three points of adjustment. The lightweight design has non-slip nose pads and rubber ear pads. Finally, the turbo adjustment system allows you to tilt the lens closer or farther from your face, making it more comfortable with a helmet.
The Originals and The Ellipticals offer polarized side-view. To prevent fogging, you can adjust the height of the glasses and their distance from the face. Grand Prix and The Intimidators have side shields (sometimes removable) to provide foolproof protection from wind and glare.
Quality
A Pit Viper reviewer says, "They performed near the level of much more expensive brands at every turn. For that reason alone we think these glasses are a great buy." Founder Chuck Mumford has created a high-performance style of sunglasses. Pit Vipers match the traditional brands, but at a much cheaper price.
Value
Another reviewer noted, "They are close to the level of far more expensive brands. For that reason alone, we think these glasses are a great buy." The brand's founder, Chuck Mumford, has been able to create a very capable sunglass design. Pit Vipers match the traditional brands, but at a much lower price point.
FAQ
Do Pit Viper sunglasses float?
Pit Viper sunglasses do not float, but they are designed to stay on the surface of the water for several seconds. Some models, such as the Grand Prix Collection, have an extendable cord that allows you to hang them around your neck to prevent them from getting lost in the water.
How do you clean Pit Viper sunglasses?
To clean polarized sunglasses, first rinse them with warm water. Do not rinse with salt water. To remove fingerprints and smudges, use the Pit Viper cloth or another microfiber cloth designed for lenses. Do not use your shirt or other cloth to clean the sunglasses. 
If warm water or a cloth doesn't work, use a lens cleaner. The ideal cleaner should have a pH between 5.5 and 8 and should not contain alcohol.
Conclusion
By now you know the key models in the Pit Viper sunglasses collection. From the legendary Originals, to the Grand Prix or Ellipticals, and the new Intimidators, all Pit Viper sunglasses are as high performance as they are brimming with style. It's up to you to choose the style that best suits your activities and of course your look. One thing's for sure, Pit Viper can take you from your first marathon to a day of heli-skiing. You'll also notice them on beaches and music festival stages. Nothing is too intense for Pit Viper glasses!
SHARE