Today, we're thrilled to review the Saucony Ride 14 running shoes. This is a multi-purpose pair of running shoes, ideal for trail runs, sprint training, half and full marathons or just going to the gym. Saucony Ride shoes are your new bud who will always be there for you.
The variety of bright colours is perfect for night training, especially so cars and paparazzi can see you. You'll need to be ready to smile at the cameras when running at an electrifying speed. Some buyers have confessed they have fallen in love with Ride 14 shoes and as a heads up, your partner may become jealous. To stop the green-eyed monster from appearing, you might have to buy your partner a pair of Saucony Ride 14s. 
Inspired by wear testing and consumer feedback, the Ride 14s provide a high level of comfort and PWRRUN cushioning. This "protects from impact with a soft, yet responsive underfoot feel," according to Saucony. The adaptive fit system known as FORMFIT technology features three layers of cushioning that transform to your foot weight, shape and run. One of the biggest advantages is the TRIFLEX outsole that protects your joints and optimizes flexibility. 
Price:
0.00$
Pros
Multipurpose pair of shoes

PWRRUN cushioning

FORMFIT technology

Comes in 5 different new colours

New engineered mesh helps with breathability
Cons
Price

A buyer complained about "numbness"

Some buyers said they're a bit tight
Brand Name
|
Product Type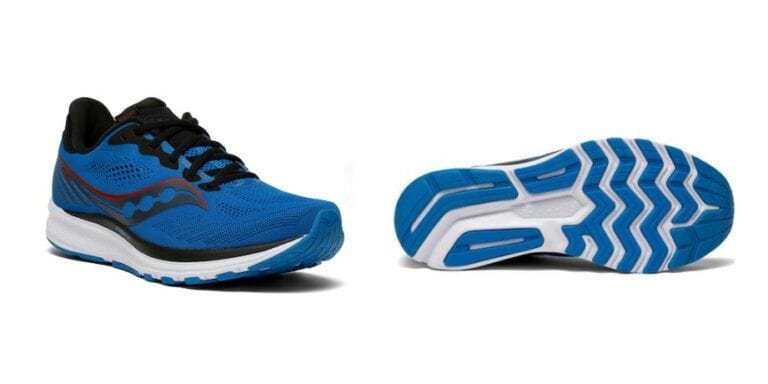 What are the updates from Saucony Ride 13s? 
The shoes are already light, but there's a 6g difference for the women's shoes and there's a 9g difference for the men's. Although the heel-to-toe drop and stack height is the same, there are five new men's colours such as Future Blue, Reverie, Royal – Space, Vizi – Scarlet, and  Fog – Black – Storm. In the women's shoes, there are five new colours too, which include Future Pink, Midnight – Copper, Powder – Concord, Razzle – Fairytale, and Reverie
The new and improved engineered mesh assists with breathability and there's a lighter and thinner upper with more ventilation holes to provide a custom fit. 'Saucony' is printed on the back of the shoe, making the brand more visible compared to 13. Saucony has tweaked the shape for a more comfortable fit. The 14 has a more durable feel and there's more springiness in the cushion.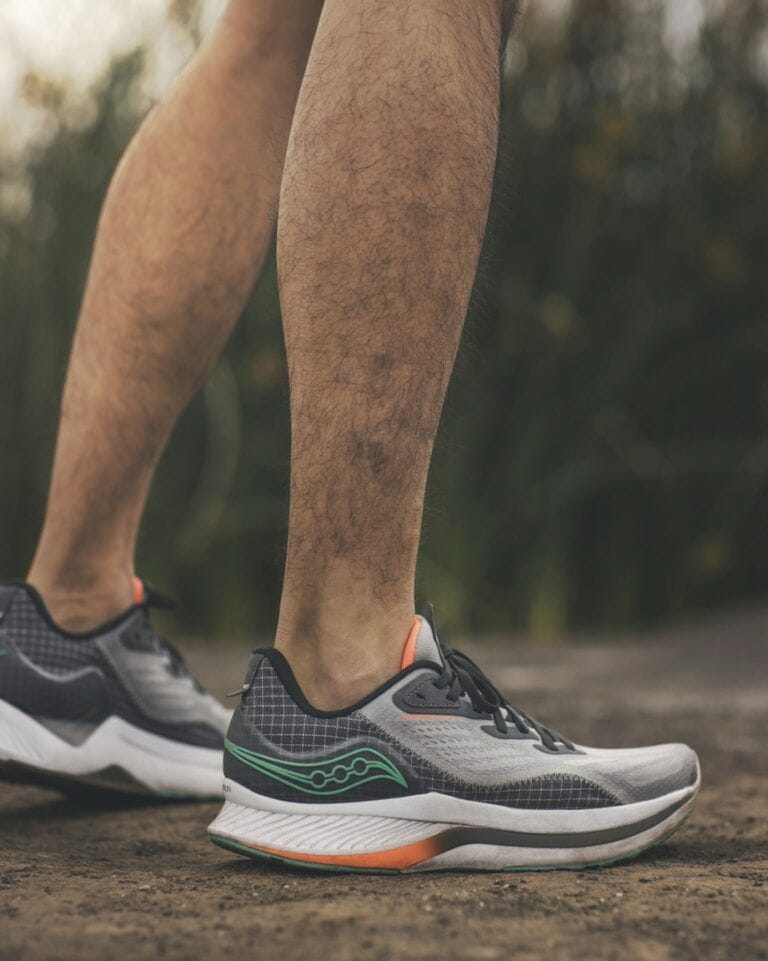 Why You Should Consider Saucony Ride 14 Running Shoes

Reliable
Saucony Ride 14s are reliable and versatile shoes, especially for a wide range of distances. Just as buyer Campbell B. said, "They're the best all around neutral shoe ever! Long runs. Short Runs. Fast runs. Slow runs. This shoe does it all and fits like a glove. For neutral feet, this is the best all around shoe I've ever run in. Checks all the boxes!
Runner's World describes Saucony Ride 14 as "runners' reliable daily workhorse," and we couldn't agree more.

Good Cushioning
Probably the best feature of the Saucony Ride 14 shoes is the balanced cushioning, especially PWRRUN cushioning technology. Ride 14 buyer Jen D. said, "I've done two runs so far in them and they are very comfortable with lots of cushioning. They definitely feel like they give me a springier step and I ran at a faster pace without feeling like I was putting in more effort!"
Another happy buyer Kelsie M. said, "Great cushion! I purchased these for a walking shoe for mostly sidewalks and roads. It had great cushioning."
The cushioning in the midsole provides a nice springy bounce and I almost feel like I could jump as high as Michael Jordan. The mix of cushioning definitely caters to runners of all different levels.
Bolder and faster
When taking the Saucony 14s for a 10km test run, I ran a personal best and I believe it was a combination of the shoes being lightweight, the springiness, comfortability and excitement.   
Ride 14 owner Grieta A. said, "Absolutely love these!!! First day running with them, I set 3 of my personal records without even trying. Such a difference! Love love love! No knee pain, cushiony and comfortable run!"

Saucony Ride provides a bolder experience as confidence and happiness cause you to run at a whole other level.
Slipper-like Fit
The slipper-like fit known as FORMFIT mixes a new and improved engineered mesh to provide a lighter and thinner custom fit design.
Breathability
The new lightweight upper mesh provides a more breathable experience and performance. For any distances over 3-4km, your feet are going to sweat, so it's just like putting the window down partially when in the car.
Social Proof
Our online reviews have been 75 percent positive, and here's some of the social proof.
Hélène F. said, "Great shoes…real comfort."

Dominique G. said, "Very comfortable running shoe. My feet are a little wider, the size ordered is perfect."
Veronique said, "Running shoe that is very comfortable and offers good support. I haven't tried a longer distance yet, but perfect for 5-10 km! In addition, the colours are very beautiful."
"Pretty good everyday shoe! Had an older version of this shoe (v8?) and it wasn't really for me, but thought to give it a try again since I'm liking the Saucony line these days. Fairly lightweight and comfortable for an everyday shoe. It's a bit on the soft side for me, so not as responsive for really fast stuff, but good for mid-tempo and longer runs." - Owen R.

FAQ
Q: What is the difference between Saucony Ride and Guide running shoes?
A: As stated previously, Saucony Ride is a pair of running shoes for everyday use, whether it's a fast, medium or slow-paced run of varying distances. Ride shoes are neutral, which means they can be used by runners who either over- or under-pronate. There's extra stability to counter their pronation and give additional support. The base of the Ride is stable and wide and it features a TRIFLEX outsole that provides strong traction.
Guide running shoes offer specific support for slight overpronators and they aren't as flexible as Rides. Although Guide shoelaces are flat to provide a custom fit, they can produce pressure on the bridge of the foot. Guide features PWRRUN+ foam which is bouncier and softer than other PWRRUNs.
Q: What are the differences between Saucony Ride 13 and 14?
A: The differences between Ride 13 and Ride 14s are:
Lighter

Both the women's and men's shoes have five new colours

New mesh helps with breathability

Lighter and thinner upper with more ventilation holes

Shape tweaked for a more comfortable fit

More durable feel

More springiness
Q: Are Saucony Ride 14 running shoes true to size?
A: Yes, Saucony Ride 14 running shoes are true to size. For those who don't know what this means, the shoe's width, length and arch measurements are in direct proportion to the measurement with the universal foot measuring tool. So if you know all your sizes, you can rest assured that Altitude Sports will provide with a fitting pair of Saucony Ride 14s.
Q: Is there a wide foot version of the standard Saucony Ride 14?
A: Yes, you have won the lottery as there's a wide foot version of the standard Saucony Ride 14. However, it only comes in a Men's shoe from size 8 / wide to 14 / wide. It comes in one colour - charcoal black. 
Wide foot buyer Martin C said, "This shoe isn't flashy or super light, but it does the job really really well. With a little give in the upper for the toe box it helps for even wider feet without creating hot spots. Nice cushion underneath and the stack height is just right. The Mid holds your foot in place nice and snug. A great training shoe that is going to get some serious miles."
Conclusion
There you have it, the Saucony Ride 14 running shoes in all its glory. Now it's time to choose from one of the five different funky colours. Soon you'll be running your personal best. It's going to be the run of your life, one you'll never forget. It's time to take your fitness to another level and yes, Saucony will get you there. We'll see you on the trail, road or footpath with your new 14s.
SHARE