Founded in Montreal in 2004 by Ilan Elfassy, SOIA & KYO has become synonymous with refined effortless designs. Its women's coats, jackets, and clothing are popular globally due to their premium refined styles and versatility. More than ever, the brand is committed to crafting its elevated, everyday styles in a sustainable way and hopes to inspire others in the industry to do the same. SOIA & KYO is constantly evolving to accelerate its sustainability efforts for a brighter future.
Elevated Does Not Mean Wasteful
While SOIA & KYO crafts refined pieces made with only the finest materials, the brand is accelerating efforts for more eco-responsible and sustainable products throughout its collection. Many products are made using recycled fabrics, which are verified by the Global Recycled Standard to ensure that they are certified as sustainable, free of any harmful chemicals, and made in equitable working conditions. 
The brand's knitwear, such as the popular "Coatigan", is made using over 70% LENZING ECOVERO fibres, which are derived from certified renewable wood sources. They are produced using 50% less water than regular knitwear fibres and the process uses significantly lower amounts of fossil energy as well. 
The downs that are used in SOIA & KYO jackets are certified by the Responsible Down Standard, which ensures that all down is ethically sourced. Additionally, as of 2022, the brand is 100% fur-free. These measures show not only a commitment to the environment but to all those that exist in nature.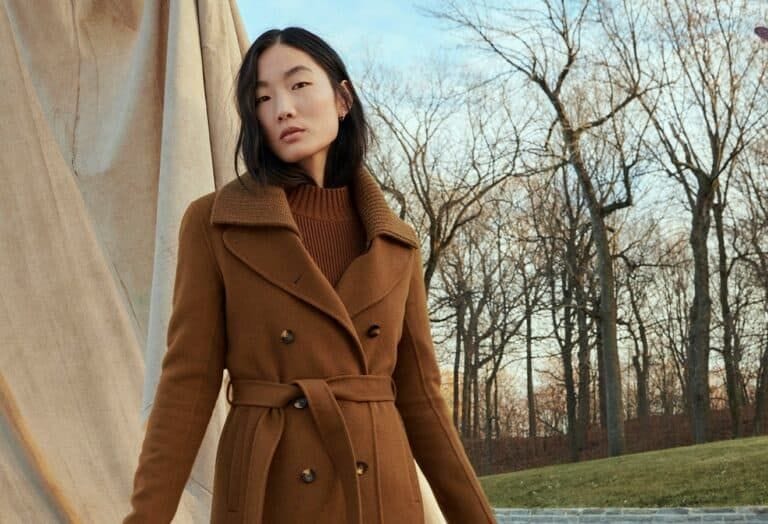 Thermolite Recycled Polyester Fill can also be found within the SOIA & KYO collection of products and is made with 100% recycled PET bottles, reducing C02 emissions. This technology reduces the impact on the environment while providing lightweight warmth lasting the lifespan of the garment.
The brand also has some styles that feature sherpa. This sherpa has been reimagined to fit into the brand's eco-conscious mentality. It is made from recycled plastic bottles and is built to be stronger so that it is able to better withstand the wear and tear of winter, making it far more durable than before. 
The artful designs and carefully crafted pieces are also made to last. Durability is a key part of SOIA and KYO's production process. A repair service is also available to ensure that products last. Shifting to more sustainable materials has not come at the expense of quality. On the contrary, these eco-responsible materials have been selected due to their ability to withstand the tougher winter condition, contributing to the company's commitment to durability. 
The brand also strives to be size inclusive. With sizes ranging from XS to 3X, its pieces are designed to fit every body type so that more women can find winterwear and clothing that fits their unique figure effortlessly. 
In a world of fast fashion, SOIA & KYO has instead chosen to stay true to the timeless elegance it has been known for since the beginning. It knows that one of the keys to sustainability is creating high-quality designs that people will want to revisit season after season. With sustainability in the fashion industry constantly changing, the brand is committed to adapting and improving so that the women who purchase its products can look good and feel good about what they're buying. 
SHARE