There isn't a more convenient stroller than the Thule Spring Roller on the market. Its compact design makes daily life easier for busy parents. The folding mechanism makes it easy to assemble and fold up and store. Within minutes, you'll have your stroller popped up and ready to ride through the city.
Parents and kids alike love the comfy and smooth ride thanks to big thick tires. The swivelling front wheel also makes it easy to maneuver down crowded sidewalks and city streets. If you're looking for a high-quality baby stroller, you can't go wrong with the Spring Roller by Thule.
Thule Spring Roller 
Aside from its modern and sleek design, the Thule Spring Roller is a flexible and dependable stroller. It's compact and lightweight, so it doesn't take up much space when it's not in use and easily fits in the trunk. It's also colourful and customizable with add-on accessories like seat liners, protective covers, cup holders, and more. 
It features a spacious basket underneath for easy storage of baby bottles, groceries, or light clothing. It's also not complicated to pack up like other strollers, which is perfect for on-the-go parents. The Thule Spring Roller is suitable for kids from 6 months until they're 29 kg, which is perfect when you're maneuvering through the city with a small child. Since it's compatible with child car seats, it's suitable for babies 0 to 6 months old as well. 
That being said, the five-point harness is a little tricky - you have to click all four clips separately into one buckle, which is not like an easy single strap setup. However, your child will be more secure with the five-point harness. Another downside is the price, but it's adjustable and holds a lot of weight, so it can last children from infancy to toddler ages. Some users have reported that the wheels squeak when going over bumps, which can be avoided by not taking the roller on rugged terrain. 
Price:
0.00$
Brand Name
|
Product Type
Why Should You Consider the Thule Spring Roller 
One-Hand Folding!
Any parent with toddlers knows that their little ones can be pretty active! The Thule Spring Roller's easy latch system folds out with one hand, leaving the other hand free for carrying your child. Just insert the wheels and hood into the stroller, then you're good to go. It's a game-changer if you're used to cumbersome, complicated strollers. To fold the stroller, lift the seat panel and pull the lever right up to collapse it.
There's also an adjustable handlebar that can be changed for different heights. That means you can use it as your child gets older or for multiple children of different ages. The step-in footrest also makes it easy for older children to climb into the stroller by themselves. 
Compact Frame & Size
Say goodbye to heavy strollers that hurt your back. The Thule Spring Roller weighs only 9.5 kg, which means transporting it is a breeze. Whether you're going to the zoo, strolling through the park, or out on an adventure, this stroller won't weigh you down or get in your way. 
Seat & Comfort
The "stabilized seating" in the Spring Roller is perfect for active toddlers, giving them more comfort and security. The shock system also helps to maintain an exceptionally smooth ride. Another bonus is that you can add a car seat easily – there's no need to wake up sleeping babies when transferring them from the car to the stroller. 
Recliner
If your child is often sleepy, they'll love the deep recline on the Spring Roller. The reclining seat is perfect for on-the-go naps and provides relaxing comfort as you stroll through the city. It allows your child to sit upright or lean back comfortably. Parents can adjust the recline with the single strap system that provides infinite angles. 
Harness
As we mentioned earlier, the five-point harness adds optimum safety and security for your child. It's relatively easy to click into place but near impossible for children to figure out. Parents won't have to worry about active children getting loose or falling out of the stroller, which adds to peace of mind. 
The Wheels
The trademark three-wheel system makes the stroller super agile. The front-wheel swivels for easy maneuvering, but it also locks in place to stay steady on slippery sidewalks. The thick foam-filled, no-puncture tires also help to ensure a smooth ride, no matter the weather. 
Sun Protection
With a convenient and beautiful canopy, your child will be protected from harmful rays. The canopy has UPF 50+ UV protection, and there's a huge mesh window with a magnetic flap for keeping your child cool. The see-through mesh window lets your baby see out of it and enjoy the weather, and parents can also keep an eye on their children too. 
The oversized canopy is adjustable, with a built-in extendable sunshade that shields from the low afternoon sun and wind. You can also fold the canopy up to give your child a full outside view. 
Storage & Weight Capacity
One of the most impressive features of the Spring Roller is that it folds compactly and is self-standing for easy storage. The stroller also features a roomy open-basket under the seat, which has a large 21-litre capacity. 
It takes up limited space, so it can easily fit in a Hatchback or compact car. The 29 kg weight capacity is suitable for older children, so parents can use it for several years. 
See What Others Are Saying 
Parents are raving about the Thule Spring Roller. Here are a few reviews from Altitude Sports customers: 
"Nice construction; folds easily into a small package, and the locking front wheel makes snowy sidewalks a breeze!" -Jason C. 
"Great compact design. Easy to maneuver and lightweight to fold up. Works well with the adaptors for [the] Maxi Cosi car seat that we purchased." -Micheal M. 
"Stroller is very easy to use and best of it, it is very easy to fold and store. Love the overall design, very sturdy." -Simrandeep N.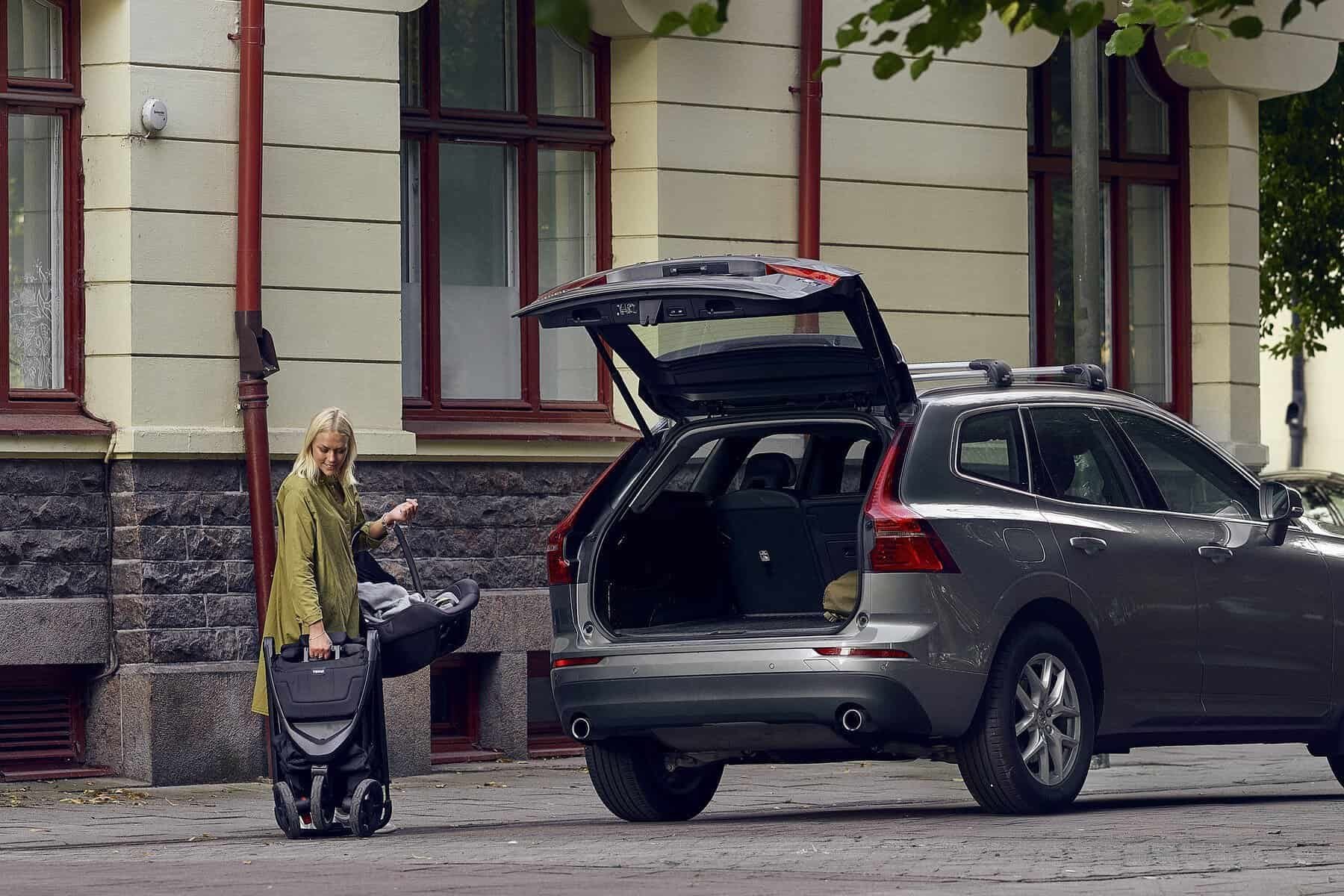 Frequently Asked Questions
Is the Thule Spring Stroller a jogging stroller?
Unlike the Thule Urban Glide or Thule Glide, the Spring Stroller isn't meant for jogging. It can handle lightly cracked sidewalks or short grass, but not sand or bumpy trails. 
How is the suspension on the Thule Spring Stroller?
The suspension is sturdy, but only the front wheel can lock into place. For this reason, the Spring Stroller is best used for city strolls and occasional walks on slightly rough terrain. 
Final Thoughts on the Thule Spring Roller  
If you're a parent looking for a lightweight, flexible, and dependable stroller, the Thule Spring Roller is for you. Its multitude of features like the adjustable handlebar, sun visor, and compatibility with car seats make it super convenient. Since it's easy to set up with one hand, transitioning children into the stroller is a breeze! 
While it may not be suitable for rough terrain, it's perfect for urban living. Make your city strolls and errand-running easier with the Thule Spring Roller. 
SHARE