Finding the right waterproof-breathable shell that will protect you from all bad weather is not an easy task. Although people might not admit it, it is a major part of your equipment and can often represent an equally major investment.
The most important aspect of a shell, in terms of quality, is a combination of the membrane used, but also the cut. After that, look into the features and options each shell comes with- some might have too much or too little for your liking. For example, where are the pockets located (chest or down by the waist), is it heavy/durable, the cuff detail, the price, does the zipper irritate your chin, etc. The most important thing about buying a rain shell is being honest with yourself; are you summiting peaks at altitude or walking your dog in the drizzle?
To help you we took a selection of our favorite waterproof shells from this season.
Arc'teryx Beta AR
| | |
| --- | --- |
| Beta AR for Her | Beta AR for Him |
Arc'teryx's unrivaled classic, the Beta AR is an ultra-versatile shell that will protect you even during your most extreme adventures. Waterproof, windproof, lightweight and breathable, the coat has a helmet compatible hood and armpit ventilation
Buy it if: You want a high-end and versatile shell that can handle everything you can throw at it, and will last for years to come.
Membrane: 3-ply GORE-TEX Pro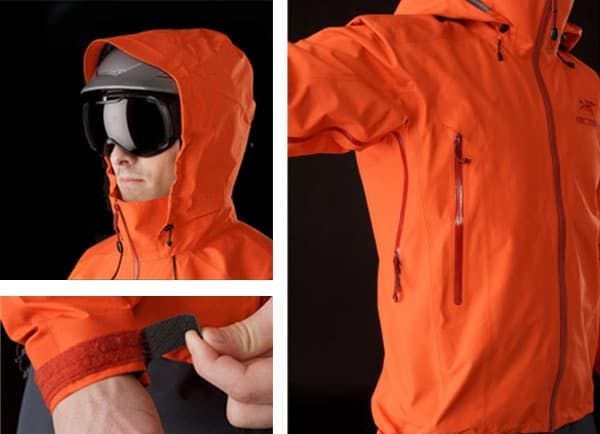 Norrøna Bitihorn Dri1
| | |
| --- | --- |
| Bitihorn Dri1 for Her | Bitihorn Dri1 for Him |
Pay close attention to Norrøna, a new brand to Canada, as it tops the charts of European outdoor brands (they are the Scandinavian version of Arc'teryx). The Bitihorn has 2 large chest pockets, articulated elbows, pit zips, a large storm hood, a water-resistent zipper and much more. Similar to the Beta Ar from Arc'teryx, this model does a great job with the cut. When it's raining you won't feel 'stuck' inside this jacket.
Suitable for both hiking and biking excursions, the Bitihorn Dri1 is an athletically-cut coat that promotes freedom of movement.
Buy it if: You want a technical waterproof-breathable rain jacket at an accessible price
Membrane: 2.5-ply dri™1
If you want to learn more about Norrøna, have a read of this article.
The North Face Venture 2
| | |
| --- | --- |
| Venture 2 for Her | Venture 2 for Him |
The Venture is a solid choice for an entry-level shell and even comes with features like pit zips for ventilation, velcro cuffs and an adjustable hood, features usually found on much more expensive jackets.
Buy it if: You want a shell that will keep you dry in the city, on holidays, and at a very reasonable price.
Membrane: 2.5-ply Hyvent™

Marmot Precip
| | |
| --- | --- |
| Precip for Her | Precip for Him |
I've owned this jacket for over a year now, I've worn it cycling, hiking, horseback riding (just once), and I couldn't have asked for anything better. I love its light weight, the stowable hood and the fact it packs into its own pocket.
Buy it if: You want a go-everywhere rain jacket that is well thought out, accessible and comes in numerous colours.
Membrane: NanoPro™
Black Diamond Liquid Poiunt GTX® Shell
Do not be fooled by its simple design: while the Liquid Point GTX shell cup is quite minimalist, its efficiency in the rain is no less effective. Designed to provide adequate protection against the elements during your alpine adventures, it's a light and ingenious coat.
Buy it if: You want a robust shell that is made to the highest standards.
Membrane: 3-ply Tri-Durance HS
All the jackets mentioned above are a sure bet for poor weather but know that there are many, many more on Altitude-sports.com. It is just a matter of finding the one that suits your needs and budget.
Don't forget, with a good shell you are not limited to adventures when the sun is out.
SHARE