Cross-country skiing is one of the best ways to enjoy Quebec winters while staying in shape during the coldest months of the year.
As we enter 2022, the reality of the world around us is still a bit different from previous years. And it seems like everyone has now taken up an outdoor activity. While this craze is certainly something to celebrate, the crowds at some once nearly-deserted areas can be discouraging for some. So we'd like to introduce you to our favourite options, some more well-known than others, for cross-country skiing (and its cousin: nordic skiing!) in Quebec in 2022.
Still haven't given cross-country skiing a shot yet? Discover why it's the best activity to try this year.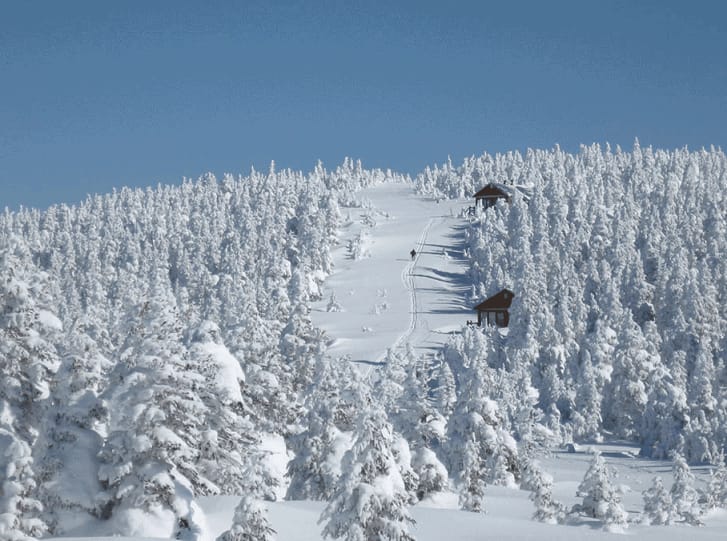 The Gaspésie National Park, located in Sainte-Anne-des-Monts, is a dream spot for those seriously tough skiers. There, you will find 3 groomed trails and six un-groomed marked trails for Nordic skiing. There are also 17 shelters that allow you to go for longer treks. By the way, if you like long treks with a group, you may be interested in la traversée Gaspésie
Do you dream of breathtaking landscapes, and quiet serenity? Escape to the north and enjoy all that winter has to offer. Abitibi-Témiscamingue has 30 km of marked trails for nordic skiing in the Aiguebelle National Park. Multi-day hikes are also possible thanks to the 11 huts located in the park.
Nordic skiing consists of skiing marked but ungroomed trails. Like in the picture above, you're equipped with skis a little wider, designed for hiking in snow that is sometimes a little deeper. Nordic skiing requires more specialized clothing than cross-country skiing, especially if you are skiing in the cold Abitibi-Témiscamingue region!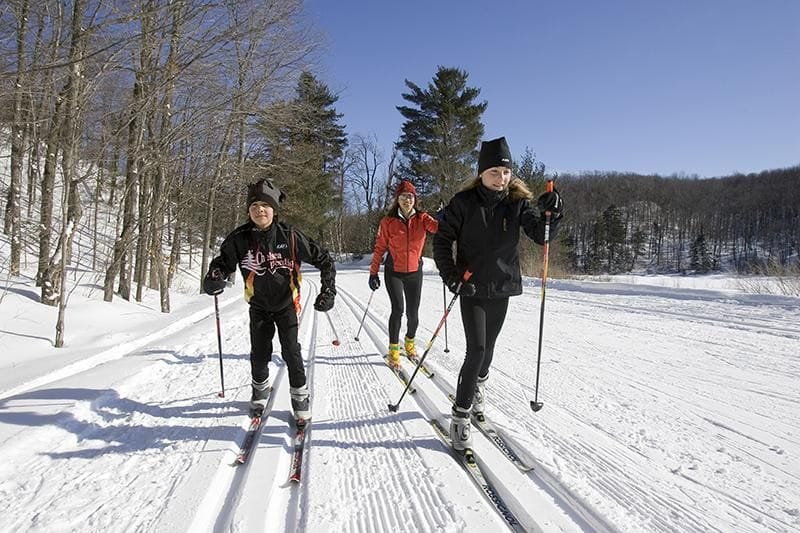 This is one of the best places to learn to cross-country skiing or skate skiing! Located in Gatineau, this huge park has more than 50 trails and offers every level of difficulty imaginable. With its magnificent scenery and numerous trails, Gatineau Park is a beautiful park for a few hours' walk.
My personal favourite, this park has several access points and is a real paradise for skiing in the great outdoors. And if you follow the same route as me, you'll discover that the end of the trip (a long descent) is really worth it. 
Mont Saint-Bruno National Park & Gai-Luron Ski Center
These are two cross-country ski centers not far from Montreal that are ideal for the family. There you'll find marked and maintained trails without too much difficulty. On the south shore, Mont Saint-Bruno offers 35 km of trails and equipment rentals on-site. For a memorable family outing, consider night skiing! And for those who prefer the North Shore, the Gai-Luron ski center in Saint-Jérôme offers 27 km of groomed trails and an equipment rental center. Introducing your little ones to the outdoors and cross-country skiing has never been easier!
Your children love cross-country skiing? We have what they need to have a great day in the snow!

You don't have a car or simply don't want to leave Montreal? No problem! Mont-Royal, located in the heart of the city, has approximately 22 km of trails. The difference in elevation offers an interesting challenge but remains easy to approach for skiers of all ages. It's also possible to rent equipment on site.
Don't know what to wear? Check out our guide. 
Where to enjoy breathtaking scenery? The Sentier des Caps de Charlevoix. Fortunately, the Belle Province has no reason to be envious. Lovers of deep snow, trails along frozen rivers and getting lost in the forest, look no further. More than 35 km of groomed trails await you. And there are trails for all levels.
Where to ski on the South Shore? There are plenty of trails to choose from, so you don't have to rush to Saint-Bruno on Sunday morning! Mont Saint-Hilaire, for example, offers some great trails throughout its woods. There is also the Parc national des Îles-de-Boucherville. In all honesty, it's not the best place (walkers like to walk on the trails!) but you still get to enjoy a Sépaq park without having to pay for a ski ticket. 
The regional park of Les Grèves, between Sorel and Contrecoeur, also offers several kilometers of well-maintained trails in the middle of the forest. The traffic is also lower there. Finally, most cities offer cross-country skiing on golf courses or campgrounds (Chambly, Brossard, La Prairie, etc.). There's plenty to choose from!
Where to ski on the North Shore? The famous Petit Train du Nord remains an excellent option for lovers of snowy landscapes. It's very flat, however, and thrill-seekers may get bored, despite the beauty of the slopes. There are several access points, which helps reduce traffic. 
The Domaine Saint-Bernard cross-country ski center also offers 35 km of trails, similar to those in the Montagne du Diable regional park. Frankly, the Laurentians abound with places to practice cross-country skiing. All the details here. 
Where to go cross-country skiing near Quebec City? In addition to the many trails located in the city itself, I like the Duchesnay tourist resort, with more than 50 km of trails (30 km for classic cross-country skiing and almost as many for skating). Mercier and Mont-Saint-Anne are also among my favourites.
SHARE