The stylish remedy for frigid Canadian winters? It might come from America's heartland. Established in 1830 in the woodlands of Pennsylvania, Woolrich is America's oldest surviving outdoor clothing company that now manufacturers of some of luxury outerwear's warmest parkas. This heritage brand is renowned for its timeless seasonal outerwear and accessories. If fighting the chill in an elevated winter style is your priority, look no further than this season's collection of the 10 Warmest Woolrich winter parkas.  
A Brief History of Woolrich. 
Before we dive into the 10 warmest men's and women's coats, let's examine the brand's rich history—and why many consider Woolrich the Orginal Outdoor Clothing Company. 
Established in 1830, Woolrich was originally a fabric company for the families of 19th century Pennsylvania hunters, loggers, and trappers, providing cloth and materials to stitch clothing. 
The company later outfitted tradesmen in Buffalo Check flannels and gave Union soldiers wool blankets during the American Civil War.

Before the 20th century, the company—which was originally called Woolrich John Rich & Brothers after its family of founders who emigrated to America from England—transitioned into retailers of all-season gear and apparel. By the time World War II began, Woolrich JR&B was manufacturing army gear and raincoats for soldiers. 
In the 1950s and 60s, their clothing was synonymous with the East Coast Prep Schools and was worn by the metropolitan elite of New York, Washington, and Philadelphia. By the 1970s, the brand was outfitting Alaskan oil pipeliners with jackets. 
A Contemporary Resurgence.
By the mid-2000s, this classic winter clothing retailer saw a resurgence in popularity thanks to demand for modern American luxury. 
As well as creating classic winter parkas, Woolrich has also built an authentically reimagined collection of thermal staples like sweaters, scarves, and shawls for warmth in the city. But make no mistake, Woolrich thrives on high-end winter outerwear. Their expertise remains goose and duck down-insulated coats with the premium thermal capacity.

Recently, Woolrich's winter collaborations have involved the likes of Stussy and Aimé Leon Dore. They've also made headlines casting NYU Tisch Art Students in their 'American Soul Since 1830' campaign. The company also dropped 'John Rich & Bros' from its name, choosing to simply go with Woolrich. 
These initiatives have helped cement the brand as trending winterwear and must-have luxury fashion. And being Canadian, we know a thing or two about the winterwear required for the harshest conditions.
Warmest Woolrich Winter Parkas & Coats—Men's.
Classic City Coat—Men's Arctic Parkas.
| | |
| --- | --- |
| Arctic No Fur Parka | Arctic Fur Parka |
With a rich history that dates back to 1972, the iconic men's Arctic Parka was created to outfit Alaskan Pipeline workers who lived in the Arctic Circle. Today, this reimagined winter coat features the same warmth and heritage aesthetic as the original, but in a modernized style, designed to help you fit into urban environments. 
Woolrich has created two models of the Arctic Parka. The no fur model features NF in the product title while the other version features a hood outlined with a detachable raccoon fur. Both the fur and non-fur silhouettes are padded with high-loft Grey duck down insulation in an ultra-arm 800 fill power. These parkas are truly warm enough for the Arctic.
Rated warm to -25C, these parkas offer the ideal combination of substantial insulation in a timeless profile—making them a great investment for life in the Great White North.
Two-in-One Style?—Men's Reversible Wool Parka.
Reversible Wool Parka
A reversible down winter coat certified warm below -25C? Believe it. 
The men's Reversible Wool Parka is a fur-free masterpiece. One side has traditional Buffalo check wool along the shoulders and waist and glossy nylon shell fabric. The other 'outer' side comes in Ramar cloth for a classic look. 
Like the Arctic Parka that inspired its design, this Reversible coat features an amazingly warm padding of heavyweight 800+ fill down. 
This jacket is another instant Woolrich classic with enough lofty insulation and style for your coldest nights on the town—from pitch black evenings in Whitehorse to foggy nights in Toronto. 
Oversized Style—Men's Packable Sealed Parka.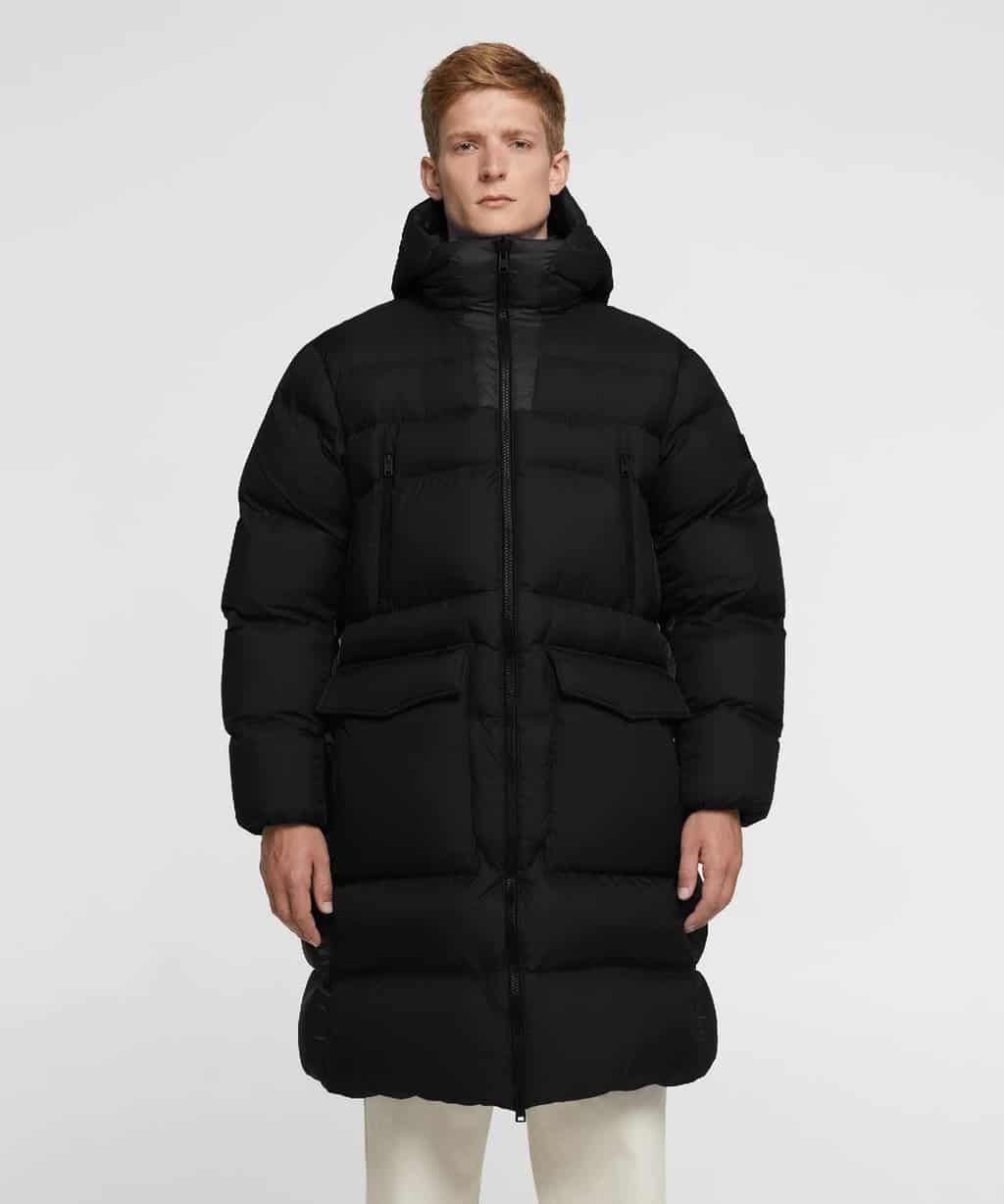 Packable Sealed Parka
When you combine modern streetwear aesthetics with timeless Woolrich quality, you get the oversized Packable Sealed Parka.
The exterior fabric is a unique polyamide weave that's waterproof and features a water-repellent finish to shed icy rain and heavy snow. The quilted chevron design keeps the maximum amount of air in the 800+ fill power grey duck down—ensuring it keeps you the maximum amount of warm.
Waterproof, quilted, and thermally designed for adventures below -25C, this Woolrich winter jacket will help you make a BIG style statement on the coldest snowed-over sidewalks. 
Supremely Heated—Men's Sierra Supreme Parka.
Sierra Supreme Parka
The men's Sierra Supreme Parka is one hip winter coat—in a shorter hip-length profile made for the urban commuter. 
With an emphasis on quilting, and heavily padded with Grey duck down, this jacket is a rendition of the Sierra garment line created by Woolrich in the 1970s for outdoor sports like skiing and trekking. Lower patch pockets, oversized baffles, and a front flap that secures with buttons lend to its vintage 70s-inspired looks. 
This puffy parka is rated warm in weather dropping below -20C, allowing you to venture into icy urban settings—from Montreal to Moscow—in a classically certified style.
Waterproof Protection—Men's Storm Parka.
GORE-TEX Storm Parka
Want the ultimate in warmth and weatherproof protection for wet, snow-filled cities? Look no further than the 3-in-1 men's Woolrich Storm Parka in GORE-TEX—appropriately named to help you withstand the harshest winter environments. 
Like the other down coat's in this category, this stylish winter parka features premium 90-10 grey duck down to feathers padding in a supremely warm 800+ fill power. Unlike others in this category, the parka's insulation zips out into its own standalone insulator jacket. It also has a fully wind- and- waterproof GORE-TEX Parka shell, which you can wear as a raincoat in more moderate temperatures.
Put up the hood, grab an umbrella, and stuff one of your hands in a lower front pocket—this Storm parka is designed for winter in the city. 
Warmest Woolrich Winter Parkas & Coats—Women's.
Winter Uniform—Women's Military FR Parka.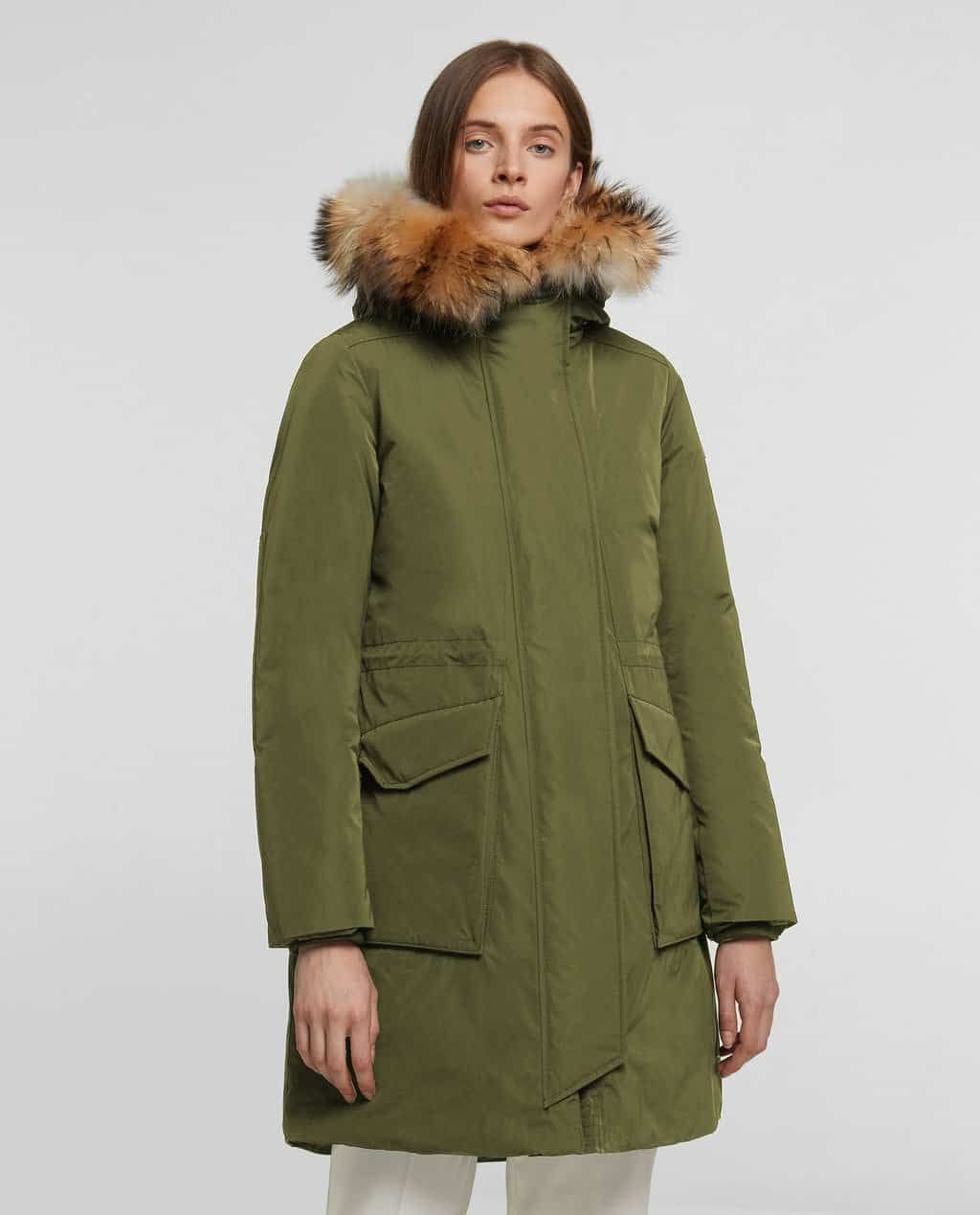 Military FR Parka
Uniforms are supposed to be sophisticated. The Army-inspired women's Military FR Parka provides you with enough warmth and style ammunition for jaunts around snowy resort towns from Tremblant to Tahoe.
700+ fill power Grey duck down keeps you toasty, while this coat's generously long regular fit—which trimmed away excess fabric—pairs perfectly over cozy layers. 
Fox fur trim outlining the hood truly makes this frigid temperature-capable parka exceptional. We recommend the Woolrich Military FR parka for temperatures between -10C and -25C. Trust us—this winter uniform stands out for all the right reasons.
Reversible Style—Women's Reversible Down Parka.
Reversible Down Parka
Like the men's model of this coat, this fashionable fully-reversible women's parka features a fur-free aesthetic and a traditional Buffalo check wool pattern on the inside.
The 'inner' side has a traditional Buffalo check wool along the shoulders and waist along with a standout glossy nylon. On the outside, Ramar cloth fabric whisks rain, wind, and snow, offering a more low-key style. Whatever side you choose to wear, the amazingly warm padding of heavyweight 800+ fill Grey duck down will keep you well-heated in temperatures dipping below -25C.
This Woolrich is an instant classic, with more than enough lofty insulation and a fashionable shaping for your coldest mid-winter nights out. 
A Detached Look—Women's Logo Down Parka.
Logo Down Parka

Well-insulated with Grey duck down in an 80-20 down-to-feather ratio, this regular fit parka keeps in the heat. What really sets this parka apart is the diagonal quilting pattern along the front and back of the body, and the fully detachable Coyote fur trim. Features like rib storm cuffs and upper hand pockets help protect your hands and arms from freezing wind.
The women's Logo Down Parka is another silhouette inspired by the Woolrich Arctic Coat, giving you the classic details you desire, in a more contemporary profile you actually want.
Button up the front storm flap and keep the Coyote hood ruff for warmth dipping to -25C, or ditch the fur trim for a more subtle streetwear vibe.
Puffy Warm—Women's Alquippa Parka.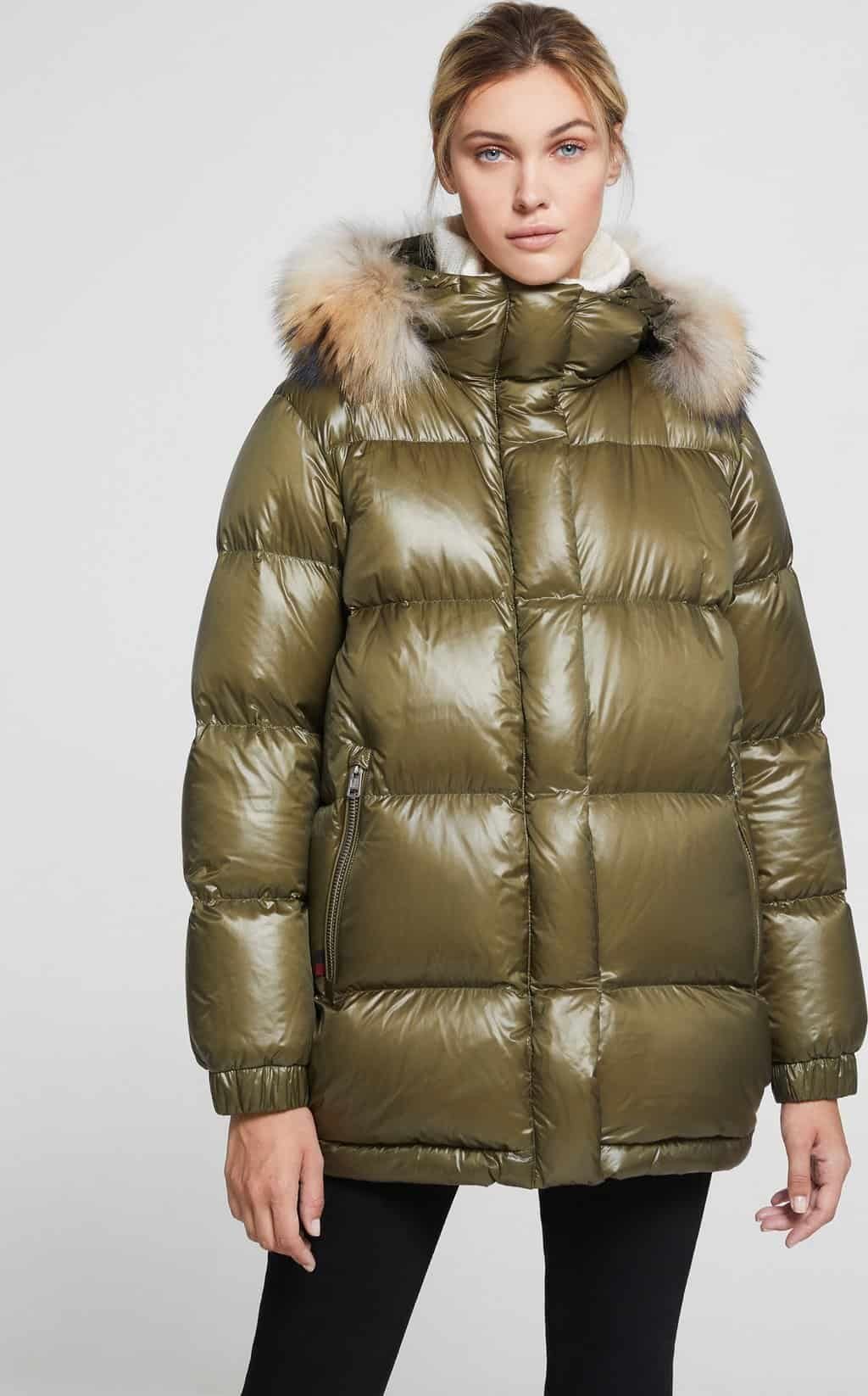 Alquippa Parka
Light, stylish, water-repellent, and down-filled—the Alquippa Parka is made for superpuff style in temperatures to -20C.
A more dramatic contemporary design, this Woolrich winter jacket combines the shape of an old-school insulator with the modern technology of technical outerwear. The polyamide shell is water-repellent and windproof and comes in a few colourful hues. 
This article all about bringing the heat to your winter wardrobe—and the premium 90% white duck down to 10% feather fill ratio is lightweight, lofty, and oh-so warm. A full-length front zip closure features a concealed stormflap, preventing frigid winter air from entering your core.
There is also the eye-catching and oh-so-soft coyote fur trim (also removable) at the hood to help shield your face from harsh winds.
Puff it up this season in this ultra-warm Woolrich coat.
Long & Luscious—Women's Bow Bridge Coat.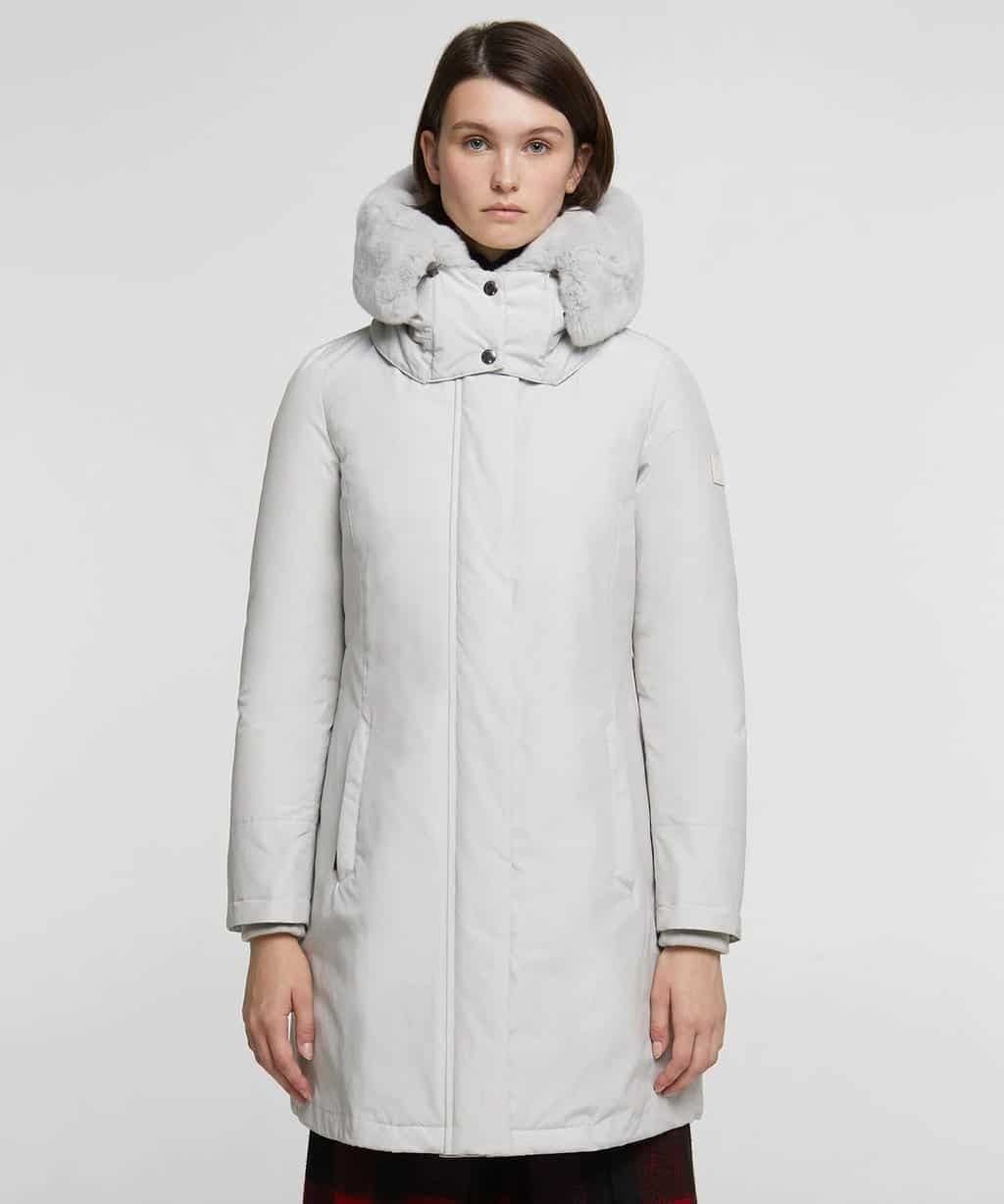 Bow Bridge Coat
A lengthened shape padded with premium Grey duck down and featuring an unbelievably soft fox fur lining the hood? Introducing the women's Bow Bridge Coat—our final luxurious offering from Woolrich's winter parka collection.
This winter jacket sets itself apart thanks to the fox fur hood lining, which when buttoned up looks like a sophisticated scarf.
Woolrich fashioned the exterior in a cotton-polyamide blend, woven tight to prevent wind infiltration and treated with a DWR finish to whisk falling snow.
In our opinion, the Bow Bridge Coat offers the quintessential Woolrich flair for fashion in a classic profile that'll keep you warm for years to come.
More Woolrich Parkas?
Discover our entire collection of the Warmest Woolrich Winter Parkas, Jackets, Coats, and apparel—the perfect selection for those who demand the best of seasonal American fashion. This winter, dress up in Woolrich.
SHARE