If you've been on the hunt for a puffy midlayer that's both affordable and versatile, chances are you've already stumbled on the Arc'teryx Thorium AR. It's a puff jacket highly prized for its flexibility across a broad range of activities and climates. It's also insulated with European down, making it warm, packable, and ethical. 
But before you settle for the Thorium AR, we've rounded up some impressive alternatives that might make you reconsider. In this article, we look at three midweight midlayers that give the Thorium AR a run for its money, including: 
We evaluate each of these jackets across three key metrics: build, performance, and price. Scroll down to the Wrap Up section of the article to see how each of them compares. 
THORIUM AR HOODY OVERVIEW​
Brand Name
|
Product Type
As far as versatile midlayers go, the Thorium AR by Arc'teryx is a standout piece. If you're not familiar with the Arc'teryx naming scheme, the AR suffix stands for "All-Round". In practice, this translates to a puff jacket that performs equally well as a cold weather midlayer or as a shoulder season jacket.
The face fabric is a durable 30-Denier Arato nylon with a DWR finish. The 30D is surprisingly heavy-duty for a supposedly lightweight jacket. In fact, this density is usually reserved for winter coats and expedition jackets. While this does add some extra ounces, it also makes for a tougher and more tear-resistant jacket. The end result is a relatively—but not exceptionally—light 17.3 oz (490g), making it a midweight midlayer.
Price:
0.00$
Inside, we've got a mix of 750 fill-power down and synthetic Coreloft insulation. This practice, known at Arc'teryx as Down-Composite Mapping, delivers an ideal combination of warmth and weather-resistance. The down insulates most of the jacket, while the hydrophobic Coreloft is used in areas susceptible to precipitation and perspiration, including the hood, collar, cuffs, and armpits. 
The Thorium AR is actually one of the less expensive Arcteryx puff jackets, making it a decent entry point for newcomers to the brand. Both the men's and women's models retail for $399.99.
Alternative 1 - Black Diamond
Black Diamond's history began in 1957 catering to skiers and climbers. While they've continued to refine their specialty gear, they've also developed apparel that encompasses the whole gamut of outdoor adventures, from hiking and running, to cycling and more. 
Considered as Black Diamond's "epitome of the do-it-all down jacket", the Access Down Hoody ranks as a versatile, affordable, midweight puff jacket. 
Build
The Access Down Hoody is made of 100% nylon with a durable 30D ripstop backing. For insulation, 700 fill-power down offers high thermal efficiency. The down is RDS-certified, meaning the geese were treated humanely in the production process. To increase the jacket's water-repellant properties, both the face fabric and insulation are treated with a DWR coating. 
Other features include: 
Elastic cuffs and hood opening

Two zippered hand pockets and one zippered chest pocket

Adjustable drawstring waist
Performance
The Access Down Hoody is an essential midweight midlayer for autumn bouldering and spring thaw ski runs. It's also great for day-to-day urban activities. The rugged 30D nylon face is impressively abrasion-resistant, while the DWR-treated insulation can stand up to light rains and sweat.
In terms of weight, you're looking at a decent 15.5 oz (441g). This puts it at the lighter end of the midweight puff jacket category. Additionally, the 700 fill-power down is highly compressible, making it a cinch to stuff in your pack.
Price:
0.00$
Alternative 2 - Mountain Hardwear
Mountain Hardware is a California-based company founded in 1993. Though their history is comparatively humble to some of the other big name brands, they've still managed to secure a respectable legacy while garnering approval among outdoor enthusiasts.
Today, Mountain Hardwear is known for producing a large array of apparel—from high-performance mountaineering gear to everyday athleisure. The Mt. Eyak Down Sweater represents the line between both of these extremes, a balancing act between rugged outdoor adventure and the urban grind. 
Build
The Mt. Eyak Down Sweater has a durable nylon mini-ripstop face fabric and includes a DWR finish. Insulating the jacket is some RDS-certified, 600 fill-power down (75% duck down and 25% duck feathers). The tall collar and fluffy hood offer ample protection when the winds pick up or the snow begins to fall.
Other features include:
Drawcord hem adjustment

Two zippered hand pockets

Elastic cuffs and hood
Performance
While too thick to be a serious midlayer contender, the Mt. Eyak Down Hoody does perform admirably as a shoulder season shell. It weighs a reasonable 17oz (482g) and can be easily stuffed into any dark recess or your backpack or briefcase. 
The tall baffles make it especially amenable to urban styles when compared to some of its more outdoorsy-looking competitors. That said, it's also a reliable garment for all your trips into the backcountry.
Price:
0.00$
Alternative 3 - Rab
Rab was born in 1981 in the UK. Though their North American presence has never attained the fever pitch of, say, Patagonia, their renown across Europe more than makes up for it. From the very beginning, Rab has always prided itself on its commitment to the environment and high-quality garments.
Today, they're considered a climate neutral company, with the goal of reaching net zero by 2030. This commitment to sustainability is apparent at every level—from producing some of the most durable apparel to minimizing their environmental impact in the process. The Cubit Stretch Down Hoody embodies these values: It's insulated with recycled down and coated with a fluorocarbon-free DWR finish.
Build
Constructed with Pertex 3DWeave baffle technology and filled with recycled 700 fill-power hydrophobic down, the Cubit Stretch Down manages to be both innovative and ethical.

The unmistakable baffle pattern is a result from the unique 3DWeave technology. This technology allows the baffles to be woven from a single fabric. This eliminates the need for stitching, reducing weight and maximizing performance.
Other features include:
Two zippered hand pockets

Drawcord adjustable hem

Stuff sack included
Performance
If you're looking for an everyday puff jacket that you can take for a morning stroll through the city, an afternoon in the backwoods, an evening at the crag, and a night at the pub, then the Cubit Stretch Down Hoody has got you covered.
What makes the Cubit Stretch Down Hoody stand out among its contemporaries is its innovative stretch technology. This allows for exceptional freedom of movement without compromising fit or durability. It weighs in on the heavier side of midweight shells at 19.9oz (564g).
Price:
0.00$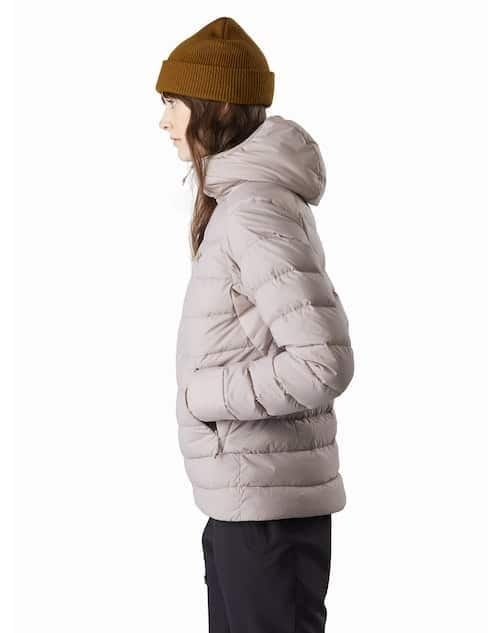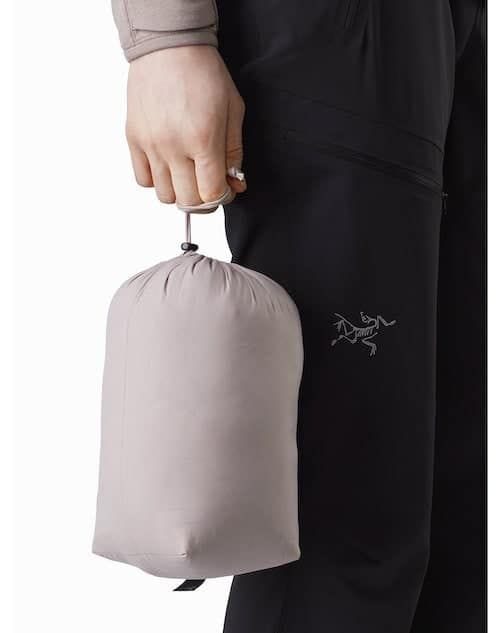 After discussing each of these midweight softshells in isolation, it's time to size them up across four quantifiable metrics: performance, warmth, weight, and price. 
1. Performance
Though marketed as "All-Round", the Thorium AR performs better as a straight-up outer shell than it does as a midlayer. The added burliness of the 30D face fabric makes the jacket a little too thick to double as a comfortable midlayer. In fact, this small criticism applies to all four of our midweight softshells.
2. Warmth
If you're not familiar with the fill-power rating scale, it's simply a measure of loft or "fluffiness". The bigger the number, the fluffier the insulation. The fluffier the insulation, the better it can trap warm air. And the better it can trap warm air, the warmer the jacket. 
For example, the Thorium AR has 750 fill-power down insulation. This means that 1 oz of insulation fills 750 cubic inches of space, making it the warmest of the four jackets. The Access Down Hoody and Cubit Stretch Down Hoody both tie for second-place with their 700 fill-power, while the Mt. Eyak Down Hoody has the lowest insulating ability at 600 fill-power.
3. Weight
The Cubit Stretch is the heaviest of the four jackets at 19.9oz. Coming in second and third-place are the Thorium AR at 17.3 oz, and the Mt. Eyak Down Hoody at a marginally lighter 17oz. Of all the midshells, the Access Down Hoody is the lightest at 15.5 oz.
4. Price
Pricewise, the Thorium AR remains the most expensive midweight puff jacket at $399. The Cubit Stretch Down Hoody is the second most expensive at $379.99. 
The Access Down Hoody and the Mt. Eyak Down Hoody are the most affordable at respectively $299.95 and $299.99.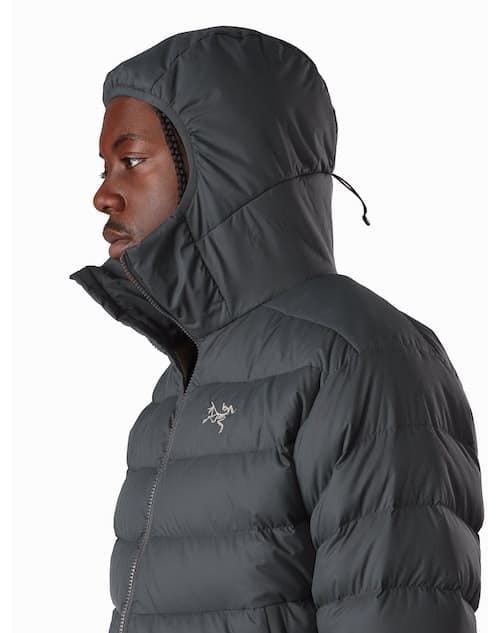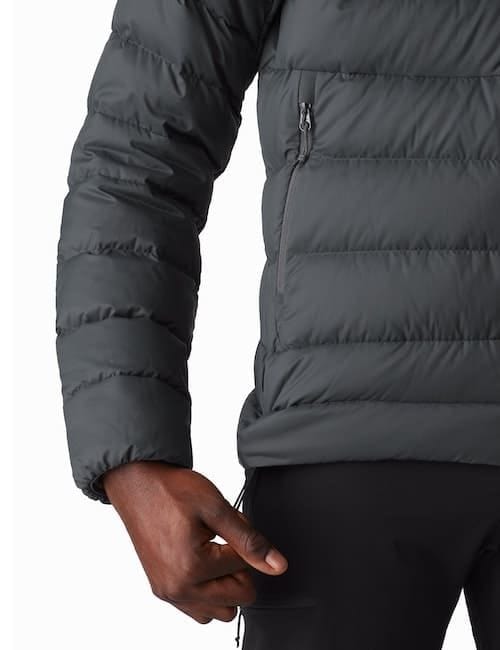 In the long shadow cast by the ultralight movement, the midweight puff jacket has become an increasingly forgotten relic. But let's remember that every feature comes with its flaws. In the case of ultralight softshells, the handful of saved ounces speaks to its diminished durability. Inevitably, even the best softshell owners will have to deal with unexpected tears and unfortunate down leaks. 
Not so with midweight puff jackets. For just a few more ounces—and a generally lower price tag—you can be sure your jacket is up for even the most rugged activities. That's true of the Thorium LT, Access Down Hoody,  Mt. Eyak Down Hoody, and Cubit Stretch Down Hoody. So whichever jacket you choose to accompany on your next rugged adventure, you won't be disappointed.
Next up, check out the most versatile softshell alternatives to the Arc'teryx Atom LT.
SHARE