In 1774, a German cobbler named Johann Adam Birkenstock began making what is now known as the legendary Birkenstock. What made them different from other shoes was the unique footbed that cradled the foot's natural arches. The unique contoured footbed is one of the hallmarks of today's beloved Birkenstocks. These sandals have come to be synonymous with summer, adventure, and travel across the globe. 
Aside from their rich history, there's no denying that Birkenstocks are a quality sandal. 225 years later, each shoe is created with long-lasting, good-looking materials. Not only are Birkenstocks highly versatile, but they also have shock-absorbing soles, durable buckles and come in a wide variety of styles and materials.
Top Birkenstocks Reviewed
Our Favorite Birkenstock Overall
For years, the Birkenstock Arizona has been one of the most popular Birk sandals around the world. The classic two-strap design is perfect for work or more relaxed settings where you just want a convenient slip-on sandal. The Arizona is hallmarked by the classy double strap that never goes out of style, a moisture-wicking cork-latex footbed, and a shock-absorbing EVA sole to keep you on your feet for longer. 
The Arizona (Birko-Flor; Leather) has added toe room for extra comfort and balance and a contoured footbed that offers fantastic arch support.
Price:
0.00$
Pros
Classy double-strap 

Convenient slip-on design

Moisture-wicking footbed
Cons
Not as fashionable as other Birks
Coming in Close Second:
The Mayari (Leather; Birko-Flor) stylishly wraps around the foot in a single toe loop. The oiled leather version is super comfortable once it conforms to your foot. On the other hand, the Birko-Flor option has a leather-like texture that's easy to clean with a damp cloth. There's dependable arch support as with any Birkenstocks, a deep heel cup, and a suede lining for added comfort.
Price:
0.00$
Pros
Cute single toe loop 

Deep heel cup 

Suede lining
Best for Smaller Budgets
If you're looking for the classic Birkenstock style but want something more wearable, you'll love the Birkenstock EVA. The entire shoe is made of EVA (ethylene vinyl acetate), a rubber-like material that's soft, flexible, and lightweight. Customers rave about the EVA since it's waterproof and looks great even in wet weather. 
You can still count on the arch support you get with regular Birks, just at a fraction of the cost. Another great part about the EVA Birks is they don't hold odours, which is perfect if you like to slip off your shoes when in a plane or the car. There's also incredible versatility - you can wear them as house slippers, out for a walk, to work, to the beach, or anywhere!
Price:
0.00$
Pros
Incredibly versatile

Waterproof 

Moderate arch support
Cons
Not as comfortable as other Birks - wear them with socks!
Most Comfortable
You can spot the sophisticated, individual clog design of Boston Birkenstocks from a mile away. The closed-toe style can be worn through all four seasons and is better for those who prefer to hide their toes. And our team just can't get enough of this one: the Boston Shearling mules... lined with wool! The leather exterior, EVA outsole and lining make them ideal for cooler days, the cottage or camping. And style-wise, it's hard to beat.

For the regular Boston, click here.
Price:
0.00$
Pros
Perfect for a job where you're on your feet all-day 

Gorgeous oiled leather finish 

Easy to put on and kick-off
Cons
Not as suitable for formal wear
Best for the Beach
With a chic single strap design, the Madrid Vegan is perfect for wearing by the pool or to the beach. They're waterproof and easy to wash off, plus they have reliable Birkenstock durability. The buckle is adjustable to find the perfect fit, and the EVA material is high-quality, very light, and with cushioning.
Price:
0.00$
Pros
Stylish summer sandal 

Durable

Lightweight
Cons
Not as cushioned as other Birks
Best for Hotter Weather
The thong-style Gizeh is perfect for casual wear or more formal attire. The versatile design and colours mean you can wear them with any outfit in spring, summer, or fall. The specially developed toe post fits gently between the toes, while the classic cork footbed offers support. Some other convenient features include an adjustable metal pin buckle and leather lining that nestles against the footbed. 
Price:
0.00$
Pros
Versatile style 

Gentle toe post 

Soft leather straps
Cons
Thong style may be uncomfortable for some
The best for the house
The Zermatt is the first Birkenstock slipper with a removable footbed. The Zermatt is compatible with three footbed styles: the Standard footbed, the Soft footbed and the Shearling footbed. All three models are available individually. In short, the ideal shoe for the whole year! The version shown is equipped with our Shearling footbed.
Price:
0.00$
Pros
Comfortable
Can be worn inside and outside
What to Look for in Birkenstocks
The Cork Footbed
At the heart of every Birkenstock is the legendary footbed specially designed for the wearer's health and well-being. The cork footbed starts with a deep heel cup to cradle the bottom of the foot and keep it in a natural position. There's also longitudinal arch support along the sides of the footbed for stability and transverse arch support along the middle of the footbed for alignment. Finally, there's a raised toe bar for gripping and a roomy toe box for better balance. 
Outsole Material
Natural Leather
Natural leather is a material that's been used by Bikenstock's shoemakers for hundreds of years. It ages beautifully as natural colours and tints emerge from use. Though there's a typical break-in period with leather, it only takes a few days before the shoes feel uniquely yours. Birkenstock uses high-quality, thick, unsplit leather in all their sandals. 
Birko-Flor
For a cheaper, synthetic alternative to leather, many Birkenstocks come in a Birko-Flor material. Birko-Flor is a skin-friendly, durable, and easy to clean material. It will not age, has no break-in period, and is less expensive than real leather. It almost perfectly replicates the look and feel of leather, which is perfect for environmentally-conscious shoppers. 
EVA
EVA (ethylene vinyl acetate) is a lightweight, flexible material that feels like soft rubber. It's suitable for hiking, camping, going to the beach, or relaxing by the pool. EVA is waterproof, so you don't have to worry about damage from rain or splashes. For those on a budget, it's also much more affordable than leather or Birko-Flor materials.
The Buckle
All Birkenstocks come with a specially designed buckle for an adjustable fit. The straps should be snug but not tight. The support should come from the anatomically created footbed, not the buckles. You should be able to wiggle one finger between the buckle and your skin when they're correctly tightened. 
Sizing and Fit
If you're wondering, "Should you size up or down?" you're not alone. Many people have sizing questions about their Birkenstocks. It's best to order one pair in your usual shoe size and another bigger or smaller size depending on your half size. 
The footbed contours should correspond with your arch, and the toe bar should be comfortably underneath your toes. Though there shouldn't be much extra space, a good rule of thumb is ¼ inch for your toes and heels and ⅛ inch for the sides of your feet. A little extra room is good, but not so much that your feet are slipping. 
Breaking in
If you order leather or Birko-Flor Birkenstocks, you can expect a break-in period of a few days. Before travelling with a new pair, you can wear them around the house to let them mould to your feet. Once you feel comfortable with them inside the house, you can take them out on your next big adventure!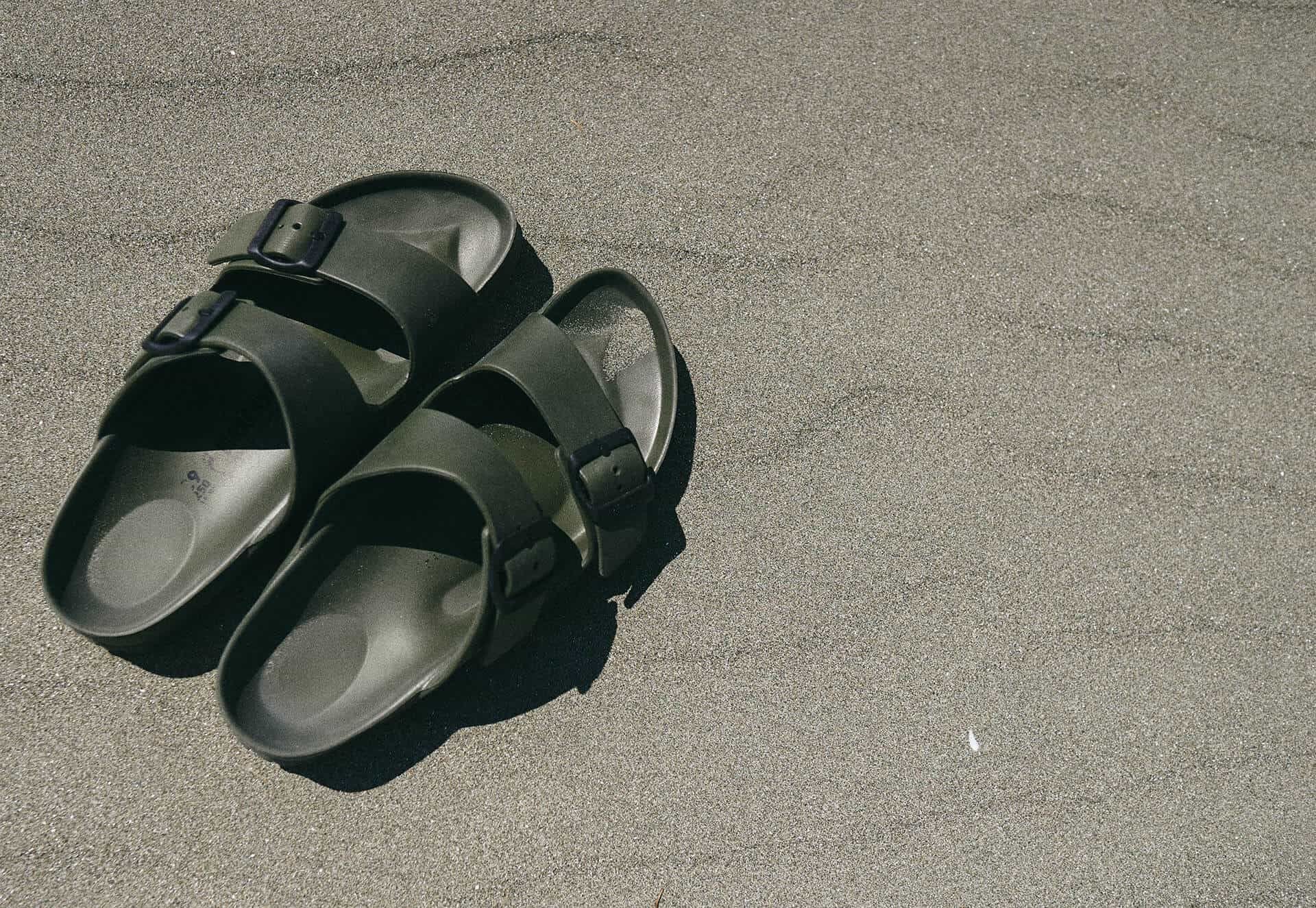 FAQ
Are Birkenstocks back in style in 2023?
Short answer: absolutely. It's safe to say that the Classic Birkenstock sandal is back - chunky shoes are all the rage in 2023 and Birkenstocks are no exception to the trend.
How long should Birkenstocks last?
Since every part of Birkenstocks can be replaced, they can last for years. Every three to four years, it's a good idea to resole your Birks.
How do you clean Birkenstocks?
To clean your Birkenstocks, use a paste of lukewarm water, bleach, and baking soda to soak them. Then, use a damp cloth to wipe away your footprint. Be careful not to dry them in direct sunlight since it can damage the materials of the sandals.
Conclusion
Odds are, you or someone you know owns a pair of Birkenstocks. Whether you're sitting in a cafe or walking on a trail, it's not uncommon to see someone next to you with a pair of Birks. The cork footbed sandals are popular for a reason – they're well-made, supportive, and have an individual, cool style.
SHARE