Below, we've created a list of our 6 most popular Blundstone boots for 2023. But did you know Blundstone celebrated their 150th in 2020? And did you know that the company remains family-owned and operated in Tasmania, Australia? So why not cap this year off with a pair "Blunnies"?
More than 150 years of Blundstone
In 1870, John Blundstone started making footwear built for the cobbled streets, farmland, factories, and well-pounded dance floors of Australia. While Blundstone boots – affectionately known as "Blunnies" in the Outback – remain the footwear of choice for Aussie workers, their styles have gone global. These leather boots now cushion the feet of trendsetters in art and fashion capitals around the world. 
You want to know what keeps them on-trend? After 150-years of boot making, the company remains 100% committed to the durability, quality, and innovation that John Blundstone built his reputation on.
And to us, that's authenticity.
Our absolute favourites Blundstone: 500's & 510's Originals
The Blundstone 500 in Original Stout Brown is sort of the 'true' original. Shaped like your foot for instant comfort, these Chelsea boots only get better with all-season wear.
 They've got the ultimate construction of the brand's ruggedly famous footwear. The water-resistant upper's premium leather looks even better on your feet as it ages. Cushioned polyurethane midsoles protect your feet and offer shock-absorption for your back. Bullet-proof TPU outsoles are resistant to all liquids (snow, rain, and even oil) and can withstand heat to 290°F, so you can literally walk them anywhere.
In our opinion, the best part of the Blundstone 500's is that they not only last forever, but can be worn with almost anything. Think about your favourite shorts and ankle socks on a summer hike to a secluded beach (a very Australian activity). In the winter, they look great with your jeans both in-and-out of the office and are perfect for a snowy walk home from the bar.
 You'll also love that these boots come with an extra set of footbeds for fit and adjustments. And for the winter in Canada, you can even throw in a wool footbed for extra warmth.
 The Blundstone 510 in Original Black are the exact same boots as the 500's. It's just that you get them in classic black leather instead of the polished brown.
Price:
0.00$
Pros
The "original" Blundstone style 

Versatile, unisex fit

Built to last
Cons
Some people think they're bulky
Our favourite Blundstone for Canadian winters
The Great White North. That nickname isn't about Canadian summers. Winter here calls for snow-proof, cold-proof winter boots. And the Blundstone 1392's are just that. 
Upon first glance, the Blundstone 1392's aren't much different than the 1395's and 1308's. Looks-wise, they aren't. The real winter tech is hidden inside these boots. 
They have the same premium leather uppers, PU midsoles, and everything-resistant TPU outsoles. But the leather uppers are fully waterproof. And this combo of materials makes the 1392's completely snow and ice-proof, which is necessary for at least 6-months of the year in Canada.
200g Thinsulate insulation lines the 1392's uppers, making them a little heftier than the Originals but much, much warmer. Trust us, this warm-air trapping insulation will keep your feet toasty on the coldest days. 
Add in super comfy wool sheepskin footbeds sourced from Australia – included with the boots – and you have some insanely warm footwear. These deluxe wool foot-huggers also give your feet the softest landing pads for frigid temperatures. And because they are sheep's wool, they don't smell, and they wick away sweat and extra moisture (in case snow gets in).
Trust us when we say the 1392 Blundstone boots are winter-ready. They're some of the warmest, most durable, and most stylish winter boots on the market.
Price:
0.00$
Pros
Fully waterproof upper 

Warm Thinsulate insulation

Sheepskin footbeds are ultra warm

Unisex
Cons
Too warm for summer (with the wool footbed in)
Our favourite Blundstone for dressing up
Looking for a more elegant way to get around the city in any season? The Dress 067s by Blundstone are boots that instantly dress (yes, pun intended) you up when you pull them on.
The silhouettes make these boots stand out, thanks to sharper 'squared' toes and lower-profile forefoots. This design wears perfectly with a pair of your favourite tapered pants or jeans, giving you a streamlined look.
Premium oiled leather uppers give the 067 – Dress Stout Brown Boots a sophisticated look that's still quintessentially Blundstone. You're going to want to clean and wax these uppers every few months to ensure they maintain their shine. Behind the uppers, the leather lining will wear correctly with your favourite pair of colorful dress socks. 
PU midsoles offer improved comfort and cushioning compared to most regular chisel toe Chelsea boots. And the patented Thermo-urethane outsoles are resistant to just about any liquid, including oil. Real steel shanks through the midsoles give you some extra torsional stability. This means these boots will hold up when you're walking on any surface, from bumpy cobblestone to slick marble steps. 
Price:
0.00$
Pros
Streamlined look

Durable Blundstone construction

Two sheen styles
Cons
May not fit wide feet well
Our favourite rustic Blundstone
Siblings of the 067s, the Blundstone 1306s are brushed, suave, and sophisticated for your outings in the city.
What sets the 1306s apart are their uppers. The Premium leather in Rustic Brown ages better than almost any other boot on the market. Pair this leather with the squared Chelsea-aesthetic, and you've got one sophisticated looking Blundstone. You can wear these Chelsea boots with a tweed jacket for an English Professor vibe or rock them with a band tee and skinny jeans to a concert. 
Unlike the premium leather of the 067s, the aged Rustic Brown requires less maintenance. You're still going to want to clean and wax the uppers, but a good waxing once a year is more than enough. 
Just like the 067s, the 1306 boots come with the best Blundstone design and tech.
Price:
0.00$
Pros
Rustic brown ages nicely 

Strong unisex vibes

Well-built Blundstone design
Cons
Same as the 067s, the 1306s might not fit wide feet
Our favourite Blundstone boots for Canadian Summers
Ultra-light. Ultra-breathable. And made for all types of summer adventures in the North, the Blundstone 1398s are our choice for the best warm-weather leather boot. 
Compared to the Originals, these Blundstones have a lower cut. This cut makes these boots slightly more breathable, with less of a cuff around your ankle. 
Like other Blundstones, the 1496s come with premium leather uppers. But what's different about the leather on these boots is their stitch pattern. At the opening, there's a stitched slit on the inner side where there would be tongue on a 'normal' boot. Blundstone calls this pattern Feather Flex, which makes the canvas leather bend like you're barefoot.  
Like the rest of the collection, these Blundstones are water-resistant. They also feature an anti-microbial lining that resists stink-age, so you can wear them with thin socks. Under your feet, a steel shank provides all the protection you need for wandering anywhere your feet take you. 
We suggest you add the 1398s to your seasonal wardrobe. And we also think these are some of the best travel boots on the market. 
Price:
0.00$
Pros
Amazing summer travel boots 

Low cut is more breathable 

More flexible than normal Blundstones
Cons
Definitely more of a summer boot

Low stretch panels, so avoid deep puddles
Our favourite women's-specific Blundstone boots
Classic premium leather look? Check. Women's-specific fit? Check. Unique high style? Check. Both the women's 1351 and 1352 Blundstone boots deliver a silhouette for all your seasonal needs.
These boots are designed for comfort and long-lasting style that lasts you 365 days a year, thanks to their classic construction and uniquely feminine style. They have a 'hi-top' ankle upper that provides increased support and extra protection against the weather.
Coming in hot, the Shiraz red 1352s have a sheen leather upper that's fully waterproof and will more than protect your feet against some spilled vino. If a more versatile look is your thing, the 1351s in Rustic Brown leather age exceptionally well (they might even look better dirty).
Both these boot styles have polyurethane midsoles for comfort and cushioning. Thermo-urethane outsoles – yes, they are super tech – give you some extra traction on slick surfaces. The outsoles are also resistant to rain, snow, hydrolysis, and microbial attacks. Go ahead: walk these boots through downtown Toronto. For once, you won't have to worry about what you step on.
Price:
0.00$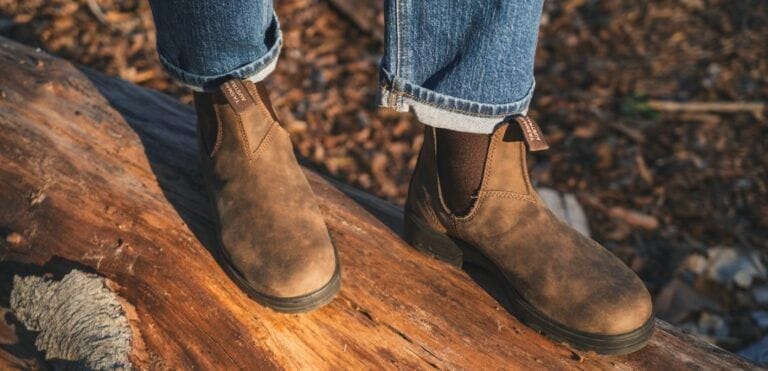 How to choose a pair of Blundstone boots?
1. Style
These are the classic rounded Blundstones with an all-season look and more of a traditional work-wear vibe. These boots are perfect if you're into seasonal outings.
Chisel toes refer to a square toe. These boots can often fit a little more slim thanks to the narrower forefoot and slightly higher arch. Style-wise, these are perfect for your sophisticated adventures in the city, nights on the town, and business casual days at the office.
All of Blundstone boots in women's-specific styles come in women's-specific fits. This means they are slightly narrower than the unisex styles through the foot and have wider ankles for the calves. Note that some women's Blundstone styles are 'high-top,' with uppers that reach higher up your ankles.
2. Sole
The sole usually refers to the midsoles (the middle sole) and the outsoles (what touches the ground) of a boot. When you're buying Blundstone boots, you're getting boots with premium polyurethane outsoles and midsoles. This combination is a softer poly-blend that provides cushioning through the midsole. On the outsole, the polyurethane is treated specially for dirt and pavement to make it more durable.
3. Insulations and linings
All Blundstone boots have leather linings, which are treated with anti-microbial treatments to resist odor. These linings are made of soft and supple leather so that they wear comfortably against your socks.
The Blundstone Winter Series comes with 200g of Thinsulate insulation. This is perfect if you're looking for a boot that you'll be wearing when the temperature is well below zero degrees Celsius. 
FAQ
Q: How do Blundstone boots fit? Are they true to size?
A: First, it needs to be known that most Blundstone boots are unisex. When you're fitting Blundstone's, you need to follow the rule of toe. 
This rule breaks down as follows: For Women, subtract 3 sizes from your Canadian size. For Men, subtract 1 size from your Canadian size. And for kids' subtract 1 size from your Canadian size.
Q: Are Blundstone boots waterproof?
Winter Styles:
A: The entire Blundstone Winter collection features waterproof leather uppers, which are 100% waterproof. Styles on our list above include the Blundstone 566s and the 1391s and 1392s. We recommend you treat your winter boots seasonally with a proper waterproofer. 
Non-Winter Styles:
A: While all other Blundstone boots feature weatherproof leather, Blundstone can only guarantee that they are water-resistant and not fully waterproof. This means, unfortunately, that you may experience leakage if you go romping through puddles. 
Blundstone leather is as water-resistant as any leather on the market while still allowing your feet to breathe. These unique boots have designs with a limited number of seams, which means there are fewer places for water to seep inside them. While they aren't fully 'waterproof,' if you properly care for your boots with water-resistant sprays, they'll more than take care of your feet in wet weather.
Q: Where are Blundstone Boots made?
A: You'll see that Blundstone still manufactures boots in Australia, at their headquarters in Moonah, Tasmania.
That said, demand for the footwear has made the family-owned brand expand their factories to other countries. Blundstone now has manufacturing facilities in China, Europe, Mexico, and the United States.
 In short, the model you choose will dictate where your Blundstone boots are made.
There you have it. Our list of the best Blundstone boots for 2023 has a little something for everyone and celebrates the brand's 150th anniversary in style.
Didn't see a pair of Blundstone boots that were for you? Shop our entire collection here.
SHARE