If your travels take you by plane, be diligent that you choose a carry-on bag that's an adequate and reasonable size. In terms of hand luggage and carry-ons, each airline has a different policy. On average, cabin suitcases should measure no more than 22″ high x 9″ deep x 15″ wide. However, do not forget to consult the regulations of your air carrier before leaving to avoid the hassle and any unexpected surprises.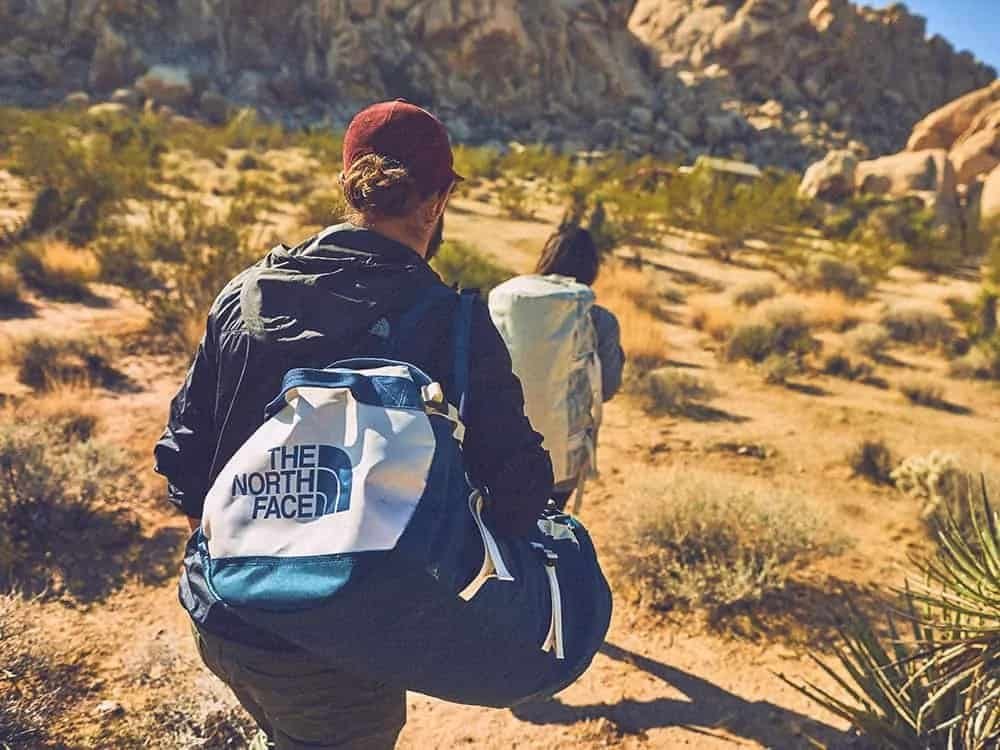 The North Face Base Camp Duffel
Available in a variety of sizes, (XS to XXL) The North Face Base Camp Duffel is a classic that is "indestructible, practical, spacious and waterproof." If you are looking for a tough duffel that will easily withstand all of your adventures, look no further.
The large D-shaped zipper makes access to the contents of the duffel seamlessly easy. An interior mesh pocket located on the underside of the lid keeps small items easy to find and a zippered pocket at the end is a great spot to store shoes or even a toiletry bag.
The best part? It's fully waterproof and doubles as a backpack! Choose from the collection of colours along with your next travel partner.
Dimensions: vary depending on the size you choose.
Filson Small Duffle Bag
Whether you're looking for a carry-on bag for a flight to Europe or a small suitcase for a short weekend getaway, the Small Duffle Bag has all the essential space needed to carry your most important belongings.
As elegant as it is versatile, it will accompany you wherever you go and even keep your belongings dry thanks to its water-resistant fabric. The 'duffle' design gives you easy access to the items stored inside with two internal pockets on the sides to secure smaller items.
Dimensions: 18″ x 10″ x 11″
Price:
0.00$
Herschel Supply Co. Sutton Duffle
Herschel Supply Co. is well-known for their timeless classics and funky patterns and colours. The Sutton Mid-Volume Duffle is one of their most popular products and showcases their signature striped fabric liner which keeps your belongings fresh and organized in the main compartment.
Equipped with a two-way zipper, external storage sleeve and a padded shoulder strap, you're ready for a weekend away with this reliable carry-on sized travel companion.
Dimensions: 11.5″ x 20.5″ x 11″
Price:
0.00$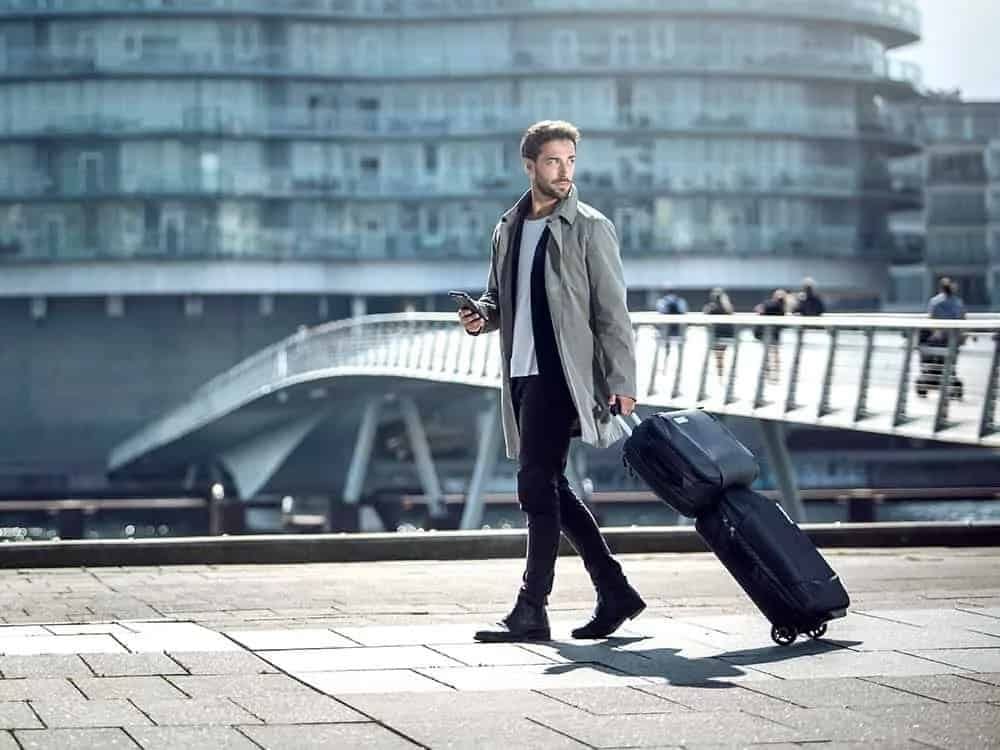 Thule Subterra Carry-on
The advantage of the Thule Subterra is that it can be carried both as a backpack and as a shoulder strap bag, depending on your preference. Practical for travelers who like to stay connected no matter where they are in the world, the bag has a removable pocket that is ideal for a laptop or tablet. It even contains a special section where you can store your charging cables.
Inside the main compartment of this bag are multiple mini pockets which are perfect for people who like to keep their belongings well organized. The Thule bag even has a mesh pocket for your keys, your wallet, and other small items, as well as a secret inner pocket to hide your passport while you are abroad.
Dimensions: 21.7″ x 13.8″ x 8.3″
Price:
0.00$
Osprey Women's Fairview 40
This ladies specific pack is a sure winner when it comes to comfortable and convenient travel. Equipped with a LightWire™ frame, heavy loads are transferred efficiently to the hip belt so your back isn't aching after a day of airport transfers.
This is ideal for over-packers who are constantly suffering from stiff necks and achy shoulders. A women's specific fit enhances comfort and eliminates the chance of unwanted chafing. Whether you're headed for a weekend at the cottage or a multi-day getaway a plane ride away, the Osprey Fairview 40 is sure to keep your belongings safe and organized.
Price:
0.00$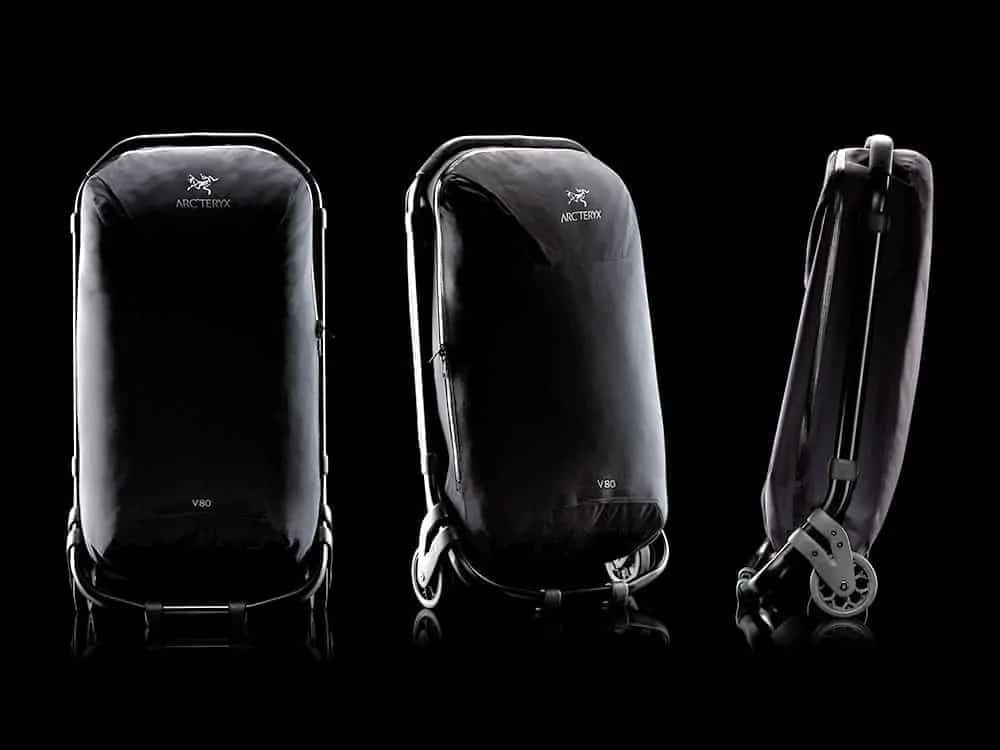 Thule Subterra Luggage 28″
Travel in style with the sleek and spacious Thule Subterra Luggage. This large rolling duffle bag makes it easy to organize your belongings with two separate internal compartments. Everything is kept in place thanks to the sturdy build and internal compression straps. 
The Subterra has other travel-specific features like an ID card slot, a padded carry handle, and large and durable oversized wheels. Perfect for the active traveller who's rough on their luggage!
Dimensions: 27.6″ x 15.7″ x 13.8″
Price:
0.00$
Osprey Wheeled Carry-on
The Osprey Wheeled Carry-on is an ideal luggage bag for frequent travelling. Thanks to the integrated wheels and its retractable handle, you can easily drag the bag wherever you go. Despite its light weight (2.1 kg), this bag remains solid and compact. Equipped with numerous pockets, this bag keeps all your belongings organized and conveniently accessible. There is also a rear access point for added convenience when you are looking for items inside.
Dimensions: 21.65″ x 14″ x 9″
Price:
0.00$
Osprey Wheeled Transporter
The Osprey Wheeled Transporter weighs in at just 5 lbs, making it a great travel partner for those who will be on the go a lot. With its wheels and retractable handle, you can easily drag the bag wherever you go. Despite its lightness, this bag is still solid and compact. With plenty of pockets for convenient and instinctive storage, the Wheeled Transporter also has rear access to keep items close at hand.
Dimensions: 21.5" x 14" x 9''
Price:
0.00$
Now that you have found the perfect style of luggage for your travels, it's time to pack and go! Don't forget to pack your favourite carry-on essentials and enjoy the trip.
SHARE