When most days are wet and rainy, you'll want the best rain pants for hiking tucked in your gear bag. Having a sturdy, durable pair of rain pants helps you spend more time outdoors, no matter the forecast. They can also turn a miserable wet day around camp into one that's fun and functional when you know you'll be kept dry. 
Choosing the best rain pants can be like trying to read an old map. They all look fairly similar, and it's hard to tell which option is the best for you. But don't worry, we've rounded up the best hiking waterproof pants that are durable, breathable, and comfortable. No matter your needs, we've got you covered! 
For a pair of pants that'll keep you dry even in super heavy downpours, our best overall choice is the Outdoor Research Apollo Rain Pants. These full-zip pants are easy to take on and off when you're in a hurry, and the thick material is great for any type of terrain. Read on to find more affordable, lightweight, and comfortable rain pants for hiking.
Here are the best waterproof pants per category:
Best Waterproof Hiking Pants Reviewed
Best Rain Pants for Heavy Downpours
When a flash storm hits and you're in the middle of a hike, you'll want the Apollo Rain Pants in your bag. These full-zip, thick rain pants (Men's; Women's) are roomy enough to go over any pants and boots. They go on fast and protect your legs from rain, wind, and debris as you weather the storm. 
Price:
0.00$
Pros
Full-length zipper

Thick material

Waterproof
Best for Budget Hikers
Look great and stay comfortable with the affordable North Face Venture 2 Half Zip Pants (Women's; Men's). You don't have to look like a blob thanks to the fitted elastic waist with a drawcord and velcro adjustable ankle tabs. The 2.5L Dry Vent shell sheds water and blocks rain while keeping your legs cool. 
Price:
0.00$
Pros
Flattering fit

Breathable

Zip hand pockets
Best Ultra Light and Compact
Stay dry all day long with the three-layer Patagonia Torrentshell Pants (Men's; Women's). Though they may look simple and unassuming, they have reliable H2No® Performance Standard technology to shield you from downpours. The side ventilated zips also help you from feeling soaked and sweaty.
Price:
0.00$
Pros
Waterproof and Breathable

Highly packable

Fit over pants
Most Durable Waterproof Pants
Stay bone dry in pouring rain with the Arc'teryx Zeta SL Pant (Women's; Men's). Though some may be hesitant because of the high price tag, you have to ask yourself, What's the cost of comfort? They fit amazingly well with articulated knees and an adjustable waist. They're simply top of the line. 
Price:
0.00$
Pros
Fully waterproof

Flattering fit

Articulated knees

Highly durable
Best Convertible Rain Pants
Stay comfortable as the day's temperature changes with the Ferrosi Convertible Pants (Men's; Women's). They're the best of both worlds: comfy, stretchy, and lightweight, but also abrasion-resistant, waterproof, and quick drying. Take them anywhere during any season for more peace of mind. 
Price:
0.00$
Pros
Water repellant

Versatile

Zip-off legs
Cons
Slightly loose on the waist
Most Comfortable (or stretchy) Rain Pants
Go backpacking, run the trail, or go rock climbing in the versatile Mountain Hardwear Stretch Ozonic Pant (Women's; Men's). The generous stretch keeps you comfy all day long, and the DryQ technology wicks away moisture. You can also take them on or off in mere seconds with the full-length zippers! 
Price:
0.00$
Pros
Stretchy material

Full-zip

High waisted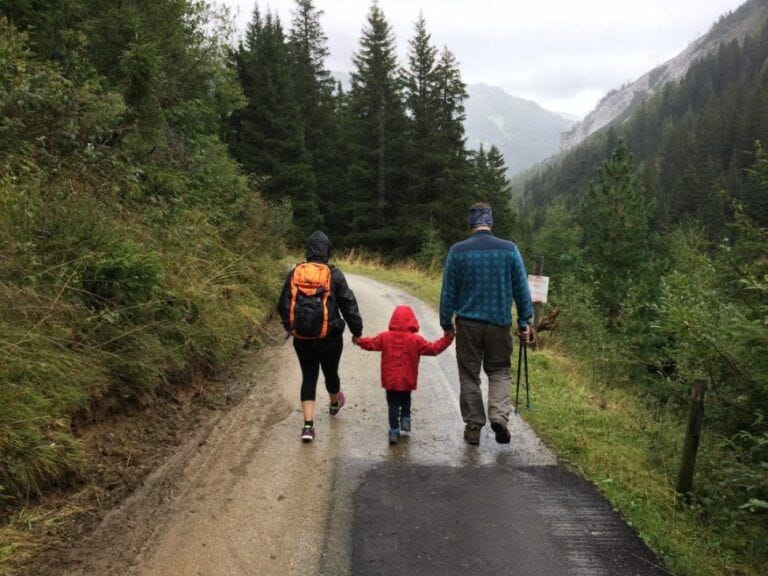 What to Look for in Hiking Rain Pants
Waterproof Rating
When looking at rain pants, waterproof rating determines how waterproof they are. Waterproof ratings are measured in millimetres with a hydrostatic head test. Essentially, 1,500 mm to 5,000 mm is considered waterproof, and anything above that is for heavy rain. 
Some other features for waterproofing are DWR (Durable Water Repellency) coating, GORE-TEX, and taped seams, which stop water from coming through the stitching. For example, the Venture 2 Half Zip Pants have taped seams, and the Ferrosi Convertible Pants have DWR coating. 
Material
Splash pants usually have multiple layers for waterproofing and breathability. For example, a 2-layer pant like the Arc'teryx Zeta SL Pant has a fully waterproof outer shell and inner lining layer of breathable fabric. 
A 2.5 layer pant like the Stretch Ozonic Pant has an extra liner that protects the breathable layer from dirt or sweat. Finally, a 3L pant like the Torrentshell has an outer waterproof layer, inner breathable membrane, and bonded protective lining. If it's not breathable, sweat will get trapped inside, and you'll feel uncomfortable. 
Even if your rain pants are breathable and lightweight, you also want them to be durable. Waterproof pants are often more durable than water-resistant ones because of the tough material they use. 
If you always keep a pair of rain pants for hiking in your gear bag, you want them to be very packable. 3-layer rain pants are the most packable because the outer waterproof layer, inner breathable membrane, and protective liner are bonded together to form a technically efficient one-layer pant. 
Waterproof rain pants don't have to be crinkly and stiff like back in the day. Today's rain pants have soft inner material, stretch, articulated knees, and other features that make them super comfortable. 
Design
When you're hiking, you'll want to throw your phone in your pocket to free up your hands. The best rain pants have secure-zip pockets or pockets with deep mesh to keep your belongings safe and handy. 
Belt and/or adjustment straps
If you're wearing your rain pants for a technical hike or activity, you don't want them falling down. Adjustable straps around the waist and ankles, or a built-in belt system, help you get a more precise fit. A casual elastic waistband can be good for more relaxed walks. 
Hiking pants with articulated knees make the pants more comfortable and help them 'move with you.' It's a great design feature since it creates a natural bend and gives you a greater range of motion. 
Even if it's pouring rain, you might work up a sweat. Ventilated openings or zips between the legs and knees are great for dumping heat as you hike.
Having a more dialled-in fit is always a bonus, which is why ankle cuff adjustments are so great. They prevent water from coming in through your ankles and stop the cuffs from dragging on the ground. 
Versatility
You'll notice that many of the rain pants on this list are super versatile. Convertible pants are great for suddenly changing weather. Pants that can be used for other outdoor sports such as mountain biking, climbing, or canoeing help you get more bang for your buck.
FAQs for Best Rain Pants
Q: Is it safe to hike in the rain?
A: Hiking in the rain requires extra precaution but is sometimes unavoidable. It's always a good idea to have an emergency pair of rain pants in your bag in case of a downpour. 
Q: What do you wear under rain pants?
A: Since many rain pants are loose-fitting, you can wear regular hiking pants or leggings. In colder weather, you may want to wear an insulating layer and technical hiking pants under rain pants.
Q: I feel soaked hiking in the rain even if I wear waterproof pants. Is my rain gear failing?
A: It's normal to experience sweating and humidity even with rain gear on. You can look for pants with ventilated openings and a breathable membrane to help keep things dry. Also, keep your effort intensity low to avoid sweating too much and try layering! 
Q: What do you wear on a wet hike?
A: A wet hike can be miserable without proper gear. So make sure you have waterproof shoes, an umbrella, and a reliable rain jacket at the very least. 
Final Word
Whether you live in an area with notoriously wet months or just want to be well-prepared for travel, rain pants are a must. If you're still unsure of which pants to choose, you can't go wrong with Outdoor Research's Apollo Rain Pants. 
The full-length zipper makes them easy to get on and off, and features like articulated knees and drawcord ankle closings keep you comfortable. With the right pair of rain pants for hiking, you'll be ready to tackle whatever Mother Nature throws your way.
SHARE