We'll save you some time—if you're looking for a plush, cushioned shoe, look elsewhere (like the Hoka One One, for example). Salomons are known for their firm, responsive runners that give your feet a good feel for the ground. Of all the Salomon trail running shoes reviewed, we found the Salomon Speedcross 6 GTX to be the best overall for their versatility and comfort. 
Whether you're looking for the best Salomon shoes for hiking, winter running, or want to find the most affordable ones—this detailed guide is for you. 
THE TOP SALOMON TRAIL RUNNING SHOES REVIEWED
Best all-around: Salomon Speedcross 6 GTX
Runner up:  Salomon Supercross
Best affordable: Salomon Alphacross
Best waterproof: Salomon OUTpulse
Best for hiking: Salomon X Ultra 4 GTX
Best for winter running: Salomon OUTRISE                                               Best for overpronation: Salomon XA Pro 3D v8
BEST ALL-AROUND SALOMON TRAIL RUNNING SHOES
If you run on wet and muddy trails, Salomon's Speedcross 6 GTX are perfect. This new version of the famous Speedcross once again wins the award for best off-road shoe due to its versatility and robust design. The Gore-Tex GTX upper is an interesting addition to the classic (and popular) Speedcross.
Customers are still happy with the comfort, just look at the feedback. They are more cushioned than most other Salomon models thanks to the addition of Energy Cell foam in the midsole. Finally, the deep lugged outsole is even more resistant to mud and debris thanks to an updated design of the original sole. A shoe that is definitely more efficient and grippy on technical trails, and one of the best trail running shoes on the market.
Price:
0.00$
Pros
Tight grip Contagrip outsole 
Precise fit Quicklace lacing system 
Good bounce provided by foam midsole
Cons
Not as breathable as the regular Speedcross 6 shoes
RUNNER UP SALOMON TRAIL RUNNING SHOES
As the most affordable Salomon shoes on the list, the Supercross shoes give all of the value of traditional Salomons at a fraction of the cost. Users will enjoy the aggressive grip provided by the outsole lug pattern. The Energy Cell midsole also offers plenty of comfort and bounce out on the trail. 
These versatile runners are great for a daily lap in the park, a great escape to your local trail, or even something more rugged. The combination of SensiFit and Quicklace technologies ensure the shoe will fit like a glove, wherever you run. 
Price:
0.00$
Pros
Superb, comfortable fit 
Excellent grip on a variety of surfaces
Cons
Can heat up, average ventilation
Best Budget SALOMON TRAIL RUNNING SHOES
Super comfortable yet still firm, the Alphacross trail running shoes are an excellent pick for both elite athletes looking for a little extra bounce and non-elite athletes. The added cushioning comes from a durable polypropylene insert in the midsole—yet they're still firm enough to get a good feel for the ground. They're built to accommodate wider feet as well as ensuring a great fit through the Quicklace lacing system. 
We also appreciated the Contagrip outsole and deep lugs that provide excellent traction. Whether you're going on a steep mountainous trail or taking a run around your local one, these are the perfect go-anywhere trail shoes. 
Price:
0.00$
Pros
Energy-saving midsole 
Snug fit Quicklace lacing system 
Upper 3D stretch mesh provides added comfort 
Cons
Thin tongue
Slightly heavier than other models
BEST WATERPROOF SALOMON TRAIL RUNNING SHOES
If you're used to muddy, soggy trails and wet weather running, the OUTpulse GORE-TEX shoe was designed for you. While this high-tech shoe is more of a hiking shoe than a trail running shoe, the line is slim enough that you can use it for both. Combining grip and protection, this model has a midsole that offers exceptional energy return and cushioning thanks to the new Fuze Surge foam.
Not only does it protect your feet from debris, but it's comfortable like no other. It's built more for endurance than speed, but still offers a fluid and dynamic stride thanks to the Energy Blade Outdoor sole.
Price:
0.00$
Pros
Forefront can be pulled tight for minimal shift 
Comfortable yet firm design 
Durable 
Cons
Not the lightest on our list
Best hiking shoe
The epitome of a hiking boot crossed with a running shoe—the X Ultra 4 GTX is lightweight and durable enough for all your hiking adventures. The narrow heel and secure closure mean no more blistered heels or lost toenails. 
Featuring newer technology from Salomon, the lightweight chassis between the midsole and outsole adds stability for rougher terrain. Also, these shoes are water-resistant thanks to the GORE-TEX upper. The sole is flexible and designed for a better grip, reducing fatigue on the trail.
Price:
0.00$
Pros
Very high customer satisfaction
Sole composed of two types of rubber for excellent grip 
Designed for the hiking trail 
Best for Winter Running
This is an unpretentious, easy-to-wear trail running shoe with a host of technical features you wouldn't expect. Designed to fit all your adventures, the Outrise Gore-Tex combines the lightness of an athletic shoe with the comfort and functionality of an outdoor shoe. It's easy to wear and offers the perfect balance of waterproof protection and uncompromising comfort.
The sole is of course studded and can be adapted to a variety of surfaces. It offers great durability and boosts your confidence on wet, dry, hard or unstable terrain - and its protective lining offers even better protection against water and snow. Pair the Outrise with a merino wool sock.
Price:
0.00$
Pros
Increased cushioning for colder weather 
Mesh shoe feel with Invisible Fit technology 
Contagrip MA outsole grips slippery surfaces
Cons
Slightly heavier than other running shoes
BEST TRAIL RUNNING SHOES FOR OVERPRONATION
Flat-footed runners, this high-tech shoe is worth checking out. The XA Pro 3D v8 trail running shoes are equipped with 3D chassis, which provides excellent protection and stability. If you're prone to overpronation, these shoes will keep your feet in optimal alignment. 
They are updated from the XA PPro 3D running shoes but weigh 20 grams lighter and are more flexible. However, they still retain the original stability, cushioning, and grip.
Price:
0.00$
Pros
Designed to support over pronation 
Premium traction with Wet Traction Contagrip 
Superior stability and protection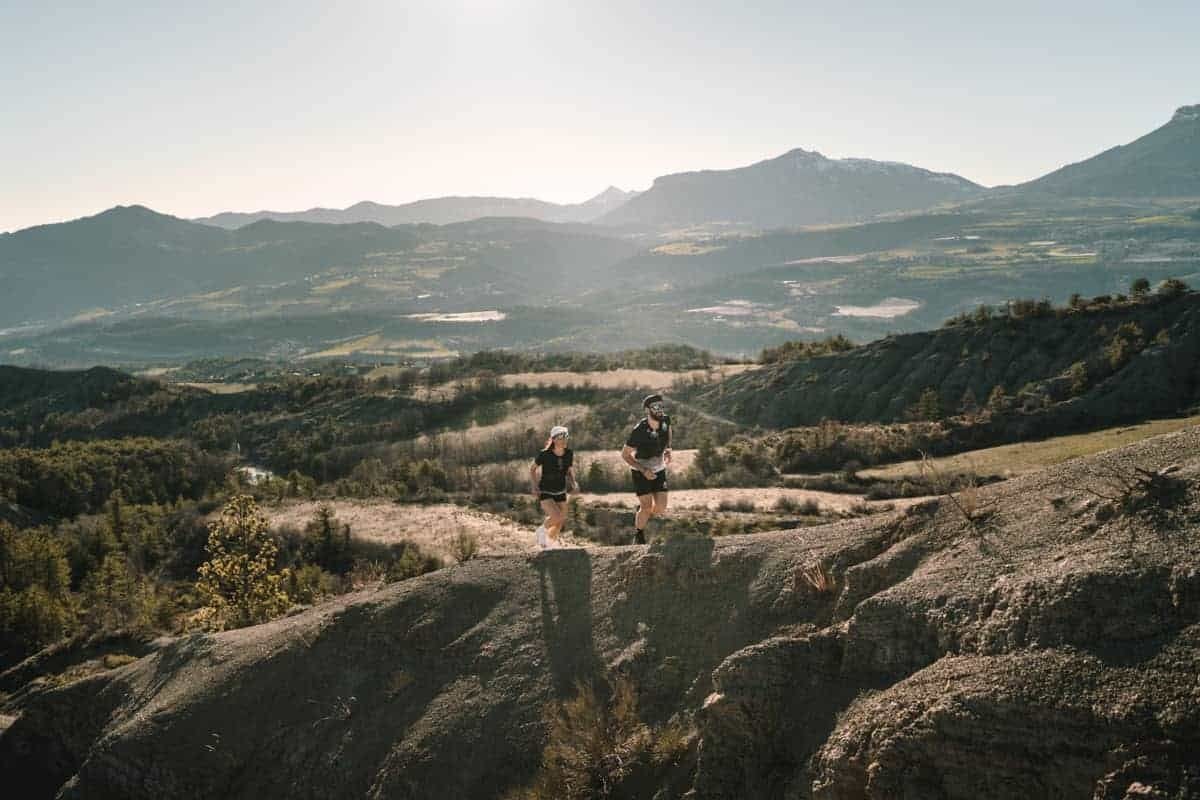 WHAT TO LOOK FOR WHEN BUYING SALOMON TRAIL RUNNING SHOES
Trail running shoes are designed for going off the beaten track. If you're reading this, chances are you love to run on the trail and are looking for trail running shoes to fit your needs. Salomon trail running shoes have profiles for every type of trail runner and trail terrain / weather you might encounter. Let's get into the details. 
Sizing
One of the most important aspects of running shoes is the fit. Chances are, if you don't like the fit, you won't enjoy running in them. If you're not sure of your size, make sure you measure your foot before guessing. 
Simply place a piece of paper on the floor up against the wall. Then, stand on the paper with your foot perpendicular to the wall and your heel flush against the wall. Then, take a pen and trace around your foot. Once you've drawn each foot, measure the distance and choose the size that's the longer of the two. Admittedly, the most accurate sizing is in centimetres, but there are plenty of conversion tables to help you pinpoint the right size. Plus, Altitude Sports has a very simple, flexible return process, so you can safely order two pairs, try them on, and return the one you don't want if needs be. 
Weight
When considering the weight of your new shoes, make sure you think about the type of terrain you'll be running on most. If you're running on a variety of terrain, you'll need runners that are lightweight and versatile. 
For short distances (15 km), lighter shoes are best. For middle length runs (25-50 km), all-rounder shoes are ideal. For longer distances (more than 50 km) shoes with more cushioning and protection will suit you better. 
Soles & Traction
The lugs, or cleats on the outside, will largely determine the amount of grip on the shoes. The deeper the lugs, the more suitable for muddy terrains, such as the Speedcross 5 GTX shoes. However, if you're on drier and harder packed trails, short lugs closer together will be more efficient. Keep in mind that most Salomon trail running shoes will have versatile outsoles that can be used on different terrain. 
GORE-TEX
If you are running on wet surfaces like a sandy beach or damp forest, you'll want a shoe with waterproofing technology. This is where the gold standard of waterproof fabrics, GORE-TEX comes in—a breathable fabric membrane that repels liquid while allowing excess vapour (read: sweat) to pass through it. 
Cushioning
Again, consider the type of terrain when looking at the level of cushioning. If the ground is rockier or more uneven, more cushioning from a stiffer shoe will provide more stability. Also, longer distances will be more comfortable with extra cushioning. 
All Salomon running shoes are built for a responsive ride where you'll have a good feel for the ground. These shoes are firmer than others, but that firmness gives you better touch, and in trail running, with the amount of debris and uneven surfaces ahead, it's important to move with the terrain. 
Lacing Systems
You may have noticed most Solomon shoes feature the Quicklace lacing system. This allows the laces to be tightened or loosened using an adjustable cinch. This innovative system helps runners fine-tune the fit, which is safer and more comfortable in the end. 
Style
Some factors that determine the aesthetics of the Salomon shoes are the laces, the sole, and the upper material. Shoes designed for colder weather like the Sense Ride 3 GTX Invisb will have thicker soles, while other shoes will look more minimalistic. 
Luckily, Salomon trail running shoes come in a variety of colours and styles. They make it easy to find one that you'll want to wear season after season. And with the fairly recent boom in Salomon's, like the S/LAB series sported by fashion designers, celebs and models alike (yes, trail runners on the streets), you can be sure the look is very in.
FAQs for Salomon Trail Running Shoes
Q: How do Salomon trail running shoes fit?
A: When you're trying on your Salomon shoes, make sure that they don't rub or pinch your feet. If they do, you should try another size right away. A good tip is to try on your shoes at the end of the day, like 4 PM, to compensate for the natural swelling that occurs in our feet. 
Q: How to tie Salomon trail running shoes?
A: Many people have questions about the Quicklace system. First, tighten every arm around the foot to ensure a uniform fit. Then, zip up the cinch and tuck it into the lace pocket. It's simple! 
Q: Can you use Salomon trail running shoes on pavement?
A: Salomon trail running shoes are designed to provide more traction and stability for the trail. However, they're generally safe to use on the pavement as well. Keep in mind that running roads in trail runners is not always optimal—but don't worry, we have plenty of road running shoes for you, as well as guides on how to choose them. Learn more about the differences between road and trail running.
WHAT ARE THE ALTERNATIVES TO SALOMON TRAIL RUNNING SHOES?

Salomon offers some of the best trail running shoes on the market, including GORE-TEX shoes at a relatively low price. If for some reason Salomon isn't for you, here are some alternative trail running brands that you might like.
Hoka
Famous for the maximalist, Hoka offers trail running shoes with excellent energy return and great support for the foot. You will recognise them by the sometimes oversized soles, which appear in ultratrails all over the world. The famous Speedgoat, for example, is not to be missed.
norda

For the crème de la crème, the Ferrari of running shoes, look no further than norda. The new Canadian brand offers seamless trail running shoes (including a famous collaboration with extreme athlete Ray Zahab) that are exceptionally lightweight. Built for trail speed and record-breaking, it can't be praised enough.
Brooks
A classic in trail running shoes. We often recommended to those who find other brands uncomfortable because Brooks fit like a glove. The Cascadia and Olympus lines have a long history of success, and offer excellent support for longer trail runs.
CONCLUSION

We hope that this Salomon shoe buying guide has helped you make your choice. Keep your personal preferences in mind, as these will guide you to the best shoe for you. The Speedcross 6 GTX is our favourite for all the features it offers. Don't forget to supplement your running kit with a hydration pack, essential for long runs in hot weather.
SHARE