The real ones know it's true: snowboarding has nothing to do with skiing. Yes, there are some similarities, and maybe going down on two slabs isn't very different from going down on one, but in a much larger sense, snowboarding and skiing have as much in common as Brits and Canadians—very little. That being said, here's our selection of the best snowboard jackets for riding in style this winter.
The Best Overall Jacket
Brand Name
|
Product Type
This Burton Pillowline 2 Layer Jacket is made of a waterproof outer fabric with a 2 layer Gore-Tex membrane. What we especially like is its lightweight insulation that wicks away moisture. It's our best choice as it offers you the best combination of freedom of movement, plus warmth and protection; perfect for winter on the slopes, spring skiing, and everyday adventures.
Ladies, if you're looking for a jacket with a more feminine cut, Burton's [ak] Gore-Tex Uplift Jacket is our favourite. The GORE-TEX shell protects from the elements while being breathable. Strategically placed insulation provides functional mobility without a puffy profile. An essential for the slopes!
Price:
0.00$
The Best Jacket Under $300
It's hard to find a snowboarding jacket as good and affordable as The North Face's Balfron Jacket. Designed by the mountaineering pioneers, this lightweight jacket is made with a 2-layer DryVent water-repellent outer fabric to keep you dry during tough sessions in the snow park.
For the ladies, the Pallie insulated jacket from The North Face comes closest to the $300 mark. Fully waterproof thanks to the same outer fabric as the Balfron, this jacket is sleek and stylish. It also has a lightweight taffeta lining to keep you warm. Sometimes it's worth investing a little extra to get your hands on the coat of your dreams. In this case, not by much.
Price:
0.00$
The Best Women's Jacket
A step above their Uplift Jacket, the Burton [ak] Altitude is perfect for every snow condition. Its GORE TEX shell paired with GORE SEAM makes for an incredibly waterproof jacket that will protect you regardless of weather conditions.
Customers also rave about its perfect amount of insulation, which keeps its user warm enough at the station without hindering movement. Leave it to Burton for making such a solid piece of gear.
Price:
0.00$
The Best Men's Jacket
​​The Burton [ak] GORE-TEX Swash Jacket is a must-have for any extreme winter sports enthusiast—especially snowboarders. Between its intelligent design and weatherproof protection, this is your go-to coat for when the weather gets rough.
Inside, the PrimaLoft insulation concentrates warmth around your core, allowing your arms to an unrestricted range of motion. It's also got plenty of vents to let you breathe on climbs, lots of pockets and a StormForm Fulltime Contour Hood. The cut is also articulated to encourage freedom of movement during any high output activity.
Price:
0.00$
The Best Jacket for Kids
To keep up with mom and dad, kids need the Helly Hansen Summit Jacket. This unisex, high-performance garment is perfect for hitting the slopes this winter. Helly Tech Performance 2-layer construction enhances waterproofing and breathability, while PrimaLoft Black Eco insulation keeps precious body heat in.
In terms of safety, the Summit Jacket features neon and reflective details for optimal visibility, a Life Pocket+ to help preserve phone battery in cold environments, and an adjustable hem and powder skirt to keep kids dry. And, with so many colours to choose from, your little rider can opt for a design as unique as they are!
Price:
0.00$
The Best Insulated Jacket
For cold and wet conditions, you need a jacket that you can literally bet your life on. The Mammut Rime IN Flex Hooded Jacket answers the call. How warm is this jacket, exactly? According to Mammut, it's the warmest synthetic fibre insulting jacket in their entire collection.
The Rime IN Flex features a special, sustainably produced synthetic filling—a combination of recycled polyester fibres and Sorona fibres from renewable plant materials. This helps it stay warm even when wet and ensures you have plenty of flexibility.
Meanwhile, the Pertex Quantum Air lining makes the jacket particularly breathable, extremely light, and even compressible. You can wear the jacket as an outer layer in cold conditions or carry it in your backpack, ready to warm you up during rest stops.
Price:
0.00$
The Best Shell Jacket
The extremely durable Mountain Hardwear High Exposure GORE-TEX Jacket is a must-have for extreme sports. Made of 3-layer GORE-TEX with GORE-SEAM sealed seams, this shell is completely waterproof, and ideal for big days in the backcountry.
The generous vents increase breathability on climbs, while the myriad of pockets and a snow skirt for powder landings keep your essentials and butt dry. It also features a fuller fit for true snowboarding fanatics.
Price:
0.00$
The Best Resort Jacket
Spending a weekend at the ski resort? The 686 Hydra Insulated Jacket is a versatile companion that rolls with the punches. Whether you want to wear it as a lightweight insulated jacket or as a hardshell in a complex layering system, the Hydra fits the bill.
Recycled synthetic insulation is strategically distributed throughout the Hydra to ensure your core and extremities maintain their temps. Meanwhile, the inner collar and mouth flap are oversized to give you full neck and chin coverage against biting winds. Plus, a phone heater pocket ensures you'll have no trouble taking a sick panorama from the summit.
Price:
0.00$
The Best Backcountry Jacket
Going off-trail to explore the backcountry is a thrilling experience. The wild, open land is a visual treat and the stillness restores equanimity. But to make sure you get the most out of your backcountry experience, you need a jacket that's both safe and comfortable. Enter the Helly Hansen Odin Bc Infinity Shell Jacket.
This carefully crafted coat boasts a 3-layer construction—ideal for high intensity outdoor pursuits like ski touring and backcountry snowboarding. This puts breathability and moisture management at the forefront of the Odin Bc Infinity's strengths. Plus, RECCO reflectors will give you peace of mind, knowing that SAR teams can quickly locate you in the event of an emergency.
Price:
0.00$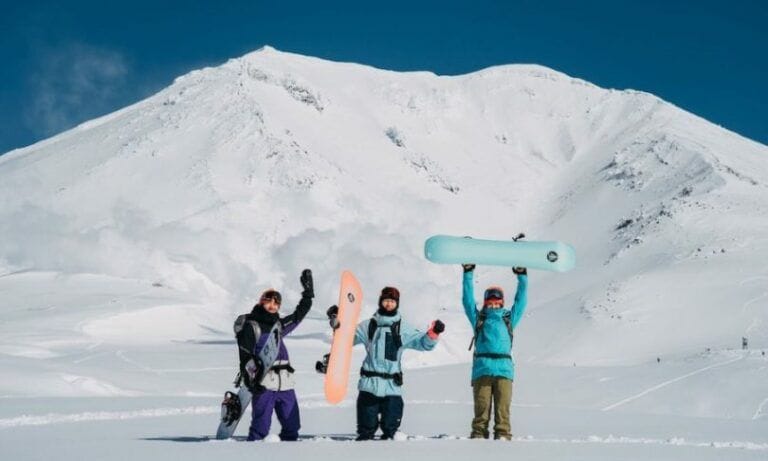 HOW TO CHOOSE A SNOWBOARDING JACKET
Firstly, you have to figure out what kind of snowboarding you're going to be doing. Are you going to be riding at the snow park or in the backcountry? If you plan on climbing with a splitboard, a lightweight, breathable jacket designed to be worn in layers is your best bet. If you're going to board at the resort or the snow park, you'll want an insulated jacket that can keep you warm on the chair lift.
1. Types of Jackets
Whatever your requirements, snowboard jackets usually have a relaxed fit to give you plenty of room to move when showing off your airborne style.
Insulated Jackets & Shells
The choice of an insulated jacket or a shell (with an insulating layer) depends on the type of sport you wish to practice. If you intend to ride only in the resort, an insulated jacket will do the trick to keep you warm. Plus, you'll feel less cluttered by wearing only one layer.
For backcountry ascents on a splitboard, you'll want a multi-layer suit that allows you to adapt to all conditions. This is where the shell is an interesting choice. But you'll also need an intermediate layer to keep you warm on the way down. 
2. Types of Insulation
Because we traditionally tend to move more when snowboarding than when skiing (think of the snow park) – and therefore sweat more – down is more rarely used in snowboarding jackets because it loses its insulating properties when wet. However, not all snowboarders are park riders, and down can be a good option for staying warm on the slopes and in the backcountry.
Synthetic insulation is becoming more and more effective and widespread. In addition to being warm and breathable, they wick away moisture easily and generally retain their insulating properties even when wet. Therefore, they are good choices for riders who like to challenge themselves.
3. GORE-TEX, DWR and other technologies
GORE-TEX is the most well-known membrane when it comes to waterproofing, but these days most brands have their own technologies that are just as efficient. When it comes to water resistance, keep in mind that you will be riding most of the time in the snow and not in the rain. So your coat doesn't need to be highly waterproof and a durable water repellent coating (DWR) will keep you dry. Look for features like sealed seams to keep small items like your phone well protected from moisture.
4. Other Features
Whether you're skiing or snowboarding, most jackets are designed with a helmet-compatible hood for better weather protection. 
Jackets designed to be worn at the resort often have a pocket on the sleeve, which is handy to store your lift ticket away from other items in your pockets. Alternatively, many brands make jackets with specially insulated pockets to prevent your phone battery from running down due to the cold.
No matter how many pockets you have, make sure they are all zippered – you'll avoid a lot of unpleasant surprises.
The snow skirt is an insignificant and yet essential characteristic. This simple extensible belt inside the coat prevents the snow from penetrating inside during a good fall or when the powder is deep. Some brands have developed compatibility systems that allow the jacket to be attached to the pants with snaps on the snow skirt for more protection.
THE BEST SNOWBOARDING BRANDS
Snowboarding is ultra-popular, and ski brands know it. Helly Hansen, The North Face, Marmot, Norrøna – to name a few – make high-quality GORE-TEX technical shells that are made for alpine sports performance. That being said, if you're going to pick a jacket, why not choose one specifically designed for snowboarding?
Burton and Volcom are the biggest names in snowboarding, but a number of brands have started to make a name for themselves in that area. Brands like Holden, O'Neill, Armada, and Rip Curl are made to ride fresh powder and snow parks. You'll find many of these brands in our selection of the best snowboarding jackets.
Happy Riding!
SHARE