Bikepacking lets you enjoy what you love about cycling, while taking everything you need with you for a short-day trip or multi-week bikepacking adventure. It's surprising how much gear can comfortably fit on your road, touring or mountain bike – and how easy it is to get started. But with only the frame of your bike to hold your gear, it's a good idea to avoid bulky and overly heavy items. 
Experienced bikepackers will tell you to keep your gear to what you'll truly need and avoid nice-to-have items. It's important to remind yourself that everything 'extra' you pack on your bike will use energy you can put to better use – like cycling further than planned or simply having the energy to enjoy your ride. Bikepacking storage gear allows you to make the most efficient use of the space on your bike, while not impeding your ability to cycle.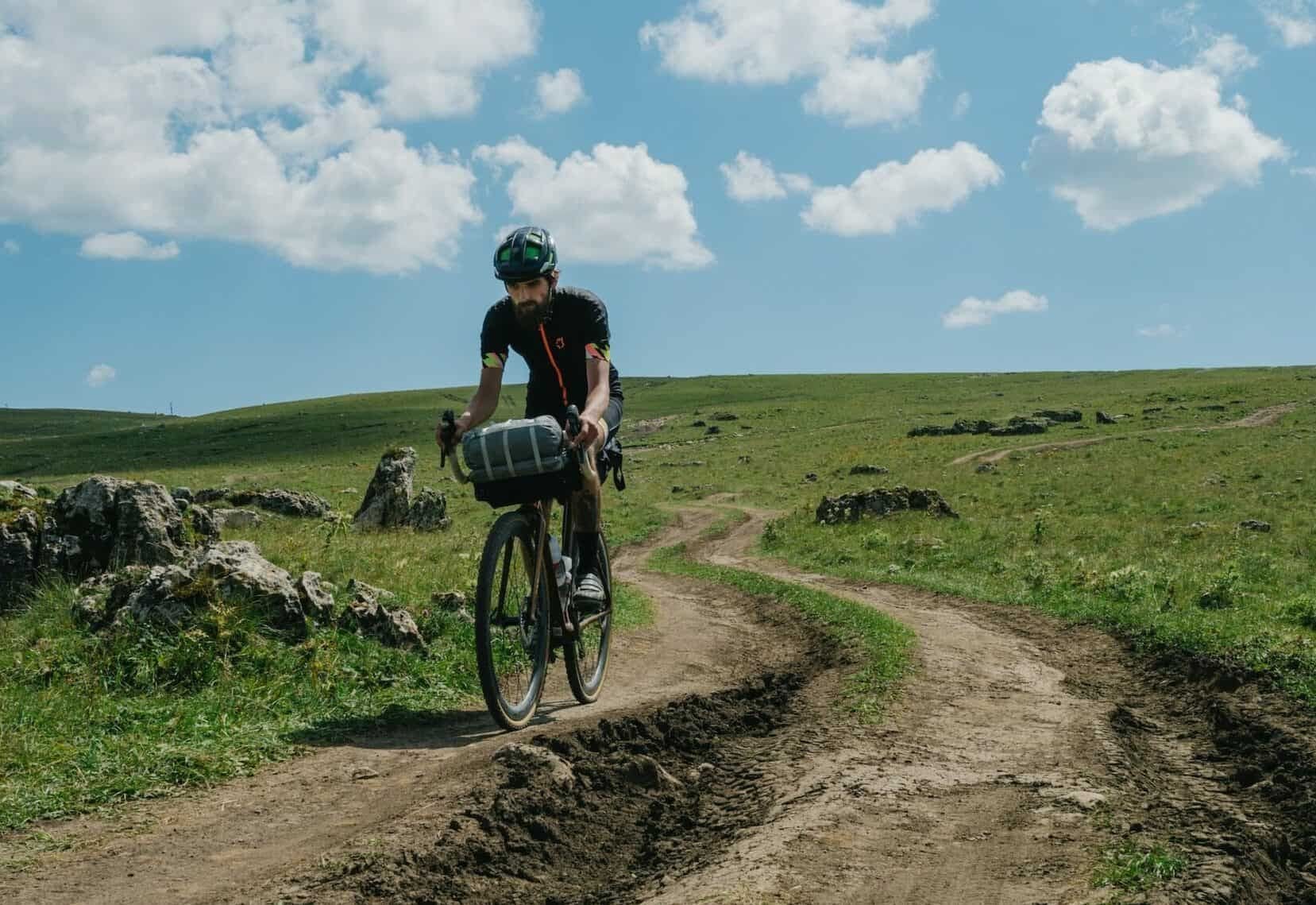 What is Bikepacking?
The term bikepacking is widely used today due to the increasing popularity of the many forms of the activity. It may seem obvious what bikepacking is by breaking the term into its two components, bike and packing. However, much like the more familiar backpacking term, there are varying definitions of bikepacking depending on the context of the biking activity it is used to describe. One end of the bikepacking spectrum is packing two water bottles for a short afternoon ride. On the other end of the spectrum, bikepacking consists of packing everything you need for a multi-week adventure. 
With bikepacking becoming more popular and the use of the term more mainstream, your definition of it will be in line with the form of bikepacking you partake in. The clearest definition of bikepacking that encompasses all forms of the activity is: packing the gear that'll make you self-sufficient during your bikepacking trips, while not impeding your ability to comfortably cycle.
Backpacking Bikes
Determining what bike to use for your bikepacking adventures will ultimately come down to the type of bikepacking trip. You need to determine your cycling terrain. Will the riding surface be pavement, dirt roads, gravel roads, a grass trail, or a combination of surfaces? If your planned bikepacking adventure is over pavement, a road bike or touring bike would both be excellent choices. 
When riding on pavement, road bikes and touring bikes allow you to comfortably maintain higher speeds, which helps you to cover more distance in a shorter amount of time. The design of these two bike types is aerodynamic and efficiently transfers your energy into propelling your bike. If your bikepacking trip is over multiple days or if you plan to go bike camping, a touring bike will have the added benefit of a sturdier design, thicker tires to support the additional weight, and more space on the bike frame to bikepack your gear. However, if your planned route includes stretches of gravel, dirt roads, or grass trails, you should consider using a mountain bike for your bikepacking adventure.
Mountain bikes come in many designs and have varying features. You can traverse difficult terrain such as singletrack trails thanks to key bike features like wider tires made with thick rubber, a sturdy design, and a suspension that helps absorb the impact of rough terrain. The obvious drawback to using mountain bikes for bikepacking is that they are less efficient than road or touring bikes when riding on smooth surfaces.
BIKEPACKING SETUP
Remember to pack light! One of the main benefits of packing light is that you'll spend less energy on your bikepacking adventure. While a few extra pieces of gear may seem insignificant, consider the added effort you'll need to use for the entire duration of your trip if you take them. It isn't just an extra pound of weight – it's a pound of weight over hundreds or even thousands of kilometres of difficult terrain. More weight on your bike will put more pressure on your tires, gears, breaks and bike frame which will increase the likelihood of flat tires and other bike maintenance issues during your bikepacking adventure.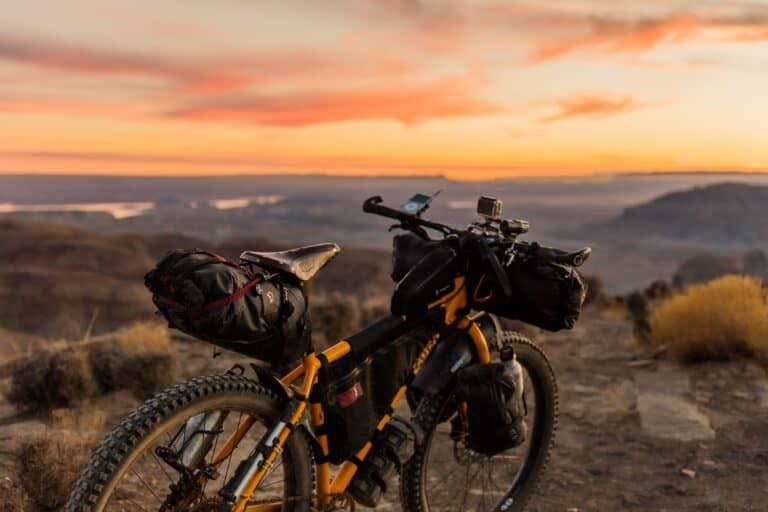 Bikepacking Storage Gear
With limited space on your bike to store your essential gear, there are key storage options available to you. First, you have smaller bikepacking storage options that are perfect for shorter bicycle touring trips. For these trips, smaller condensed storage, such as small bags that attach to the frame, seat or handlebar, makes for a light journey. These smaller storage gear options will be more than enough to store the essentials for a day trip: extra tire tubes, a small tire pump, basic cycling repair tools, snacks, wallet, rain jacket, etc. As the length of your bicycle touring trip increases though, you'll need to pack more gear and look at using additional and larger storage gear to maximize the use of space on your bike frame. 
A handlebar bag is the perfect storage location for valuable items such as your cell phone, wallet, camera and anything else of value.
A bikepacking saddle bag, on the other hand, is a great place for those items you hopefully won't need to use frequently, like a tire repair kit, extra tire tubes, tire levers, and first-aid items. 
A frame bag will be the second-largest storage option for bikepackers and will store your larger supplies such as additional water, food, a small tent, warm clothing, and tarps. The largest storage option for your gear is panniers, which are located over your rear tire in either a single or double bag. If you plan on bike camping, your panniers are a great place to store larger and heavier items like a larger tent, sleeping bag, and cooking gear.
PRO TIP! Store items you will frequently use in your handlebar bag!
What to Bring Bikepacking
When deciding what gear to bring with you on your bikepacking trip, you need to have your bikepacking trip planned out. Most importantly, you need to know the start and end point for each day, if you will have access to water and food outside of your own supplies, and if you will be camping at night. With your bike camping adventure planned out, you can decide what to carry with you.
If you're bike camping, you're going to need to carry your tent, a warm sleeping bag and a sleeping mat. It's critical to carb-load each day of your bikepacking trip and you need to have the right gear to make that happen. Bring a packable stove and cookware to make yourself a high-carb meal of pasta, rice, or porridge.
Bikepacking Camping Essentials
PRO TIP! bring a storage container for your remaining food so you can eat your leftovers the following day during your ride.
Keeping hydrated while bicycle touring is also critical for a safe and enjoyable bike tour. It is common to use two standard-size water bottles attached to holders on the frame of your bike. For extended periods of bikepacking, you may need to use this space for other gear, and a camel-pack is an excellent and preferred alternative to carry and drink water. If you don't have access to potable water, carrying a water filtering system will ensure you have access to clean water when you need it.
Lastly, to ensure you're safe during your bikepacking tour, you need to wear a helmet that is well fitted, with the straps always connected. You also need to carry a basic first-aid kit that will include essentials such as band-aids, painkillers, sanitizer, gauze and scissors. 
Bikepacking Maintenance & Safety
WHAT TO WEAR BIKEPACKING
Spend a day on your bike saddle and you'll quickly get an idea of the most important piece of clothing to wear on a bikepacking tour: the answer is well-padded bike shorts or pants. If the day is also hot and sunny, you'll learn sunscreen is also critically essential. A severe sunburn can ruin or prevent you from continuing your bikepacking adventure.
Sunglasses designed for cycling offer the most comfort while riding, but most sunglasses will keep the sun out of your eyes so that you can keep your eyes on the path ahead. A cycling shirt made of jersey is a breathable option that protects you from the elements. 
Comfortable cycling shoes will make your bikepacking trip more enjoyable and more efficient, depending on your choice of cycling shoes and whether you prefer clipless pedals.
Best Selling Cycling Sunglasses
General Tips
Know your route
To ensure a safe and enjoyable bikepacking adventure, you need to know your touring route so you can plan your gear accordingly. The best way to do this is to think of your ultimate destination and work backwards to determine your daily start and stop locations. Pro-tip: use Google maps to plan your route! From there, you can determine local overnight stops, reserve camping locations, and determine what supplies you will need to bring with you.
Stay Safe
The best way to keep enjoying the popular pastime of bikepacking is to be safety conscious. Wearing a helmet and having lights and reflectors on your bike are absolutely essential safety precautions, but there are other subtle safety measures to take, too.
Give your bikepacking routes to friends and family so they know where you will be and when to expect you. Keep a full charge on your cell phone and bring an extra battery pack with you. Take your time to get the feel of your bike once it is loaded with your gear. Your bike will respond differently when fully loaded. If your bikepacking route includes areas with dangerous wildlife, carry items such as bear spray, in a place where you can quickly reach and deploy it. Lastly, be conscious of vehicle traffic on your bikepacking routes and keep to the shoulder of the road.  
Faq
Q: Can any bike be used for bikepacking?
A: Yes, any bike can be used for bikepacking. However, certain bikes are better suited for different terrain and durations than others.
Q: Can you bikepack on a trail bike?
A: Absolutely, any bike can be used for bikepacking.
Q: What's the difference between bikepacking and bike touring?
A: The difference between bikepacking and bike touring is rather nuanced and continues to be debated and defined online by cycling enthusiasts. Bike touring is long distance cycling that can be done with others such as an adventure company, or can be an unaccompanied adventure. Bike touring is geared more towards long-distance cycling on roads or well-used trails while carrying all the gear you will need. Bikepacking is a newer term used to describe cycling and camping on less-travelled trails and locations. Moreover, bikepacking places greater emphasis on minimalism and only carrying what you will need on your journey.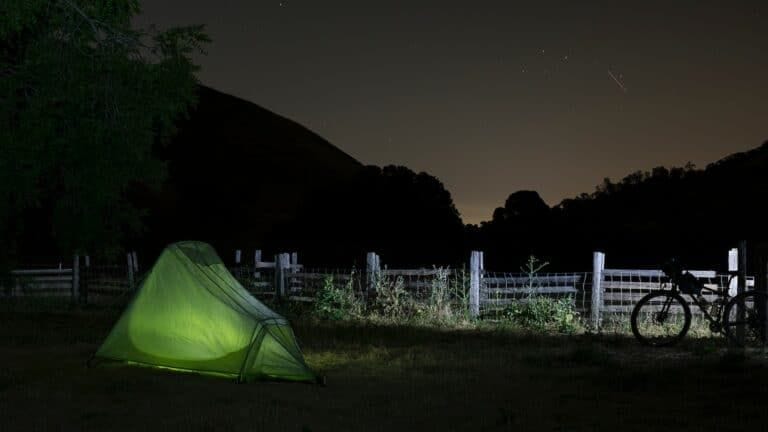 Conclusion
Bikepacking is a newer and increasingly popular activity for avid cyclists and beginners. We hope this guide helped to outline the essential things to consider when embarking on a bikepacking adventure. If you're ready to move on to the next bikepacking level, there is no better teacher than personal experience and time on your bike!
SHARE