When you're on the trail, eating becomes less about enjoying a symphony of nuanced flavours and all about getting enough calories to stay alive. Luckily, with your wilderness appetite at full throttle, even the blandest backcountry dish can take on the status of haute cuisine. Seriously—something as unappetizing as a bag of powdered mashed potatoes can be your motivation to push through the day's last gruelling miles. 
But all this begs the question—what does it actually take to eat well in the woods?
For the moment, we ask that you forget about trail staples like ramen, oatmeal, and dehydrated "meals" and instead consider these tasty, lightweight, and nutrient-packed alternatives. Whether you're relying on an old-timey campfire or an ultralight stove, the following meal ideas are simple yet delicious ways to expand your camp-food-consciousness.
It Starts With the Right Gear…
Even if you like to kick it old-school with a stack of wood and a fire-pit, you'll still need some preliminary equipment. This can include things like pots, pans, cups, bowls, and utensils. So before jumping into our camping recipes, let's take a tour of some options.
Read our Best Camping Stoves in 2022 for more options
Time to get rid of those old tin hand-me-down dishes your parents gave you - camping dishes have come a long way since their days. Case in point: the Delta Light Camp Set provides a lightweight, convenient option. The kit includes two insulated mugs, two bowls, and two folding sporks. All of it weighs a mere 13.2 oz and comes nested inside of a mesh bag.
Price:
0.00$
Designed with the devout ultralighter in mind, the Jetboil Stash Stove System is arguably lighter and more packable than your shabby DIY alcohol stove. The Stash includes a cook pot (with collapsible handle and removable drink lid), fuel stabilizer, and titanium burner. Everything - including a 100g fuel canister - can be nested within the 0.8L FluxRing pot. For all that, this system weighs an impressively light 7.1 oz. 
Price:
0.00$
Pack small without sacrificing your grill top. The Sprk Camp Grill has a compact, all-in-one design that makes it ready to go wherever you go. With precise temperature controls, an easy-to-clean ceramic grate, and an integrated fuel compartment that fits an 8 oz butane canister, it's never been easier to get that perfect grill sear right at the campsite.
Price:
0.00$
The Coleman RoadTrip 285 Xcursion Grill is ideal for car camping and glamping. It features two burners with a combined energy range of 2,000 - 11,000 BTU. The stove itself is sleek and low-profile, making it easy to pack in the trunk, while the cook surface is a porcelain-coated cast iron grate, making it a cinch to clean.
Price:
0.00$
…And the Right Ingredients
Now that you've got your camping cookware in order, it's time for a little grocery shopping. This camping food list encompasses all the basic elements you'll need for many of the recipes here. Feel free to put your own spin on them by playing with a variety of spices, herbs, and meats.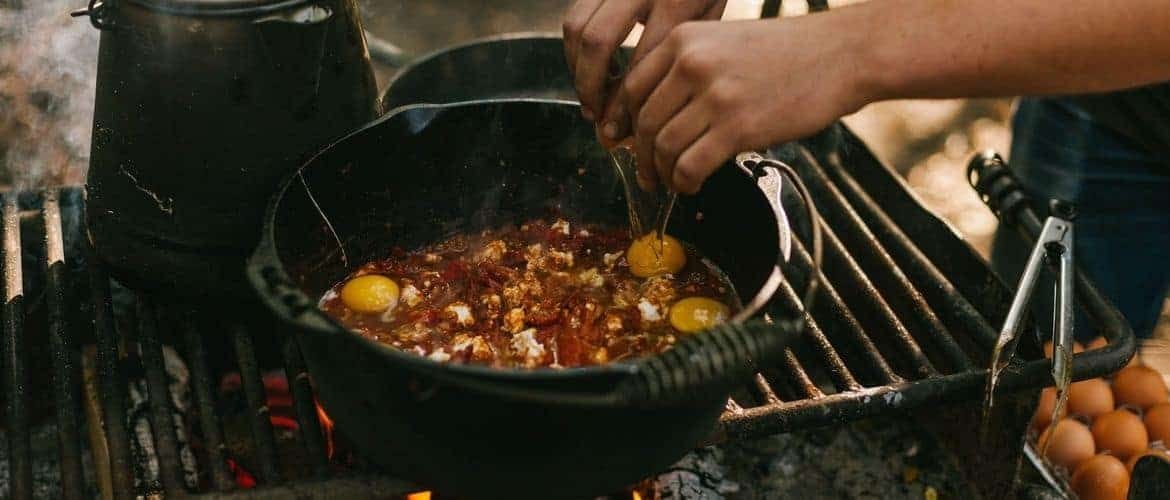 TOP 5 camping meals IDEAS: BREAKFAST

1. Peanut Butter & Nutella Tortilla
For an easy camping meal that's both quick and delicious, look no further than the timeless peanut butter and nutella tortilla. Simply unroll a tortilla and lather with a generous helping of both peanut butter and nutella. If you're really hungry, sprinkle on some trail mix before rolling it up.
Ingredients
Tortilla Shells

Peanut Butter

Nutella

Trail mix (optional)
2. The Lumberjack

The quintessential and irresistible American breakfast. Start by slowly baking some beans in either a pot or pan. Once they're ready, place some strips of bacon in a frying pan and let simmer on low. 
When done, remove the bacon and crack some eggs, allowing them to cook in the bacon grease. If you're feeling especially culinary, add some diced onions and garlic to your eggs as they cook. Herbs and spices are optional but highly recommended.
Ingredients
Bacon

Eggs

Beans

Diced onion (optional)

Diced garlic (optional)

Herbs & Spices (optional)

 
3. Shakshuka

There's a reason shakshuka has been around since the Ottoman Empire—it's delicious, hearty, and simple enough to qualify as an easy camping meal. Though we've listed it as a breakfast, it also doubles as a superb dinner.
Start by heating some olive oil in a pot or pan over low-medium heat. Add onions, bell peppers, and/or hot peppers. Let cook for a few minutes before adding garlic powder or minced garlic, as well as cumin and paprika. 
Next, add diced tomatoes to the mix and simmer for roughly 10 minutes or until it thickens. Break some eggs directly into the pan and let cook for several minutes. Once it's ready, serve with fresh parsley and cheese (feta, cheddar, and halloumi are all excellent).
Ingredients
Olive oil

Bell peppers and/or hot peppers

Diced onion

Minced garlic

Sprinkle of cumin

Two sprinkles of paprika

Diced tomatoes

Eggs

Cheese (feta, cheddar or halloumi)

Parsley
4. Banana bread

While this isn't a complicated recipe, it requires some prep work and is therefore best suited to weekend campers rather than long-distance hikers. 
Before hitting the trail, mix some flour, brown sugar, cinnamon, salt, and baking soda in a tupperware jar. Note that the reason this recipe calls for baking soda instead of yeast is because it's a faster and less error-prone leavening agent.
At camp, whisk your dry ingredients together with some eggs and crushed bananas, preferably on the older side. You can optionally add peanut butter for some extra protein or maple syrup for a sweeter taste.
Now, simply use the Dutch Oven method to bake it!
Ingredients
Flour

Brown sugar

Cinnamon

Salt

Baking soda

Eggs

Bananas

Peanut butter (optional)

Maple syrup (optional)
5. Pancakes

Before heading out, fill a sports bottle with pancake mix. Bisquick is a classic option, but healthier, high-protein mixes like Kodiak Cakes are also awesome—especially if you're looking for some muscle recovery. 
Once you've made camp and you're ready to fry up some pancakes, add the appropriate amount of milk and shake vigorously. If you've got a long hike into the bush or you're not trekking with a cooler, you can bring some powdered milk instead. Otherwise—if you really want to cook 'em with that hiker trash flair—just add water directly to your mix.
Now, heat a splash of olive or canola oil in your pan and add as many mounds of fresh batter as you desire. Remember when we suggested a sports bottle? Take advantage of the sports cap to make perfectly round and measured pancakes. You can optionally add maple syrup, cheese, or chocolate chips on top. And, hey, if you find a blueberry or raspberry patch along the way—add those, too!
Ingredients
Pancake mix
Milk (or powdered milk or water)
Oil
Maple syrup (optional)
Cheese (optional)
Chocolate chips (optional)
Fruit (optional)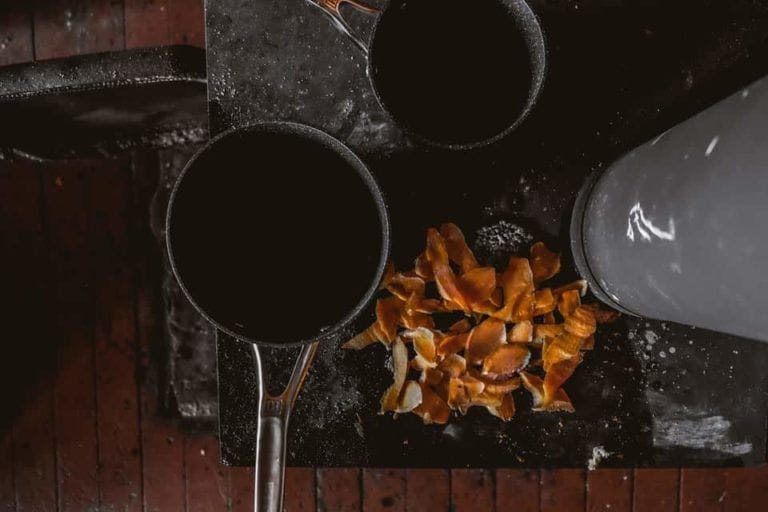 TOP 5 CAMPING MEALS IDEAS: LUNCH
1.

Quesadillas


The tortillas strike again for this yummy and unpretentious recipe. Simply fill a flour or corn tortilla shell with a medley of available ingredients. 

If you're carrying dried sausage, sprinkle some in. Vegans and vegetarians can opt for a tofu-twist instead. Toss in any available vegetables, herbs, and spices. Of course, it isn't a real quesadilla until you add salsa and cheese. 

Once your tortilla is overflowing, roll it up tight, seal it in tin foil with a dash of oil, and pan fry it for several minutes until the exterior is slightly crispy and the cheese is mouthwateringly melty.
Ingredients
Tortilla shells
Cheese
Salsa
Sausage or tofu
Vegetable medley
Oil
2. Bagel & Lox
When it comes to camp food, bagel and lox is one of the simplest yet most cosmopolitan recipes available. Because you have to pack in salmon for this one, it's best suited for the cooler-carrying-camper.
On a fresh bagel, start by spreading some cream cheese. Add strips of either smoked salmon, gravlax or lox (yes, they're actually all different). Garnish with tomato wedges, sliced onion, and capers. Top it off with a dash of dill and spritz of lemon.
Ingredients
Bagels
Cream cheese
Smoked salmon, lox or gravlax
Tomato wedges
Sliced onions
Capers
Squeeze of lemon
Dill (optional)
3. Veggie Pitas

Veggie pitas are kind of like cold quesadillas. But what they lack in taste appeal, they make up for in sheer convenience—especially for the long-distance hiker hellbent on crushing miles.

Simply lather up a pita with your favourite spread (pesto, hummus, and baba ganoush, just to name a few) and add any available veggies. Drizzle on some nuts, top it off with a few slices of tofu, and voilà—a quick and energizing lunch.  

Ingredients
Pita bread
Vegetable medley
Nuts
Tofu
Dressing of your choice
4. Tuna sandwich
Hiker trash through-and-through, it's the ever delicious and dependable tuna sandwich. Your choice of bread (tortilla, pita, baguette, etc.), your choice of flavoured tuna (lemon-pepper, jalapeno, Thai-style, etc.) and that's basically it. 
For some extra calories, drizzle some olive oil over the toppings. For added flavour, add a sprinkle of either fresh or dried herbs, salt, and pepper.
Ingredients
Choice of bread
Flavoured tuna
Olive oil (optional)
Seasoning (optional)
5. Charcuterie Platter
Last but far from least, we've got the delectable charcuterie platter. This very European dish requires no cooking and very little prep. Just have an array of delicious sausage, cheeses, and bread on hand.

Any makeshift cutting board will do, as well as a trusty Opinel No. 7  Stainless Steel Knife or an ultralight Victorinox Classic SD Pocket Knife. Best paired with a sweeping view of the mountains and a glass of Cabernet Franc.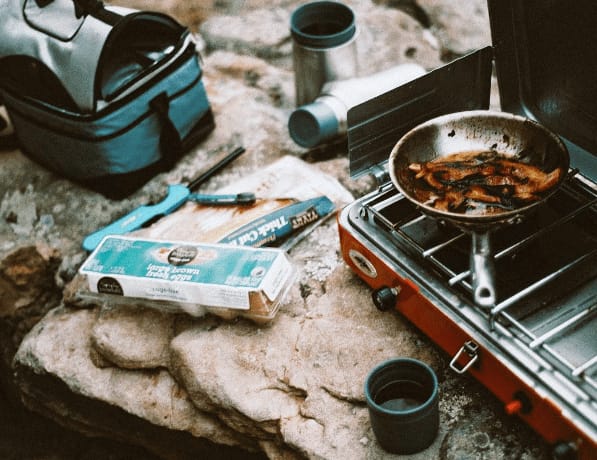 Top 5 camping meals IDEAS: DINNER
1. Quinoa Chili & Sweet Potato Chips
Chili is the quintessential comfort food on the trail. It's thick, warm, and hearty—a stellar combo after a long day in the woods. Here's a simple take on this versatile dish.
Start by cooking up a handful of quinoa in a pot. Then, using a pan lightly bathed in olive oil, heat up some chopped onion. Once the onions are tender, throw in some diced garlic. Now, add the remainder of your ingredients: quinoa, tomato sauce and/or diced tomatoes, chili powder, cayenne pepper, cumin, paprika, cacao, salt, and pepper.
Once everything has cooked, add in the beans and corn and let simmer. Top it off with some fresh coriander. For the side, you'll need a sweet potato (just one goes a long way). Cut it into fine slices then fry it up in some salt and olive oil until brown and crispy. You can eat them like that or, if you're feeling especially indulgent, break them into the chili—perfect.

Ingredients
Quinoa
Olive oil
Chopped onion
Diced garlic
Tomato sauce and/or diced tomatoes
Chili powder, cayenne pepper, cumin, paprika, cacao
Salt and pepper
Beans
Corn
Coriander
Sweet potato
2. Pine Needle-Smoked Mussels

A savory dish perfect for the first night of camping. Pack in some fresh mussels in a thermos on ice. At camp, take a small hike and collect a handful of long pine needle branches. Make sure the pine needles are dry, as this is essential to properly smoke them.

Arrange the pine needles in a large pan (preferably perforated). Once you've constructed a thick nest, lay the mussels on top, ensuring that each mussel has some exposed surface area on the bed of needles. Grill over top of an open flame. Ideally, you should build a makeshift housing to properly smoke the mussels, though it's not critical.

Every so often, sear directly in the open flame for a few seconds; this ensures the mussels are fully cooked through. When they're ready, squeeze a generous amount of lemon and lime over the mussels and serve with a can of cold IPA. 

Ingredients
Fresh mussels
Pine needles
Lemon and lime
Salt and pepper
3. Pesto Rigatoni

Zesty and refreshing, pesto rigatoni requires minimal cookware, making it a great dinner recipe for campers and hikers alike. Because you're going to cook all your ingredients in a single pot, it's important to know what order to cook them in.

If you're veg or vegan, skip to the next paragraph. Omnivores—break out the bacon. For this, a pan or skillet is ideal. Fry it up. Once it's ready, remove the bacon and put it aside. Add the veggies directly into the pan or skillet, lathering them in heavenly bacon grease.

If you skipped the previous paragraph, start by adding a dollop of olive oil into your pan or skillet. When it begins to heat, add some chopped zucchini. As the zucchini browns, it's time to toss in some diced tomatoes. Once the tomatoes have blistered, toss the pasta noodles directly into the pan and add the appropriate amount of water.

When the pasta has cooked, pour on the pesto sauce. You may notice a little pool of water in the bottom of the pan. That's good—it contains pasta starch that'll help the pesto better adhere to the noodles.

Now that everything is all cooked, crush the bacon into the pan, add a generous helping of pine nuts, and grate some parmesan cheese. Deliziosa!
Ingredients
Bacon (optional)
Olive oil
Zucchini
Tomato
Pasta noodles
Pre-made or homemade pesto
sauce
Pine nuts
Parmesan
4. Ramen Bomb

A hiker trash staple that's as delicious in the frontcountry as it is in the backcountry. Ramen bombs are fast, fatty, and full of calories—exactly what the doctor ordered after a strenuous day in the bush.

Begin by bringing water to a boil. Add in your preferred ramen and a sack of powdered mashed potatoes. Once it's cooked, simply serve it like that or get creative. Spam is a surprisingly tasty addition. You can also experiment with various herbs and spices. Or, if you're really daring, toss in a handful of M&M's. That's right—I said it.
Ingredients
Ramen
Powdered mashed potatoes
Spam (optional)
Herbs and spices (optional)
M&M's (strangely mandatory)
5. Mediterranean Herb Quinoa Salad

If you like to eat clean, camp meals don't get much healthier than Mediterranean herb quinoa salad. Start by cooking up a batch of quinoa in your pot. Then, toast some pumpkin seeds on medium heat until they're lightly browned. Add fresh veggies and feta cheese (or whatever cheese you've got on-trail; halloumi is also good). Pour in a lemon vinaigrette dressing. Now, simply toss thoroughly for an evenly marinated salad and enjoy!
Pro tip: Salads are great and all, but certain hikers might be saying this recipe isn't calorie-dense enough. Well, to fortify your meal, serve it up in a pita or tortilla lathered in hummus. For a really complete meal, consider adding tuna or tofu to your enviable wrap.

Ingredients
Quinoa
Pumpkin seeds
Veggies (whatever's available)
Feta cheese (or other cheese)
Lemon vinaigrette dressing (premade or homemade)
Tortilla shells or pita (optional)
Tune or tofu (optional)
Homemade Lemon Vinaigrette 
Mix vinegar, olive oil, freshly squeezed lemon, dijon or regular mustard, salt, and pepper. Feel free to add any other flavours.
KEEP IT SIMPLE WITH DEHYDRATED FOOD
Don't want to be a cook on your adventure and improvise recipes for everyone? No problem: just opt for dehydrated food. It's simple, easy to cook, and provides all the nutrients you need for a good day in the woods, including plenty of protein. Cooking instructions vary, but usually it's pretty simple: you put the contents of the bag in a pan, add water, and you're done. Some even allow you to prepare it the express way: just boil some water, add it directly to the bag, and shake vigorously.
Warning: if you walk for hours or if you do a good physical activity, remember to bring a little more food. One packet of dehydrated food normally contains two servings, but you will need more calories than usual after a long hike, for example.
As for taste and flavor, it's probably not a home-cooked dish, but camping food has evolved tremendously in recent years, and you'll be pleasantly surprised by the flavors and varieties. Pad thai, spicy chicken curry, potato and herb soup, desserts… There is something for everyone.
Very tasty meal! Easy to pack, simple prep, ++delicious, and satisfied the hunger beyond expectation! Excellent food to take hiking/camping!! Highly recommend!
We decided to try Alpinaire Grilled Chicken Jambalaya for a change. It is a bigger package then other dehydrated meals and it lists the amount of calories it contains. It is a good meal in the mountains.
This soup was my shore lunch while on a paddle board fishing expedition on Abitibi Lake. It was a cool morning but this soup warmed me right up and got me back on the water. I had the whole content for myself, along with some chips, and it carried me over to dinner. I'll be ordering more!
Whether you're glamping with the family or solo thru-hiking the PCT, a good meal is both physically and spiritually restorative. While these 15 camping menu ideas are some of our personal favourites, there's nothing to stop you from experimenting with your own unique roster of flavours. Because when it comes to backcountry cooking, there's really only one rule—be creative!
For more wilderness inspo, discover the best hiking backpacks in 2021. With all the ingredients you'll be carrying, you'll definitely need the extra space.
SHARE