Understanding the types of backpacking water filters is paramount when choosing to buy an outdoor water filter bottle. There are gravity, bottle, squeeze, straw and pump filters, and ultraviolet purifiers like the Katadyn Steripen Ultralight UV Water Purifier. 
The variety of water filters out there makes it a hard choice, but we have made it easier by choosing one that fits your needs and wants for each category. Let's say you're thinking of a pump or squeeze filter. You can kill two birds with one stone by sourcing filtered water and develop bigger biceps. Or if you don't feel like a workout, a gravity filter is less strenuous. An easy to carry option is the LifeStraw Water Filter that you can keep in your pocket or tie it around your neck with a lanyard. A lot of hikers use it as an emergency option when they run out of bottled water.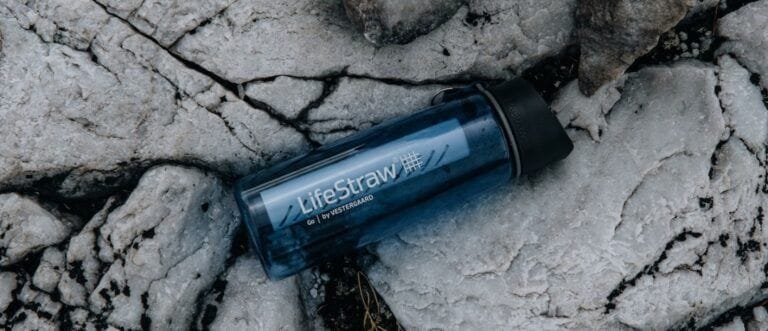 Things to consider before buying a Camping Water Filter
1. Filters vs. purifiers
When backpacking or on an outdoor expedition, sourcing safe drinking water can be problematic. It may look like clean water, but hours later you could be dry retching or having the runs. It won't be pretty, especially if you're halfway through a long hike. 
A water filter basically removes waterborne bacteria or organisms, but not viruses. A water purifier removes viruses, bacteria and organisms, offering a higher level of water security.


2.
Effort and ease of use
A pump water filter takes a bit of time to set up and you need to have relatively strong arms to use the pump filter. Whereas with a gravity water filter, you connect the hoses and simply hang it from a tree branch or large rock. Within a couple of minutes, you'll have filtered water due to the laws of gravity. 
3. Speed
When you run out of water, the time it takes to process filtered or purified water can sometimes end up being longer than you thought. Especially if you decide to boil water, you'll need to unpack the BioLite CampStove Kettlepot, boil the water in the pot and then wait for the water to cool down if you aren't having a cup of tea or coffee. But on the flip side, the Steripen Ultralight UV Water Purifier only takes 90 seconds to kill 99.9% of bacteria, protozoa and viruses in a litre (1.1 quarts) of water.
Impatient hikers will often opt for a squeeze filter because it quickly filters a small amount of water, but patient campers that want large volumes will opt for a gravity filter.
4. Capacity
The volume of water that can be filtered at the same time varies from one litre (1.1 quarts) per minute, such as with the MSR MiniWorks EX Microfilter, to three litres (3.2 quarts) per minute, like with the Platypus QuickDraw Microfilter System.
So are you planning on providing all your friends with water or just yourself? Your answer should influence your water filter choice.
5. Maintenance
For quick and easy maintenance, you might want to consider a filter that has a replaceable cartridge that you throw away each time you use the filter. Looking for a less wasteful option? The Steripen Ultralight UV Water Purifier has a permanently installed battery that can be charged using a USB cable. Or the MiniWorks EX Microfilter can be cleaned repeatedly for full filter recovery with no tools required. Gravity filters are also a great low maintenance option, with a required backflush after a certain volume of filtered water (depends on your model).
Pro Tip !
Cold outside? Sleep with your water filter while camping.
When you're camping in cold temperatures, the filters may freeze, so you'll need to sleep with it in your sleeping bag (to keep it from freezing and damaging the filter) or opt for plan B. During winter, you can melt snow to make drinking water - but boil it first. A good option is to use a Katadyn Steripen Ultralight UV Water Purifier, kept on a lanyard around your neck or in your jacket to keep the battery from freezing. The more expensive option is to use a mechanical purifier like the MSR Guardian Purifier Pump.    
6. Lifetime
The lifetime use of outdoor filters varies from about 1,000 to 8,000 uses. When looking for a water filter, obviously the higher number of uses the better. The LifeStraw Water Filter filters up to 1,000 litres (264 gallons) of water, which works out to be about 1,333 uses if each drink bottle is 750ml (0.792 quart) whereas the Steripen Ultralight UV Water Purifier lifespan is 8,000 uses.
Considering the water filter cost per lifetime, filtered water could be an important factor if you're looking for the best value option.
7. Weight and Bulkiness
When hiking or backpacking-camping, the lighter the better, so the LifeStraw Water Filter is ideal as it only weighs 57g (2 ounces) or the Steripen Ultralight UV Water Purifier, which only weighs 76.5 grams (2.7 ounces). The MSR MiniWorks EX Microfilter is bulky to carry due to all of the different pump parts, but if you're car camping with no services it might be worth the extra weight considering it filters a larger volume of water at once.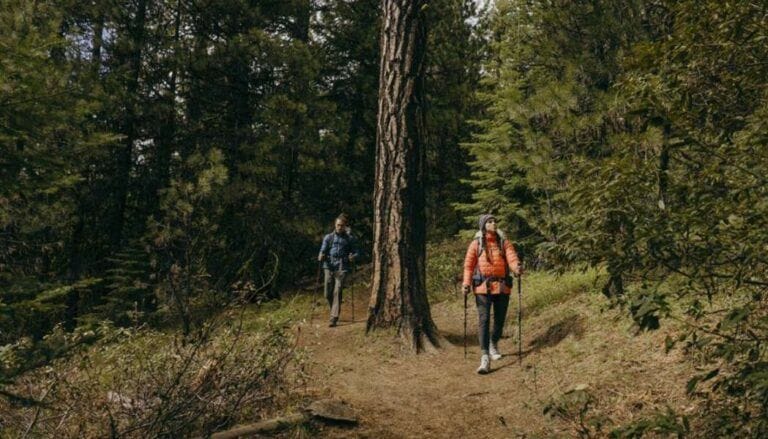 TYPES OF BACKPACKING WATER FILTERS
Pro-tip!
Always keep a chemical water treatment tab on you.
Consider always carrying a chemical water treatment in your hiking backpack or on the trails while mountain biking. It can be a lifesaver if your primary water filter happens to break or if your get lost and run out of water supplies.
WATER FILTER FAQ
Q: Do I need a pre-filter to filter water while backpacking?
A: If you have to treat water from a murky source, a pre-filter is a valuable accessory to have. Pre-filters are required when using a water purifier as it filters out all physical impurities like dust, mud, sand, rust and silt from raw water.
Q: Can I filter any source of water with a camping water filter?
A: If the water looks dirty or contaminated, stay away from it. Even crystal clear water may have viruses in it. Remember, a camping water filter physically strains out protozoan cysts and bacteria.
Q: Can I use my camping water filter while travelling too?
A: Yes of course, especially if you're travelling to certain countries where sanitation or water treatment is so-so. It's always good to have a backup, especially during long periods of travel or overnight hiking trips.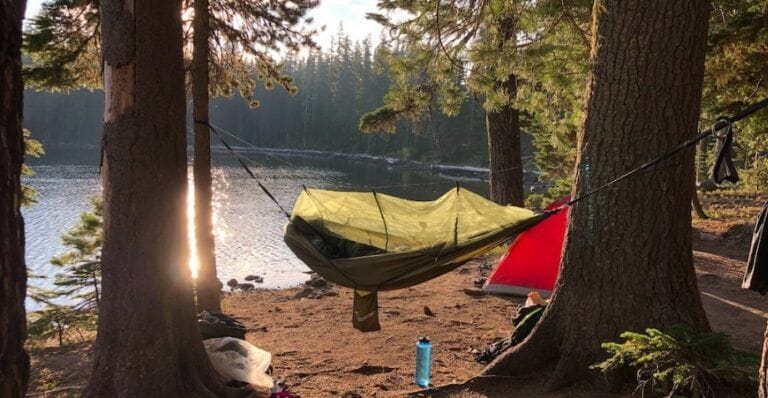 Whether you're camping with the family or going on an epic seven-day hike with your bestie, drinking safe water should be your number one priority. Therefore, buying a decent water filter or purifier is a worthy investment. Do you really want to be sick and spoil your camping trip?
SHARE