Equipment isn't the only thing to consider when starting climbing, but it's a great place to start. And you can't just show up and start climbing without preparing. Climbing is an activity that requires teams of at least two. Your partner is just as important as your equipment, and both are there to keep you safe.
We can't help you choose your partner, but we can help you choose your equipment. But before we get started, it's important to distinguish between the two types of climbing: bouldering and lead climbing. Each has its own unique challenges, and requires different types of equipment.
Bouldering is practised on low walls (about 5 metres) and doesn't require a harness or ropes. Don't freak out, even without ropes it's safe! It's more dynamic than lead climbing, but the climb to the top is much shorter. That being said it can seem more difficult because the only things keeping you between the wall and mats below are your muscles. You can't rely on the tension from the rope to pull off complicated movements. With bouldering you don't have to worry about being strapped into a harness with ropes or a belay device. All you need are shoes and chalk. It's also a form that can be practised solo.
Lead climbing, on the other hand, is practised on walls high enough that you'll definitely want to strap into a harness (and not look down). Your checklist will require a harness, shoes, a belay device, chalk and, most importantly, a partner who can belay you. Once you're at the top, you can take a play out of Batman's book and rappel down. Lead climbing relies more on endurance than strength.
Both styles require problem solving, and finding a way to get to the top and back down. It's a fun activity that works you physically, keeps you on your toes, and is perfect for assembling the gang. Now that we've gone over the basics, it's time to get you geared up for your next – or first – ascent. 
5 Essential Items to Get Started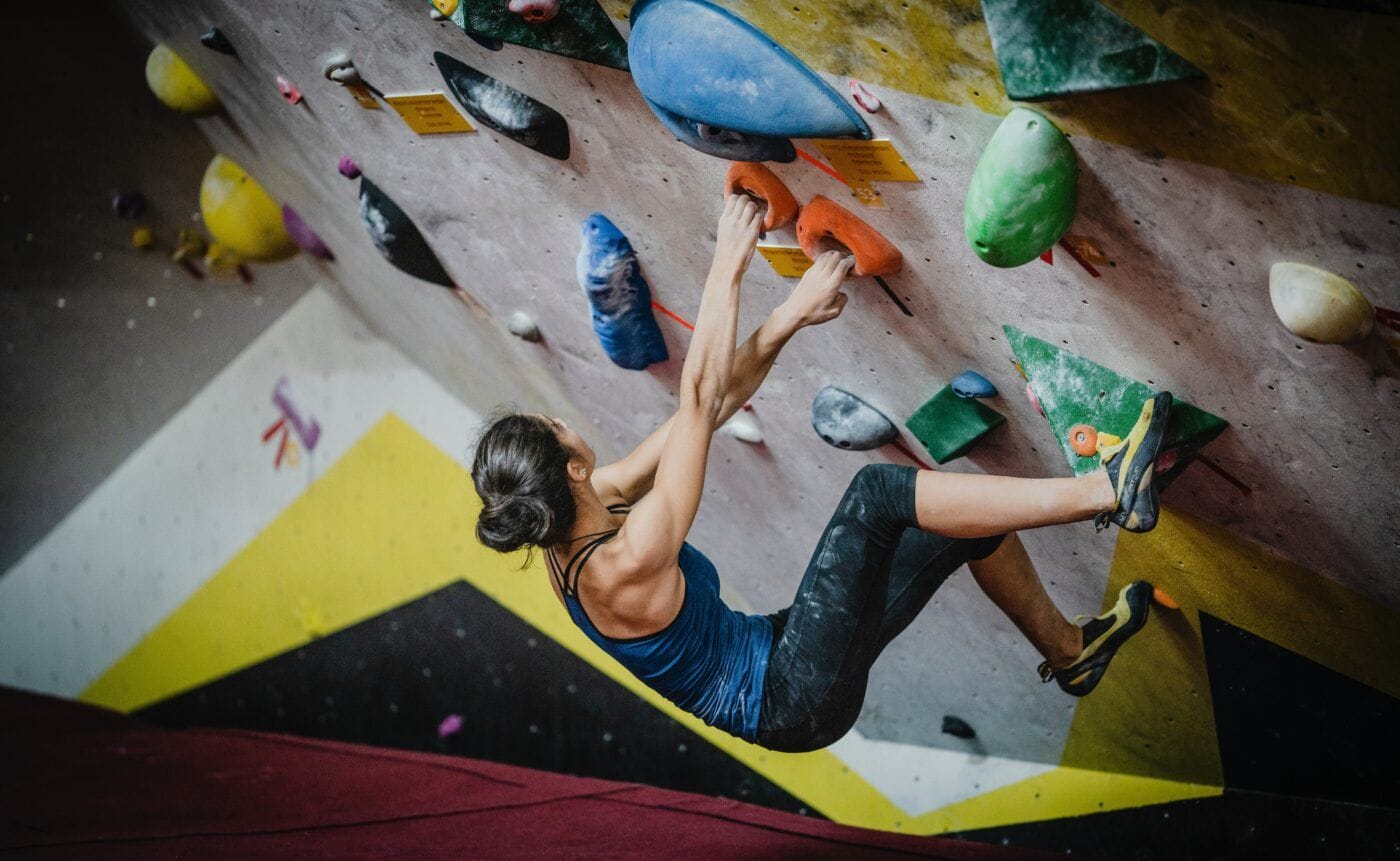 CLIMBING SHOES
At the top of the list are your climbing shoes. 
If you're going to climb any kind of wall you're going to need the rubber soles that grip to the wall and help your feet get a feel of the surface. These shoes are like no other shoes you'll find in your wardrobe. You'll want a snug fit, and when we say snug we mean it. It almost borders on uncomfortable, but once you start climbing, a shoe that fits makes all the difference. The rookie mistake here is to size up, leaving you with too much room, and very little feeling in your toes and heels.
These shoes offer a fine line between comfort and pain. If you're just getting started you don't need to go for the high-end model, but just remember lead climbing requires a flat, rigid sole. For dynamic climbing, like bouldering, you'll want to favour a good arch with a softer sole. For longer routes, go for a lace-up model that will offer a precise fit. If you're bouldering, the quick on-and-off potential of velcro should do the trick (especially if you want to give your feet a breather between attempts).
Price:
0.00$
Harness
You'll find several types of harnesses designed for different types of climbing. Of course, if you're bouldering you won't need one. But for other styles, a harness is a must (even the best climbers fall). It's the primary point of contact with your rope and belayer, so make sure it fits properly.
Before you start trying out sizes, find the type that fits the discipline you want to practice. If you're a beginner who only does indoor climbing, you won't need an ultra-lightweight mountaineering harness, or one with hoops for ice axes. It should fit with your climbing apparel, and you shouldn't be able to remove it without untying it. Most models will feature an adjustable waist and thigh so you can get the perfect fit.
Price:
0.00$
CHALK AND CHALK BAG
Magnesia, or chalk as it's referred to by climbers, is a granular powder that will help you maintain your grip. You'll probably be sweating quite a bit when you climb, and chalk helps prevent slipping due to moisture accumulation. All you have to do is drop some chalk into your bag, strap it to your harness, and you are good to go. These accessories will make all the difference, so make sure you've always got some on hand (literally).
TUBULAR OR ASSISTED BELAY DEVICE
You'll probably find a few different types of belay devices, but don't worry - they all have the same function, namely to increase the friction on the rope and slow you down in case of a fall. The tubular belay device is commonly used in climbing, mainly because it's the cheapest and simplest. If you're a beginner, go for an assisted belay with active braking, more commonly known as a 'grigris' thanks to the popularity of the Petzl model. But remember, just because you have an assisted belay doesn't mean you don't need training. Anyone wanting to belay a climber should know the proper techniques.
The grigri has an internal locking system that locks the rope when subjected to sudden tension. Its ability to lock in quickly inspires confidence when you're expecting frequent falls, which is why it's a favourite of novice climbers and belayers alike.
Price:
0.00$
SCREWGATE CARABINER
Like belay devices, you'll find a whole range of carabiners on the market, each with a different function. The D-shaped screwgate carabiner is the one you'll use to attach the rope to your belay device and harness. It has two key features: its D-shape, designed to direct the rope into the closed end and reduce tension on the screw (the weak part of the carabiner), and the double-locking screw. The carabiner you'll use for belaying needs to be screw-in, since a non-locking carabiner is likely to open and let the rope escape.
Price:
0.00$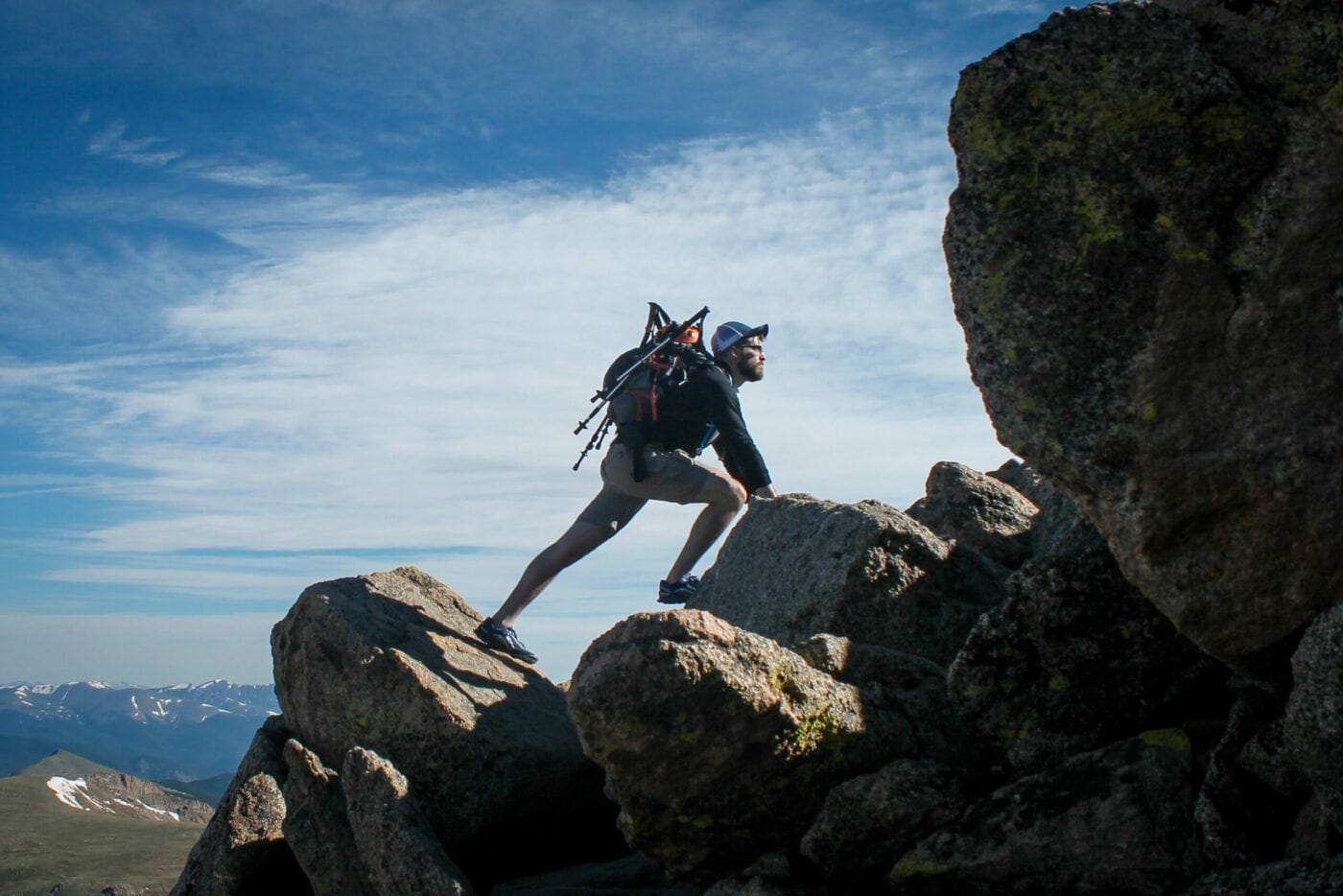 Now get out there!
You're now ready to shop for your climbing essentials! We selected these products as examples, but keep in mind, climbing, like all extreme sports, relies on the quality of your equipment to keep you safe. Now's not the time to pinch pennies by buying cheap carabiners at the hardware store. That being said, in spite of its classification as an "extreme sport," climbing is open to everyone. Climbing is suitable for everyone from kids climbing their first trees to those past their prime trying to stay active. It's a great way to stay in shape, and the perfect activity for your friend group that never knows what to do.
It's mostly fun and games, but before getting started make sure you take the time to sign up for a short one-day training course or learn the basics from an experienced climber. It might not seem like a difficult course, but you should give it your undivided attention. If you're not sure where to sign up, most indoor climbing gyms will offer accreditation. There you'll learn the right techniques to belay your partner, how to rope up correctly, and bonus climbing tips like how to save energy in the air so you can climb longer.
Climbing gyms are also great places to initiate you into the world of climbing. You've got to start somewhere, and indoor walls are the perfect place for you to practise your technique since the holds are much easier to spot and the routes are (mostly) pre-determined. People in these gyms are often very friendly, and it's a great way to learn a few tricks of the trade from more experienced climbers. And if you're going in their solo, you'll have no problem finding someone to belay you. Happy climbing!
SHARE