In order to maximize your fun on your snowboard, you need to find the snowboard boot type that best suits your riding style. Just like choosing a snowboard,  determining your preferences as a snowboarder makes for a consistent choice.
The boots are the connection between the body and the snowboard. It is therefore essential to choose boots in which you can feel everything under your feet and on the snow. Again, it's all a matter of personal preference. 
The following are the main factors to consider when choosing your snowboard boots:
1. Finding the right boot size
First of all, the size! As with most footwear, size can vary slightly from one brand to another. Some companies provide measurement details to help you choose the right size. Of course, nothing beats trying on them to make sure you made the right choice. However, you should always keep in mind that the boot will get a little bit bigger after a few days wearing them – you'll usually gain at least half a size.
Depending on your personal preference for the fit of the boot – tighter or looser – you can do the math. Personally, I wear a size 7.5 US shoe most of the time and always take a size 7 boot. On my first few days of riding, when I "break in" my boots, I deal with a little numbness in my toes. Once the boot is broken in, my boots are perrrrrfect! The shell of the boot itself softens over time. See the section on boot flex below to learn more about this phenomenon.
Have your toes touching the bottom of the boot – but not curled – the first time you wear your boots. It's normal for the heel to rise a bit when you flex forward and press on your toes, but once the boots are securely fastened, the heel shouldn't move around too much in your boot. If the ankle moves and you feel too much space in the boot, the boots don't fit or are too big.
Want to "break in" your snowboard boots faster? Spend a few evenings wearing your boots in your living room, do squats, dance, jump, climb stairs – the goal being to slowly mould the boots with the heat of your feet. You'll gain a few millimetres of comfort for your toes.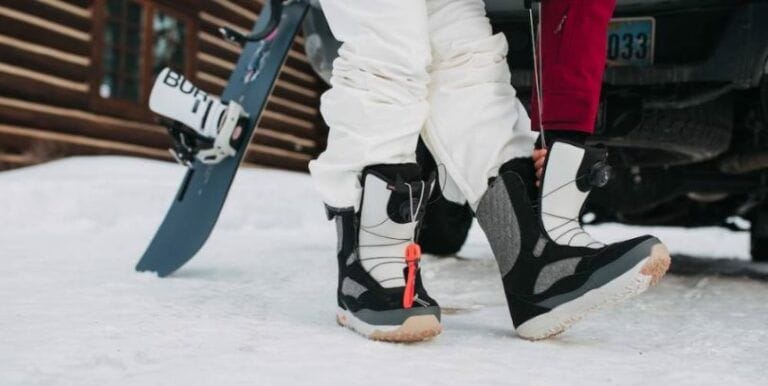 2. Select a model according to your budget  
Just starting out and don't want to invest too much money at first? There are some very good basic models that will do just fine for beginners and will be comfortable and flexible while allowing you to progress on your riding skills on the slopes.
Ready to invest a little more? Turn to other models designed to meet more specific technical or performance needs. 
Do your feet often freeze? There are also heated socks and boot shells.
Don't want to bend over to attach your bindings? Burton's Step-On bindings will be your solution. 
In any case, take the time to read the technical specifications on the product pages to learn more about them and make an informed choice. You'll see that there are many different options.
3. CHOOSING A LACING SYSTEM
Three main types of lacing are available depending on the boot model. Again, this is a matter of personal preference:
Traditional Lacing
Traditional lace-up boots are easy to replace and often cost less than other systems. However, laces need to be re-tightened more frequently and are also more difficult to tie with gloves or mittens, or when your fingers are frozen.
The Speed Zone, Quick Pull lacing system 
This system allows you to adjust the lacing of the lower or upper part of the boot independently. Lacing is quite quick and easy to use. The boots usually need to be re-laced once or twice a day. The system can be replaced if it breaks, but it is a bit more complicated to replace than traditional lacing.
The Boa lacing system, simple or double
The Boa system allows for a very quick and efficient adjustment using one or two knobs depending on the model. Turn the wheel to tighten the shoe, then lock it when the desired tension is reached. Then pull the wheel up to release the adjustable cable – simple as.
You can easily tighten your boots with one hand without removing your gloves or mittens. This system provides lacing with evenly distributed tension throughout the boot. The benefit of the double Boa (2 knobs) is that it also allows for independent adjustment of the lacing tension on the upper and lower parts of the boot.
4. Choosing the right flex for your riding style and skill level
Just like when you're shopping for a snowboard, you need to know your riding style and skill level to help you choose the right boots. To determine these two elements, consult sections 1 and 2 of our guide on How to choose your snowboard. Then it will be easier to find a boot that is flexible enough to reflect the personality and taste of the rider.
Different manufacturers of snowboard boots do not necessarily label flex in the same way, but it is quite easy to find your way around by reading the technical specifications of each model. Generally, the boot's category will be specified: flexible, medium or stiff. Or flexible, semi-stiff, aggressive.
Flex by skill level
Beginners should generally start with boots that are more flexible, maneuverable and comfortable, while providing good ankle support. This will allow them to enjoy the sport and progress more quickly. An intermediate or advanced rider will be looking for more support in their boot, to get a more direct response from the boot and increased performance.
Flex
by riding style
For jib or street (rails and boxes) we tend to choose softer boots, while for jumps or halfpipe we choose boots that are generally medium stiff or stiff for their power and increased foot support. For the big freeride and off-piste, we often prefer stiffer boots. Also keep in mind that even a soft boot is designed to provide some support at key points, depending on the riding style. Shopping for boots according to your riding style is a great place to start, as the models have been designed accordingly.
Flex and personal preferences
Personal preferences for boot feel, fit and response, or body composition will be a determining factor in the final choice of boot flex. Some riders, regardless of skill level or riding style, simply prefer stiffer, while others opt for softer. These preferences become more defined with experience.
5. For the ultimate fit
Are you a snowboarding geek now? To further your search for the ultimate fit, here's an overview of some things to consider when shopping.
Soles
Soles are critical for a better ride in all areas. If the stock insole that comes with your boot is flat, you can remove it and replace it with something that gives more support, reduces the space in your boot, and improves the responsiveness of your movements while riding.
As far as budget goes, there are good, standard insoles for around $40, and then there are top-of-the-line custom insoles for over $200. There are also intermediate semi-custom insoles that can be thermoformed in your oven.
Slippers and boot shells
You can choose your boot according to its liner: warmer, stiffer, softer, thermo-formable, laced, wrapped, etc. The possibilities are endless. Many liner models are also thermo-formable: you just have to go to a specialized store that has the Therm-ic thermoforming machine.
As for the shell of the boot, in addition to its lacing system, the design of the outsole is important. The stiffness of the outsole, the studs, the padding and the insulating materials are all elements that influence the flex of the boot, its performance and the comfort of the rider.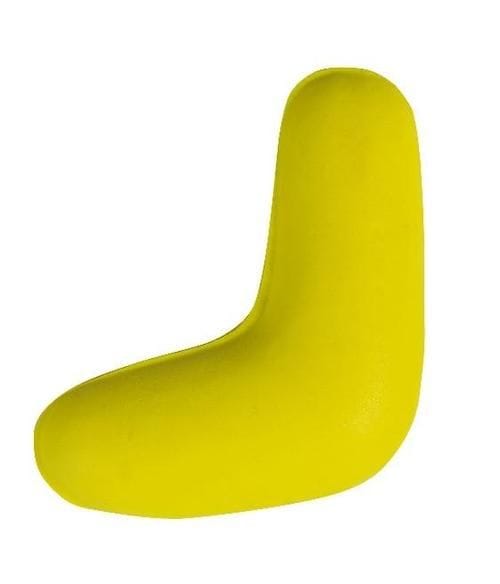 Bootfitting
If you're still having trouble finding the right fit, there are a few things you can do. For example, add J-Bars, small, elbow-shaped pieces that serve to cushion the heel by reducing the volume in the boot, thus eliminating movement (they stick to the velcro of your liner, if  compatible). Or, add straps to keep the top of the boot tighter and eliminate the gap between the calf and the boot. 
You can also invest a little more money and make an appointment with a specialized boot fitter to get the ultimate fit for your needs. They have all the knowledge, tools and techniques to customize your shoes, boot shells and insoles.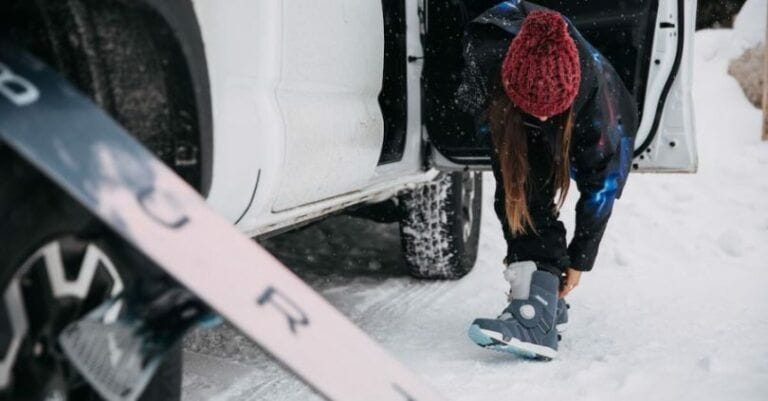 A good pair of snowboard boots will make all the difference to your fun on the slopes. Take the time to read the technical specs of each model you're interested in. If you can't decide between one or two models, use the comparison tool in online stores. It should help you finalize your choice. Don't rely too much on your best friend to choose the right boots for you – they don't have the same size feet as you. Happy shopping!
SHARE