A Brief History
In 1973, in the midst of a dock worker strike, Rab Carrington found himself stranded in Buenos Aires. He was an avid climber and mountaineer, travelling south, destined for the devilish peaks of Patagonia. But now, suddenly, he had neither the luggage nor the money to go on. 
Luckily, Argentine-native and close friend Hector Vieytes hooked Carrington up with a job in his textile factory. It was here that Carrington learned the fundamental sewing techniques that, nearly a decade later, would lead to the birth of his own apparel company.
Fast-forward to 1980. Carrington had just moved to the UK's Peak District—a national park known for its steep limestone valleys, dramatic gritstone ridges, and stark moorland plateaus. Unimpressed with the apparel market—and looking for a more frugal solution—Carrington began sewing his own down jackets into sleeping bags. 
Word of his high-quality, homemade gear spread like wildfire through the outdoor community. By the end of '81, Carrington had moved his operation from a dingy attic to a full-scale workshop. That's when the eponymous Rab was born.
Today, over 40 years later, Rab garments are still renowned for their no-nonsense design, cutting-edge craftsmanship, and ethical manufacturing practices. The reach now extends from the swampy lowlands of the Peak District to the sky-piercing heights of the Himalayas.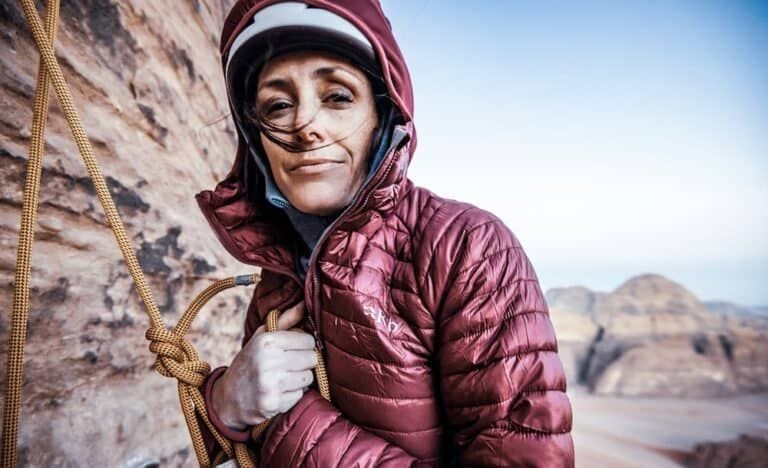 Social Responsibility & Sustainability
Of the innumerable outdoor gear brands kicking today, only a handful have succeeded in balancing innovation, aesthetics, and sustainability. Rab stands among this select few. Their commitment extends from the well-being of their workers to the renewability of the resources they use.
Rab uses RDS-certified European goose down in their down products. This means that the geese are humanely treated and not subjected to unnecessary harm.
Global Recycled Standard (GRS) Down
Rab has begun incorporating recycled down into garments. Because recycled down is not traceable, it cannot be RDS-certified; however, it is recognized by the Global Recycled Standard (GRS).
Since 2020, Rab has been a member of the independent, non-profit Fair Wear Foundation. The mission of affiliated brands is to reduce the prevalent labour abuses in factories throughout the developing world. Rab claims that their overseas factories undergo frequent third-party audits to maintain rigorous ethical standards. Unfortunately, these reports are not publicly available.
In order to encourage more people to repair their gear instead of replace it, the Rab Promise offers customers complete access to their in-house Service Centre—even after your warranty has expired.
Currently, Rab is aiming to become a Net Zero company by 2030.
Flagship Product: The Microlight Alpine Jacket
Brand Name
|
Product Type
Though Rab may be best known for their timelessly vintage Kinder Smock, today we'll be looking at the Microlight Alpine Jacket. The Microlight Alpine Jacket is Rab's answer to the lightweight puffy. It performs equally well as a shoulder season softshell as it does as a winter midlayer. It's a versatile piece that has garnered a fanbase among hikers, climbers, globe-trotters, and trend-setters.
Price:
0.00$
In terms of weight, the Microlight Alpine comes in at 14.2 oz (403g), or about two ounces short of a pound. This makes it light but not necessarily ultralight. The face fabric is a highly durable 30D Pertex Quantum ripstop nylon, while the inside is filled with 5.1 oz (144.6g) of 700 fill-power down insulation. Because down isn't naturally hydrophobic, it's treated with a Nikwax coating to increase water-resistance.
This year's model also comes with several welcome upgrades and intelligent redesigns. For instance, the combination of zoned micro and nano baffles increases the down's thermal efficiency without adding bulk or weight. What's more, the material composition checks all the ethical boxes: 100% recycled polyamide outer, 100% recycled polyamide lining, and P.U.R.E GRS-certified down. Other key features include:
Harness-compatible, hand-warmer pockets

Zippered chest pocket

Adjustable hood with stiffened peak

Discrete elastic cuffs

Drawstring adjustable hem
Not a fan of hoods? Pick up the Microlight Jacket—the non-hooded version of the Microlight Alpine that boasts all the same great features. Both versions come with a separate stuff sack for compact and convenient storage.
A Brief History
Rock Solid was founded in Vancouver in 1989. They specialized in rock climbing hardware and gear. Then, in 1991, Rock Solid changed their name to the far more recognizable Arc'teryx. 
To the uninitiated, the name certainly looks and sounds strange. Interestingly, it's actually a contraction of the tongue-twisting, Archaeopteryx. This is the oldest known bird, immortalized in a fossil that would also become the brand's new logo.
In the mid-90's, Arc'teryx partnered with GORE TEX. This allowed them to craft waterproof apparel and helped them to expand their product line beyond the narrow scope of climbing. Over the course of the last three-plus decades, Arc'teryx has become an international force in cutting-edge design and innovative technology.
Despite their proudly Canadian roots, Arc'teryx is no longer a true Canadian brand. In 2001, the Adidas-owned Salomon Group acquired Arc'teryx. Then, in 2005, the Solomon Group was purchased by Amer Sports, a Finnish sporting goods brand. In 2019, Amer Sports was incorporated into Anta Sports, a Chinese multinational sports equipment corporation.
Social Responsibility & Sustainability
Arc'teryx is perhaps the industry leader when it comes to sustainability and social responsibility. Let's check out a few of their initiatives. You also can read more about their policies, practices, and goals on their sustainability page.
Arc'teryx has been a long-time champion of ESG policies, which stands for Environment, Social, and Governance. This comprises the three pillars of corporate responsibility: improving environmental efficiency, increasing employee health and safety, and respecting business ethics and compliance regulations.
Arc'teryx is a bluesign approved brand. Bluesign is an independent verifier that audits a company's business practices to determine whether they're actively trying to minimize their impact. This extends to every facet of the manufacturing process, from environmental and ecological, to worker health and safety. 
Every Arc'teryx product is traceable to the particular factory where it was made. Most of these factories are located overseas, predominantly in Far Eastern countries like China, Bangladesh, Vietnam, and Myanmar. The only product that continues to be manufactured at the brand's B.C. headquarters—known as the ARC'One—is the rugged Alpha SV.
Arc'teryx maintains rigorous standards and conducts frequent third-party inspections to ensure that worker rights and working conditions are respected. Failing this, Arc'teryx retains the right to immediately terminate their contract with a factory.
Flagship Product: Cerium LT
Brand Name
|
Product Type
The Arc'teryx Cerium LT is comparable to Rab's Microlight Alpine Jacket. Both are lightweight, hooded, down puffies that provide immense versatility across a range of activities and conditions.
Price:
0.00$
With a weight of 10.7 oz (305g), the Cerium LT is not only light—it's ultralight. The 10D Arato face fabric offers some tear-resistance and sheds light precipitation thanks to a DWR finish. 
The interior features a dual insulation system known as Down Composite Mapping. You get 3.6 oz (102g) of 850 fill-power down strategically placed throughout the jacket, in addition to some synthetic Coreloft insulation in wetness-prone areas (like the cuffs, hood, collar, shoulders, and armpits). This improves overall weather-resistance, but may slightly detract from warmth. Other notable features include:
Two zippered, hand-warmer pockets

Internal zip pocket with stuff sack

Adjustable hem

Elastic cuffs

Adjustable StormHood
THE BEST ALTERNATIVES TO THE ARC'TERYX CERIUM LT HOODY
The Cerium LT puff jacket is out-of-stock or its price point is hitching you? Discover a few great similar alternatives.
Comparing Rab and Arc'teryx 
After discussing both Rab and Arc'teryx and reviewing one of their flagship products, it's time to see how the two stack up against each other. We'll contrast both brands across six key criteria:
1. Weight
The Cerium LT weighs in at a very impressive 10.7 oz (305g), while the Microlight Alpine Jacket is about 25% heavier at 14.2 oz (403g). It's worth noting that both jackets still clock in at under a pound; however, devout ultralighters will no doubt struggle to get past this discrepancy.
2. Durability
Of course, the Microlight Alpine Jacket's handful of extra ounces aren't for nothing. Indeed, the Microlight is considerably more durable, thanks to its 30D Pertex Quantum ripstop shell. This, compared to the Cerium LT's 10D.
3. Performance
Despite the fact that the Cerium LT has slightly more loft per cubic inch, the Microlight Alpine Jacket is arguably warmer. 
The difference perhaps lies in the quantity of insulation, rather than the fill-power. As mentioned above, the Cerium LT contains 3.4 oz of 850 fill-power, while the Microlight Alpine Jacket has 5.1 oz of 700 fill-power insulation. Again, it isn't for nothing that the Microlight packs on a handful of additional ounces compared to the Cerium LT.
4. Price
The Cerium LT retails for $449.99, while the Microlight Alpine Jacket sells for $349.99. That's a $100 difference in favour of the Microlight.
5. Style
This comes down to preference. Granted, everything Arc'teryx makes naturally ranks as some of the most stylish outdoor apparel. As is common among Arc'teryx products, the Cerium LT is built to fit slim, so it's important to consider your body type. 
Though previous incarnations of the Microlight Alpine Jacket were also 'slim fit', the latest iteration is classified as 'regular fit'. Depending on your body type, this is something to consider, as you'll notice extra room around the waist. Fit aside, both the Cerium LT and the Microlight Alpine Jacket are relatively true-to-size.
6. Corporate Responsibility
Both Arc'teryx and Rab have taken tremendous strides in minimizing their carbon footprint, encouraging gear repair over gear replacement, and keeping their overseas factories accountable. What we love about Arc'teryx, and hope to eventually see with Rab, is more manufacturing transparency.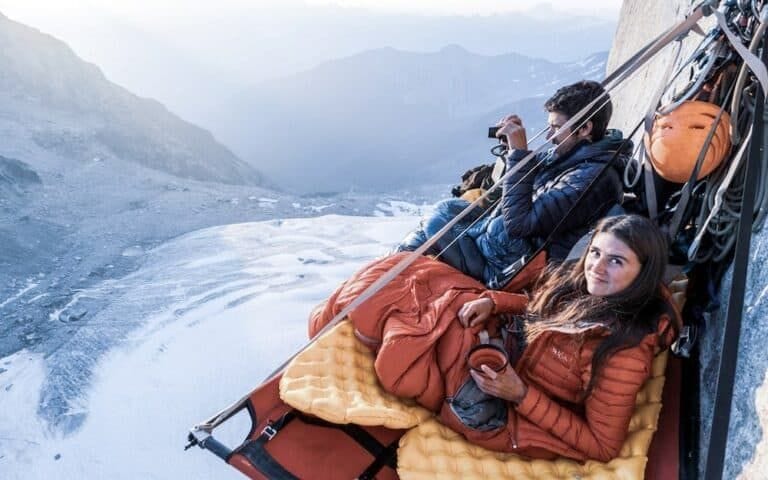 At the end of the day, you'll be happy whether you decide to go with Rab or with Arc'teryx. Both the Microlight Alpine Jacket and Cerium LT offer immense versatility and value. This is a jacket you can expect to have for many years to come. And, if you ever find yourself in need of repairs, both companies will be there to assist you.
Next, check out how Arc'teryx fared against another European contender, Norrøna.
SHARE