Last year saw an unexpected revamp of the classic Arc'teryx Alpha SV, the Canadian brand's answer to severe alpine weather. And we won't lie—when we first got wind of the news, we were both excited and a little worried. You see, reboots have a knack for spoiling the original (looking at you, Ghostbusters 2016). But as soon as we got our hands on it, we were more than just pleasantly surprised. So much so, we couldn't help but write an Alpha SV Review.
In terms of both material and design, the renovated classic is a cut above its predecessor in all the right places (even in places we hadn't thought to look). Read on to find out why, and whether this burly jacket is right for you.
Arc'teryx Alpha SV's Full Redesign for Winter 2020-21
Before we jump into all its newest specs, let's talk about the Arc'teryx Alpha SV's ideal use case. Are you a rock climber? Ice climber? Extreme cyclist? Alpine adventurer? If you answered yes to any of the above, you're sure to find immense value and incredible durability in the Alpha SV. 
For everyone else, remember that while this jacket is an absolute workhorse, it's pricey and less versatile than other models in the Arc'teryx pantheon. For something designed with versatility in mind, check out their AR ("All Round") line of jackets. Want to learn more about their naming scheme? We've got you covered.
OK, enough small talk. Let's dive into what the 2020 redesign is all about.
From the outside, you won't notice much difference compared to the 2016 upgrade. Many of the improvements, though poignant, are subtle or under the hood. In all, Arc'teryx made three major changes—a sort of trinity, if you'd like. 
First, the outer GORE TEX PRO shell has been reinforced with Most Rugged Technology. Second, RECCO reflectors were added. And third, custom TPU zipper pulls have been attached to the zippers. Let's dissect what this means for wearers.
GORE-TEX PRO with Most Rugged Technology 
As of its 2020 redux, the Arc'teryx Alpha SV's shell has gone from N100p-X 3L GORE TEX PRO to N100d-X 3L GORE TEX PRO Most Rugged Technology. Basically, GORE TEX took their most waterproof and breathable fabric (PRO) and turned it into three lines of fabric, each with a different waterproof-breathability ratio. The GORE TEX PRO Most Rugged Technology is the least breathable of the three new lines, but represents the pinnacle of rugged durability.
RECCO Reflector 
The RECCO Reflector isn't just a shiny stripe that makes you visible to drivers in bad weather. RECCO is a technology that allows SAR Techs to help locate you in the event of an emergency rescue.
Searchers can use a RECCO detector that emits a directional radar signal. If this signal crosses paths with your jacket's reflector, it echoes the signal back to the detector. Rescuers can follow the signal's direction to your location. As they get closer, the signal beeps in shorter and shorter intervals, letting them know you're close by.
Custom TPU zipper pulls
Arc'teryx is constantly striving to minimize the environmental impact of their manufacturing practices. They accomplish this by relying on sustainable methods and materials. The TPU zipper pull demonstrates this commitment on the smallest of scales.
TPU is an acronym for a long and complicated compound name. Suffice to say, it's an eco-friendly alternative made by injection moulding. As a kicker, it's known for its ability to withstand heat and abrasions. Of note, the Alpha SV meets BLUESIGN criteria, meaning Arc'teryx behaves responsibly towards people, the planet, and its resources when constructing the Alpha SV jacket.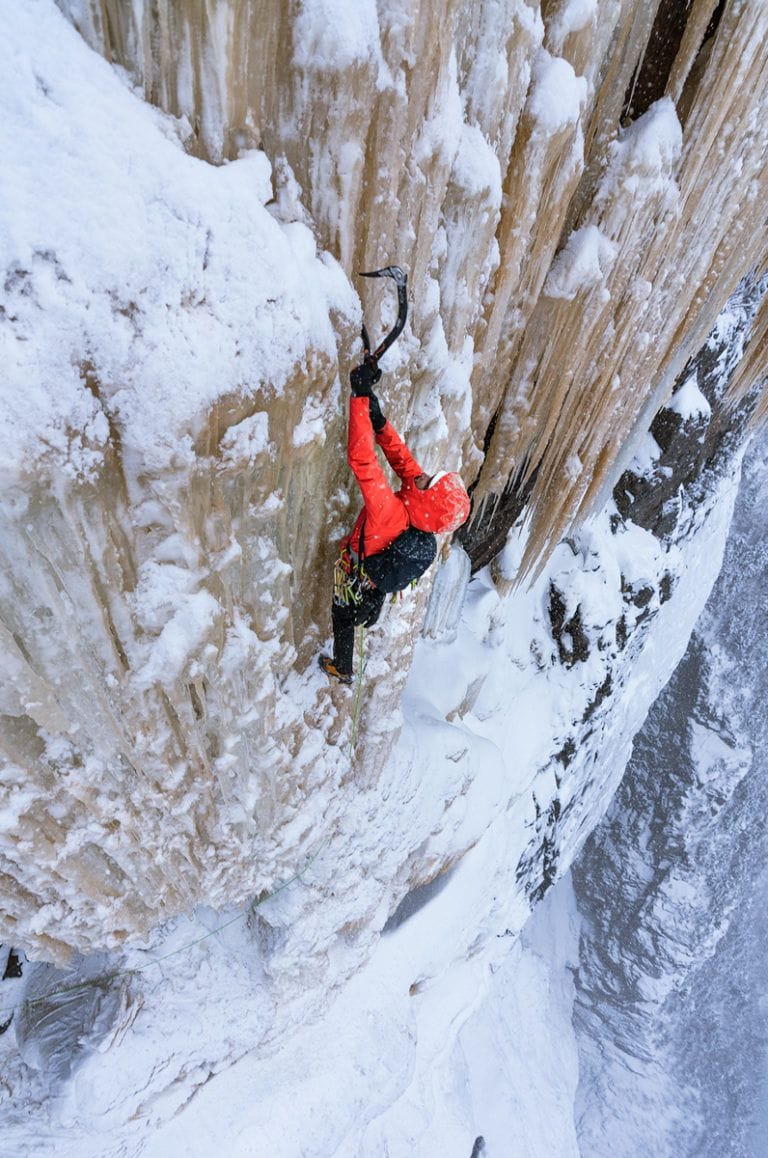 Why Should You Consider the Alpha SV
The Arc'teryx Alpha SV isn't your typical uninsulated hardshell. In fact, it's an incredibly expensive uninsulated hardshell that'll cost you—are you sitting down?—around $1,000. That's right—three zeroes. But before you dismiss the whole operation, let's consider why.
Best in Class Weather Resistance
As we mentioned earlier, this jacket is waterproof thanks to its 3L GORE TEX PRO Most Durable Technology. The outer shell is also finished with a Durable Water-Repellent (DWR) coating for good measure. When it comes to shedding water, the Alpha SV is the heavyweight champion of the world.
Additionally, the drop back hem prevents water from splashing onto your behind, while velcro cuffs allow you to seal off entry through the wrist. If you're climbing in bad weather, Cohaesive hem adjusters prevent your jacket from riding up and over your harness, ensuring maximum coverage all the time. 
Proven Durability
The Alpha SV was made to withstand friction and falls, whether that's against powder, ice, or rock. It's the reason climbers have relied on it for over two decades now.
There are two facets that make this thing basically bombproof, both inside and out. On the outside, you've got a 100 denier plain weave nylon shell. On the inside, the jacket features a Micro Grid Backer, which allows for frictionless contact and improved abrasion-resistance.
Even mobility in this jacket is a pleasure. Despite the thickness of the outer shell (a sign of its durability), it manages to feel limber and unrestrictive. That's because Arc'teryx employs e3D patterning for targeted articulation in areas like the elbows and shoulders. This reduces internal wear-and-tear. Moreover, the jacket fits regular and is even on the loose side. This leaves you plenty of room for layering without restricting movement.
Weight & Packability
Of course, the Alpha SV's proven durability does come at the cost of extra ounces, weighing in at just over a pound for men (18 oz/ 510 grams), and just under a pound for women (15.5 oz/ 440 grams). Still, a single pound for a severe weather hardshell is impressively light.
As you can imagine, the Alpha SV is not as packable as other Arc'teryx hardshells. But that's to be expected considering it was designed to withstand the most brutal winter conditions. That said, when we compare the SV to other hardshells in the severe weather category, we find that it is actually on the lighter side.
Breathability
As mentioned above, where GORE TEX PRO really shines is in its breathability when compared to traditional GORE TEX. Additionally, the Arc'teryx Alpha SV features lengthy pit zips, which can be used to quickly dump heat. Indeed, there are certainly more breathable jackets in the hardshell category. But for the level of weather resistance offered by the Alpha SV, its breathability ratio is considerably high.
The fact that you have plenty of room to layer beneath the jacket also allows you to customize just how warm you want to be.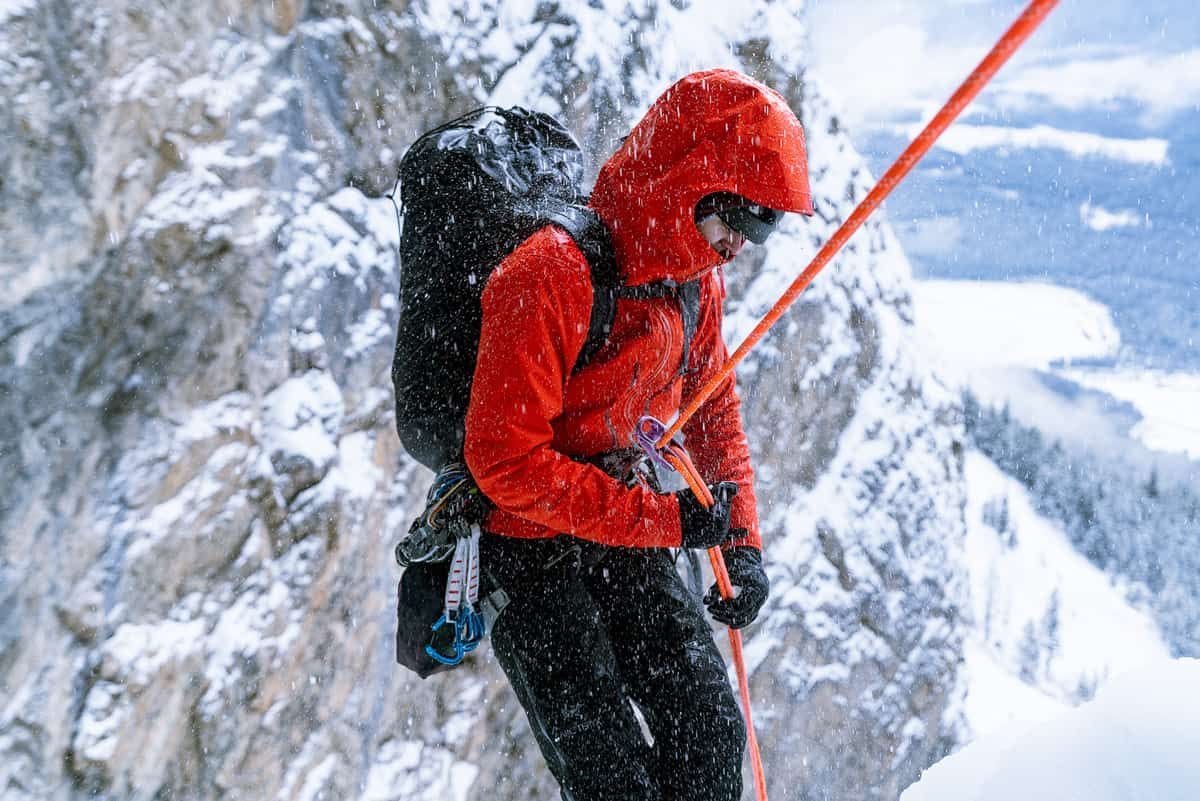 Helmet-Compatible Storm Hood
A fan favourite of most Arc'teryx's jackets, the Storm Hood offers ample room for a climbing or biking helmet. If you find it too loose without a helmet, snug it up with the rear drawstring and front pull tabs. The high collar ensures full cranium protection from the elements.
RECCO reflector
If the event of a wilderness emergency, the RECCO reflector increases your chances of being discovered by rescuers. Scroll up to read more about how it works.
Watertight Zippers & TPU zipper pulls.
Seams and zippers tend to be the two places that aren't exactly watertight on most garments. The Alpha SV takes care of both these concerns. First, the seams are sealed with 8mm GORE Seam Tape, while the zippers use YKK's Vislon technology with RS sliders to resist water penetration. The new TPU zipper pulls are also waterproof, heat-resistant, and abrasion-resistant.
a word from your fellow adventurers
A cursory Google search reveals that the Arc'teryx Alpha SV has a combined rating of 4.8/5 stars, with nearly 320 reviews as of yesterday. We looked on Altitude Sports' product page to see what our own customers were saying about it:
Of the men's version, Patrick K. gives it 4/5 stars, calling it a "Technical Jacket with Superior Quality". He further writes: 
Great jacket with attention to details. […] it has held up to torrential rain/wind keeping me dry and warm. Only complaint is the arms are longer than other Arc'Teryx Medium Jackets.
Frieda S., in reviewing the women's version, calls it "Bomb Proof". She gives it a 5/5 star rating, explaining, 
I don't climb anymore but I still picked this jacket over the Beta AR and the Beta SV because it was a bit thicker and the label said it was made in Canada.
Most parsimoniously, simeng w. simply calls it, "The best shell jacket ever." 
Things to Know About the Arc'teryx Alpha SV
Is the Alpha SV worth it?
The Alpha SV is absolutely worth the steep price tag. In fact, if you're ever trapped in a serious mountain blizzard, you'll thank Arc'teryx for not making it more expensive. Of course, whether the Alpha SV is worth it for you really depends. 
If you're someone who prefers to adventure in milder weather, consider buying a more lightweight, affordable jacket. We recommend the Arc'teryx Alpha LT Hoody. Keep in mind that the Alpha SV is not a versatile jacket, so even if you plan on investing in this top-of-the-line model, you may not get as much use out of it as you think. Sort of like using a Ferrari for a paper route.
Is the Alpha SV good for cold winters?
On its own, the Alpha SV is not a winter jacket. It's a comparatively lightweight hard shell that allows winter adventurers to shed it when they heat up and easily stow it away in their backpacks for later. Remember, the Alpha SV isn't insulated; it's designed to be worn over a midlayer (say, a down or synthetic puffy), in addition to a number of insulating base layers. 
In combination with all these layers, you're sure to stay dry and insulated; however, if you're looking for an urban winter jacket, you can find better options that are truly winter-ready out of the box. Check out our guide to the best winter jackets for extreme Canadian winters.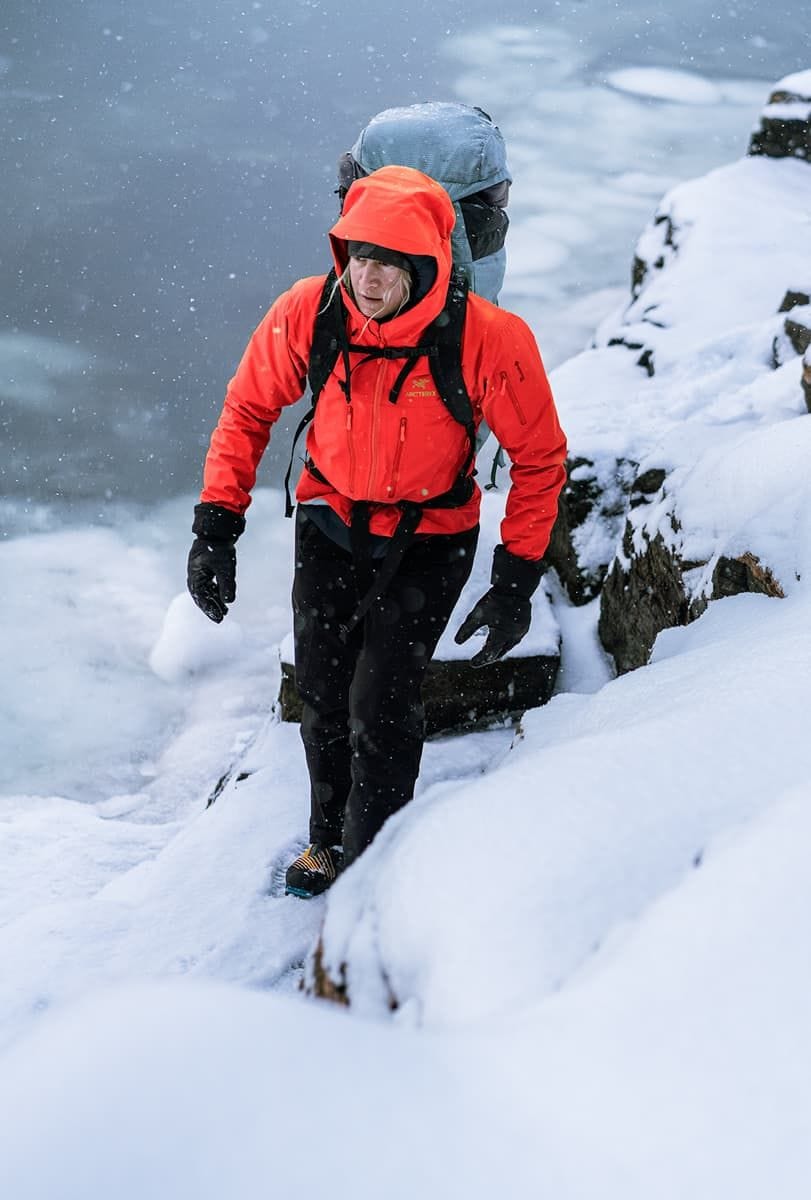 Final Thoughts About the Alpha SV Jacket Redesign
The Arc'teryx Alpha SV redesign is without a doubt a successful new iteration of a beloved classic. While its steep price tag does offer immense value, its use case is specific to those who are determined to make the most of winter. 
For more on Arc'teryx, check out our full comparison guide of their Alpha and Beta jacket lines.
SHARE