Hiking is an activity that can easily be enjoyed by just about anyone due to the variety of terrain available. If you're a beginner, you can find more mellow, short hikes that are not too steep or technical. If you're a hiking veteran, you can find the steepest, gnarliest hikes leading you to the middle of nowhere, sleeping under the stars listening to the many sounds of nature.
Besides figuring out how to dress for a hike and selecting the right gear, choosing the right hiking boots and shoes is an important part of preparing for your next trail adventure. Whatever terrain you choose, dependable hiking footwear will be your best hiking partner.
Below are some of the common types of footwear for hiking you'll come across while shopping.
Types of Footwear for Hiking
There are four main types of footwear when it comes to hiking:
Hiking shoes
Hiking boots
Mountaineering boots
Trail runners
The differences between these four categories will vary based on the boot's height, durability, protection, and support.
1. Hiking Shoes
Hiking shoes (women's, men's) are going to be the most lightweight and flexible option compared to hiking boots and mountaineering boots especially in hot weather conditions. Although these characteristics are appealing because heavy boots can cause leg and foot fatigue more quickly, hiking shoes don't often offer as much support as hiking boots or mountaineering boots.
WHO SHOULD BUY HIKING SHOES?
If you are going to be sticking to day hikes and shorter hikes where the routes are well-maintained with minimal obstacles to tackle and are not carrying a lot of weight.

If you are an avid hiker you have most likely built up the strength in the muscles you use most when hiking

(feet, ankles, calves, and legs)

so a pair of hiking shoes would be suitable as you are not relying on your shoes to provide a lot of support.

For beginner hikers who have not yet gained the strength in these hiking muscles or someone who is prone to rolling their ankles, hiking shoes may not be the best choice for you. You will want footwear with more support and protection such as a hiking boot.
2. Hiking Boots
Hiking boots or backpacking boots (women's, men's) are best suited for backpacking around the globe or trekking through the bush. They're built to withstand multiple days of back-to-back use while carrying heavy loads but also function as fantastic day hiking boots. These boots are going to be durable, dependable, taller than hiking shoes and a bit stiffer, too. Generally, hiking boots are able to withstand all kinds of terrain and weather conditions.
WHO SHOULD BUY HIKING BOOTS?
You will travel through rain and shallow creeks one day and snow and puddles of mud the next.




You want boots that offer more protection than hiking boots.




You have multi-day trips planned and will be hiking with a heavy backpack.
Often, hiking boots will include features such as a toe cap and heel groove that are compatible with crampons or snowshoes so you really can travel on all kinds of terrain.
These boots will generally require a bit of break-in time and may not fit like a slipper out of the box. With this break-in period, it is suggested to give yourself at least 2 weeks to get a feel for your new boots so you don't end up with bloody, blister-covered feet 2 days into your 8-day adventure.
3. Mountaineering Boots
For those embarking on burlier expeditions, mountaineering boots are ideal for bearing heavy loads, provide good traction for slippery and snowy terrain, and are ideal for proper ankle stability out in the backcountry. These boots are designed to be worn in alpine environments where extreme conditions may be present.
MOUNTAINEERING SHOES WILL BE:
Taller for optimal ankle support and protection.




Stiffer

(midsoles)

to accommodate crampons should they be necessary.




Equipped with waterproof shells to keep out the elements like rain and slush.




Insulated to keep feet warm when the conditions turn for the worse.




Equipped with removable liners so they can be aired out after long distance hiking.
4. Trail Running Shoes
Trail running shoes, or trail runners (men's, women's), are rugged shoes that provide more traction than the average running shoe and are lighter than either a hiking shoe or hiking boot. This type of shoe is typically wider near the toes (called the "toe box"), making it the ideal choice for preventing blisters, improving coordination, and making room for swollen feet.
With all that in mind, they're not ideal for soggy terrain or intense alpine conditions due to the lack of ankle protection. Trail running shoes are best paired with lightweight gaiters to prevent loose rocks from getting kicked up into the heel of your shoe.
WHO SHOULD BUY TRAIL RUNNING SHOES:
Daily, long-distance, or competitive trail runners.

Day and multi-day runners, as well as thru-hikers who don't need ankle support and prefer a lightweight, packable shoe
Those who like to hike and run; wearing trail runners on the road is possible but may be overkill due to the increased traction and low-profile sole designed for bumpy terrain. That said, there has been a recent uptick in the release of trail running shoes with varying degrees of sole support, so it's definitely worth looking into!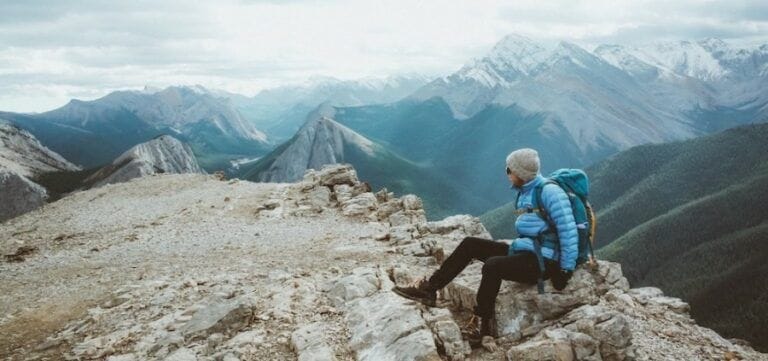 CHOOSING THE RIGHT HIKING FOOTWEAR
The details of your next adventure will help you select the right hiking footwear. Graded switchbacks with dirt, twigs, and the occasional rock isn't the time to sport a pair of heavy-duty mountaineering boots—save them for your next alpine expedition. Instead, a pair of low cut hiking shoes or hiking boots with ankle support will surely do the trick, even with a heavy pack on your back. You'll especially appreciate the breathability of non-GORE TEX footwear.
Grippy, wide, and lightweight trail runners are perfect for those who run and hike fast on rugged terrain. Even the hiker who keeps the weight of their backpack to a minimum may find much benefit in trail running shoes.
Now that you have a clear idea of how to dress your feet for the next big outing, check out the latest and greatest options available on the market today. Heck—why not pair 'em with a new backpack, too?
HIKING FOOTWEAR MATERIALS
Like a running shoe, a hiking boot is made up of a variety of materials that will impact its weight, breathability, durability, and waterproofness. The hiking boot upper (the piece of material that is either sewn or glued to the midsole of the boot) can come in multiple different materials which are listed below.
1. Leather
Full-grain leather is the most durable of the seven materials. It is abrasion-resistant and water-resistant which is why it is used most often for hiking boots. This material is designed for durable boots that will be carrying heavy loads while traveling on rugged terrain for multi-day excursions.
Split-grain leather is commonly used for lightweight, breathable shoes and will often be paired with nylon or nylon mesh to enhance its lightweight and breathable qualities. Although usually more cost-friendly, split-grain leather is not as resistant to water and abrasion like full-grain leather is. For this, some split-grain leather boots will be equipped with waterproof liners to make up for the lack of water resistance.
Nubuck leather is the same material as full-grain leather except that it has been buffed to give the appearance of suede. Like full-grain leather, nubuck leather will also be water and abrasion resistant but unlike full-grain leather, it will also be slightly flexible.
2. Synthetic leather or fabric
Synthetic materials used to make hiking boots include polyester, nylon, and synthetic leather. Although synthetic materials may show wear sooner than a durable leather boot, they are more lightweight, dry faster, and don't take as long to break in. These materials generally cost less than leather and are more commonly used for hiking shoes rather than hiking boots.
3. Waterproof
Hiking boots that are labeled as waterproof will most often be manufactured with waterproof breathable membranes such as Gore-Tex which is also commonly used for other outdoor gear like jackets.
4. Vegan-friendly
For the vegans of the world, there are even some hiking boots that are made with vegan-friendly materials. Vegan boots are harder to come across and can sometimes be mislabeled. Some boots that are labeled as "made with vegan materials" are made with a variety of glues that are not guaranteed to be vegan-friendly.
5. Insulation
Some mountaineering boots that are meant for use in colder climates like hiking on snow and glaciers are equipped with synthetic insulation. These boots are made to keep your feet warm so your time spent in the mountains isn't cut short due to cold feet.
FEATURES OF A HIKING BOOT OR SHOE
Hiking boots are similar to running shoes when it comes to their anatomy. There are many features including rands, durable soles (midsoles and outsoles), support components, and a boot's crampon compatibility that influence the overall product.
1. Rand
If you're planning to go exploring somewhere where there is a high chance that you will be exposed to wet terrains like shallow creeks or sloshy, mud puddles, a pair of boots that are equipped with rands may be for you. This feature will offer extra protection from water when the terrain is extra muddy and wet as well as protect the boot's leather from abrasion when the terrain becomes rocky and rough.
A hiking boot rand can be found on waterproof/breathable boots. This is the wide, rubber wrap that is found around where the upper meets the midsole although sometimes the rand only encircles the toe of the boot.
2. Crampon-Compatible
While shopping for your next pair of hiking boots, keep in mind if you wish to use crampons for any excursions especially if you plan to go off trail. Some crampons, such as the strap-on type, will be compatible with nearly all types of boots. Others, like the step-in or hybrid type, will only work for certain boots. If you're going to be needing crampons for a future expedition, it is best to figure out which style of crampon you will be searching for and base your boot shopping on that knowledge.
Some crampons are only compatible with a boot that has a groove on both the toe and heel of the boot. Other crampon styles will require a boot with a much more rigid sole, so make certain you are sure of the equipment you will be needing in order to have compatible equipment!
Should you wish to learn more about the other types of technical features of a hiking boot, you can read more about insoles, outsoles, and support components in our guide to pick the perfect running shoe.

HOW SHOULD HIKING SHOES AND BOOTS FIT?
The fit of your hiking boot will play the biggest role in the selection process. If you're going to be spending multiple hours or even multiple days on your feet, you want to be as comfortable as you possibly can.
To ensure you pick the right fitting boot, here are a few good tips to keep in mind:
A comfortable pair of hiking boots should feel snug when laced up. You want your foot to feel secure but not so tight that you can't wiggle your toes.
When you're trying on hiking boots, it is best to go at the end of the day because our feet swell throughout the day. If you try on a pair of hiking boots at the start of the day it may feel very different compared to at end of the day once your foot has swelled slightly. Going at the end of the day can avoid the chance of purchasing a pair of boots that are, in fact, too small.
If you have a pair of hiking socks that you plan on wearing during your trip, bring them along while shopping. Trying on boots with thicker hiking socks will give you a better idea of the fit. Guessing if that little extra space will suffice once you have a thicker pair of socks on isn't the best route. *Be prepared. Bring your hiking socks and any insoles or wear orthotics you will be using on your trip so you can ensure you are purchasing the right boot.
Whether you're trying the boots on in a shop or have just received a new package in the mail, walk around in the boots and get a feel for them. If there is a set of stairs nearby or an inclined surface, walk up and down a few times; stand with your feet together and bend your knees.
If you feel any discomfort at all while wearing the boots around, they are not the right boot. Any little bump or pinch may create serious blisters and hot spots and can potentially ruin a trip by cutting it short due to sore feet.
When shopping online for hiking boots, it may be best to go with a brand you are familiar with so you are aware of the foot length and width of that brand.
FAQ
Q: What type of footwear is best for hiking?
The type of footwear best for hiking largely depends on where you're hiking and your personal preferences for comfort and support. 
Here's a quick breakdown: Hefty mountaineering boots are great for extreme backcountry conditions. Trail running shoes are lightweight and grippy—perfect for going fast and carrying light loads on your back. Hiking shoes and hiking boots are best for your average hiking trip, the former being a lighter, less supportive option than the latter.
Q: Do hiking boots make a difference?
Hiking boots make a huge difference. Not only do they provide excellent support for long and short backpacking trips alike (especially when carrying a heavy backpack), but they also protect your feet from rugged trail conditions and the ever-changing elements.
Q: Is it OK to wear running shoes for hiking?
Yes. It is completely okay to wear running shoes (men's, women's) on a hike. They're best suited for dry, predictable terrain; however, they do not provide ankle support, lack good grip in wet and muddy terrain, and are unlikely to include features that protect your feet against the elements, such as a GORE TEX outer.
YOU'VE PICKED YOUR FOOTWEAR, NOW WHAT?
Once you've settled on a snazzy, new pair of hiking boots, get out there and explore!
As mentioned earlier, some boots may require a break-in period, if that's the case, wear them around your house (before they've gotten all dirty obviously), take the dog for a walk, or go exploring in the woods near your house. Your hiking boots are going to be your closest partner for your next adventure so get to know them and get comfortable in them. Now it's finally time to check out the best hiking boots and hiking shoes for your next adventure!
SHARE