Food is more than just biological fuel. It's a source of comfort and pleasure. Even on the trail, there's nothing like a warm meal to recharge your body and your mind. So, when it comes to choosing the right cooking system, it's normal to treat the decision as seriously as choosing a life partner (Ok, fine—almost as seriously).
Today, we're excited to review the JetBoil MiniMo. This is an all-in-one cooking system that's perfect for a wide array of hikers and campers. Whether you want to boil water, make coffee, strain paste, or fry up some eggs, the MiniMo makes it quick and effortless.
Brand Name
|
Product Type
What sets the JetBoil MiniMo apart from other cooking systems is its sheer scope of ingenuity and versatility. As we'll see, the MiniMo is dependable across climates, encourages customization, and features the most precise simmer control on the market. Not to mention the whole system nests better than a Babushka Doll. For all that, it's price point is also very reasonable. 
Price:
0.00$
A Few Things to Consider Before Buying the JetBoil MiniMo Cooking System 
If you spend any time in the backcountry, you know how important calories are and how ridiculously many you need. And though we willingly forfeit the luxury of fast food and Michelin-star restaurants when we hit the trail, we needn't also forfeit nutrition. 
Whenever possible, we want to avoid empty calories. Yes, it is true that many ultralight extremists have been known to survive on strict diets of trail mix and Cliff Bars. But it is also true that you can lick a fence in winter. Doesn't mean you should.
So, whether you're a weekend warrior or a seasoned thru-hiker, the JetBoil MiniMo offers hikers a lightweight, packable solution to maintain a healthy and delicious diet. Of course, if you're car camping or glamping, the MiniMo may not be for you. Instead, opt for something heftier. For recommendations, check out our Best Camping Stoves in 2021.   
Why Should You Consider the JetBoil MiniMo Cooking System
Weight & Packability
Weighing in at just 14.6 oz (415g), the JetBoil MiniMo packs a lot of features in few ounces. At under a pound, this is one of the most robust and lightweight cooking systems available. Its nesting design allows for clever and compact storage, making it highly packable. Kind of like one of those tiny homes where the broom closet transforms into the master bedroom.
Accessories & Compatibility
While the MiniMo is a complete wilderness cook set, it's designed to allow for an even greater range of customizability. For one, the system now includes the JetBoil Pot Support. This little gadget can be secured inside the burner to create a wider surface, allowing you to support a range of cookware, from a home kettle to a large frying pan.
Additionally, the MiniMo is compatible with many other JetBoil products. Ever get grumpy without your morning cup of coffee? Then the Grande Coffee Press is a life-saver. Want to do more than just boil water? Fry up some eggs on the FluxRing FryPan or cook a delicious meal for two with the FluxRing Cooking Pot. Are you a climber settling in for the evening on a portaledge? Check out the Hanging Kit for ground-free cooking.
Boil Time & Simmering
According to the company, the JetBoil MiniMo can boil half-a-litre of water in just 2 minutes and 15 seconds. In practice, we've seen it boil that same amount in less than 2 minutes. This is fast but unsurprising, since the MiniMo stove packs a whopping 6,000 BTUs of power.
Deciding between a gentle simmer and a roaring boil is as simple as rotating the fuel adjustment valve (simmer control). It offers four complete turns, creating a smooth range of continuous flame settings. That's up to four times as much precision as many of the MiniMo's competitors.
Fuel Type & Efficiency
Thanks to the Flux Ring design, the 1L cup is extremely efficient at distributing heat evenly. This allows for a faster boil and reduces fuel consumption. In general, a 100g fuel canister will provide you with 12 one litre boils. Suppose you're using it twice a day, that should comfortably get you through five to six days of cooking.
Regarding fuel type, the JetBoil MiniMo pairs with the brand's own JetPower fuel canisters. This is an isobutane/propane gas mix that burns hot—even in winter. When packed, the 100g canisters nest perfectly inside the MiniMo cup alongside the burner.
Versatility
The JetBoil MiniMo is a highly versatile system, both in terms of portability and functionality. Regarding the former, its compact size and minimal weight make it an excellent trail companion for all species of wilderness adventure. As for the latter, the system has proven effective through all four seasons and is rated for consistent performance down to -6°C (-20F).
Ease of Use
For all its moving parts, the JetBoil MiniMo is impressively easy to use:
Begin by lighting the stove.
Open the simmer control valve a quarter to a half turn.
Press the igniter.
Add water to your pot (it's better to do this before putting it on the stove).
Sit your pot atop the burner and secure it in place with a little twist. 
Use the simmer control valve to increase heat to desired level. 
Once your water has reached a boil or your food is cooked, turn the simmer valve all the way back down.
That's it!
Other Features
The latest upgrade to the MiniMo is its pot. While it still boasts the same one litre volume, it's shorter and wider than previous versions. This creates a better spooning experience, as your utensil has more room to move and needn't dig so deep. 
Here are a few more features:
The pot comes equipped with an

insulating cozy

, which means you won't have to wait around for your pot to cool before touching it. 

For grip, you've got two wide, solid,

PVC-coated handles

that are

insulated. When not in use, simply collapse the handles against the body of the pot.

A

bottom cover

protects the Flux Ring and also doubles as a measuring cup and bowl. 

A set of

detachable legs

, known as the

fuel stabilizer

, nests in the pot lid. This is what you use to mount your gas canisters. It features two sets of circumferential notches that secures both small and large canisters in place.





The pot lid doubles as a

drink-through lid.

It features both a

sip/pour spout

which can be used as a travel mug. It also has drain holes which allows you to cook and strain delicious pasta—

yum

.
What customers have to say
We rolled up our sleeves and dug through our reviews to see what Altitude Sports customers had to say about the JetBoil MiniMo. Julien R. called it an, "Awesome cooking system". He goes on to say: 
I've used the Jetboil Minimo once already for winter camping. It is so well designed and packs very nicely.
Ease of use and quick boiling time (even from snow) is worth the extra grams of a traditional cooking system for me.
Highly recommended for 1-2 people looking for a complete cooking system
Meanwhile, Julianna L. regards the MiniMo as a, "Great little integrated stove". She explains:
After years of ultra-lightweight backpacking, I decided to add some grams back to my kit and go with an integrated stove. The MiniMo is a great little unit. Nice and sturdy, and I love the wider canister and the convenience of the push button start. The ability to simmer is a great feature, and it's a perfect size for one or two. I do wish it were a tad lighter, but I've been so spoiled with my teensy, tiny options. But at least I won't have to deal with accidentally kicking my little pot over anymore.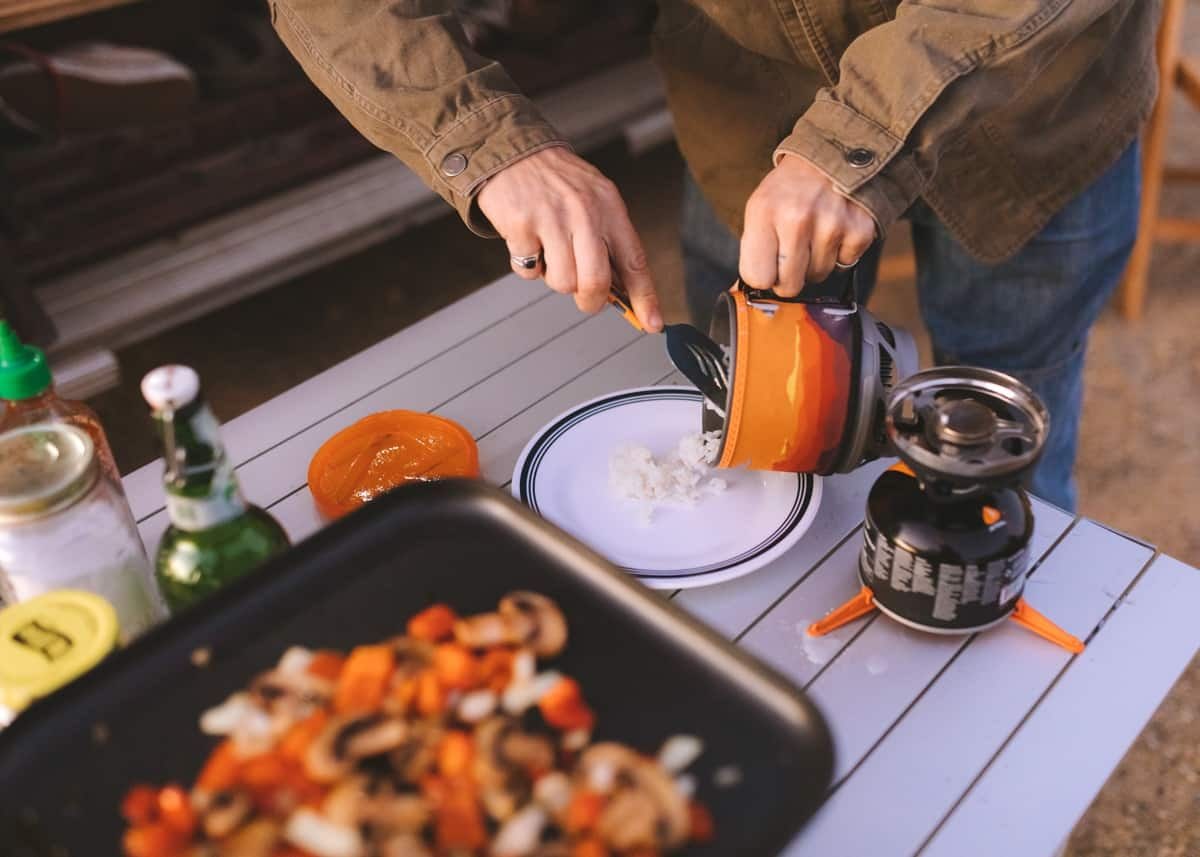 THINGS TO KNOW ABOUT THE JETBOIL MINIMO COOKING SYSTEM
Is the JetBoil MiniMo Cooking System worth it?
The JetBoil MiniMo is easily one of the best integrated backpacking cooking systems on the market. Not only is it compact and lightweight, it's reliable and versatile. 
If you're a frontcountry camper, car camper, or glamper, your money may be better spent elsewhere. However, if you're a solo backpacker who likes to travel light but doesn't want to compromise on meal quality, then the JetBoil MiniMo is an excellent investment. Couples can also share a single system with little inconvenience.
Can I use any gas/fuel with the JetBoil MiniMo?
While it's always best practice to use the brand's recommended fuel type (in this case, JetBoil's own JetPower gas canisters), it's not always possible. In case you're out of fuel and just want something that works, then look for anything that has an EN417 valve spec.
Can I use any gas/fuel with the JetBoil MiniMo?
While it's always best practice to use the brand's recommended fuel type (in this case, JetBoil's own JetPower gas canisters), it's not always possible. In case you're out of fuel and just want something that works, then look for anything that has an EN417 valve spec.
Does JetBoil fuel ever expire?
While the actual isobutane/propane fuel mix does not expire, you should always carefully inspect the canister before hooking it up to your stove. Always inspect it carefully for rust, punctures, or a deprecated valve seal.
Here's a tip to help you keep track of your canister's lifetime: 
After a trip, weigh your canister and use a sharpie to record its weight on the underside. Before heading out on your next adventure, weigh the can again to make sure the weight hasn't decreased. If it has, you know your canister is suffering from either a puncture or leaky valve seal.
FINAL WORDS ON OUR JETBOIL MINIMO COOKING SYSTEM
The newly redesigned JetBoil MiniMo Cooking System just keeps on getting better. This is one of the most versatile, dependable, compact, and lightweight cooking systems on the market. It allows for ample customizability and won't break the bank.
While it may not be suited to certain styles of front-country camping, it's an ideal choice for backcountry hikers who like to travel light but still crave the restorative power of a warm meal
Price:
0.00$
Brand Name
|
Product Type
SHARE