Since its first release in 2013, the Mountain Hardwear Ghost Whisperer jacket has been a favourite among ultralight hikers. Even now, its warmth-to-weight ratio is nearly unparalleled in the lightweight puffy category. Then in 2020, the brand dropped a revamped version—the Ghost Whisperer/2.
In this review, we cover all the features the new model inherited from its predecessor, as well as those features both new and improved. By the end of this article, you'll be equipped with everything you need to know to decide whether the Ghost Whisperer/2 is worth its steep price for your adventures. 
Things to Consider Before Buying an Ultralight Down Puffy
A lightweight puffy is essential for most hikers. And choosing one that's both ultralight and packable makes decisions easier. Without adding much in the way of weight or volume to your pack, a lightweight puffy ensures your comfort and safety if you get lost in the woods or the weather turns. At the very least, you've got a nice fluffy pillow at your disposal.
In fact, a puffy is so ubiquitous to hiking that it makes up one of the three pillars in the Trail Wardrobe Trinity: an appropriate baselayer, a rain shell, and a lightweight puffy. This versatile combination of tops will keep you comfortable in a wide range of climates and temperatures.
Why Should You Consider the Mountain Hardwear Ghost Whisperer/2
Let's go over the most important categories when it comes to shopping for an ultralight puffy. As you'll see, the Ghost Whisperer/2 earns high marks across all these metrics, making it a versatile and dependable choice for any outdoor endeavour.
Warmth
The Ghost Whisperer/2 contains roughly 3 ounces of 800 fill power down, comprising 90% goose down and 10% goose feathers. The down is Allied RDS-certified, meaning it's ethically sourced and traceable. With the right baselayer, you can expect to stay warm down to 0°C (32°F). 
Weather Resistance
The 100% recycled, ripstop nylon shell is treated with a Durable Water Repellent (DWR) finish. This means the Ghost Whisperer/2 will stand up to light showers and humid mornings. 
What about in wetter conditions, when water begins to penetrate through the face fabric? Luckily, the goose down insulation is also protected. Each feather is individually treated with a DWR coating. This is one of the updated features when compared to its predecessor; the Hyper-Dry Down (HDD) allows wearers to stay dry in messier conditions.
Like any down puffy, it's still best practice to avoid getting it too soaked, as it can take a long time to dry and lead to annoying clumps of feathers and decreased loft. In cold, wet conditions, consider layering your down puffy for warmth beneath a waterproof rain shell.
Fit
Overall, the jacket fits slim. In fact, like most garments produced by Mountain Hardwear, the fit tends to be a little on the small side. Meaning that if you typically wear an L from other brands, you might want to up-size to an XL. Likewise, if you wear an XS, consider sizing up to an S. 
The Ghost Whisperer/2 also has slightly longer arms than its competitors. This allows for unrestricted movement without having to worry about stretching and tears. The one complaint is that the shoulder area feels a bit narrow.
Features
As an ultralight puffy, the Ghost Whisperer/2 is spartan on features. Nevertheless, the basics are covered. To begin with, you've got two large, zippered hand pockets with ample storage. On the wrists, soft elastic cuffs keep out the cold. 
The hood is also rimmed with a soft elastic to make it form-fitting. Another nice feature is the raised collar; when fully zipped, the collar protects your chin and prevents cold drafts from entering around the neck. 
A drop hem also wards off back drafts, while a discrete pull-tab allows you to adjust the jacket for a tighter fit, so it won't ride up while scrambling a steep slope or climbing big walls.
It's worth mentioning that the Ghost Whisperer does not have any adjustable tabs around the hood. This shouldn't come as a surprise since the jacket's primary function is to be as lightweight as possible. Another missing feature that might be a deal-breaker for some is the absence of an inside pocket—not really an a priori essential, but some people like it.
Weight
The men's size medium weighs a mere 8.3 oz (236 g), while the women's weighs even less at 7.8 oz (220.5 g). That's an average weight of half-a-pound—peanuts considering its exceptional warmth rating and versatility.
Packability
The right zip pocket doubles as a stuff pocket for the jacket itself. The men's medium stows down into roughly the size of a 1L Nalgene bottle, making it extremely packable. A carabiner loop allows climbers to hang it from their harness when not in use.
Durability
The 10D X 10D ripstop nylon face is notoriously durable. Even the original Ghost Whisperer was considered durable with its slightly less robust 10D X 7D nylon construction. If you do encounter a hole or tear, the ripstop will prevent it from running any further.
Style
Either you think puffies are cool or you don't. I happen to think puffies are very cool and the Ghost Whisperer is a fine example. Certainly on the trail it's considered hiker-chic. But even in more urban settings, like at a bar or event, it's an eye-catching piece.
For one, the fit is slim and flattering. Second, the myriad colours are thoughtful and unique. The Ghost Whisperer/2 also doesn't suffer from the crinklyness/ garbage bag sheen of lower-end puffies. Major style points.
A Word From Your Fellow Adventurers
We scoured the Altitude Sports product page to see what our own customers were saying about the Ghost Whisperer/2 jacket. In all, it received a combined total of 268 reviews across all variations, and earned an impressive average rating of 4.5 / 5 stars.
Christopher W. says:
My new go-to jacket for travelling, mainly because it's so light and small when packed down I can shove it almost anywhere just in case. Temperature-wise it holds up to -5C with a shell.
Marie-Hélène G. writes:
I wear this jacket as a midlayer under a shell for alpine skiing.
I've tried different models (from different brands), and this is my favourite. It's like a second skin: I don't feel it. It's lightweight, lets me move freely, and doesn't restrict my neck or wrists.
As for its warmth, I only used it at temperatures between -5°C  and 0°C. At these temperatures, I really didn't get cold.
Things to Know About the Mountain Hardwear Ghost Whisperer/2
How warm is the Ghost Whisperer/2?
The Ghost Whisperer/2 is impressively warm for its weight. Nevertheless, there are limits to its utility. The jacket really is a perfect outer layer for most three-season hiking conditions and will keep you comfortable right down to about freezing (when paired with a suitable base layer). Beyond 0°C (32°F), however, you risk losing precious body heat.
For winter hiking and frosty urban environments, the Ghost Whisperer makes an excellent mid-layer beneath a more heavy-duty parka.
How do you wash the Ghost Whisperer/2 jacket?
A gentle hand-wash is best, but it can be messy and time-consuming. If you're going to use a washing machine, use a front-loader; the agitator in a top-loader can damage your jacket. Wash cold and set the machine to delicate. 
For most down products, it's a good idea to use a dryer. This allows the feathers to circulate instead of clumping at the bottom of the garment—an unfortunate consequence when set out to air-dry. Of course, don't forget to use the tumble dry setting. Throw in some tennis balls to help reinvigorate your jacket's loft and voilà—good as new.
Where are Mountain Hardwear products made?
Mountain Hardwear was founded in 1993 in California. In the beginning, their garments were manufactured locally. In 2003, however, Mountain Hardwear was acquired by sportswear retail giant Columbia Sports. Currently, their manufacturing is predominantly outsourced across Asia, in countries like China, Japan, Vietnam, and India.
The truth is that outsourced production makes good business sense. It offers a cost-effective way for companies to produce high-quality products that remain affordable in Western markets. Even Arc'teryx only produces 30% of their products locally. 
It should also be noted that the factories contracted by brands like Mountain Hardwear, Arc'teryx, and the like are known to uphold American manufacturing standards regarding working conditions and wages.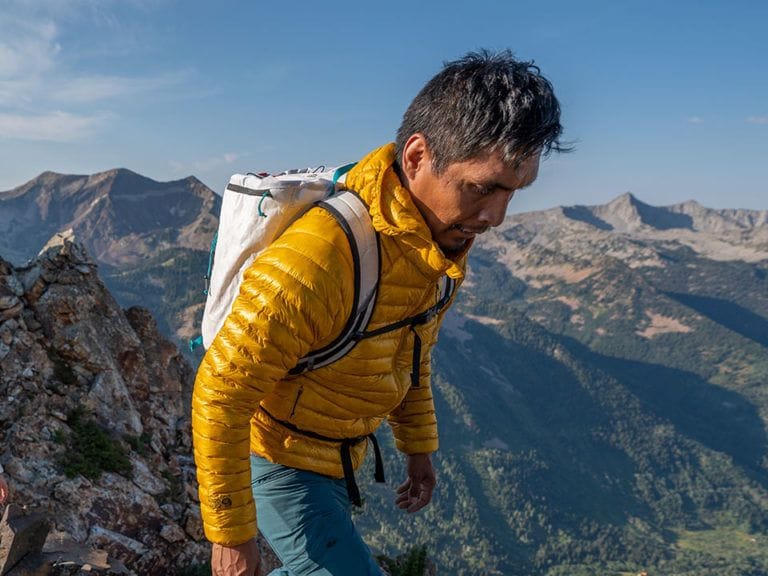 Final Words on Our Mountain Hardwear Ghost Whisperer/2 Review
The Ghost Whisperer/2 by Mountain Hardware is a phenomenal down puffy. The jacket itself is durable and versatile, warm and ultralight. Though the price point is high, it's value is effortlessly accounted for by its quality. And, to take that value a step further, consider that the Ghost Whisperer/2 is built through ethical and sustainable manufacturing practices. In fact, much like the Arc'teryx Alpha SV, the Ghost Whisperer/2 is BLUESIGN approved.
So, who is the Ghost Whisperer/2 not for? Well, for those of you who already own the original Ghost Whisperer, there's not enough new ground here to make the upgrade worthwhile or enticing. In reality, the biggest updates are the HDD insulation and the slightly stronger ripstop nylon face. 
And what about people who simply don't want to break the bank on a puffy? In that case, check out The North Face's ThermoBall Eco Hoodie (men's; women's) instead. It's not quite as light or warm as the Ghost Whisperer/2, but it's a respectable entry in the ultralight puffy category. 
For everyone else, only one question remains: Do you want your Ghost Whisperer/2 with a hood (men's; women's), or without one (men's; women's)?
SHARE