If you're like me, you may be experiencing a special kind of melancholy this year; an unfortunate synergy between your run-of-the-mill winter blues and the novel coronavirus blues. Most days we're stuck indoors, counting down till summer, trying to catch but a glimmer of sunlight through the short, overcast days. But while there's many ways to deal with this bummer, here's one you haven't considered: Winter camping.
Really—what better time to hit the trail? It's the pinnacle of social distancing! Best of all, you'll have the lovely woods all to yourself. There's no better way to recharge your body and mind. But before brazenly setting off into the wild, you'll need the right gear—especially the right sleeping bag. Our choice for the year's best all-round winter sleeping bag is the The North Face Eco Trail Down 20.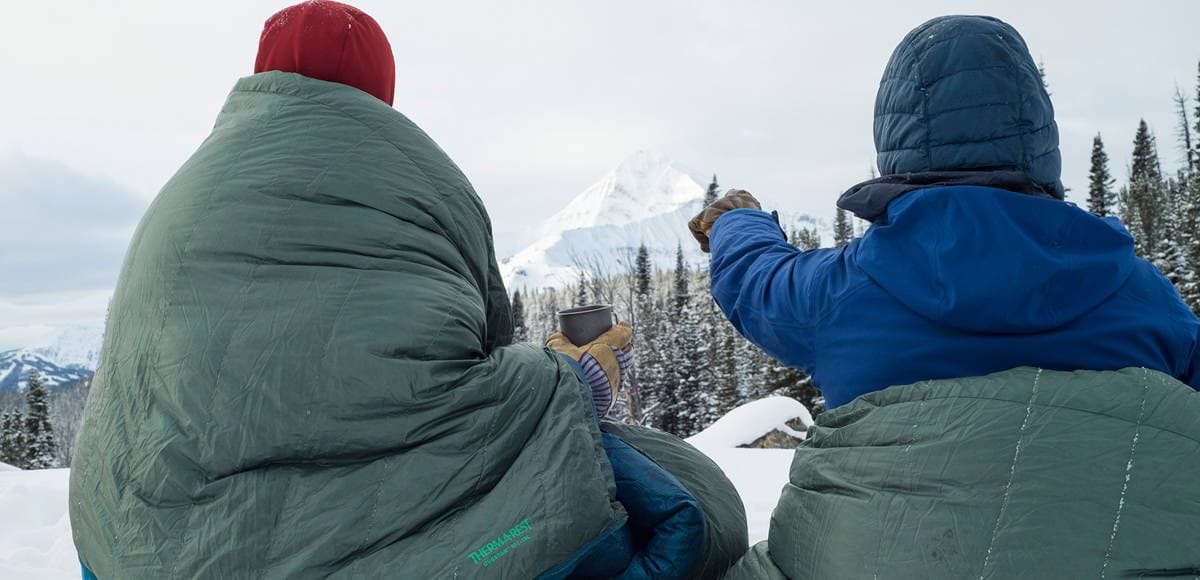 What is a Winter Sleeping Bag?
Most of us consider camping an activity reserved for beautiful summer months and tranquil shoulder seasons. But by simply packing the right gear, camping can become a year-round activity.
You may have noticed that many sleeping bags include the words 'three season' somewhere on their tags. That's because these bags were designed to handle the year's warmer months: spring through autumn. Winter bags are designed specifically for sub-zero temperatures, meaning more insulation. If you think winter camping might be right for you, read on to discover our picks for 2021.  
The Top Winter Sleeping Bags Reviewed
Best Overall Winter Sleeping Bag
Still on the fence about winter camping, but curious to try? Start with a sleeping bag that won't break the bank. The North Face Eco Trail Down 20 is affordable, especially considering it's insulated with 600-fill power recycled down. For an even less expensive option, check out the slightly heavier, but equally warm, Eco Trail Synthetic.
The Eco Trail offers many features, including a cinchable hood, ergonomic wraparound J-zip, and tie-down loops to attach your sleeping pad. The temperature is rated for as low as -7°C (20F). 
Price:
0.00$
Pros
Insulation

Features

Price

Eco-friendly
Most Affordable Winter Sleeping Bag
The Coleman Silverton 25 is rated for temperatures as low as -7°C (20F), but performs better in slightly warmer conditions. While its price is incredibly appealing, you shouldn't rely on it in extreme cold. Still, it's a great choice for budget campers. 
The bag features ample room to move around, a cinchable hood, and a Thermolock draft tube around the two zippers. Included is a 5-year warranty.
Price:
0.00$
Best Winter Sleeping Bag for Backcountry Adventures
For the backcountry, opt for something that's very warm but not too heavy, like the Therm-a-Rest Hyperion 20°F/-6°C Sleeping Bag. At the extreme, this bag is capable of keeping you toasty down to -23°C (9F).
It features Therm-a-Rest's customary 900 fill Nikwax Hydrophobic Down, which stands up to wetness, dries fast, and retains loft nearly sixty times better than untreated down. It weighs just 1 lb 6 oz, making it a lightweight companion on your hikes to and from camp. 
Price:
0.00$
Pros
Water-resistant

Lightweight

Well-insulated

Packable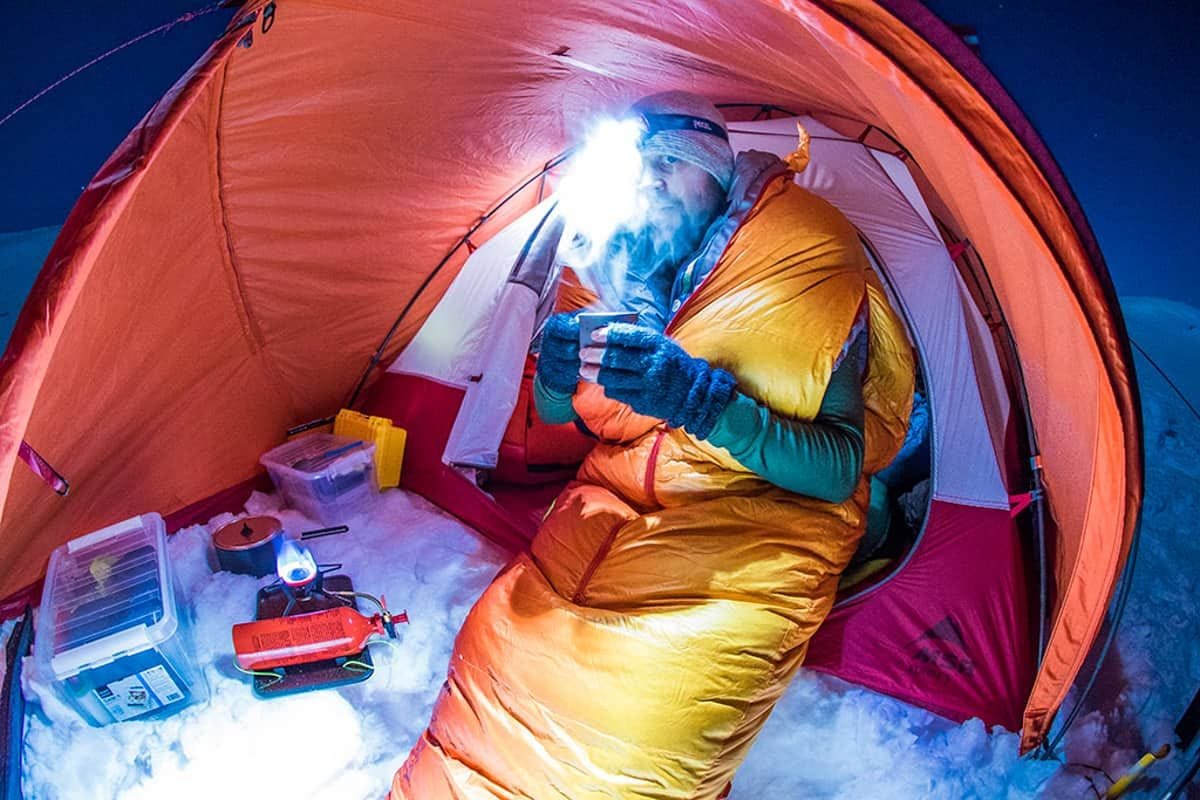 Best Ultralight Winter Sleeping Bag
While by no means the cheapest option on our list, it's certainly the lightest—especially for its temperature rating. The Sea to Summit Spark Sp III uses Responsible Down Standard 850+ Fill Power Loft premium goose down and weighs a mere 1 lb 9 oz (703 grams). At the extreme, its temperature rating is -26°C (-15°F). For optimal comfort, use between -2°C (29°F) to -8°C (18°F).
Price:
0.00$
Pros
Ultralight

Compact

Very warm

Down insulation
Most Comfortable Winter Sleeping Bag
Leave it to Therm-a-Rest to design the most comfortable winter sleeping bag. As the name implies, the Questar 20F/-6C is good for temperatures as low as six below zero, thanks to its 650 Fill Nikwax Hydrophobic Down. This treated down absorbs 90% less water, while the bag dries up to three times faster if it gets wet.
In terms of comfort, the Questar is designed to accommodate an array of sleep positions without feeling restrictive. It features zoned insulation, a cinch-able hood, and a heat-trapping draft collar.
Price:
0.00$
Pros
Comfortable

Fast-drying

Down-fill

Mobility
Best Winter Sleeping Bag for Alpine Expeditions
Designed for alpine expeditions, the Marmot Paiju 5 °F/-15 °C Sleeping Bag offers everything you need to remain safe, comfortable, and warm. It's got 800-fill power down insulation treated with Down Defender. The breathable shell fabric is both waterproof and abrasion-resistant. 
Price:
0.00$
Pros
Waterproof

Breathable

Durable

Warm
What to look for when buying a winter sleeping bag
Warmth & Insulation
Down has an excellent warmth-to-weight ratio, and is preferred by weight-conscious campers. Unfortunately, unless treated with a hydrophobic coating (like Nikwax), it'll stay wet longer than synthetic.
Though not as warm per cubic inch as down, synthetic is cheaper and dries faster. It does tend to lose its loft (and, by extension, its insulating ability) faster than down.
Weather Resistance
Even in your tent, your sleeping bag is at risk of getting wet, whether it's from damp clothes or your tent sagging in a snowfall. To minimize heat loss, choose something with a hydrophobic fabric and/or insulation.
Durability
A ripstop shell or high denier rating for the shell will make your bag more durable. Insulation is by nature fragile, so follow the bag's care instructions.
Weight
Besides insulation, the distinction between a three-season bag and a winter one is its weight. As such, there are none that are exceptionally ultralight. Aim for something in the range of 1.5 lbs – 3.5 lbs, but don't prioritize weight over warmth.
Packability
A winter sleeping bag that compresses well is a must. Between all your other winter gear, your backpack can quickly become bloated.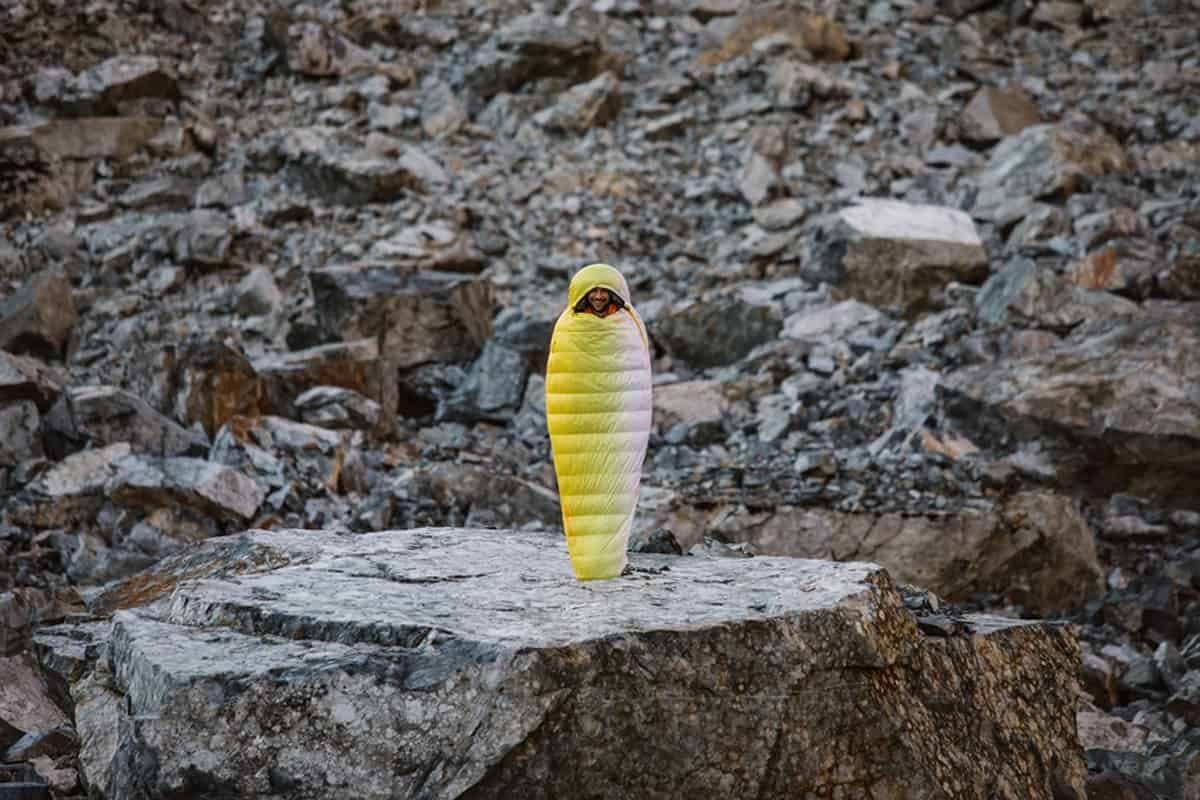 FAQs for winter sleeping bags
Are mummy sleeping bags better for winter?
Mummy sleeping bags cover a larger surface area while following the body's natural curves. This means you won't have to generate as much heat and the bag will retain warmth better. So, yes!
Do sleeping bags lose their warmth?
Heat loss is a function of a sleeping bag's decrease in loft—the bag's 'fluffiness' that traps air. To keep your bag at its best, store it on a hanger in your closet, allowing it to breathe. You can also toss it in the dryer on tumble dry with some tennis balls to perk it up.
How can I increase the warmth of my sleeping bag?
You can't. You can, however, use a sleeping bag liner to add a few extra degrees to its temperature rating.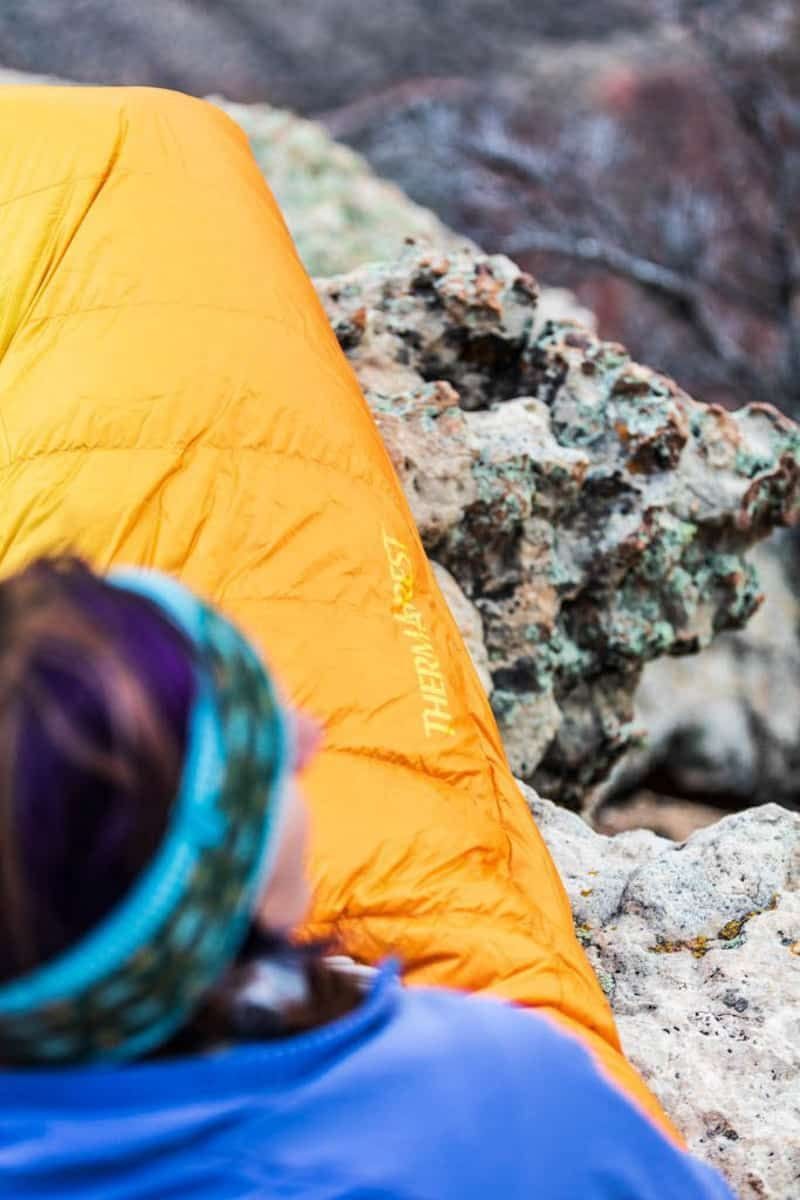 Get outside, stay warm, go camping
We hope we've inspired you to give winter camping a shot! It takes the right preparation, but trust us, it's well worth it. You might want to bring along a camping stove for obvious reasons. And don't forget a sleeping mattress to go with your sleeping bag. Once again, our choice for 2021's best winter sleeping bag is the The North Face Eco Trail Down 20.
SHARE