When the snow starts to fall and the wind starts to blow, having a clear field of vision is essential whether you're skiing or snowboarding. For those of you on the hunt for a new pair of goggles, we've put together a list of our most popular Oakley goggles.
We know shopping for goggles can be overwhelming, so add some ease to your shopping experience by using our helpful goggle guide to assist you in how to choose the right goggles for you.
Oakley's Prizm Lens Technology
Oakley's Prizm technology is designed to accentuate colour contrast to help you see details with precision. 
Oakley embarked on a 15-year research and development project to create the revolutionary Prizm lens. Using hyperspectral imaging, Oakley examined spectral peaks in all possible light and weather conditions on terrains such as snow, water, asphalt and dirt. After examining the data collected by the hyperspectral cameras, Oakley designed Prizm lenses tailored to specific situations and the result is spectacular.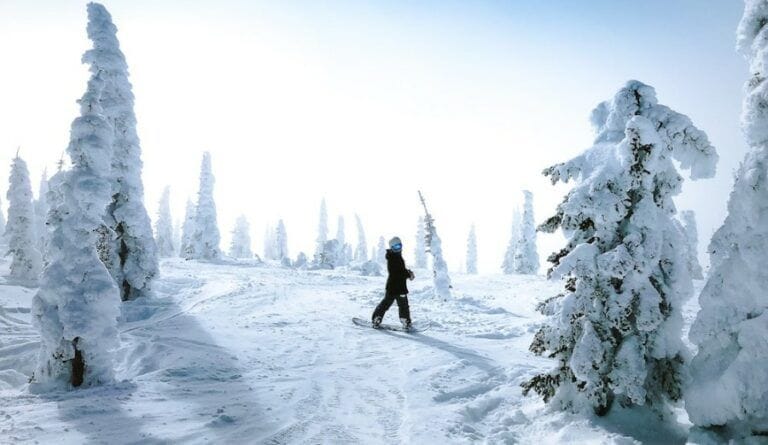 Oakley Flight Deck XM
This sleek looking goggle was inspired by the helmet visors of fighter pilots. The large spherical lens optimizes the wearer's peripheral view and allows for impressive downward vision so you can enjoy the slopes safely and nail your line even in the toughest terrain. Like the Line Miner XM above, the Flight Deck XM is also a mid-sized goggle equipped with frame notches to accommodate most prescription eyewear. Designed for seamless helmet compatibility, the Flight Deck XM is a perfect choice for shoppers in search of a goggle that will easily pair with a helmet. When the conditions change and a lens swap is necessary, the Ridgelock interchangeable lens system allows for easy lens changes without hassle.
Price:
0.00$
Oakley Line Miner XM
Oakley's Line miner XM goggle is a mid-sized fitting goggle available in a variety of different frames and lens tints. If you find the mid-sized frame is not quite large enough to your liking, you may prefer the Oakley Line Miner with its slightly larger frame. Showcasing a cylindrical-style design, these goggles maximize the wearer's peripheral view and a close-to-face fit improves downward and side-to-side periphery.
For those looking for a goggle they can wear over their glasses, the Line Miner XM is a great choice. Located at the temples, there are slight notches in the frame making them compatible with most prescription eyewear. If you're looking for the best of the best, this goggle is the only goggle in Oakley's fleet equipped with the new PrizmTM Inferno lens technology option. Additional features include a removable strap as well as removable triple-layer face foam.
Price:
0.00$
Oakley Flight Path XL
Designed for skiers and snowboarders looking for a wider fitting goggle, the Flight Path XL offers a simple, high-performance design, perhaps slightly less aesthetically pleasing due to its large size. Featuring Switchlock technology, it allows you to change lenses quickly and easily. The Flight Path XL is also available with a spare lens for maximum versatility on the slopes. Compatible with most helmets, it offers a wider field of vision, adapts to all conditions and provides maximum protection from the elements. It's an excellent choice, and one of our favourite models.
Price:
0.00$
Oakley Flight Tracker XL
The Flight Tracker XL goggle fully deserves its place among our most popular models. As part of the High Definition Optics (HDO) collection, it meets or exceeds the American National Standards Institute's requirements for visual acuity and clarity. Designed with Oakley's O Flow Arch technology, it offers good air circulation and maximum comfort. Its temple indentations make it compatible with most prescription eyewear, and the Flexible O Matter frame fits your face perfectly. It's one of the most comfortable pairs of goggles available on the market.
Price:
0.00$
Oakley Fall Line XL
Inspired by Line Miner and the wide field of vision featured in rimless goggles, the Fall Line XL joins Oakley's LINE SERIES. The Fall Line XL ski goggle is optimized to fit a wide range of face types and is designed to be compatible with most helmets. This Oakley ski goggle features Oakley's Ridgelock technology, lenses that can be changed quickly and easily, and a full seal to prevent water from getting inside.
Price:
0.00$
Final Thoughts
Line Miner, Fall Line, Flight Deck, Flight Path or Flight Tracker… whichever style you prefer, you can't go wrong with a pair of Oakley goggles. Available in XM or XL sizes, they're a great fit for any shape of face or style. And with so many lens options, Oakley goggles provide you with enhanced visibility in all conditions.
SHARE